London Saints v Finland Select XI (Part Two)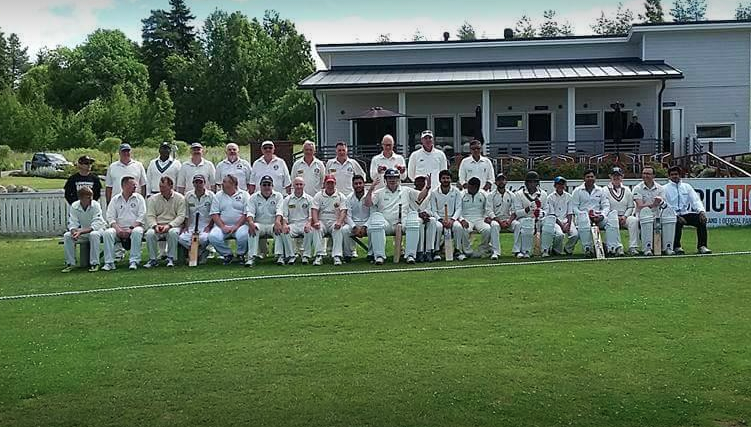 Finland National Cricket Ground
20 overs (2nd innings)
July 14, 2017
London Saints CC were 30 runs behind after the 1st innings: read the report here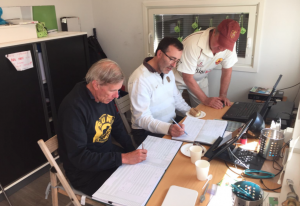 By Eric Shadick
2nd Innings – the view from the scorers' room.
Finland bat
The Kerava Groundsman's Select XI (official title – scorer's privileged information) began their second knock with more urgency than the first, borne out of more youthful (relatively) enthusiasm in the top order, but they were met with solid bowling from Messrs Rogers and McIntyre, Phil going on to complete four overs with the tidy figures of 2-14.
Those early wickets only served to bring together Areeb and Kaiser, with the former finally succumbing to the game's retire-at-thirty rule. Steve, the eponymous Groundsman, lasted a single ball thanks to a fine catch by Andy Mayhew, with LSSC's celebrations more than matched by the cheers of our hosts for their skipper's early downfall: our kind of team, our kind of match.
Kaiser, meanwhile, was continuing to punish the bad ball, including a half pitcher from Mark Barber that bounced a second time before reaching the bat. The nature of the artificial pitch left it still a hittable delivery, which Kaiser duly did – straight to the fielder at deep midwicket. Nick Head had meanwhile signalled a no ball, but now seemed to want to change his decision, possibly realising that (a) it was a fair delivery under the current Law 24, and (b) we needed Kaiser's wicket.
Discussions with his opposite number, a delightful chap who had had the honour of being a teammate of the legendary Wes Hall, resulted in a reprieve for the batsman, who was retired for 23 anyway, and in any case Mark surely would have been embarrassed to take a wicket with such a ball… but a shame Mike McIntyre couldn't get credit for the catch.
That left Usman and Mikey to end the innings with some nice shots which could have scored more had advancing years not slowed down Mikey, who had clearly seen action at some higher level than this – again, our kind of team.
Total: 122 for 3, with two retired.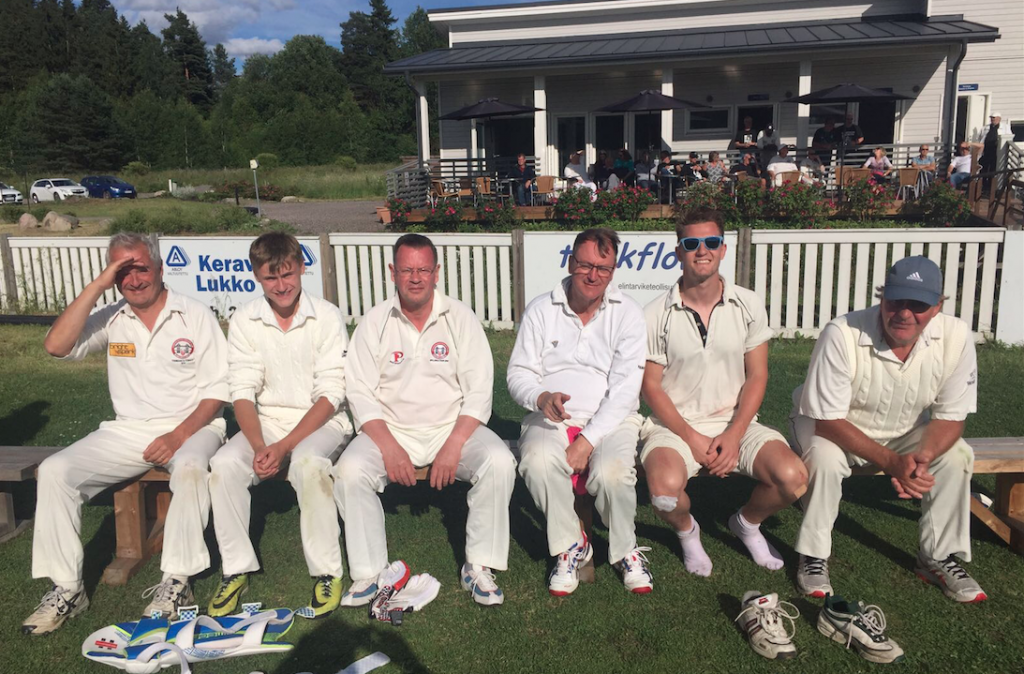 London Saints had seven out for a duck in the two innings. Six ducksters in a row (l to r); Peter Berkeley, Ben Sheriff, Neil Hotston, Terence Collis, Ben Collis, Paul Wathan. Duckster No7 Dave Nanton had disappeared
London Saints bat
That left Saints needing 155 to win, an improbable target made even more difficult when Aussie spinner Dodgy (on account of his action) reeled off two maidens. Batting was no easier at the other end, and Terry Collis recorded his family's second duck of the day, to bring son Ben to the crease.
Ben was much more successful this time round, making Saints' top score of the match, which could have been more but for a slow outfield and long boundaries that hampered all the batters. Meanwhile Andy Mayhew was causing concern, both with the scorer who was having difficulty recording all the dot balls with a cheap biro, and with the skipper, worried about our reputation for brighter cricket.
Eventually the decision was taken to invoke a retirement upon a double figure event – either runs or overs faced. Both came at the same time, Andy pulled out of the game for 12, including an uncharacteristic boundary in over number nine, The trouble is Saints are rarely in a position to voluntarily end an innings, and this move was to expose an inconsistent middle order, epitomised by Paul Wathan at number four. Paul came on tour with forty eight club ducks to his name, and every chance of making it a half century on tour.
Thursday's rain and the first innings selection policy put paid to that, but duck 49 arrived as sure as night follows day: at Finnish latitudes in high summer it's a long time before darkness sets in, but Paul didn't keep us waiting long. Pete Berkeley's contribution was also brief, but at least greater than zero, and Ben was eventually bowled for 24.
Ben's boundaries were missed with Paul Pearce and John Smith at the crease, and of course quick singles were out of the question. With just seven balls left, the skipper decided upon a double retirement and sent in more senior batters Neil Hotson and Andy Jones to see out the innings – what could possibly go wrong?
Something told DT to make contingencies, though, and he left Paul and John padded up 'just in case.' Neil soon showed how wise that was, recording his second duck of the game, and Andy also gave the combined scorecards an air of symmetry with his second 'run out for one.' Groundsman Steve was now bowling and sensed another wicket as John took guard, posting all his fielders around the bat; John had other ideas, and the cover drive to take him to a season's high four not out came as much of a surprise to the LSSC party as to silly mid off, who had to take swift evasive action – you don't take liberties with our senior tourist.
That left Paul with the difficult task of scoring 90 from the last two balls to salvage a tie, but fittingly the innings ended with a couple more dots. 63 for 6 with one retirement: it's the thrills and spills of 20 over cricket that make it so exciting. Still, a good social game enjoyed by all, and who cares when cricket's the real winner? No? OK then, Finns won by 90 runs.
Total: 63 for 6
Finland win by 89 runs
Champagne moment. Plenty of ducks, and a run out, to choose from, but it comes down to a couple of more positive moments. First was the nearest thing the game came to a six, courtesy of Ben Collis, with the new-fangled fluorescent pink ball disappearing first bounce into the ditch – giving brief hopes of a draw when it could not be retrieved, only for a replacement to appear. And then there was John Smith's field scattering off drive – a once a season rarity, surely? Mark Barber's 1st Innings report also suggests a champagne moment concerning John's postcode malfunction in the field, so maybe he deserves the bubbly, or at least a nice pint, overall?
Man of the Match. Clearly Ben Collis in the second innings for contributing more than half the runs scored off the bat (we'll gloss over the bowling figures). In the combined game, though, Phil Rogers deserves the award for an all round batting and bowling performance.
Men of the Tour. Well clearly not Lord Lucan, a.w.o.l. after big end problems, or some such mechanical malfunction affecting his limousine somewhere between the country estate and Heathrow. No, it has to be Pekka, Ozzi and Yuka, firstly for their organisational skills, then for putting up with what must have been a totally incomprehensible game of cricket, but mostly for their splendid hospitality in Lappeenranta at Saturday night's beer & burger, sauna & swim event. There we can't forget Newcastle fan Jasska, king of the BBQ – although under less convivial circumstances, the teas committee might have had to issue a reprimand for serving food dressed only in his underpants. Kiitos paljon, lads, hölkyn kölkyn and kippis – get pissed!
Kerava Groundsman's Select XI (Finland)
Zill                  st. Hotson b. Rogers                7
Satti                 ct. B. Collis b. Rogers             3
Areeb              retired                               32
Kaiser              retired                              23
Steve               ct. Mayhew b. Barber             0
Usman             not out                                22
Mikey             not out                                13
Extras                                                   22
TOTAL          for 3 w, 20 overs                      122
Rogers 4-0-14-2
McIntyre 2-0-7-0
Berkeley 2-0-13-0
Smith 2-0-15-0
Pearce 2-0-17-0
Barber 2-0-15-1
Nanton 2-0-7-0
Sherriff 2-0-10-0
Collis 2-0-18-0
London Saints
T Collis b. Faisal                                   0
Mayhew         retired                           12
B Collis b. Zill                                 24
Wathan            b. Zill                             0
Berkeley          ct. Dodgy b. Mikey       1
Pearce              not out                           3
Smith               not out                           4
Jones               run out                           1
Hotson              b. Steve               0
Extras                                                 18
TOTAL          for 6 w, 20 overs                      63
Become a Member
Become a member of London Saints from as little as £5.