London Saints vs Finland Select XI (Part 1)

Finland National Cricket Ground Kerala
20 overs
July 14, 2017
Finland bat
With the weather far more conducive to cricket than the washout of the previous evening, offered the opportunity to bat first DT, to the surprise of nobody other than the opposition captain, declined the offer and Saints took the field.
Team photo complete, Collis jnr opened from the residential end with a rather eventful first over – wide, edge over slips, dot, wide, drop by DT in at cover, dot, caught point (Wath), 4. The game then settled down with tidy overs from both Rodgers an Collis jnr.
Collis jnr then almost sealed man-of-the-match with a tremendous diving effort at mid-on off first change bowler Nanton, giving Faisal his second reprieve. A calamitous third came a few overs later off McKintyre, when having skied one John Smith, virtually underneath it, caught a bus to a different post code to watch the ball land harmlessly 10-yards away.
First choice keeper, Speedtwin, then decided to remove Collis snr by gloving one into the slip's top set off McKintyre
With Shahid retired, having reached 30, McKintyre decided not to rely on the fielding and speared one into Faisal's off stump the next over to end his blessed 25.
A tidy caught and bowled from Berkeley saw Shawn back in the pavilion for 4, before Judas held a dolly at mid-off to dismiss Steve "oh shit!" Preston in the same over, leaving the Fins on 75 for 4 off 14.
Pearce then bamboozled Dodgy with his looping off break that doesn't turn and Jones duly obliged by holding the catch on the mid wicket boundary. Three balls later Collis jnr held on at mid-on to complete his brace.
With the skipper and Andy putting another couple on the ground, Speedtwin declining a golden stumping opportunity and Wath deciding to hold onto the ball rather than throw to either end for a simple run out, the Finns total of 102 for 6 off 20 was certainly a case of what might have been.
Total: 102-6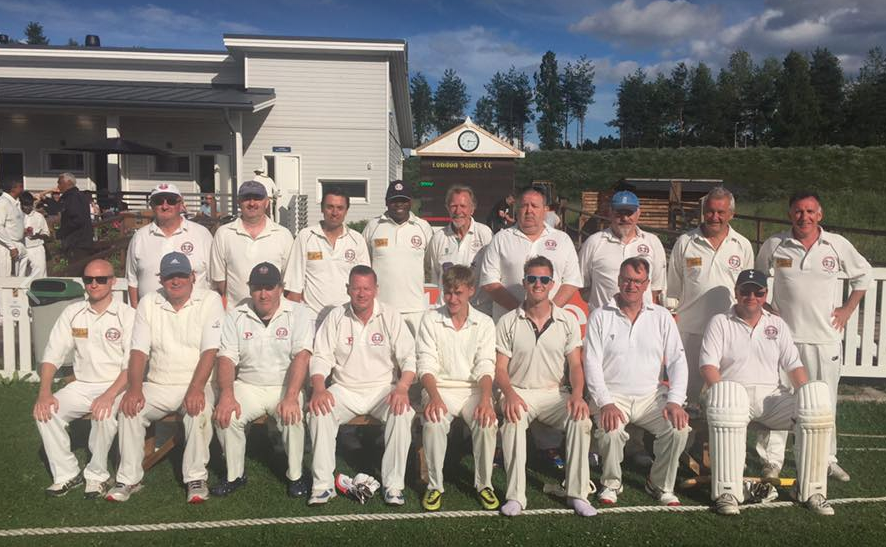 London Saints bat
Quick singles from the opening pair of Jones and Griffiths got the scoreboard moving, before a sequence of "played and missed" and dot balls returned the rate to something altogether more sedate.
Frustrated, Judas then called Jonesey through for a suicidal single, White Viv kept going straight back to the hutch and setting a pattern for the innings.
Yasir replaced Qaisar and 3 balls later had sent Hotson packing with a sharp caught and bowled. QE2 came to the middle and following a few quick (well relatively) singles Griffiths steadfastly declined to answer the call for another, leaving the old liner struggling to get back into port
What followed was a brief unproductive cameo from Sherriff, who having sprinted home for a third to deny Judas his run out hat trick, top edged to the keeper shortly afterwards to join the duck trophy race.
Rogers came to the wicket and quickly found the middle of the bat. Given a chance off Yasir the partnership reached 46 for 4 off 13, before Griffiths edged one behind.
Showing that misjudgement is not the sole preserve of Saints, three Finns admired a high one from Rogers as it fell harmlessly between them. Rogers advanced to his death a few balls later, with Usman dismantling the castle behind him.
New man in, skipper DT, was then then given his marching orders for a contentious c&b by his opposite number, before McKintyre departed stumped for a quickfire 7 and Collis jnr giving Usman his hat-trick of stumpings.
With 7 balls to go Nanton strode to the middle but returned 4 balls later having flashed one into the welcoming hands of first slip Yaz. He then answered Neil's prayer: "I hope Pete gets a golden", by taking a difficult chance low to his left with Saints 30 runs short.
Total: 72 all out (19.4 overs)
Champagne moment
On any other day it could have been Smithy's misjudgement but not wishing to upset the gods, soothsayer Neil's wish for a golden duck answered by a greater power and a competent first slip gets the nod.
Finland Select XI
Andy ct Waltham b Collis jnr 1
Faisal b McIntyre 25
Shahid retired 30
Shawn c&b Berkeley 4
Steve c Griffiths b Berkeley 4
Yaz c Collis b Pearce 3
Dodgy c Jones b Pearce 5
Ms Maia not out 4
Zill not out 9
Yay dnb
Qaisar dnb
Nick dnb
Bowling 
Collis jnr 2-0-20-1
Rogers 3-0-15-0
Nanton 3-0-15-0
McIntyre 3-0-17-1
Berkeley 3-0-10-2
Thomas 2-0-2-0
Pearce 2-0-9-2
Sherriff 2-0-12-0
London Saints
Jones run out 1
Griffiths c Usman b Shawn 20
Hotston c&b Qaisar 0
Barber run out 5
Sherriff c Usman b Asher 0
Rogers stumped Usman b Faisal 20
McKintyre stumped Usman b Dodgy 7
Thomas c&b Steve 1
Speedtwin not out 3
Collis jnr stumped Usman b Dodgy 0
Nanton c Yaz b Shahib 0
Berkeley c Yaz b Shahib 0
Bowling
Yaz 2-0-7-0
Qaisar 2-1-2-1
Andy 2-0-11-0
Zill 2-0-8-0
Nik 2-0-12-0
Asher 2-0-6-0
Shawn 2-0-6-1
Faisal 2-0-9-1
Steve 1-0-2-1
Shahid 2-0-5-2
Dodgy 1-0-2-2
(More to follow on Part 2!)
Become a Member
Become a member of London Saints from as little as £5.