West Brom Albion Home Won 2 – 1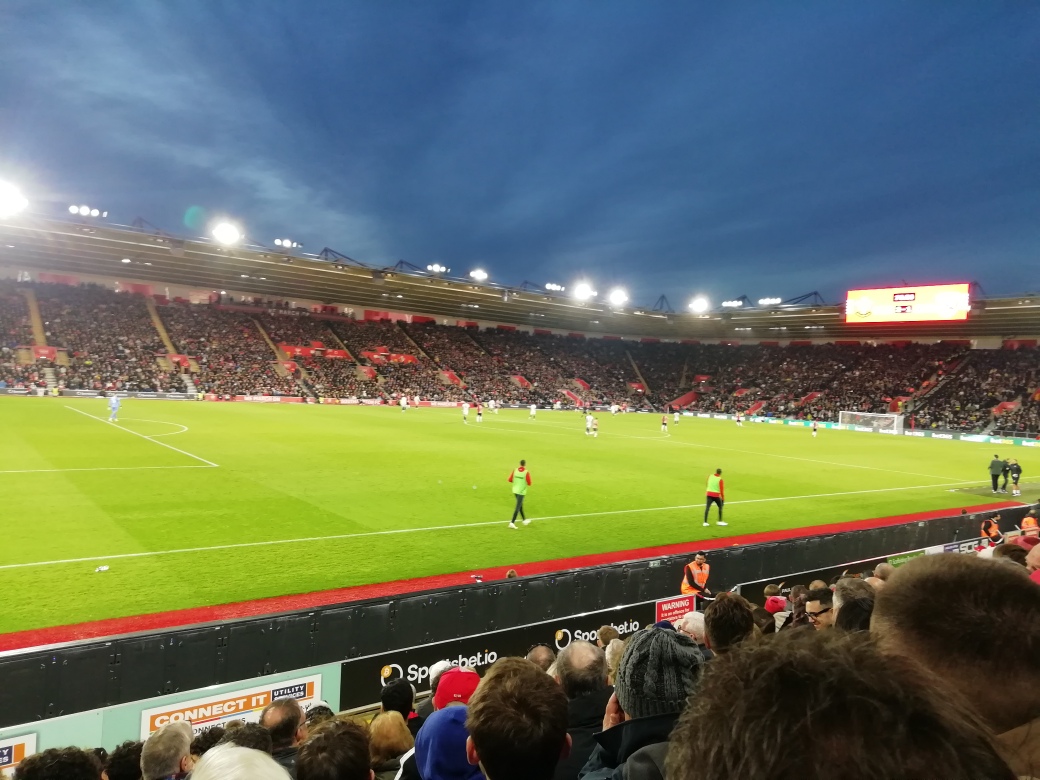 Just an enforced change to a winning team to face West Brom in a tricky encounter, but it did mean that we were without the suspended Bednarek, and he's been so influential in recent weeks. Pre-match concerns weren't helped by the somewhat inevitable choice of Holgate as a replacement, but it turned out we needn't have worried, and indeed everything seemed to be going to plan with an early goal: Alcaraz pulled the ball back from the by-line and although Palmer saved Adam Armstrong's shot, Smallbone was on hand to bury the rebound… well, maybe not the best description of a shot that Townsend tried to clear, but only from within the goal, as confirmed for the referee by technology. WBA, though, have some decent players and are in reasonable form themselves, so it was no surprise that they came back at Saints and an even first half ended with the home team maybe just about deserving the lead in a close contest. Southampton are at their most vulnerable after their opponents have had a chance to regroup, and things were getting tricky at the start of the second period, so much so that Manager Martin had a triple substitution lined up. Before he had chance to make it, Diangana recovered an overhit cross and recycled for Wallace to cross and Thomas-Asante to head against the bar, with the ball then dropping at the feet of Bartley who didn't even have to move to score the equaliser. It looked as though the most needed of the three newcomers was Charles, but now Albion were asking the questions and seemed the more likely winners. That was to overlook the skills of super-sub Fraser, this time turned provider with a deep cross that Adam Amstrong waited for eagerly, and apparently unseen by defenders, at the far post where he had time to control and fire past Palmer. That left 11 minutes plus added to hang on, and with Holgate and Harwood-Bellis blocking everything coming their way and the visitors' changes not making them any more dangerous, it should have been an easy ride home. Of course it wasn't as Furlong had already headed against the bar at 1-1, and now Russell Martin managed to talk his way into a third caution of the season: Walker-Peters went down injured in the six yard box (although he didn't subsequently need attention!) but Alcaraz played on in an attempt to launch a counter attack, only to lose possession and put his team under unnecessary pressure – the manager was probably more frustrated by his own player than upset about the lack of a free kick in Alcaraz's favour. Bazunu and his colleagues then had to get the team out of a bit of a mess in added time before Palmer went up for a late, late set piece and effectively brought proceedings to an end by fouling Bazunu in a piece of goalie on goalie action. Finally a mention for 83rd minute substitute Ross Stewart who did plenty in his time on the pitch to suggest that he will be quite an asset… provided we can keep him fit. 
Three LSSC Man of the Match candidates to choose from: 
6. Mason Holgate as half of a highly effective centre back combination 
21. Taylor Harwood-Bellis as the other half!
14. James Bree. Pretty solid at left back (until making way for Manning), even though most of his tackles favoured his right foot. 
Become a Member
Become a member of London Saints from as little as £5.