Birmingham Home Won 3 – 1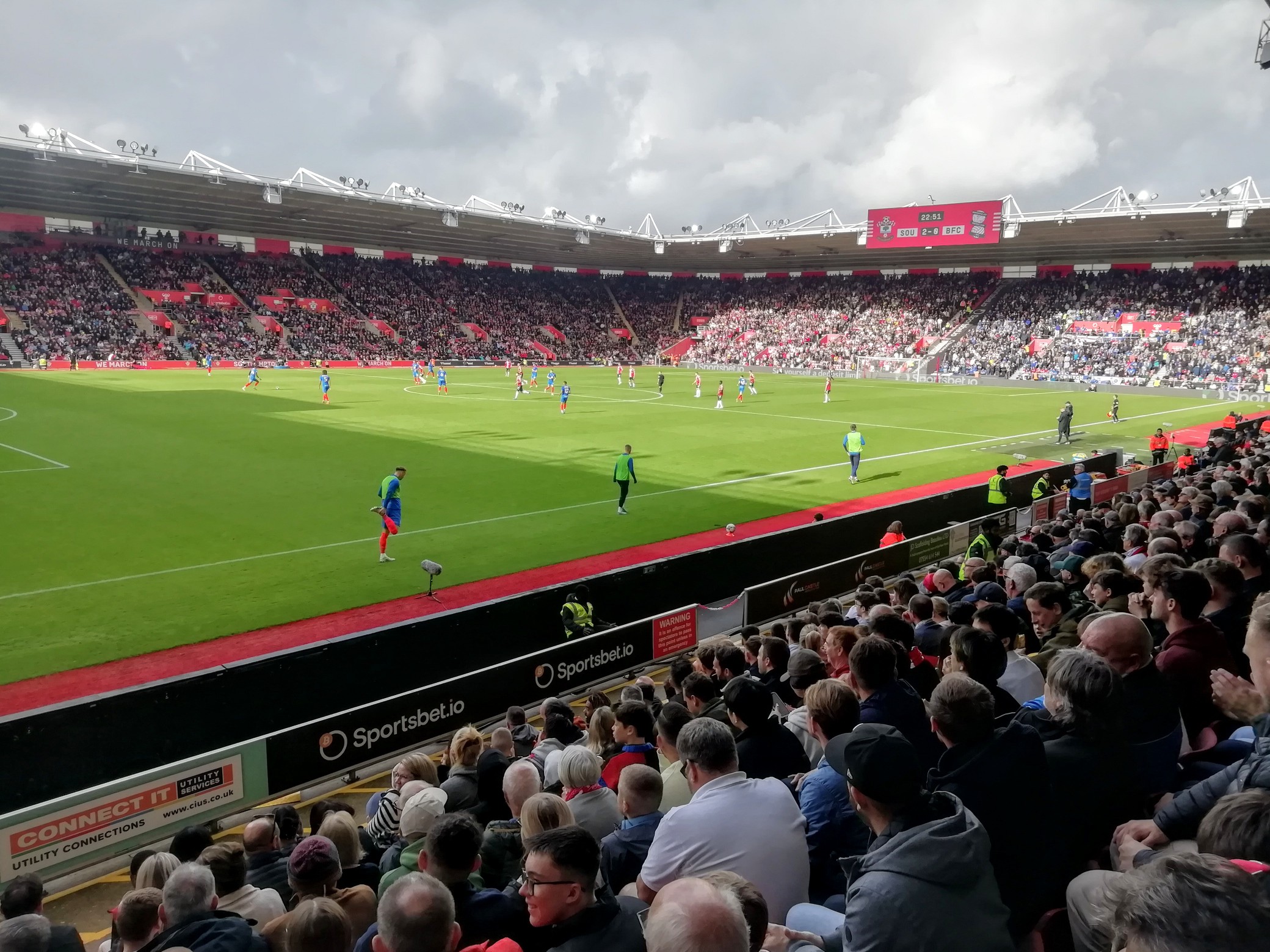 After a successful road trip, it was back home to host Birmingham and, courtesy of Manager Martin, a return to the formation that had beaten Leeds, Stoke and Hull; Harwood-Bellis and Manning were available again, but only the former made the starting line-up, with Bree keeping his place at left back. The Blues were without a goal, let alone a point, under new management and it wasn't hard to see why, with a defensive set-up handing the early initiative to Southampton. To be fair, that usually works for visitors to St. Mary's, but it didn't look very promising for Wayne Rooney when a short corner routine unexpectedly came up trumps as early as the 9th minute: Adam Armstrong ended up crossing anyway and Harwood-Bellis headed home, unchallenged. No-one thought to suggest that TH-B might have been offside, although VAR would have found him out – but we don't play those rules anymore. The opening period was only half over when Saints exploited the visitors' right flank again, with this time Sulemana's pace providing the ammunition for Alcaraz to score from close range. That was it before the break as far as goals are concerned, but no thanks to Bazunu's eccentricities, this time dashing out to the edge of his area to attempt to punch clear a high ball that had little danger attached to it; he missed the punch but certainly seemed to take out Burke, but that was OK according to referee Webb. We're used to feeling comfortable during the half-time debrief only for things to unravel, as well they might have once substitute Stansfield scored within 30 seconds of coming on, thanks to some uncertain defending by Walker-Peters. Russell Martin waited rather longer before beginning to replace his weaker players (although in his opinion, they include Sulemana – a view I don't agree with, and, judging by body language, neither does the player), starting with Aribo for Alcaraz, and Joe was particularly effective, finding Birmingham City's pace more in line with his own. The ship had been steadied but the lead was still flimsy until an unlikely assist from another sub, Edozie, when he managed to win a far post header and set up Adam Armstong for a near post volley – AA had owed us one after missing a first half 1:1 and a second half didn't-quite-get-there-in-time header. A total of 12 minutes playing time remained and although Hogan bounced a shot onto the roof of the net and Bree made a timely defensive header, they were negotiated successfully, leaving Wayne nought for three, as his Transatlantic guv'nors would put it. 
Three LSSC Man of the Match candidates to choose from: 
20. Kamaldeen Sulemana, despite only 76 minutes pitch time. 
21. Taylor Harwood-Bellis, back into the side, and amongst the goals too. 
35. Jan Bednarek. SFC's MotM winner, and it was easy to see why, even if he didn't match TH-B with a goal. 
Become a Member
Become a member of London Saints from as little as £5.