Hull Away Won 1 – 2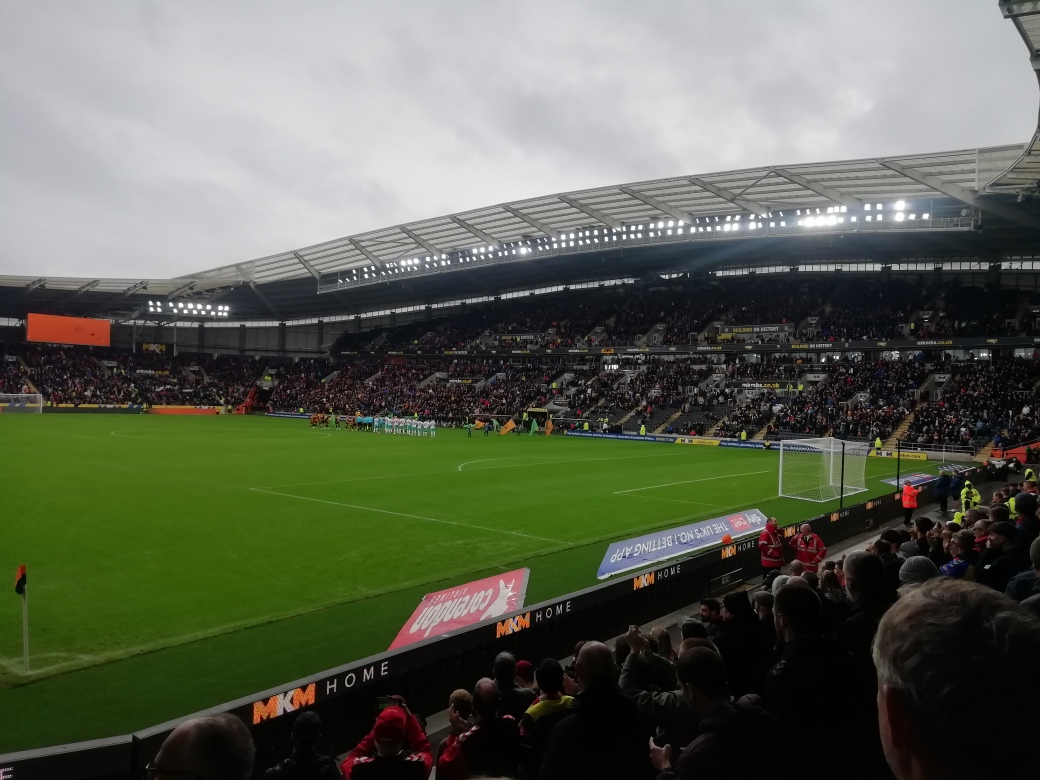 Manager Martin must believe that progress is being made as, after a disappointing failure to beat Rotherham, he made just one change, reverting to the line-up that had won the previous two matches . For a while it looked as if just getting to East Yorkshire at the back end of Storm Babet would be difficult, so the 9:48 from King's Cross eventually arriving at Hull Paragon station only 40 minutes late was a result in itself. Getting a similar return on the pitch looked promising with a very good 20th minute opener: Sulemana managed to get to the left by-line but couldn't pick out a team-mate with his cross, but then Walker-Peters took the ball back to his right hand line and pulled it back for Smallbone to convert. It was something of a surprise that the lead only lasted five minutes, especially as there seemed to be plenty of bodies around to deal with a right wing cross, but somehow it fell to Liam Delap who scored against his father's old club. There was a manic beginning to the second half and the Tigers in particular came close to breaking the deadlock but Walker-Peters (who may have been out of position in the first place) and Bednarek made crucial interventions. It was turning out to be an excellent Championship encounter as neither side were good enough to establish control but always looked capable of scoring. That was until the first round of substitutions which may have affected City's shape, or maybe the replacements just weren't that good. Either way, Saints began to dominate and ought to have gone back ahead but failed to capitalise on a home defence cock-up. Then Alcaraz came close with a clever shot that was brilliantly saved by Allsop; had the keeper got less on it, it would have gone in – any more and it might have fallen for Smallbone. What always seemed reasonable shouts for a foul on Manning and a penalty look even better on replay, but a winner was to arrive right at the end of added time, thanks to good work by Downes and an even better decisive finish by Fraser who had come on to play an old fashioned inside left role, rather than on the wing. 
Three LSSC Man of the Match candidates to choose from: 
2. Kyle Walker-Peters, the unanimous choice of those in carriage D of the 18:36 back south – that assist would have helped, but it's worthy of note that we don't tend to play with a winger on his flank. 
4. Flynn Downes, the unanimous choice of those in carriage C of the 18:36 back south – that assist would have helped, but he had an industrious game in midfield. 
31. Gavin Bazunu. OK, another game without a clean sheet, but he (and KW-P) rescued Harwood-Bellis after a slip and he also did very well to deny Delap a second goal as well as contributing flawlessly to all that playing around that we do at the back.
Become a Member
Become a member of London Saints from as little as £5.