Friday Sep 1st Ex (Nat West) Blues v London Saints – 35 overs – and the breaking of traditions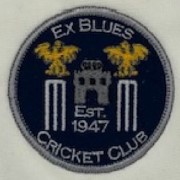 Ex (Nat West) Blues 215 all out (Rogers 4 – 17, Berkeley 2 – 27)
London Saints 188 (Price 46, McIntyre 43, Pearce 24)
The end of another season, our 43rd, saw a slight difference this year – it was dry, not from the heavens above but courteous of the rail strikes (which meant that most of us had to drive), it was dry in the alcohol sense, or drier. It also meant that our usual band of supporters were also put off – and we thought they came to watch us play cricket, not indulge in the open bar all afternoon, bar-b-cue and jugs to go around after the game. Nevertheless, it was still an enjoyable and fitting way to end another season for LSCC.
Ex Blues have changed a lot over the years since we first started playing them in 1989 and since they merged with Nat West, they are a lot more Nat than Ex with only their No 3, Mr Barham, a reminder from their Ex Blues days. Their new skipper even wanted to dispense with the usual ' time ' game and play a 35 over match to ensure a result (and stop us hanging on for a draw which we have done 11 times in our previous 33 game history – and there was our one victory in 2003). One tradition did remain though, in that Ex Blues would bat first, so not sure how Trevor scores this ' agreement ' in the prediction competition?
The bad traffic meant that there was a 30 min delay to the start to allow us to arrive and even then the Twintubs were delayed so Tiny Temper (for the first 10 overs until Gary and Lana arrived) started off behind the stumps to our opening bowing pair of Phil Rogers and Jon May with Jon playing his first game of the season. In fact, we should be honoured that Jon took time off from his global jet-setting work calendar to fit us in. We might not have been thinking that though at the end of his 3rd over and difficult spell as our usual steady and excellent opening bowler got a case of the yips (his first ever in 40 years playing cricket). Don't worry Jon, many a LSCC bowler has suffered the same fate and really we know you did it in homage to our missing ' Mr Yips ' White Viv who couldn't make it this year and traditionally chooses Ex Blues to demonstrate his annual ' My Yips ' over. Redemption though was to follow…..
Fortunately, at the other end Phil was demonstrating his usual accurate and economic self with 3 wickets including a smart catch behind by Tiny. Jon was replaced by Pete ' Hilda ' Berkeley up the hill as we all know how much he loves bowling up the hill and after Phil's opening spell of 5 overs, Max took over down the hill. Pete took a couple of wickets keeping them in check as 5 wickets went down fairly early on. Their best batsman, Mr Loughlan, walked in at No 6 and always seems to enjoy playing against us and finds the time every year on the first Friday in September to be available for our fixture.
The intervention of Carol Griffiths may then have had an impact on the game. The skipper had notified both Oliver Griffiths (Carol's son) and POTY Tiger Pearce that they would both be coming on next and bowling up and down the hill respectively. A quiet word in the skipper's ear by a concerned father meant that the roles were reversed and that Ollie would bowl down the hill and Tiger have to bowl up the hill. We can never be sure of what impact (this late change) had on Tiger's bowling mind-set but safe to say 2 overs was enough – but like Jon, redemption was to follow ……
Ollie on the other hand bowled an excellent spell and it was a joy to watch a youngster (the next LSCC generation?) bowl with such pace and skill and let's hope he continues to play and not give it up like many kids do when they reach a certain age). Now to Jon's redemption, Ollie took a well-deserved wicket in his 3rd over but it was courtesy of an ' out-of-this-world ' catch in the gully by Mayers. Their well set batsman cut a ball hard past Jon in the gully for a certain 4 until Jon pulled off a miraculous diving catch (Redemption No 1) which stuck. It can only be compared to Ben Stokes great catch in a similar place off Stuart Broad at Trent Bridge in 2015 and even beats Lord Lucan's salmon-like leap to dismiss a Witham Friary batsman on tour all those years ago. Either way a finer ever LSCC catch will be hard to find.
The skipper came onto to replace Tiger up the hill (Mayhew's please take note) and Ed, courtesy of video footage showing him hitting the stumps whilst bowling in the nets that very same morning, earned himself a bowl down the hill. Maybe the lack of a batsman in the video should have been a clue as when faced with a batsman, admittedly Mr Loughlan, their best batsman, Ed's bowling developed Jon's yip like qualities and, like with Tiger, the skipper ruthlessly removed Ed from the attack – but also, like Jon and Tiger, redemption was to follow…..
Phil came back into the attack to replace Ed and picked up his 4th wicket and Max returning after Phil picked up a deserved wicket to help us dismiss Ex (Nat West) Blues off only 30 overs but they had scored heavily whilst losing wickets to score 213. There was some loose bowling but on the whole we fielded and caught well (we won't mention a couple of lapses by Tiny in the field as he is normally our most reliable catcher so was today out of character). Only one bit of concern in the field is that the two sixteen-year old's, Lana and Ollie found themselves together in the field and, I'm sure encouraged by Lana, Ollie showed a bit of dissent to the skipper – one stroppy teenager in the field is enough to cope with, but two?…
Another break with tradition meant no post-match bar-b-cue, replaced instead by a lovely and varied tea between innings, just a shame there was no tea with the tea!
Another tradition was broken in that normally Ex Blues sees our leading Duck trophy contenders bat in the opening few spots to fight out as to who will win the trophy but this year Tiger won it hands down with 3 ducks including 2 goldens (did that fact have to be mentioned?) two clear of anyone else! Still we felt that, some part tradition should be maintained so Tiger, although sure of the trophy, was asked to open the innings. His opening partner Terence departed for a duck, one of only 16 club ducks this season. What followed was Redemption No 2 as Tiger came out fighting in an effort to wipe out his bowling deficit in quick time and hit the ball as cleanly as anyone this season hitting 6 boundaries in only 12-15 balls (the scorer didn't log the dots) in a knock of 24.
How can this man have 3 ducks this season including 2 goldens (damn sorry mentioned it again) when he can hit the ball so well, maybe opening the batting is the key. It was all going so well as Tiger was racing towards his best ever LSCC score of 33 when the Griffiths curse struck again. Carol is notorious in the LSCC WhatApp group for cursing a batsman saying how well a certain batter is playing only for them to get out next ball. Well he's passed it onto his son as Ollie loudly pronounced that " This is great, Paul's going to get a 50 here " – you guessed it next ball, Paul was departing back to the pavilion
At the other end Mike was looking so assured and though Carol didn't say anything he must have thought that Tiny was well on his way to a 50 (we all thought that) that's how well he was playing. Inexplicably he missed a straight one to be bowled for an excellent 43 to leave us on 95-5 but with plenty of overs in hand. Enter Ed for Redemption No 3. With 3 left handers in the team, London Saints were always going to look stylish today but Ed was the pick playing beautifully hitting 10 boundaries with his last 7 scoring shots all 4's. In sight of 50 and, with us trying to subtly get a message to him that their best bowler was coming off next over and that he should wait, he played one expansive shot too many. He was bowled for an excellent 46, just short of a deserved half century and of Ed's best ever score for any team of 51. Never mind hopefully next season. After Ed's departure the run rate became too much and we valiantly fell 25 runs short of our target. In the circumstances and with all the difficulties of getting to the venue today it was an excellent all round effort, well played everyone.
Man of the Match – some good performances today from Phil as usual, Pete with 2 wickets and late order runs, Mike with an excellent 43 and 2 catches, Ollie with his promising bowling and Lana as usual with her excellent fielding but the stand out today was Ed with his excellent 46 which deserved a half century. Ed's been in and out of the squad for a number of years but hopefully this knock should give him the confidence to be a regular in our middle order for years to come. Well played Ed.
Champagne Moment – a number of contenders. Firstly, Hilda's ever enthusiastic running between the wickets in vain. With Ed batting, Pete ran down the wicket imploring Ed to run a quick single, getting frustrated with Ed for not running….until it was pointed out to him that Ed had been bowled. He didn't just do it once – when the skipper was given out lbw he was shocked to see this lunatic charging down the wicket shouting to "Run, Run " until again it was pointed out that in fact the batter had been dismissed. There was a large popular vote for a balls up comical missed run out when the Ex Blues went for a suicidal quick single to Carol who was 10 yards away. A simple pick up and throw to the skipper behind the stumps (in fact Carol could have walked the ball to the stumps to run him out) would have been easy but the throw was well wide of the mark. The skipper (he would say this) did well to actually gather Carol's wayward throw but from one yard away tried to backhand the ball onto the stumps and missed by about the same distance as he was standing away from the stumps – a farce all round. This would normally have won it but it has to go to Mayers brilliant one-handed catch. We see comical fielding from London Saints every match but you'll go years to see a catch as good as Jon's today.
Player of the Year – the end of year POTY vote took place after the game and huge congratulations to Ben Collis who won (15 votes from those not present today plus the 13 players today) with a comprehensive total of 15 votes from the 28 total squad votes. On Liner was 2nd with 8 votes with also votes for Dickie and the skipper (2 each) and 1 for Phil – Well deserved Ben.
DT
Ex Blues
M. Pett ct and b May 7
Gibbons b Rogers 30
Barham ct McIntyre b Rogers 19
Shamit b Berkeley 6
K. Rapburn ct and b Rogers 0
Loughlan ct McIntyre b Rogers 81
N. Rapburn ct and b Berkeley 10
Lee ct May b O. Griffiths 29
N. Pett ct J. Griffiths b Thomas 6
Hind ct Berkeley b Cohen 11
Cooper not out 0
Extras 16
Total 213 all out in 30.1 overs
Rogers 7-2-17-4
May 3-0-44-1
Berkeley 4-0-27-2
Cohen 3.1-1-19-1
Pearce 2-0-40-0
O. Griffiths 4-0-27-1
Thomas 4-1-11-1
Price 1-0-15-0
T. Collis 2-0-8-0
London Saints
T. Collis ct ? b Hinds 0
Pearce ct ? b Hinds 24
McIntyre b N. Radburn 43
May ct ? b Cooper 6
J. Griffiths ct ? b Stone 9
Price b Lee 46
Rogers st ? b Lee 13
Cohen ct ? b K. Radburn 1
Berkeley not out 11
Thomas lbw M. Pett 15
Speedtwin not out 1
Extras 19
Total 188 for 9 off 35 overs
Become a Member
Become a member of London Saints from as little as £5.