Sunderland Away Lost 5 – 0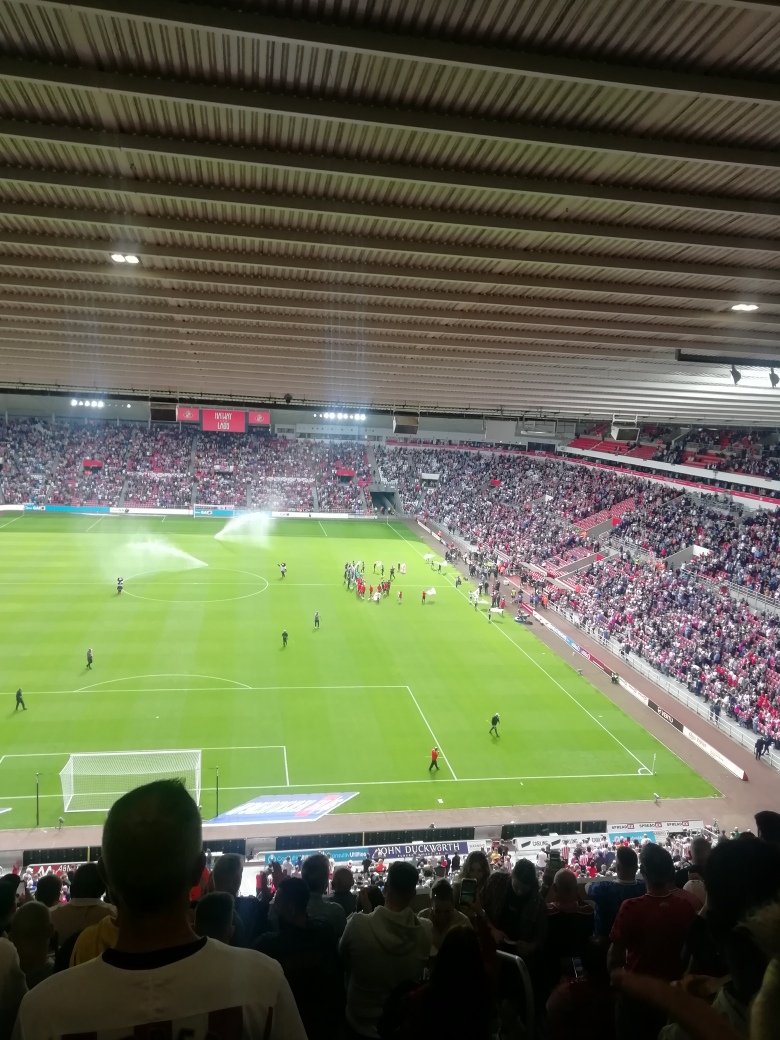 A promising beginning for Saints at Sunderland, forcing an early corner – but this was a game where we looked so naive tactically, beginning with that set piece. Manager Martin says his players failed to execute a short corner routine correctly, but the very idea of both full backs sorting things out by the flag and both centre backs waiting in the middle was crazy. Sunderland cleared and suddenly Edozie was the last line of defence against a quick break. He still was, on our right, when play switched to the opposite side and then lacked the presence to stop Clarke heading in a cross from close range. More trouble followed soon after with the familiar sight of Bazunu diving in an unsuccessful attempt to stop a low shot from distance (this one from Ekwah), but there was some mitigation by way of a deflection off Downes, making his full debut. Alas, Downes wasn't the only unfortunate debutant, with Holgate drafted in to replace Stephens and having as hapless an afternoon as I can recall by any front-line player. It took a full 15 minutes for Saints to establish any sort of control through their passing skills, and even that was spasmodic, mainly due to Holgate – although he was far from being the only culprit. It was a horrible first 45 minutes but the half wasn't over until Ekwah scored again in added time: same target area, same lack of pressure on Ekwah but this time no excuse for Bazunu who should have done better. Despite water pouring in through a hole in the hull, the deckchairs were rearranged at the interval with Fraser and Adams on for Edozie and Stuart Armstrong. Neither were to perform particularly well, but most people's concerns were concentrated on the other end where the home team promptly scored another easy goal, this one involving what was a pretty decent save by Bazunu before the ball was returned to the middle where Holgate swung and missed as Dack scored. There were more changes made by the manager, the most significant being Charles on for Holgate, not to play in the middle, but at right back as KW-P switched flanks and Manning joined up with Bednarek. It did nothing to plug the gaps with Bazunu being the only keeper under threat, and he was in action more than once, including a one-on-one save from Semedo. It looked as though Saints were going to get away lightly with a 0-4 deficit when in added time Bennette began 'grandstanding' out on the wing, but he was still allowed to get in a telling cross that found 16 year old Rigg under little or no pressure for a header into the bottom of the goal that Bazunu obligingly (and inevitably) only flapped at. 
Three LSSC Man of the Match candidates to choose from (somehow!): 
4. Flynn Downes, but with quite a few defensive lapses. 
5. Jan Bednarek, who seemed to be the only defender allowed to make a tackle – but there has to be an element of collective responsibility. 
16. Will Smallbone, until he ran out of steam, amid the hint of (yet) another injury. 
Become a Member
Become a member of London Saints from as little as £5.