London Saints versus Nascott – Borehamwood, Sunday 13th August 2023; 35 overs per side
London Saints versus Nascott – Borehamwood, Sunday 13th August 2023; 35 overs per side
Unless you are the Nascott scorers who recorded Saints bowling 36 (not including our excessive wides)
Nascott 177-5 (Rogers 2 – 7, Thomas 1 – 17, Pearce 1 – 19 – these figures don't reflect how well George and One-Liner bowled – Ed)
London Saints 159-9 (Lavery 43no, Rogers 22, Thomas 19)
Nascott arrived at Borehamwood with most of the team on whom we had inflicted an early season defeat in the away fixture at Watford's Town Park. The two exceptions – a 6ft 3 inch Biffa who batted at number 3 and an opening bowler, Cass, who arrived in a bling-coloured e-type Jag just before 3.00pm – suggested that they were bent on avenging that result. And so it proved.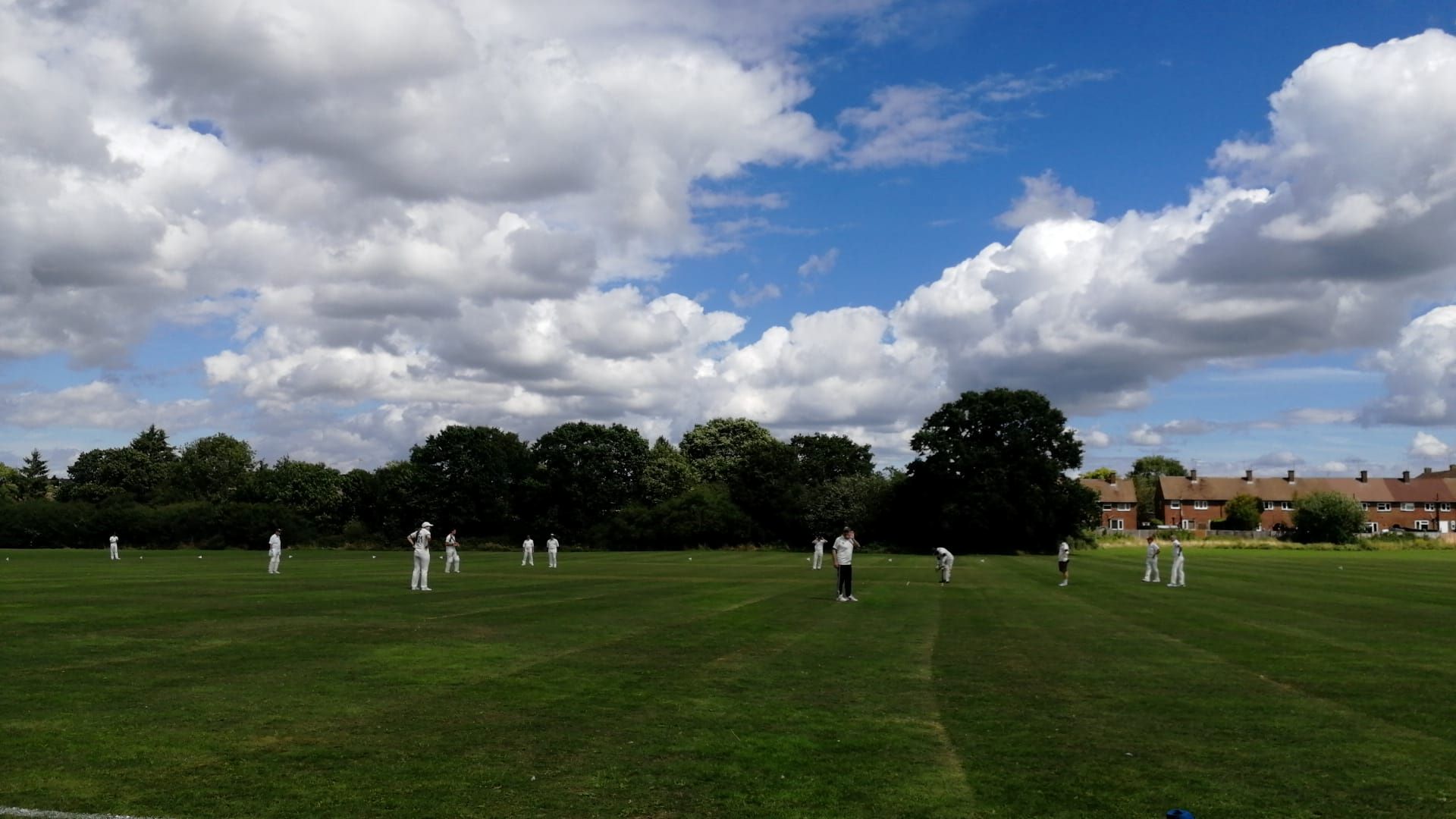 Il Duce again won the toss and, having surveyed a green wicket and under cloudy skies, inserted the opposition. After 10 miserly overs from that occasional double act, Phil and George, Nascott were barely scoring at more than one an over. However, chances were also few and far between and it required the skipper's taking matters into his own hands to break the opening partnership, bowling Imran for 35.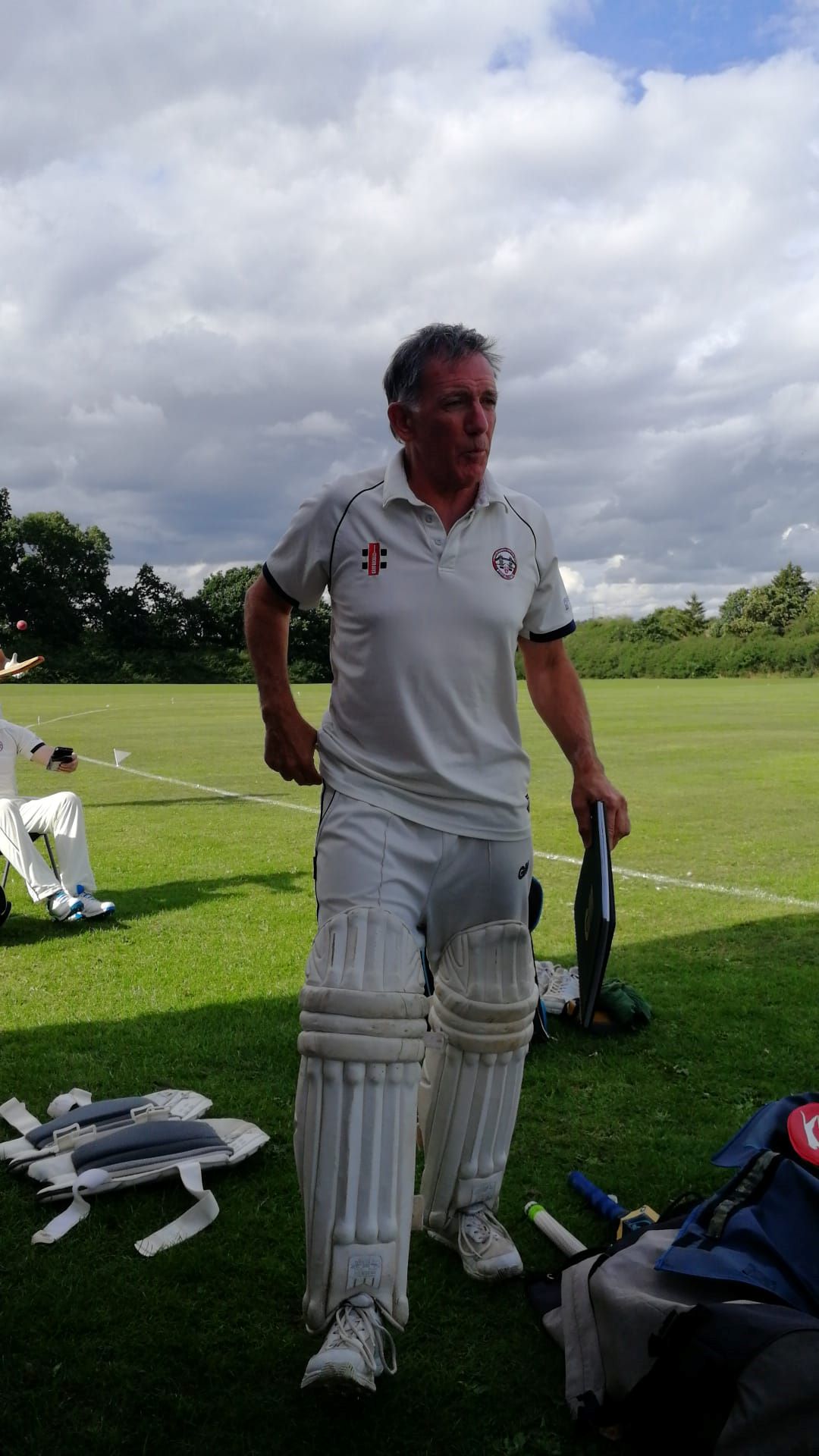 This was just one example of how, in our penultimate game of the season, several London Saints players tried to play to their nicknames. Il Duce used his prerogative quickly to exit himself from the attack once the aforementioned Biffa got going, but would later also open the batting – "if you want a job done, do it yourself."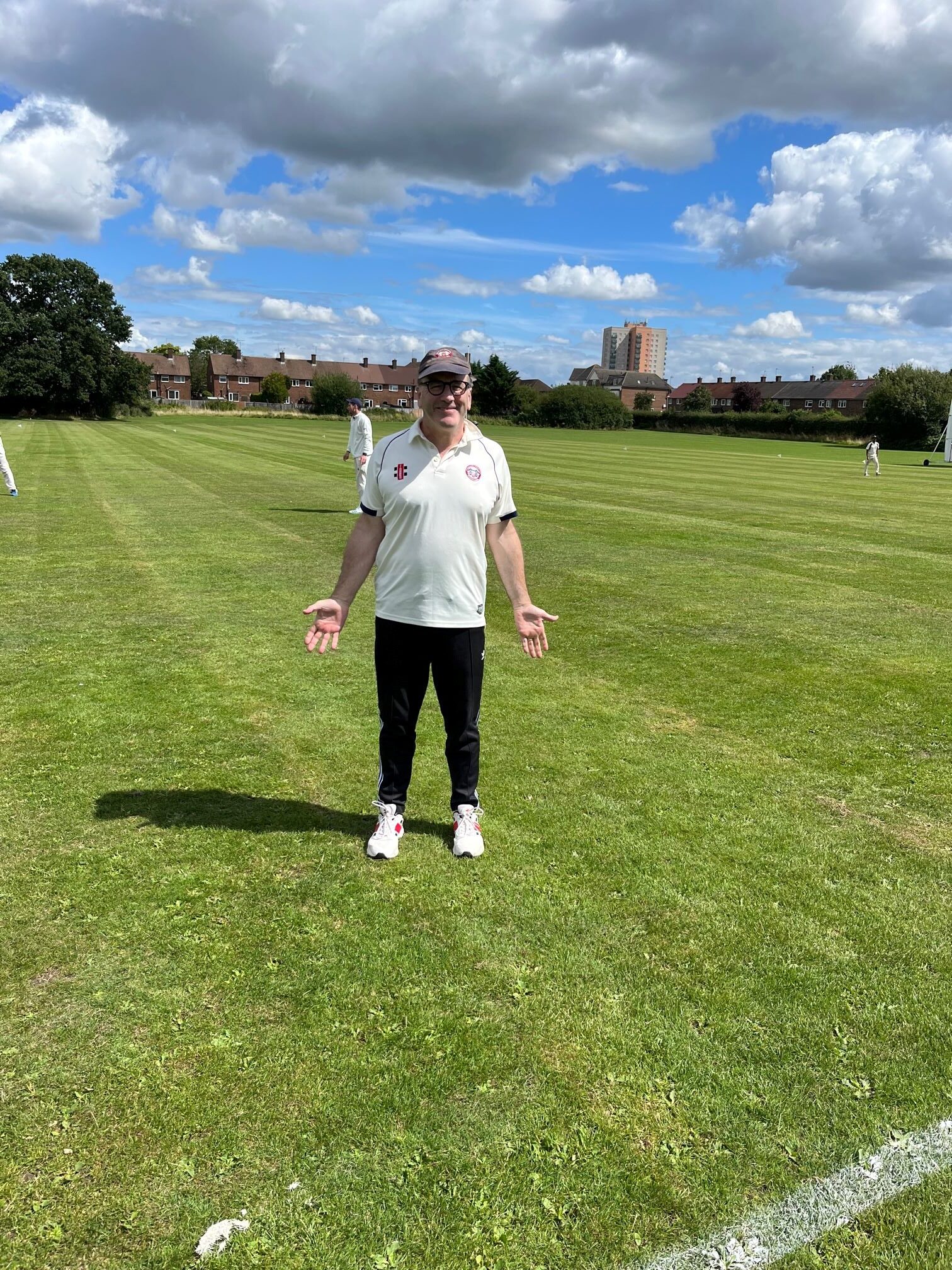 He had demoted our usual opener, Judas, for forgetting his whites and who was, according to Tiger Pearce, now modelling Carol Vorderman in a rather too shapely pair of black trackie bottoms.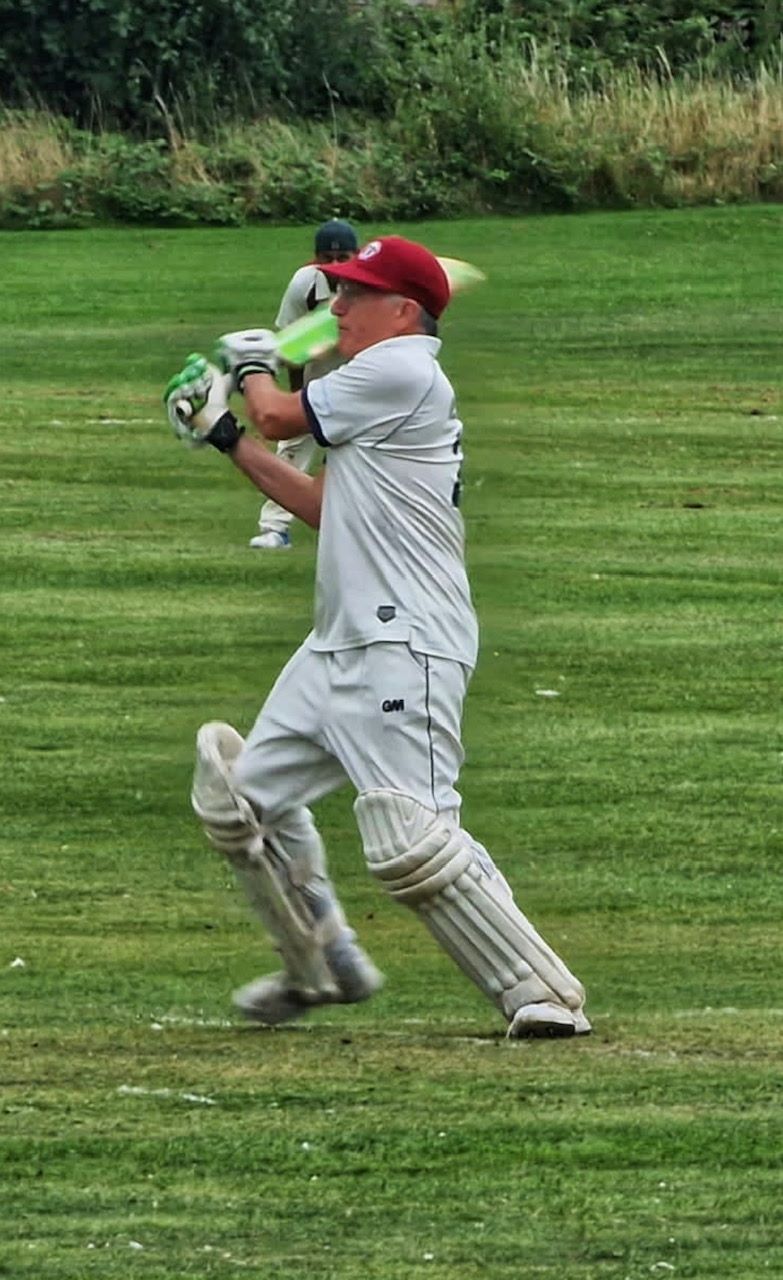 Later when we batted, our very own Ben Duckett, Paul "Just Whack It" Calais, having swished at three balls, mysteriously chose to leave one on off stump and was promptly bowled. Dover would claim it moved several feet off the pitch; video evidence (courtesy of cameraman Dickie stationed on the long-on boundary) suggested otherwise.   
The Saints stuck at it; it was one of those afternoons. Tiger's floaty left armers accounted for danger man, Biffa, who somehow trod on his stumps. Dickie had multiple attempts at a run out trying to kick the ball onto the wicket, but failed each time to hit the target. Lana, hauled up by the skipper for moving the field, yelled at him "I can do better than you" – an observation, notably, her teammates chose not to contradict. As if to prove the point, George stationed himself at midwicket after Dave pointed there whilst barking "move to cover."
The boundaries were quite short on both sides of the wicket, even so 177-5 off a questionable 35 overs (closer to 40 if you include the number of wides sent down by our player of the year) was going to take some getting. The new opening partnership of DT and Dickie started well enough, with 25 coming off the first 5 overs. Things then ground to a halt as wickets began to tumble in the face of accurate Nascott bowling. Clearly cut from similar cloth to our own Welsh dictator, Nascott's skipper (aka "Welshman") not content with opening the batting and scoring 49, also bowled unchanged from the start taking 2 for 7 from his allotted 7 overs. Ed Price, one of his victims, claimed he was "unplayable" which seemed a touch hyperbolic.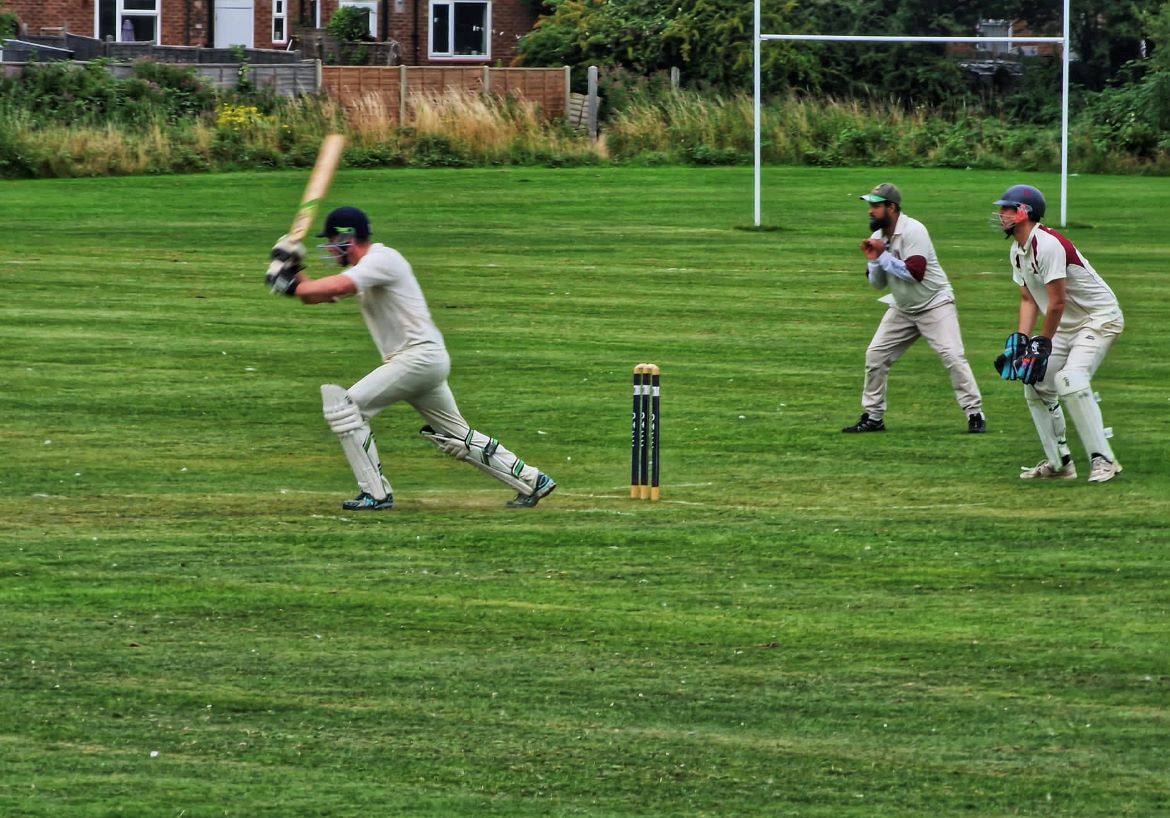 With Saints floundering at 62-6 off 19 overs, it took a spirited 50 partnership from Phil and Niall to get us back in the game. Nascott briefly seemed flustered.  Nial especially cracked some sumptuous cover drives before umpire Judas struck and sent his partner on his way, trapped LBW for 22. A further partnership with One Liner briefly flourished, but when David missed a fast, dipping full toss the game seemed up. In strode Lana batting at 10 in place of wicketkeeper Gary, but obviously ahead of last year's PoTY and this year's leading quackster.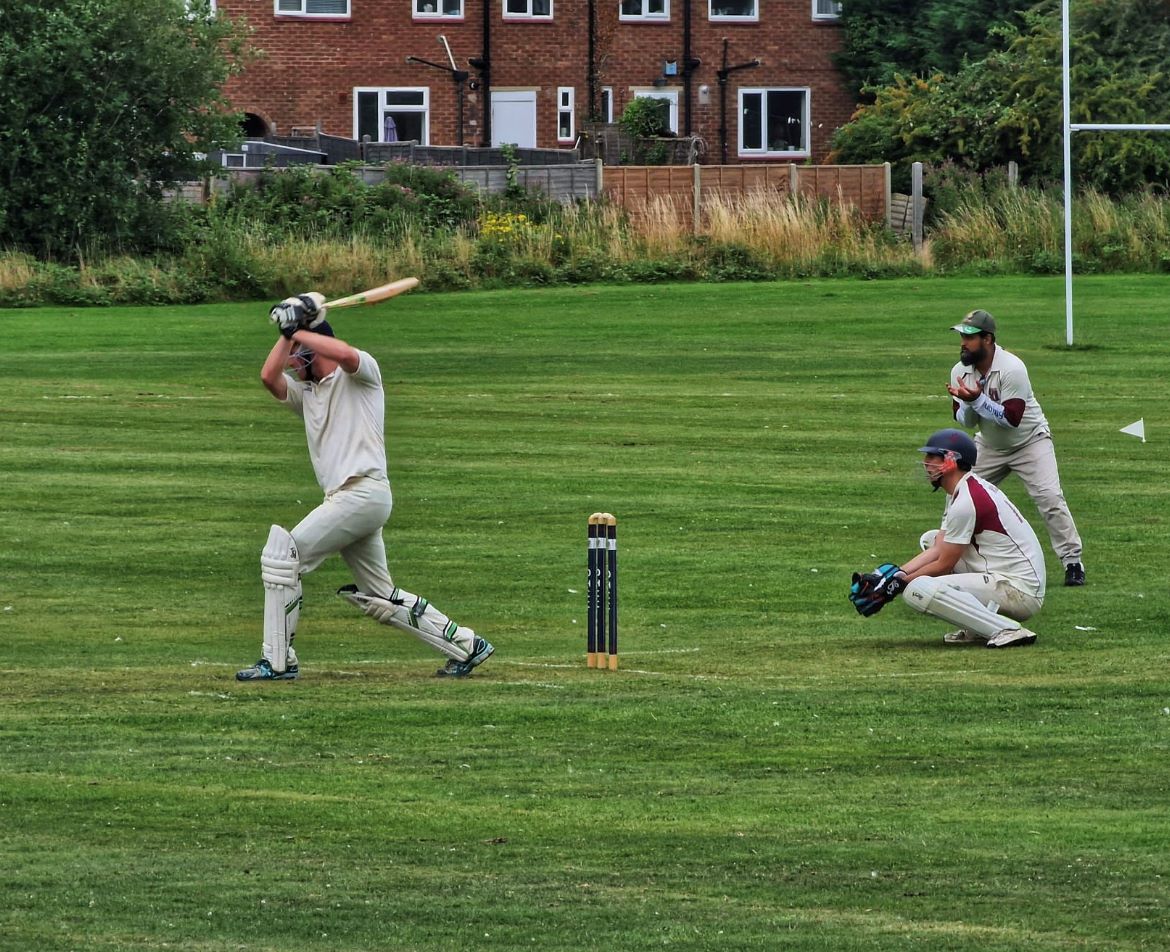 Having taken a leg stump guard, she proceeded to cream her first ball for 4 through the covers. It was a moment to savour (see below). Barely 3 balls later her stumps were re-arranged and it was left to Tiger to ensure we were not, at least, all out. A loss by ??? runs as London Saints ended up on 159-9 with Nial left stranded on 43*.
Champagne Moment – One Liner's astonishing catch off his own bowling was a contender. He had resorted for the final ball of his spell to his traditional longer run, but promptly sent down a full toss which was smashed back at him. Reaching up, he grabbed the projectile in one paw and nonchalantly claimed the wicket. However, the award this week has to go to Lana, for the dismissive way in which she smacked her first ball to the boundary and momentarily kept the dream alive that Nial and his lower-order partners would see us home. It was not to be.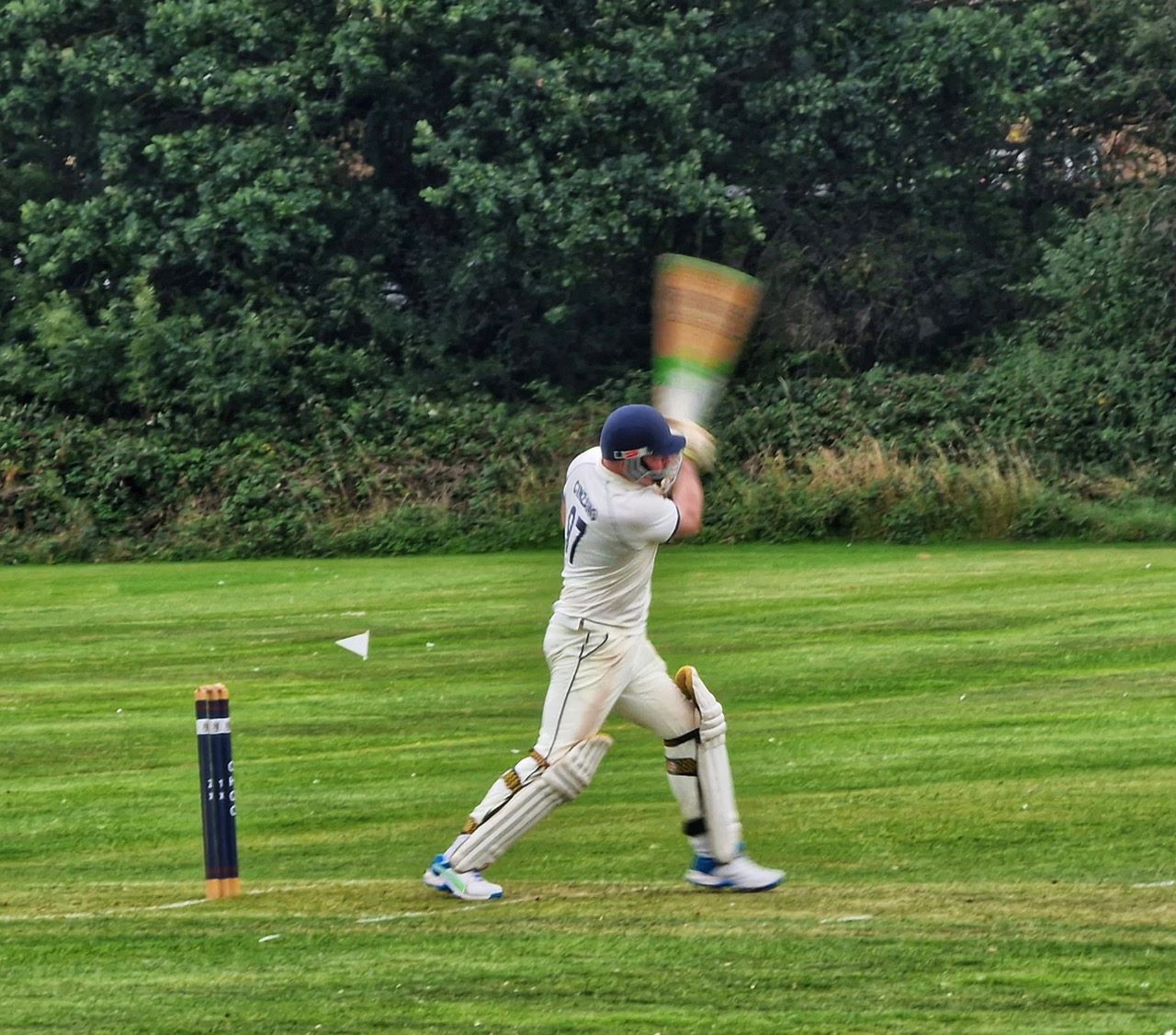 Man of the Match – Nial's innings was the stand-out contribution.  Hopefully the first of many more to come! 
Nascott
Craig LBW Rogers 49
Imran bowled Thomas 35
Mo hit wkt bowled Pearce 25
Roger c&b Nanton 20
Andy bowled Rogers 0
Alex not out 18
Josh not out 1
Extras 29
Total 177-5 (though we were told it was 191 – they can't score !!!!)
Rogers 7 -1-7-2
G.Dowson 7-1-34-1
Nanton 7-0-35-1
Lavery 4-0-26-0
Calais 3-0-17-0
DT 3-0-17-1
Pearce 3-0-19-1
Cushion 2-0-21-0
London Saints
Cushion bowled Cass 10
Thomas ct bowled Do Alex 19
Dowson LBW Champ 5
Griffiths bowled Josh 0
Calais bowled Craig 1
Price bowled Criag 7
Rogers LBW Do Alex 22
Lavery not out 43
Nanton bowled Do Alex 13
Lana bowled Cass 5
Pearce not out 3
Extras 31
Total 159-9
Become a Member
Become a member of London Saints from as little as £5.