London Saints v Roadrunners CC Leighton Buzzard – Sunday, August 6, 2023 35-over match
Leighton Buzzard – Sunday, August 6, 2023 35-over match
Roadrunners 150-7 (35 overs) – Sykes 2-16; Thomas 1-14; B Collis 1-16
London Saints 106 all out (31.2 overs) – Ben Collis 34; Sykes 14; Nanton 14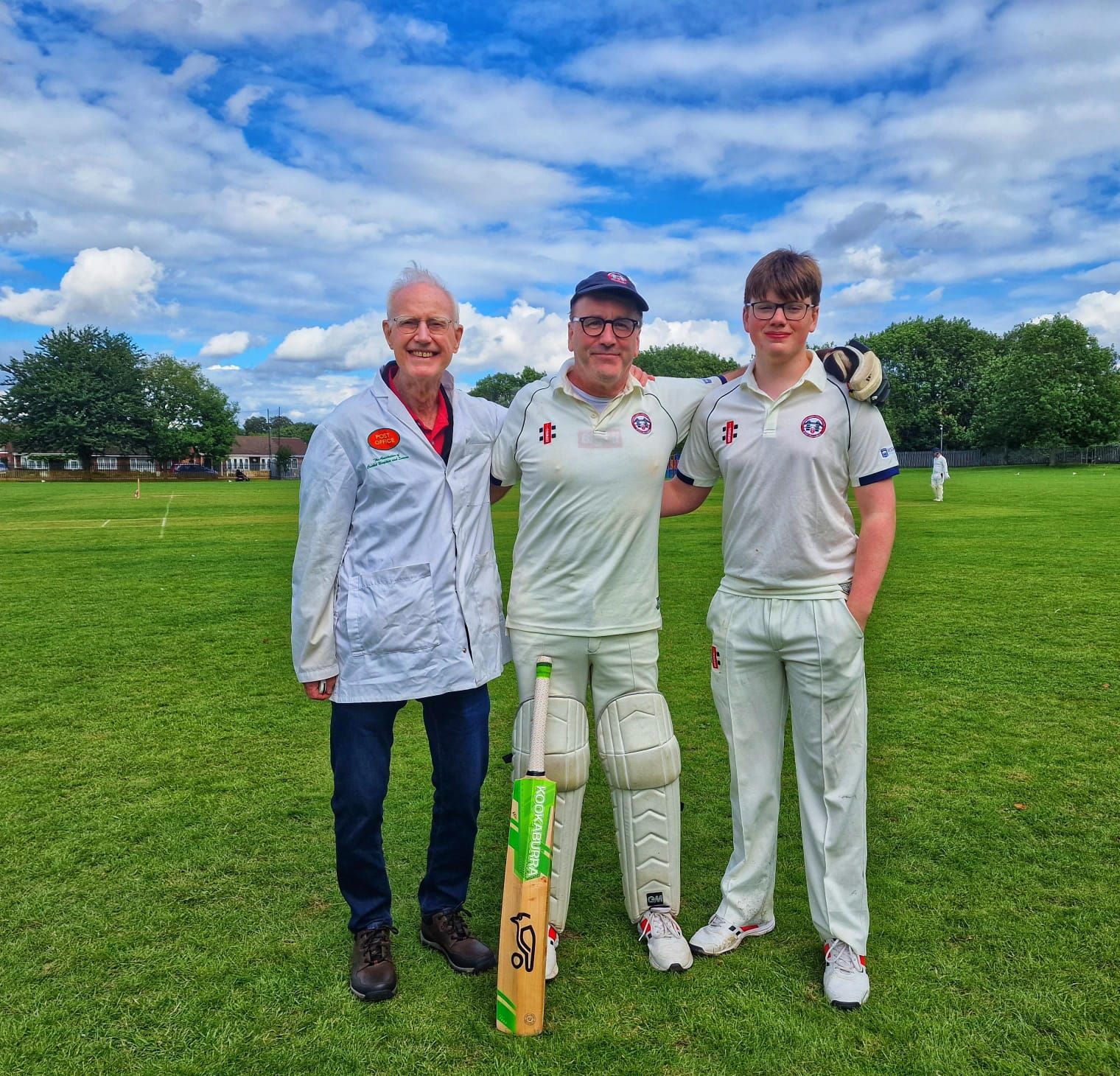 Just two weeks prior, we had fielded a team of "skilled veterans full of wisdom" against the same opposition and promptly lost not only the game but two of the said veterans to an enforced retirement. After that horror show, our worst performance this season, the axe-wielding Il Duce (to be fair, his was an act of mercy), opted for a more family-friendly outing with the father-son combos of Terrence/Ben Collis and John/Oliver Griffiths taking the field. For good measure, Tony – John's father-in-law and Oliver's grandad – also showed up for umpiring duties, while Pearcy's "future son-in-law" Oscar Sykes also took the field with Maddie there to cheer him on and hopefully celebrate her dad's long-awaited 200th wicket on his "home" ground. And, of course, the Roadrunners are well-known for a team sheet often comprising at least three generations of Catlins.
A short rain shower delayed our start, and probably helped keep the event family-oriented with no repeat of last year's X-rated activities by over-amorous youngsters on the boundary. It also gave Terrence time to get over his disorientation at being "so far north" and avoid any nosebleeds!
DT won the toss – 6 out of 8 this season must surely be a record in itself (I'm surprised the skipper doesn't include tossing in his meticulously recorded stats and milestones) – and opted to send the opposition in to bat "to make the best of the overheads" with the hope that the pitch would firm up for our turn at the crease.
Nanton and Oscar opened for the Saints, and with some extremely tight bowling (including three maidens) and excellent fielding we limited the Roadrunners to 24-2 after 9. Oscar recovered from dropping a sharp catch off his own bowling to taking two wickets in his fourth over to account for their opener Andrew (caught and bowled) and No. 3 Neil (caught by Oliver). On the other end, Matt, their other opener was proving difficult to dislodge although he was to be later given a reprieve by the ever-so-nice Saints players after initially being given out for LBW only for One Liner and Pimlico Kid to back up his insistence that he had got some bat on the ball. He would later retire on 33.
Young Oliver and Dover, both making season debuts, were unable to break the deadlock but with Ben and Oscar leading an all-round excellent performance in the field, Roadrunners could only advance to 57-2 at the drinks break. Inspired by the youngsters, DT was throwing himself around the field, saving a few boundaries but receiving several body blows for his efforts. Ouch!
Another bowling change after the break, saw DT and Pearcy take the ball. Much speculation before the game centred around whether the Tiger would finally get his breakthrough and pick up his long-awaited 200th scalp. With lots of encouragement from his teammates in his ears, Pearcy made a nervy start. But then came the moment….
The Tiger takes a short jog to the bowler's crease and releases the ball. It makes a long, slow arc through the air, such that a mathematician might take pleasure in graphing it. The batsman pauses briefly to judge the flight then takes a confident step forward and launches his bat at the ball. The London Saints fielders are all rooted to the spot, possibly anticipating a six and not wanting to expend their energy, but… wait! …the hit isn't carrying! Suddenly Oscar is on the move as the Tiger stands frozen for an instant, arms in the air, his head bending forward as if to will the ball on to its target. For a split second, he looks almost like a worshipper paying obeisance to the gods of cricket. The ball begins its descent. The Saints collectively hold their breath. With almost a sigh, the ball drops securely into in the hands of future son-in-law Oscar and the Saints erupt and run towards Pearcy to celebrate. No one spared a thought for Robbie, for that was the hapless batsman's name, who is forever to be a mere statistic in DT's records as the Tiger's 200th victim!! 59-3.
Once the game resumed and Pearcy had stopped milking the congratulations from teammates and opposition alike (he cheekily suggested that he be allowed to sit out the rest of the match!), the Roadrunners started finding the boundary, with Ajay racing to 30 before retiring. DT had Kish caught by Ed for 1 before Stewie, another threatening batsman, was brilliantly run out by a direct hit from Oliver, a repeat of Lana's heroics from the week before, albeit from a shorter distance. A good case for the LSCC youth policy, if ever there was one!
The family theme continued with the next bowling change, with the Collis gentlemen bowling at either end faced by Roadrunners' own father-and-son duo. DT took a brilliant low catch at midwicket off Terence and immediately credited his pair of new glasses (how many has he had this season?!). Given the bruises and swelling on his shins and other parts of his body, perhaps a pair of shinpads should be his next investment! Ben bowled well and was the only Saints bowler to hit the stumps to take the final Roadrunners wicket of the game before the allotted 35 overs were up with Roadrunners on 150 – a decent comeback after their half-time score.
As always, the Roadrunners' tea was excellent and the sun was finally making an appearance, giving hope for DT's forecast of a firmer pitch when the Saints went marching in.
Well… it was more of a stroll, as openers Terrence and Johnny G could only manage 7 off the first three overs followed by three consecutive maidens by the opening bowlers Adam and Kish. Nevertheless, they saw off the opening attack before Terence departed, bowled, with the score on 20, with Johnny G following 11 runs and 3 overs later to leave the Saints on 32-2. Oscar had replaced Terence and showed intent by smashing his very first ball to the boundary.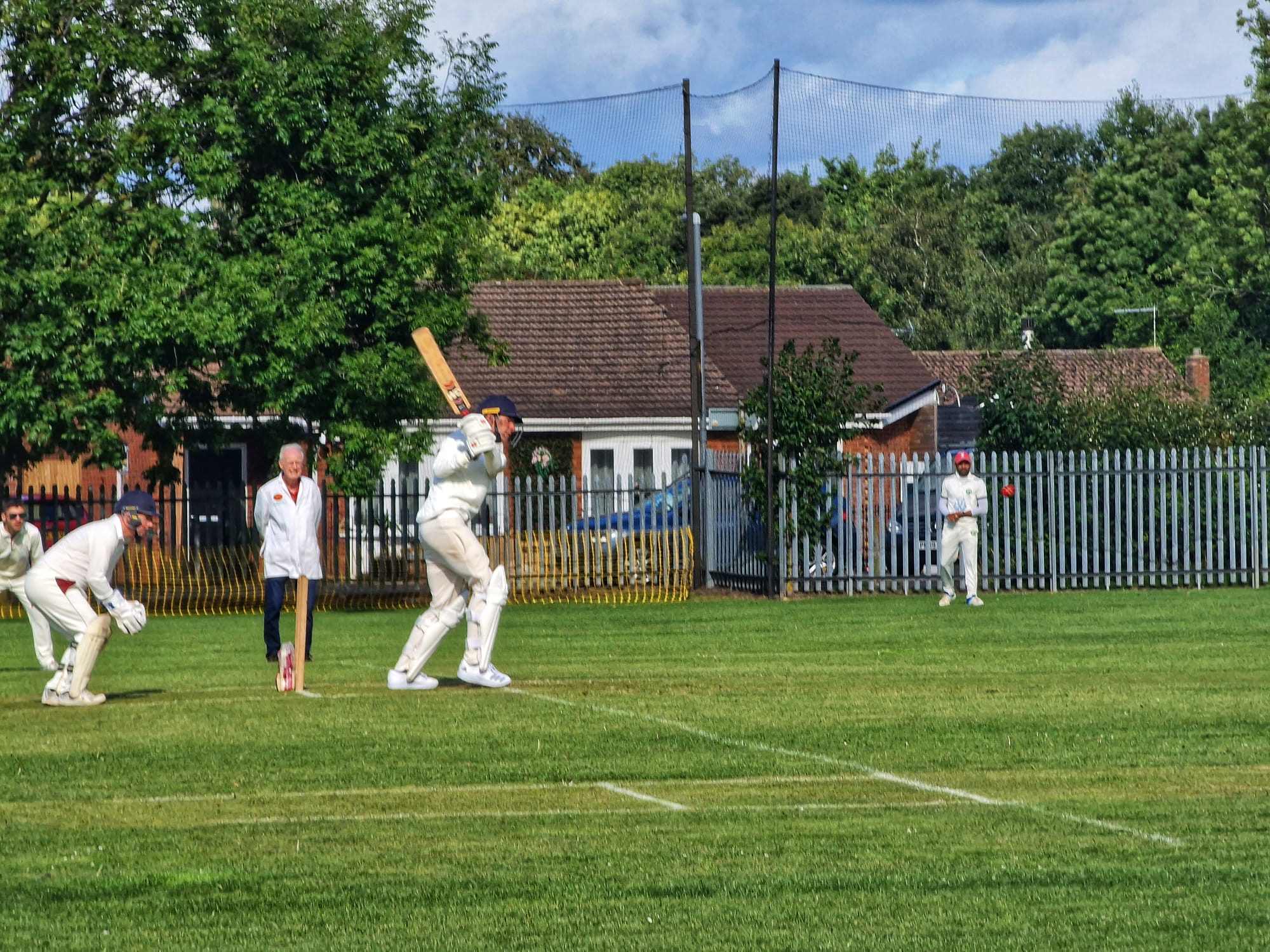 He was then joined by Ben, replacing Carol, and the scoring immediately accelerated, with Ben in particularly fine form. When Oscar was bowled for 14, Ed looked to continue the scoring streak but was caught on the boundary from a shot that deserved better. Ben then fell victim to the Saint's curse – suggestions from his admiring teammates that he would soon retire on 50, inevitably meant he was bowled next ball for a top-score of 34. It was 73 for 4 and we were running out of overs. The Saints needed 78 off the remaining 78 balls. Surely this was achievable with the likes of Dickie and One Liner on strike!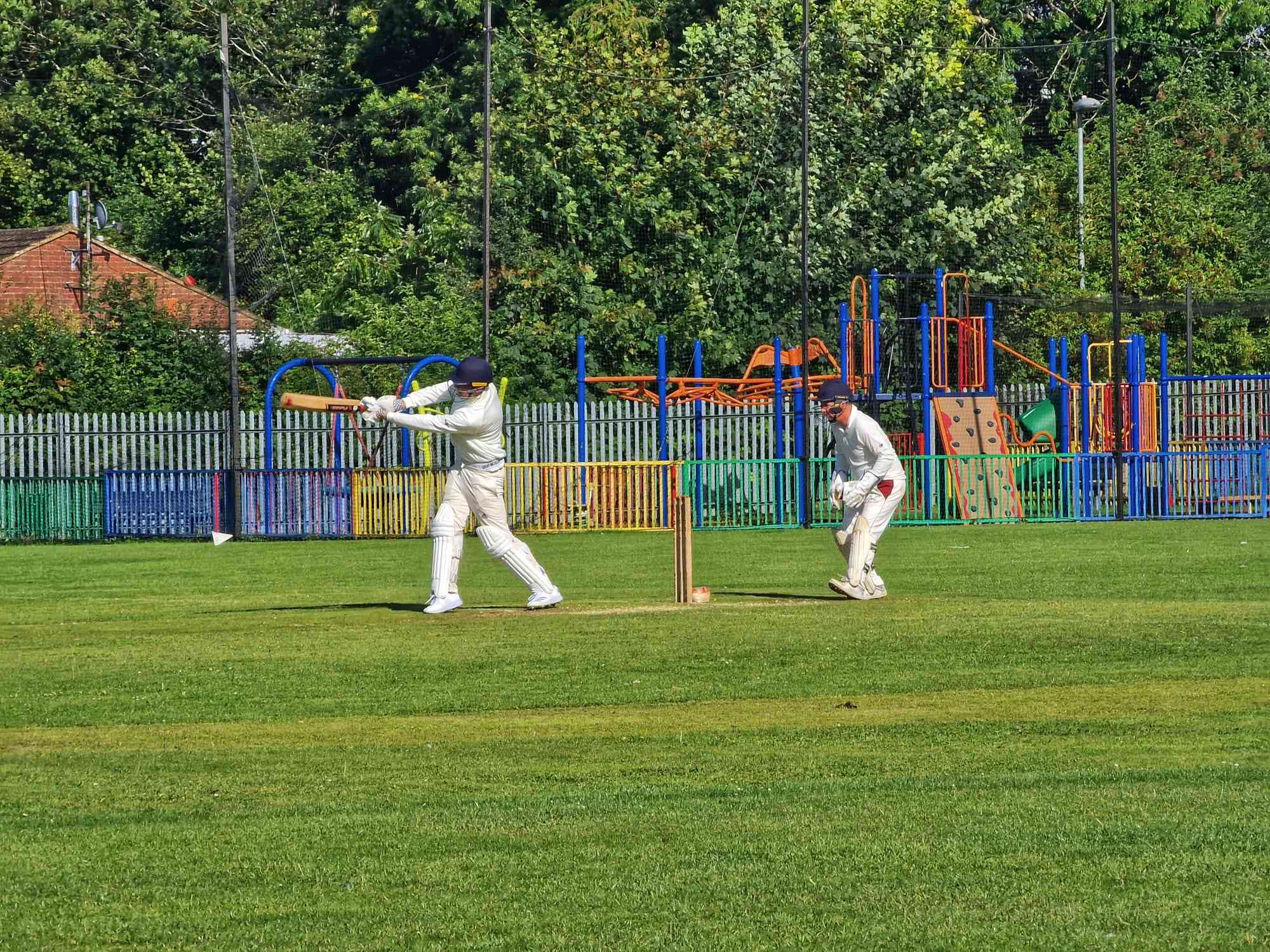 Alas, Dickie could only mange two and Nanton, needing just 7 runs to achieve his 1,500-run milestone, wasn't taking too many chances. He eventually smote one to the boundary to reach the target but the muted celebrations were an indication that victory was some way off – it is a team sport after all – and things were looking dicey when he finally holed out to another boundary catch by Ajay and Calais went in the same over.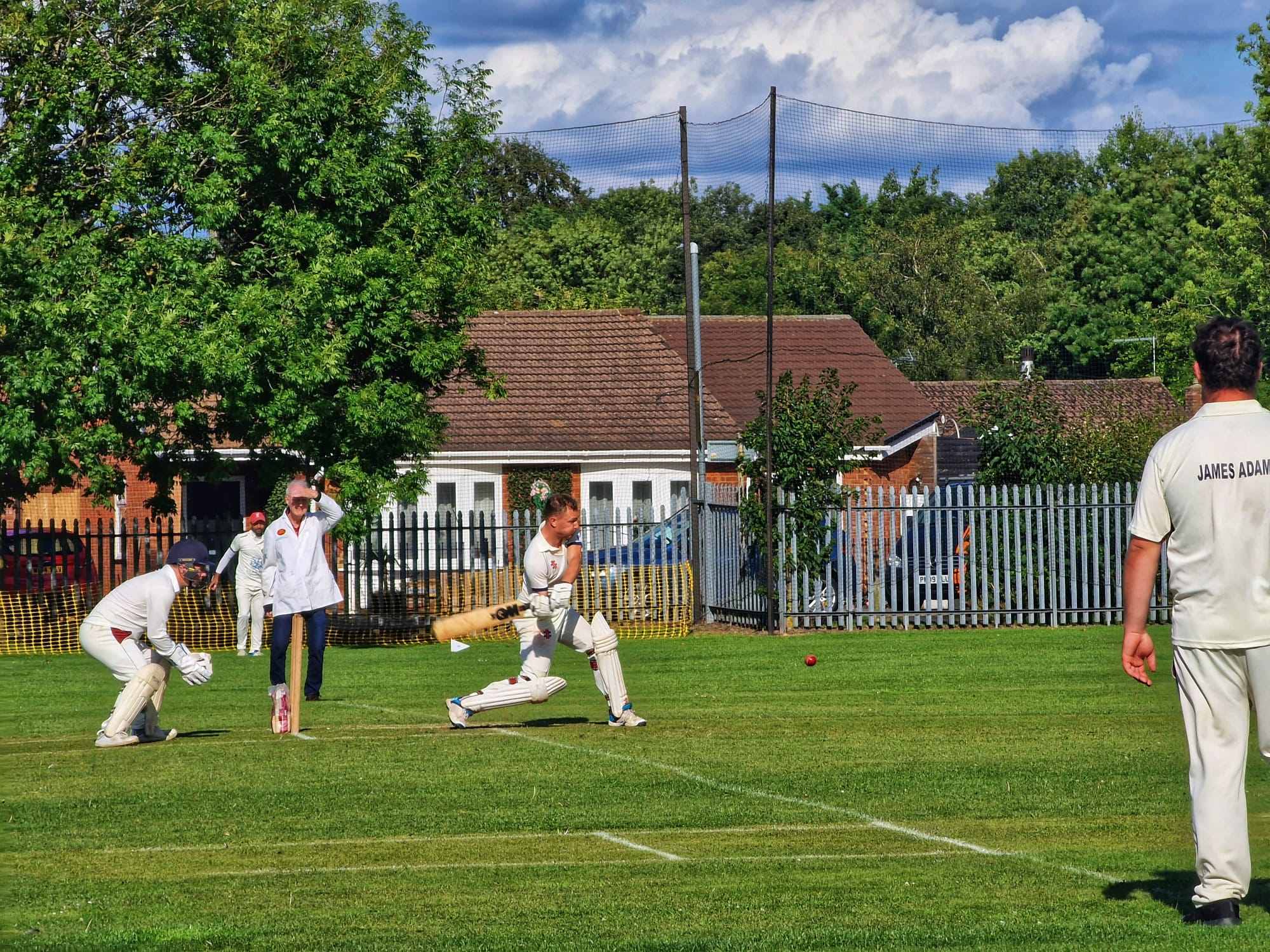 Suddenly we had gone from 85-5 to 94-8 and with DT only managing 2 after a duck from Oliver, Tiger was the last man standing with 0 not out. 106 all out.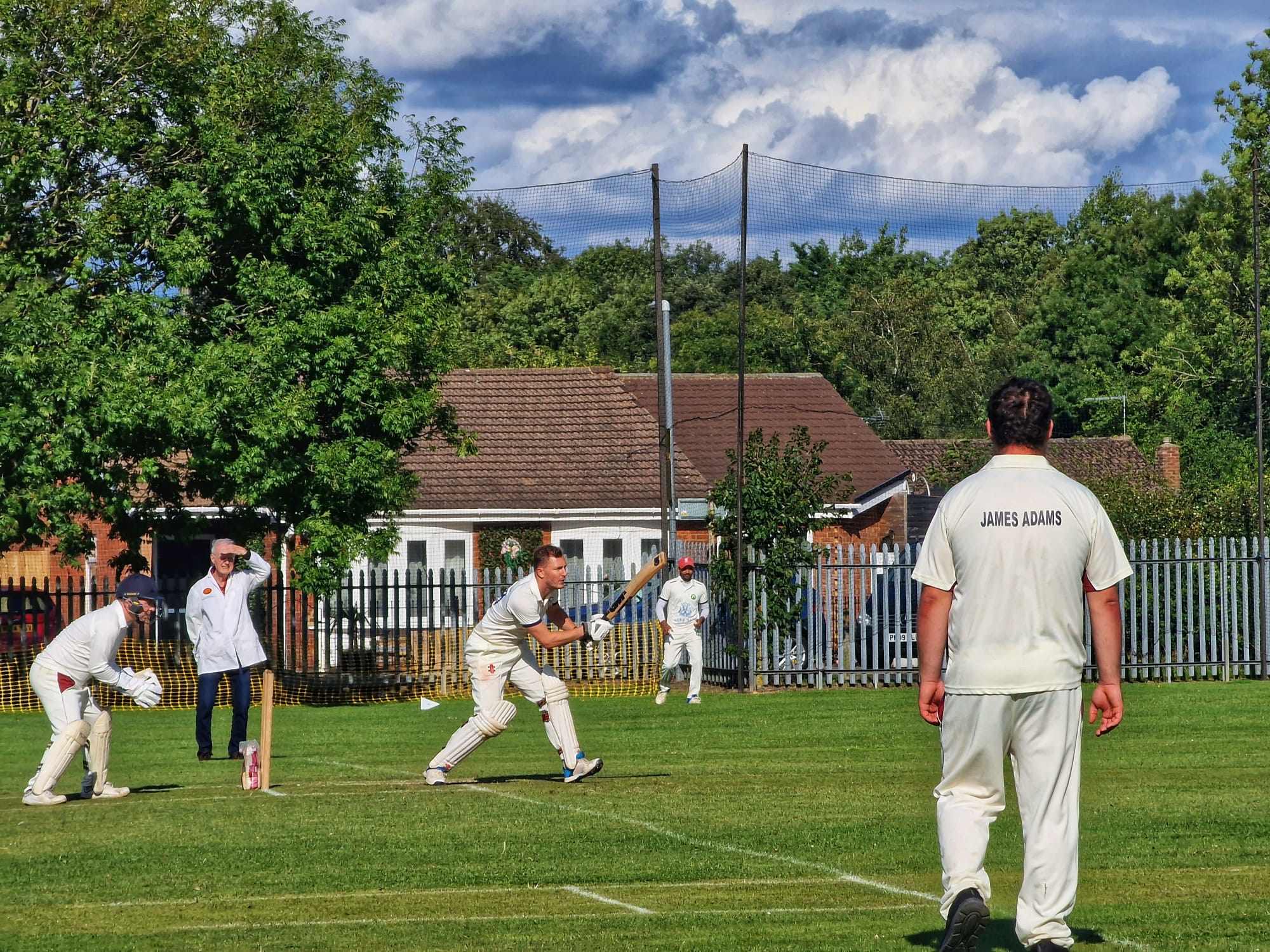 Credit must be given for the tight bowling and fielding of the opposition, but this was a disappointing collapse and the Saints were left to rue a third defeat this season to the Roadrunners. Still, this fixture remains one of the most enjoyable. The Roadrunners are a great bunch – not just because of their teas – and games are always played in a positive spirit. And the Saints can take real pride in an excellent all-round performance in the field. We bowled well, took some great catches, ran out a player with a direct hit yet again, and saved quite a few boundaries. And Tiger and One Liner finally got their long-awaited milestones.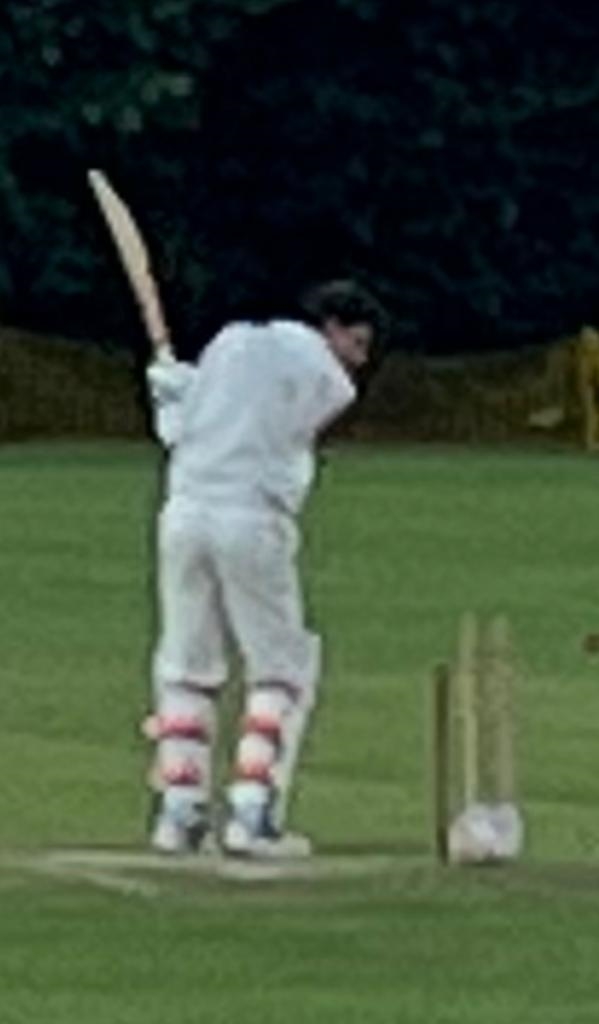 Man of the Match: It was a toss-up between Oscar and Ben, who were both excellent in the field and bowled very well. But Ben edges it for his excellent batting, top-scoring yet again for us this season. He was also by far one of our top fielders, stopping everything that came his way!
Champagne Moment: Oscar's direct hit to run out Stewie deserves a mention. But there could only be one winner for this game. Tiger has received a lot of attention this season for his runaway performance in the duck trophy stakes and seemed destined to be stranded on 199 wickets this season. But it was apropos that he would get his 200th club wicket, playing on his local ground against his favourite opposition, thanks to a catch by Oscar, with Maddie looking on. Well done Pearcy!
Roadrunners innings
Andrew c&b Sykes 9
Matt retired 33
Neil ct O. Griffiths b Sykes 2
Robbie ct Sykes b Pearce 17
Ajay retired 30
Kish ct Price b Thomas 1
Stewie run out 26
John ct Thomas b T. Collis 8
Rich b B. Collis 0
Vic not out 6
James not out 4
Extras 12
Total 150 for 7 in 35 overs
Nanton 7 – 2 – 14 – 0
Sykes 5 – 1 – 16 – 2
O Griffiths 4 – 0 – 19 – 0
Calais 4 – 0 – 24 – 0
Pearce 4 – 0 – 23 – 1
Thomas 4 – 1 – 14 – 1
T. Collis 3 – 0 – 22 – 1
B. Collis 4 – 0 – 16 – 1
London Saints innings
T. Collis b Adams 8
J. Griffiths b Ajay 7
Sykes b Ajay 14
B. Collis b Vic 34
Price ct Ajay b Rob 9
Cushion b Vic 2
Nanton ct Ajay b Andrew 14
Calais b Vic 6
O Griffiths b Vic 0
Thomas ct Kish b Andrew 2
Pearce not out 0
Extras 10
Total 106 all out in 31.2 overs
Become a Member
Become a member of London Saints from as little as £5.