Coldharbour v London Saints at Coldharbour CC  – 2ND July 2023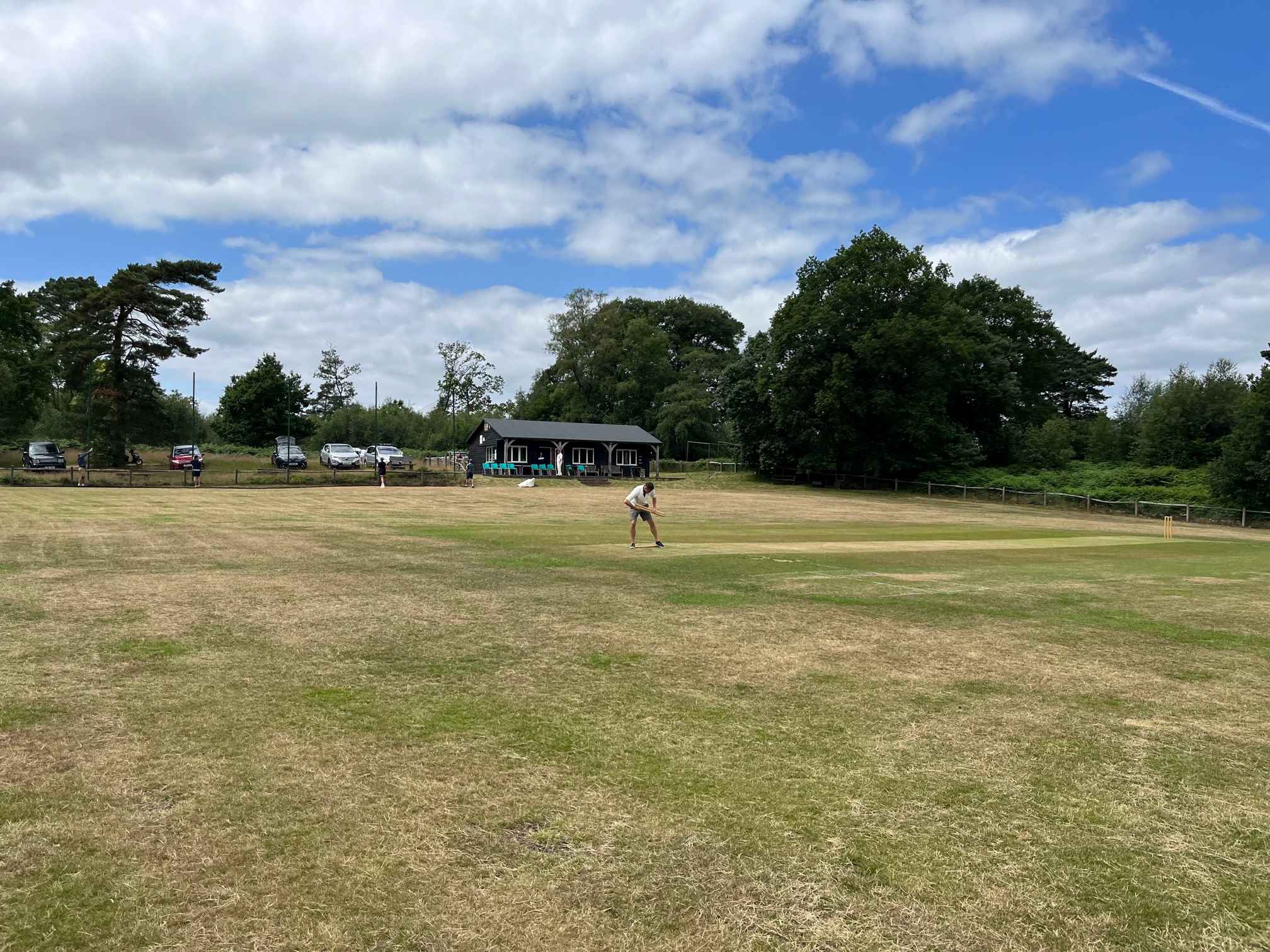 London Saints 235 – 9 (P.Rogers 46, McIntyre 35, Nanton 35, H.Rogers 26)
Codharbour 217 – 7 (H,Rogers 2-24, Thomas 2-33)
On a thankfully slightly cooler day, we turned up at lovely Coldharbour, for one of our favourite fixtures. DT amazingly won the toss again and we batted first for the 3rd consecutive game. A 13 man squad, with a heady mixture of youth, experience and guile. Welcome seasonal debuts for Phil and Terrence, with Pete also playing his first game of the season.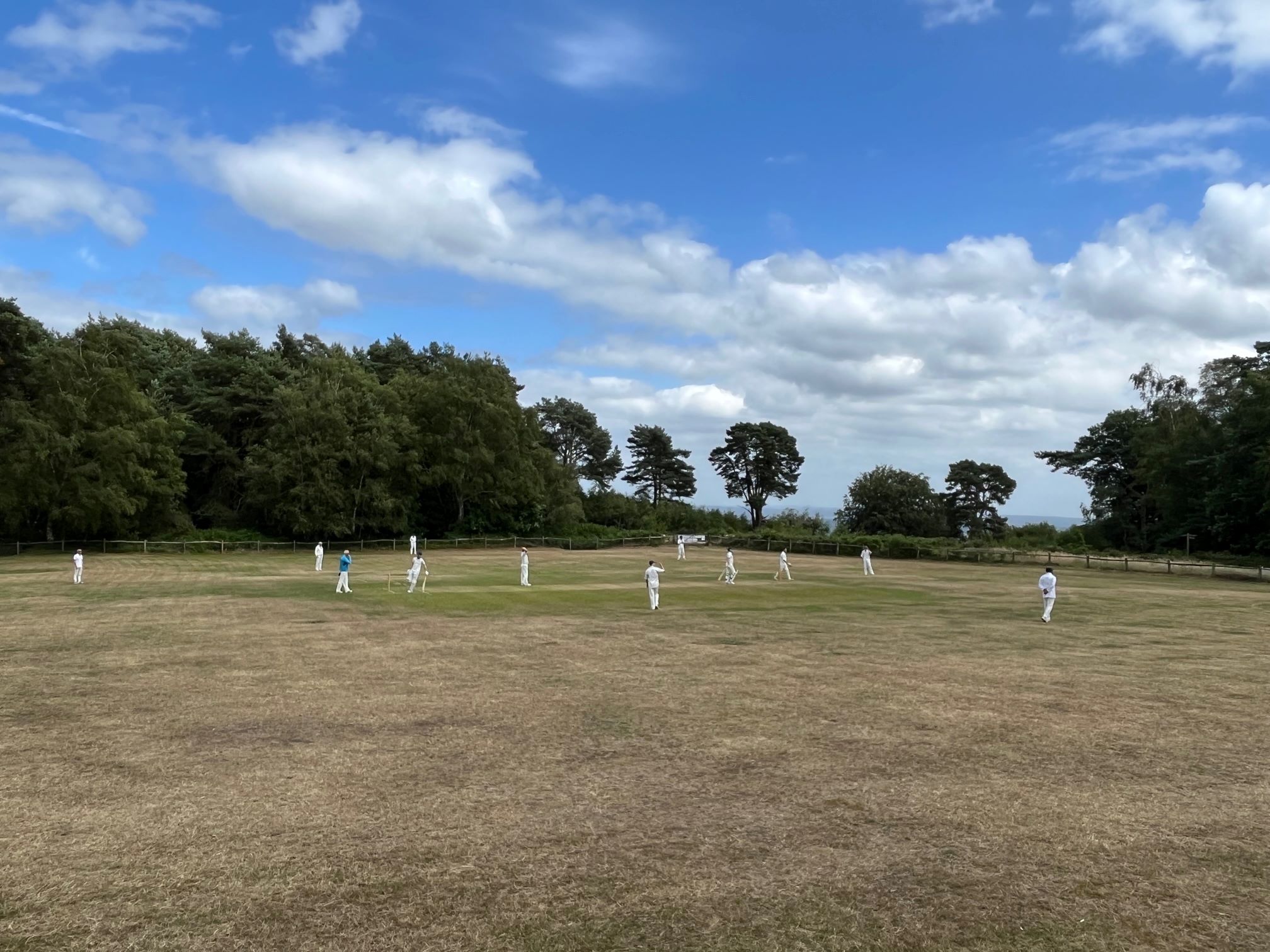 On a quick, bouncy pitch with a lightning outfield, it was hard to know what a par score was, but realistically a minimum of 200 was needed. Harry was delayed, so we had to rejig the batting order. John and Terence made a steady start, until John was hit on the cheek by a delivery that leapt off a length.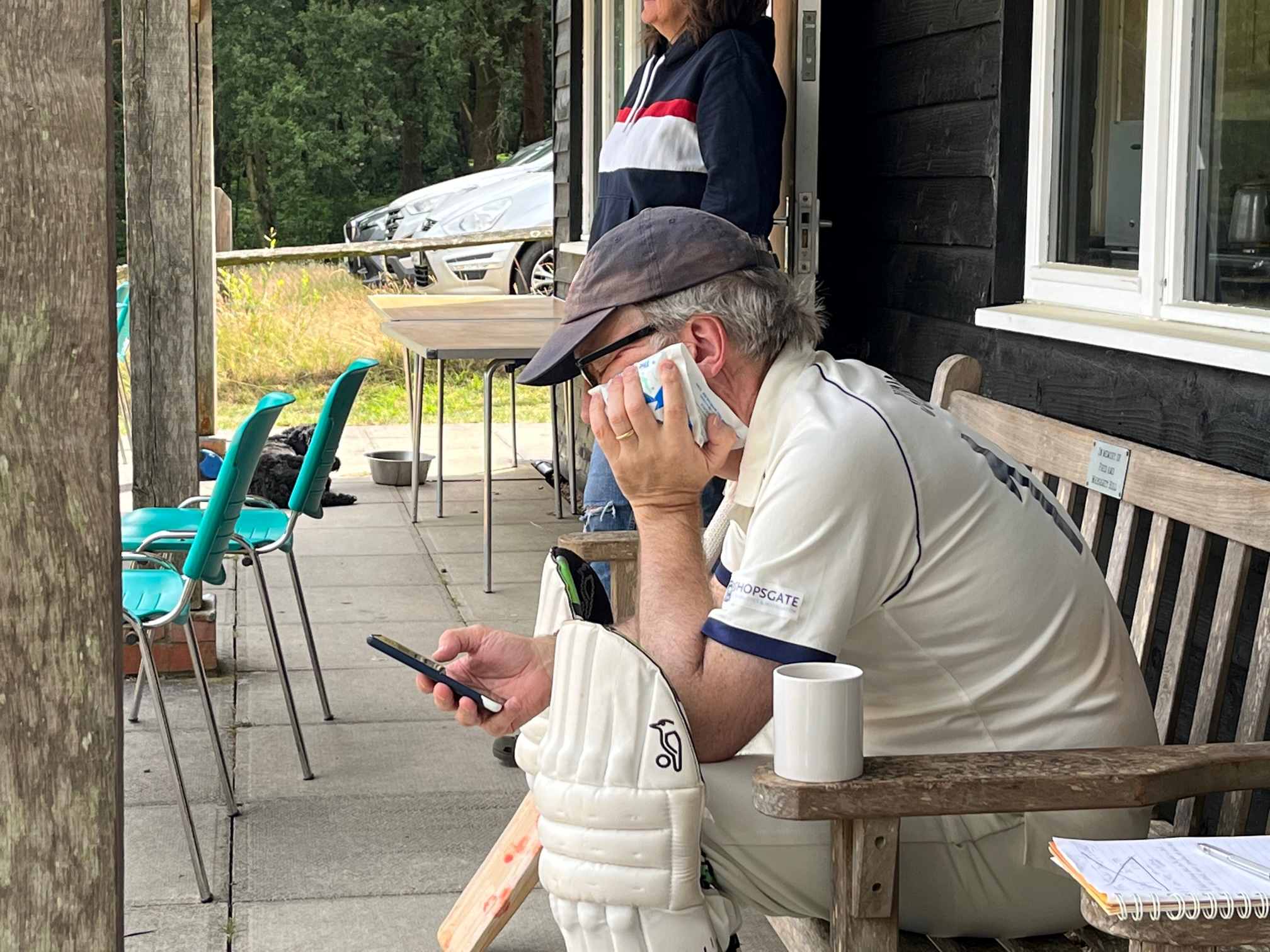 Not wishing to milk it, John had to be chaperoned off the pitch, and a kind lady from Coldharbour responded to his demands for tea and cake. Maybe a concussion check was in order, as John soon leapt to his feet, claiming to have seen the Red Arrows. Further concern was added, when John actually walked on his later, first ball return to the crease, However, he had obviously recovered by tea, and the lack of any sort of bruise or cut, did leave us all to wonder if he actually got hit.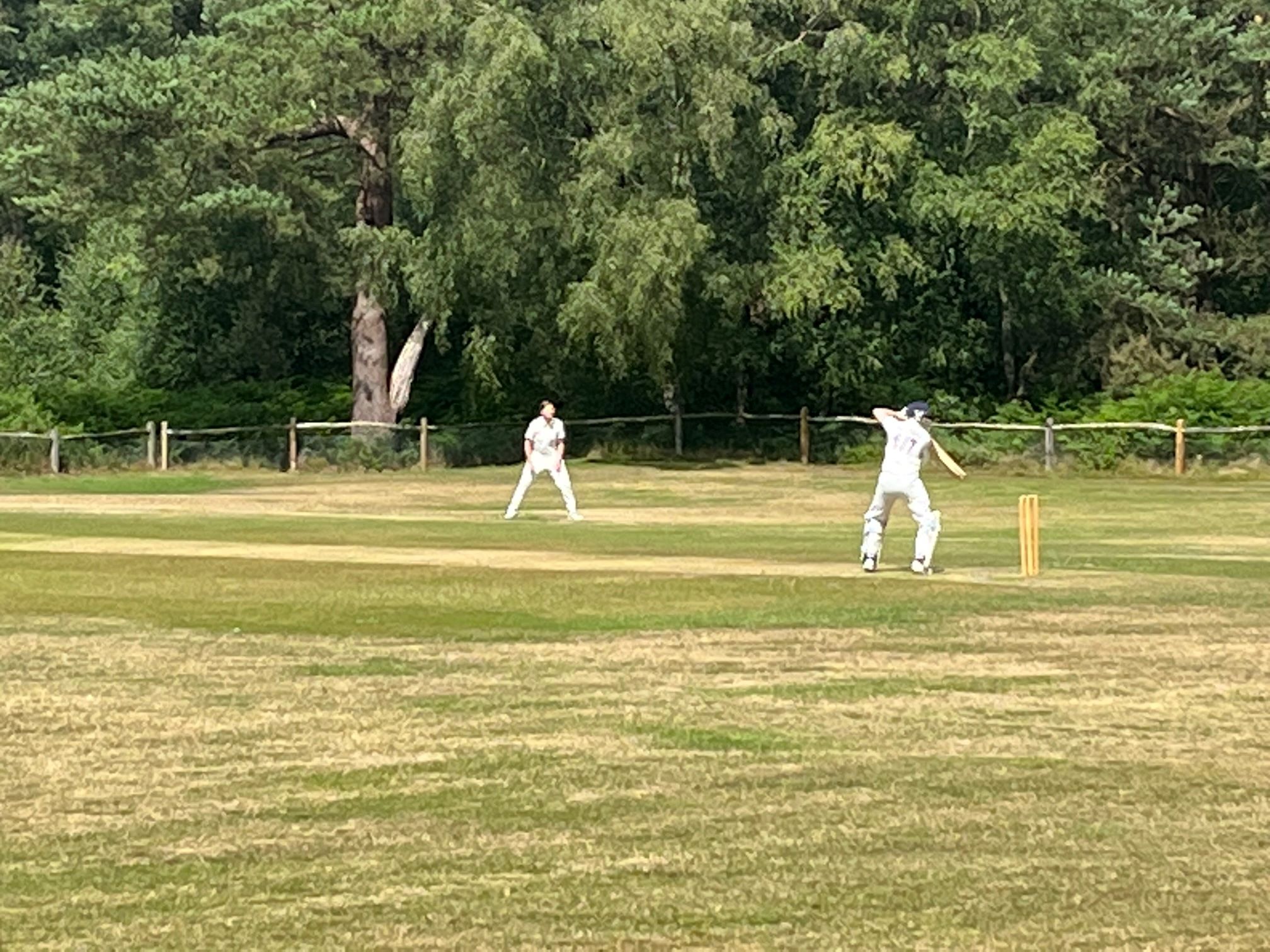 The innings began to accelerate, Jonesie hitting four 4s in an all too brief 17. Mike and Phil played well for 35 and 46. However, the star of the show was Dave N, with some lovely offside shots, in his 35. For some reason Pete decided to bat in Ray Charles' sunglasses, and was thankfully run out for 1. Harry just about made it in time after his long journey from Bristol, and his quick-fire 26 brought us up to a very handy 235-9.
The tea, even by Coldharbour standards, was great. Questions were asked about why the leading light of the tea's committee was not there, especially with lots of lovely cakes going uneaten. Jonnie did his best but it wasn't a one-man job.
Phil and Harry opened with 10 tight overs, and a wicket for Phil thanks to Mike's catch in the covers. DT did let one through his legs for 4 but we were generally very sharp in the field, and the run rate was soon rising. Special mention must also go to Lana, who fielded much better for us than when she fielded for Coldharbour when they had an injury and her bullet return throws kept Gary on his toes.
Dave N and Pete came on first change. It's fair to say Pete was a little rusty, but DT's perseverance was rewarded, with Harry taking a great running catch at long-on off Pete's last over. The run rate continued to rise as Dickie came on with DT. DT soon got the 3rd wicket, with soon after Gary taking one on the head for the 2nd week running, and was replaced by Mike. The fielding continued to be excellent, with Terence using every part of his body, apart from his hands, to affect some great stops at square leg.
The run rate edged over 10, and DT shrewdly brought back Harry and Phil to make the breakthrough, which Harry did. However, some great late order hitting, Phil's last over went for 20, and the game was in the balance again. With our usual death bowler taking a short sabbatical on the beach, it was left to the 2 Dave's to complete the job: 27 were needed off the last 2. We needn't have worried, Dave N bowled a great penultimate over, 5 runs and a wicket.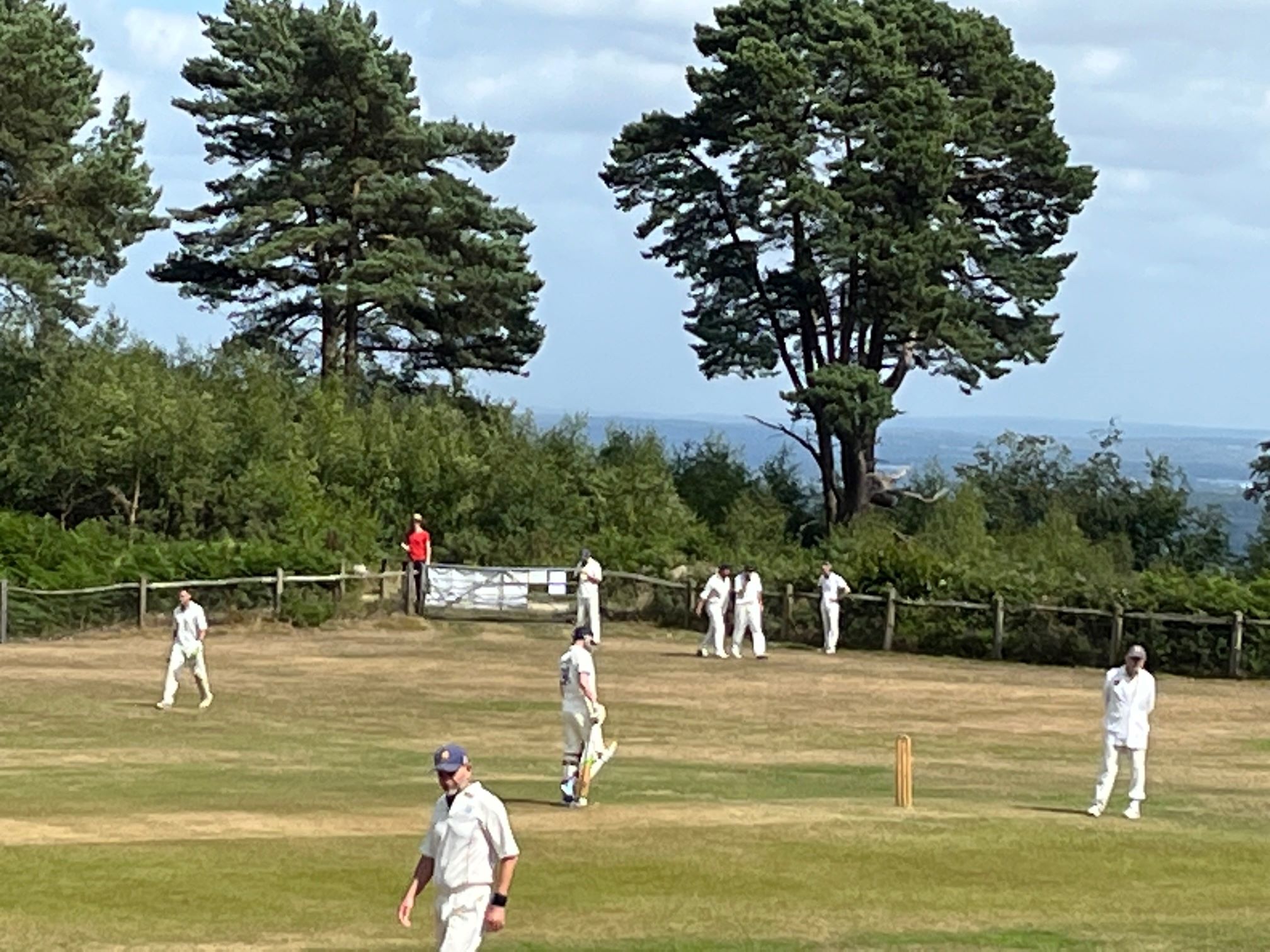 When an expertly bowled slow full toss from DT was smacked to Harry at long off, we could finally relax. In the end we won by 16, with the last 2 overs only going for 5 runs each. After 2 narrow defeats, it was great to win a close one. Enjoyment was further increased as no-one got a duck, and our POTY remains firmly at the top of the duck charts. I know it is a comfort to Paul, to know that even when he is not there, he is firmly in the lad's thoughts. Let's hope our good form continues against Nascott and Pete doesn't let so many through his legs.
Champagne moment
Contenders include Jonnie's sighting of the Red Arrows and Dickie driving away with his mobile on the roof of his car, but it deservedly goes to Harry for his great catch, and for enduring his' Planes, Trains and Automobiles' type journey up from Bristol
.
Man of the Match
Again multiple contenders, Mike, Harry and Phil, all had great games, but the standout performance came from Dave N. Great batting, very tight bowling, and fielded well as well.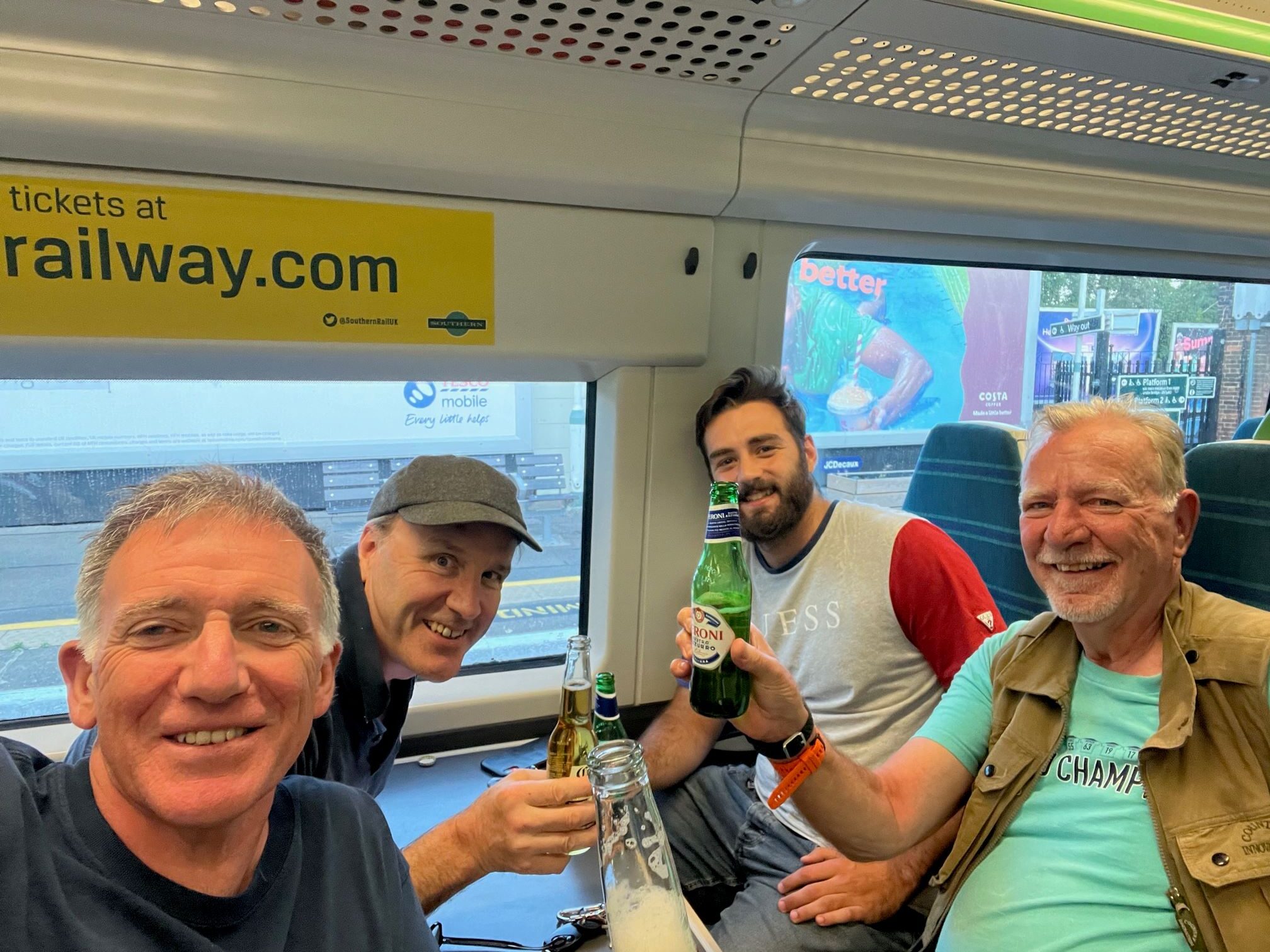 London Saints Batting
T. Collis lbw M. Van Niekera 9
Griffiths ct ? b S. Van Niekera 4
Jones b Hood 17
McIntyre b S. Van Niekera 35
Cushion lbw M. Van Niekera 15
P. Rogers b S. Van Niekera 46
Nanton b S. Van Niekera 35
H. Rogers c + b M. Van Niekera 26
Berkeley run out 1
Thomas not out 10
Smith not out 0
Extras 31
Total 235 – 9 off 35 overs
Coldharbour Batting
Badman b Thomas 50
Mason ct McIntyre b P. Rogers 13
Marshall ct H. Rogers b Berkeley 41
M. Van Niekera ct McIntyre b H. Rogers 40
Stockhausen b Nanton 13
Ashford ct P. Rogers b H. Rogers 4
Hopper ct H. Rogers b Thomas 31
Beer not out 2
S. Van Niekera not out 4
Extras 19
Total 217 – 7 off 35 overs
London Saints Bowling
P. Rogers 7 – 1 – 41 – 1
H. Rogers 7 – 2 – 24 – 2
Berkeley 5 – 0 – 40 – 1
Nanton 6 – 0 – 22 – 1
Thomas 6 – 0 – 33 – 2
Cushion 4 – 0 – 28 – 0
Become a Member
Become a member of London Saints from as little as £5.