London Saints CC vs Roadrunners – 25th June 2023 at Old Haberdashers CC
London Saints 178 All out – 35 overs (Sykes 50, Cushion 41, Nanton 29)
Roadrunners 179-8. – 31.4 overs (Thomas 3-27, R.Griffiths 3-39, Cushion 2-33)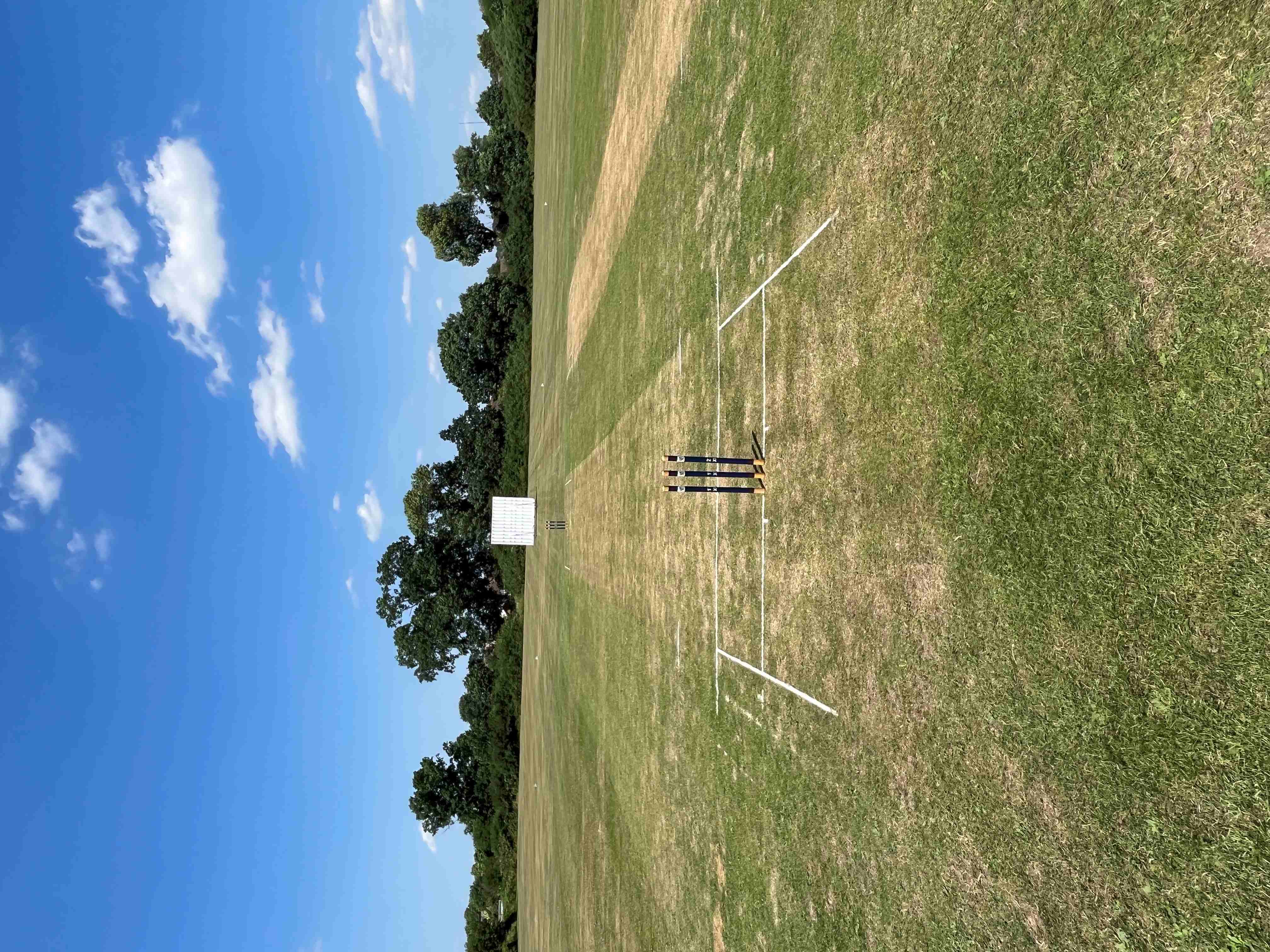 "Come on you wankers, let's Ave it"
Such was the unexpected expletive heard in my car as we are arrived at Old Habs for our first home game of the season… Oscar for one was clearly excited to get going given the above!
Another cracking game against the affable Roadrunners which could easily have gone our way but ended up in narrow defeat – I feel confident a first overdue win of the season won't be long in coming…
On another hot sunny but also windy day, DT won the toss again and chose to bat earning more points in the prediction competition and similarly resisted suggestions of batsmen retiring at 35 as the Runners preferred, there's points for 50s at stake after all.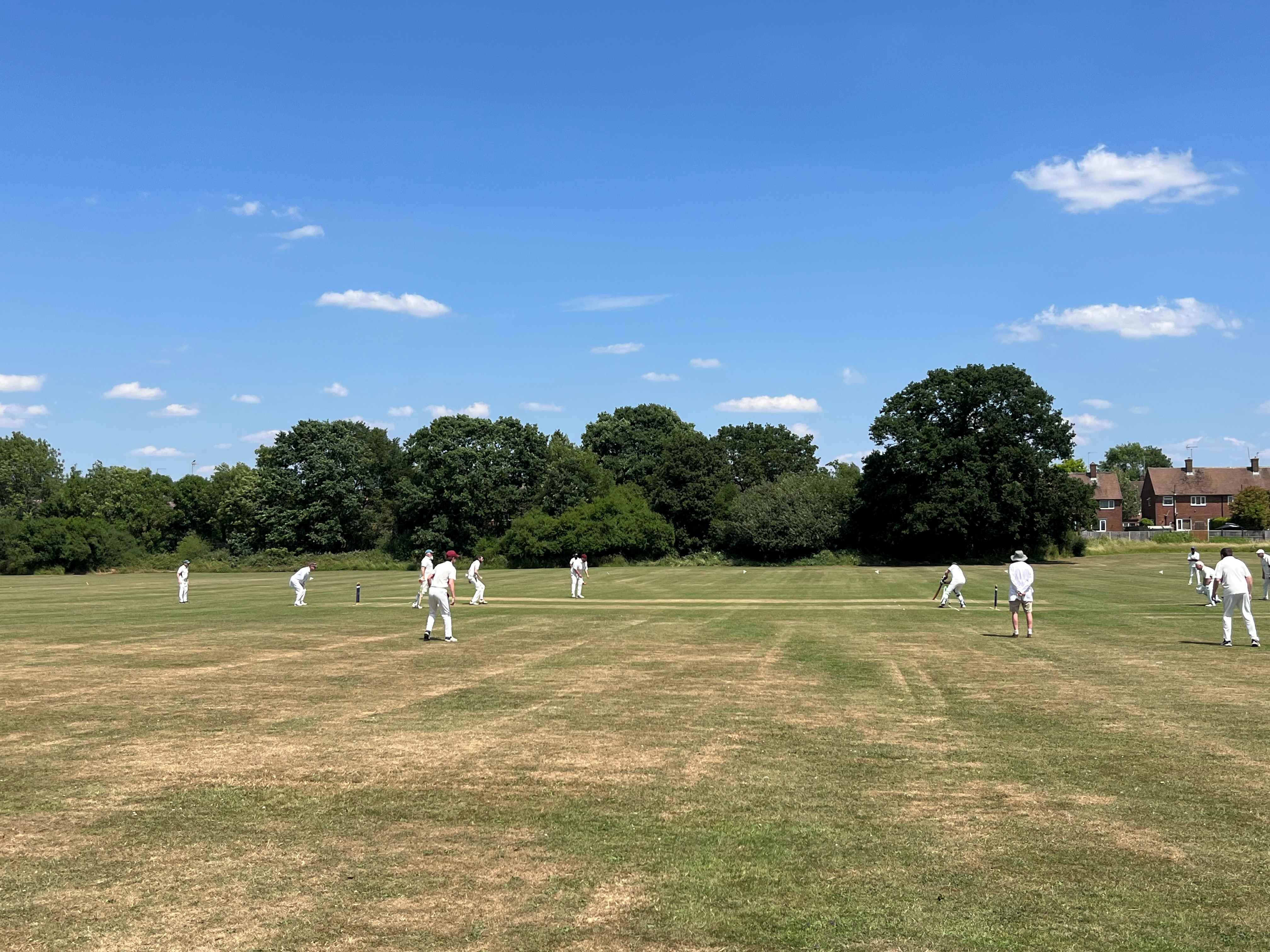 Jones and Griffiths opened with the latter cracking his first ball sweetly to the boundary off McKenzie. However, with the ball swinging in the cross winds and often starting outside leg to be outside off when pitching and then seaming further off the sloped wicket, scoring was very tricky against their opening bowlers. At first drinks we were 24-1 off 12 overs.
This however formed a base for Oscar, Dickie and Jonty to open their shoulders and runs started scoring freely. At one stage the Runners posting 3 fielders in cow corner and all could only watch as our big hitters smashed balls over their heads for a series of 6s to our delight. At 25 overs the score had raced to 138-4.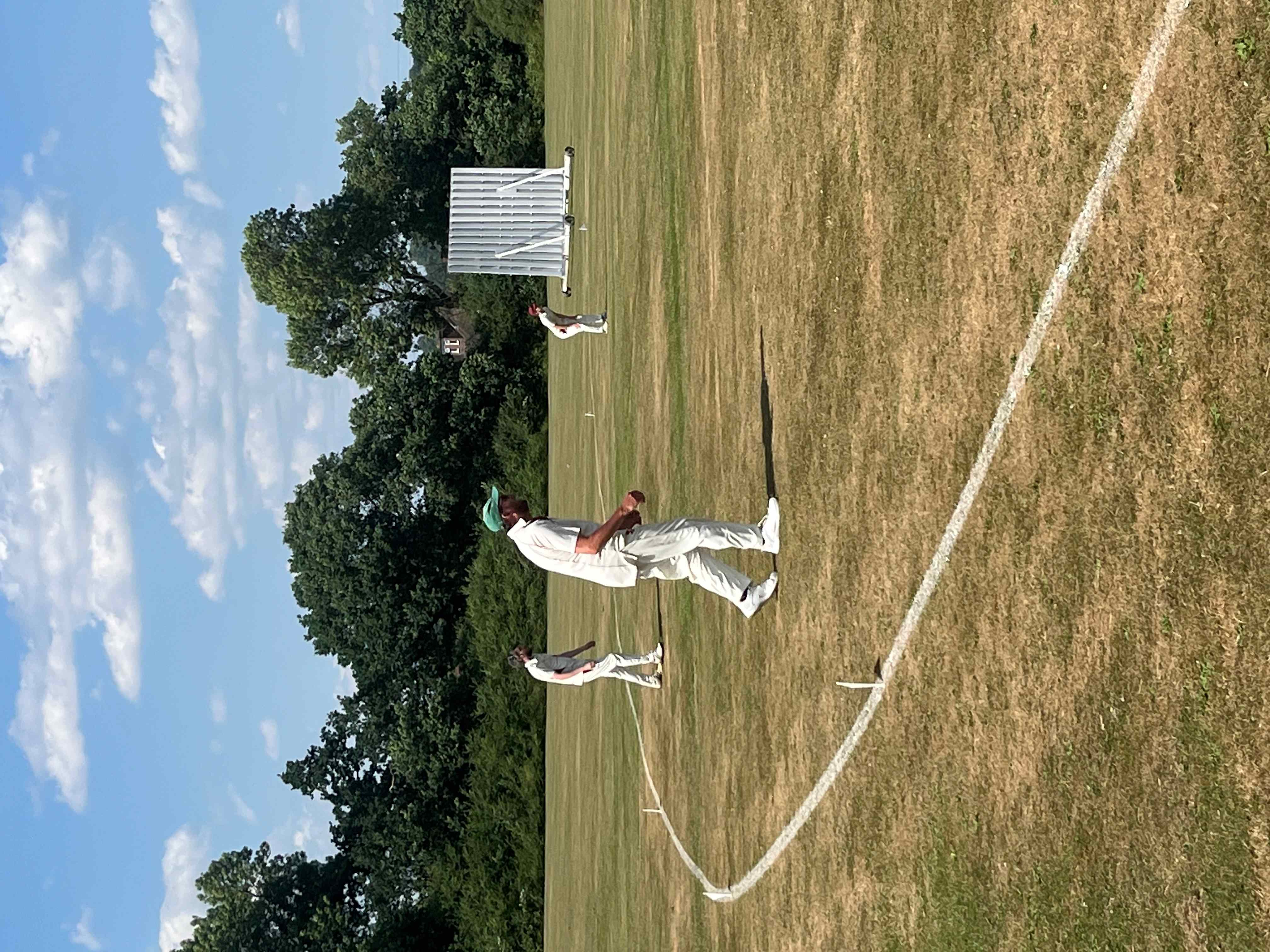 There were no ducks (sadly for some of us) and whilst scoring slowed in the last few overs – we were on 165-6 with 5 overs to go. Richard did his best impression of The Wall – struggling for timing as he was – Lana scored a massively cheered run whilst her Dad finished our innings with a cameo but not before Oscar returned for the last ball of the 35 overs, having retired at 50 not out, he selflessly charged the last ball of the innings and was bowled. A good score still we felt at Tea with optimism high.
Tea appeared to have suffered from shrinkflation but was set upon with gusto apart from the decorative fruit trays of course.
We opened the bowling with Jonty and Oscar with the former finding his line and Oscar mixing up his deliveries including the surprise full bunger to the keeper making sure Gary was soon limbered up. Runs did flow quite quickly however and we didn't get the breakthrough as quickly as we'd hoped. After 6 overs they were 39-0.
Richard G and Dickie came on and showed if you have class/skill, you don't need nets and both bowled well picking up wickets to keep us right in the game. DT also having come on first change was taking wickets and opined that pace off would definitely win us the game…. Cue Tiger.
All I can say is that my 2 over spell of legside and offside dross blended with wides will teach me to get over confident about a sloping wicket with a helpful cross wind on a dry pitch. I did however get full value for my 2 overs by getting to bowl nearly an over more in wides. I should have realised I was going to have a stinker when told pre-game that Rich Catlin had gone to Cornwall on holiday rather than face my bowling….. with no rabbit in their side, I think I panicked as I await my 200th victim.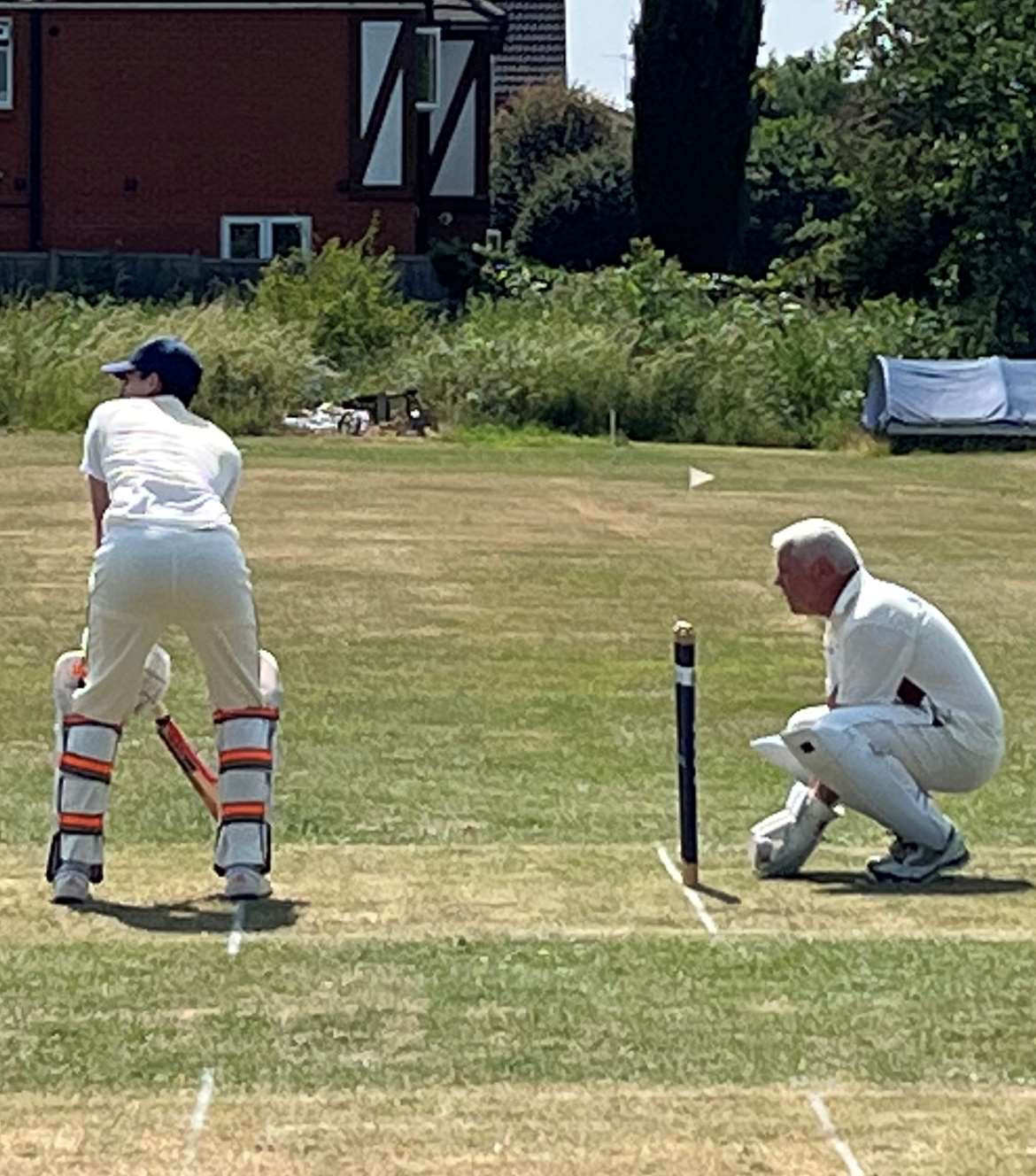 DT thankfully put me (and the rest of the team) out of my misery and instead sent for specialist closer Johnny Griffiths, who was given his one over for the season before also suffering the same fate.
Their opening bowler, Chris Brown, who had swung the ball so prodigiously, scored 35 runs without anyone noticing and retired whilst Runners stalwart, Vishal, making a welcome return to playing us also clubbed his usual 35 too.
We fielded well I thought and took some sharp catches. Runners new player, Jonny, is a bundle of energy and when bowling also seemed to be trying to field at mid-on and mid-off as well. When batting he is one of 'those' players who calls for a run all the time and especially just as the fielder picks a ball up. This can be a little trying and of course doing so to one of our best fielders, Tiny, just served to fire him up and as a result the rest of us too.
We needed to get them all out and sadly despite the best efforts of a returning DT, Nanton and Dickie, we just couldn't do so BUT a small moral victory was us getting through their line up and forcing the previously retired Vishal to come back out to bat to score their winning runs.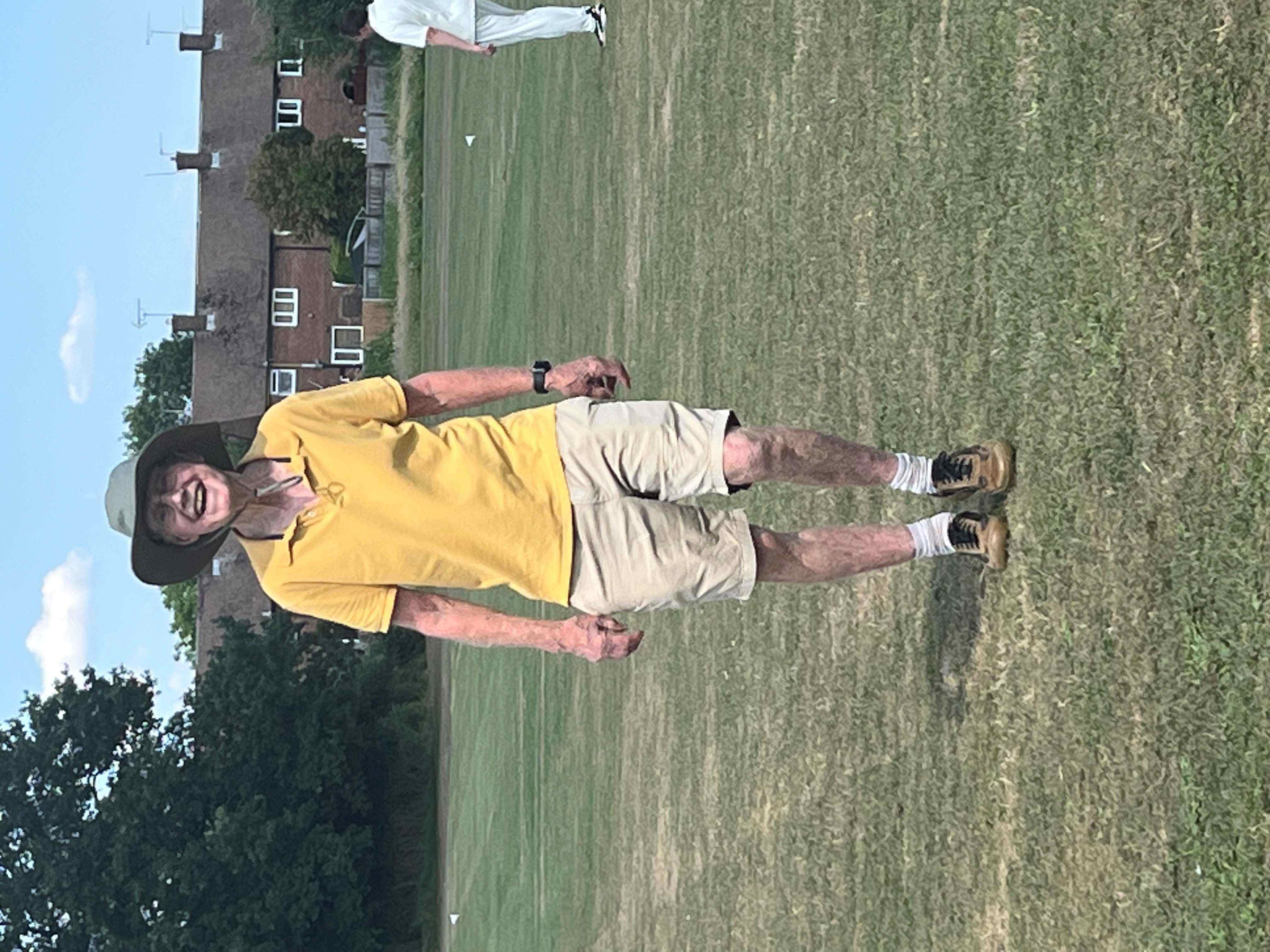 Player of the Match
2 clear contenders with Oscar scoring a powerful 50 but Dickie is the winner his excellent score of 41 on his 41st birthday and a great spell of bowling too – all whilst injured.
An honourable mention to our happy go lucky host, Pauline, who refused Lana access to the clubhouse to get the customary drinks on a hot day – 'just use the tap outside', disappeared at Tea when the players were seeking cold refreshment (not just mugs of hot tea) and excelled in the bar post game refusing to make a shandy for one customer and simply telling our venerable City councillor "No" when he asked for a glass for his beer…. Forcing his Worship to have to drink out of a bottle of all things. Can you imagine the indignity?
Champagne Moment
Unlike our first game when we dropped so many catches (costing us that game), I can't recall any drops and Andy Jones took a réflex catch close in at square leg whilst my catch to remove the livewire Roadrunner who had so wound up Tiny Temper and indeed his own batting partners rescued some of the ignominy of my bowling spell.
BUT for me it was towards the end of our batting innings when discussion on the sidelines led to how we could surely get an AI app to write our match reports at the same time as in strode Gary 'Speedtwin' Jones to face their skipper & spinner (who took 4 wickets in no time).
The crowd of onlookers spotted there was only one fielder behind square and we all got very excited, started phoning our bookies to place bets, all confidently shouting "He's going to get a boundary" to predict Gary's first shot…. Sure enough his trademark shot creamed to the deep square leg boundary resulted first ball and he scored a swift 5 off just 2 balls. Now that's a strike rate!
Take that AI, plain old humans can still predict some things ok just fine without you.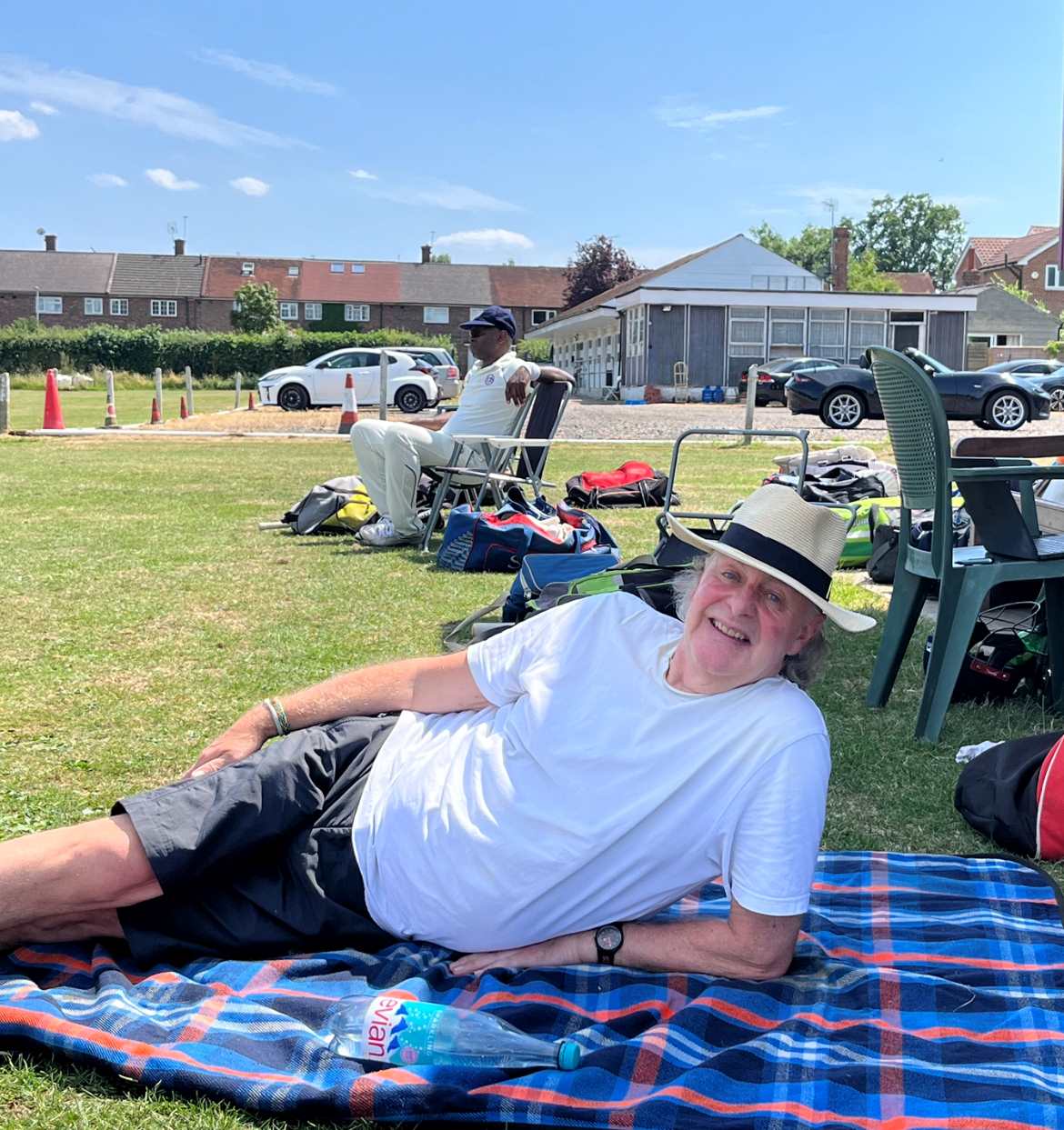 London Saints. 178 all out 35 overs
Griffiths J C Gazel b C Brown. 10
Jones A b White C. 4
McIntyre M b Vic Catlin 12
Sykes O b Lawrence M 50
Cushion R b Vishal 41
Nanton D b Vishal 29
Pearce P b Vishal 7
Thomas D lbw Lawrence 8
Griffiths R b Lawrence 1
Jones L C&B Lawrence 1
Jones G not out 5
Extras 10 (wides 5, byes 5)
Roadrunners bowling
Harvey 5-1-8-0
Brown 5-1-10-1
Catlin V 7-0-47-1
White 4-1-31-1
Vishal 7-1-33-3
Garth 3-0-32-0
Lawrence 3-1-10-4
Craig 1-0-2-0
Roadrunners – 179 -8 31.4 overs
Vishal not out 41
Gazeley C&B Thomas 6
Garth C&B Cushion 1
Craig lbw Thomas 9
Brown not out 36
Mark b Griffiths R 11
Harvey c Pearce b Griffiths R 27
Lawrence A c Jones A b Griffiths R 0
Lawrence M c Thomas b Cushion 22
Callum b Thomas 1
Catlin V not out 3
Extras 22 (4 no balls, 9 wides, 5 byes, 4 leg byes)
LSCC bowling
Nanton 7-2-18-0
Sykes 3-0-24-0
Thomas 7-1-27-3
Cushion 5.4-0-33-2
Griffiths R 6-0-39-3
Pearce 2-0-20-0
Griffiths J 1-0-9-0
Become a Member
Become a member of London Saints from as little as £5.