London Saints v Old Chelmsfordians at Old Chelmsfordians CC – Sun June 11th – 35 overs
London Saints 151 – 7 (Rogers 50no retired, McIntyre 34, Collis 16, Jones 13 retired) – 35 overs
Old Chelmsfordians 155 – 8 (Thomas 2 – 16, Lavery 2 – 22) – 34.5 overs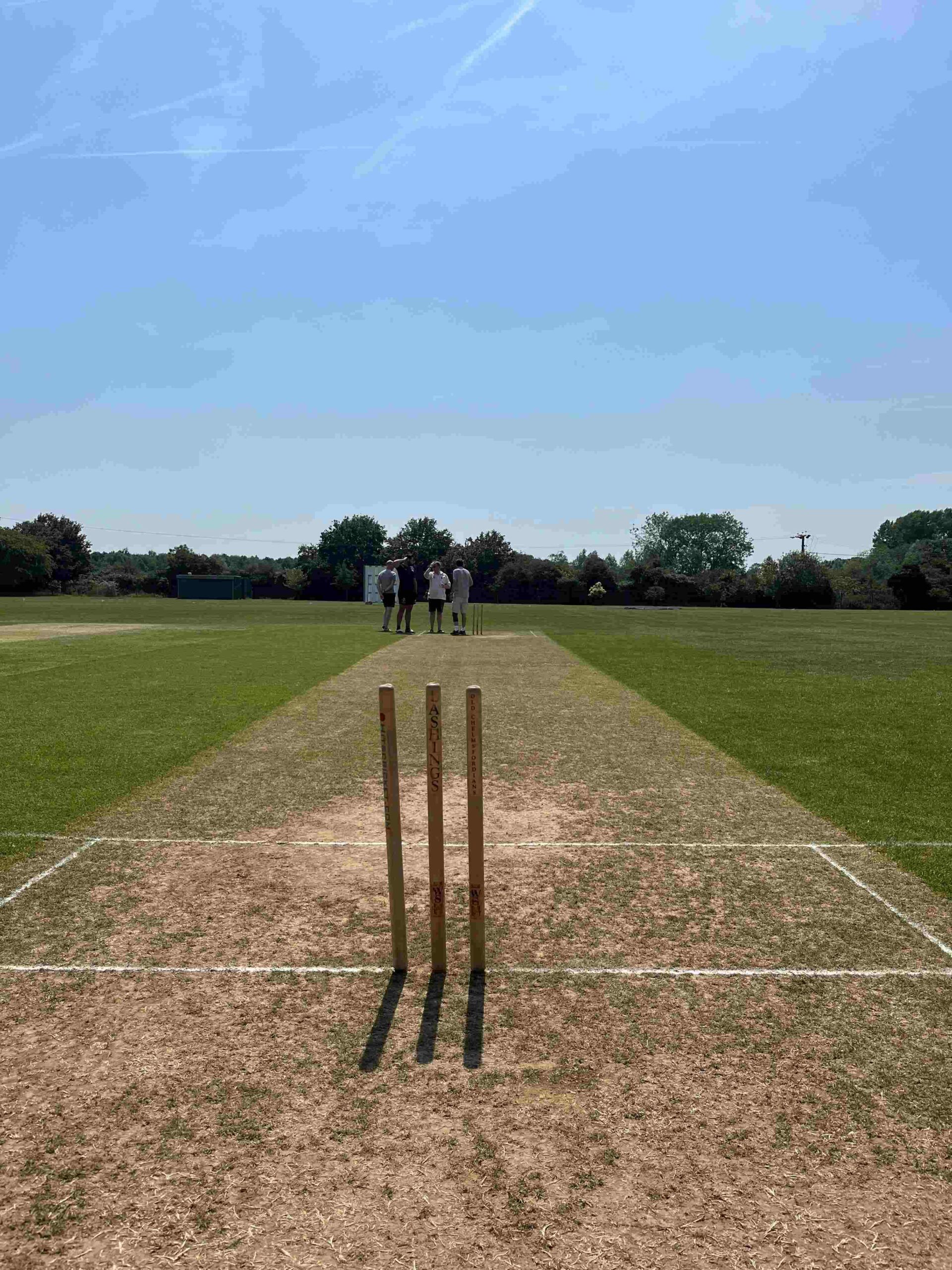 On a boiling hot day at the glorious Old Chelmsfordians ground on the outskirts of Chav City, the ' rusty ' London Saints gathered for their first game of the season (it was our oppo's 12th game already this season) without the previous year's dramas of Carol/Mrs Doubtfire/Wheeliebin etc etc almost being attacked by a Chav dog at the train station. Instead 3 early contenders for Champagne Moment emerged before the first sound of ball on willow this season. Firstly, Harry misread the instructions and arrived on the train an hour before the rest of the train travellers showing extreme keenness but he'll have to do better than that to contend with Dickie arriving a week earlier in the last game of the season. Secondly, the skipper won the toss to the huge relief of the team (and disbelief of some doubters), so we could bat first and not have to stand around in the sun for 2 hours in the heat. Thirdly, we welcomed back White Viv, after last year's enforced break, to the news that (after being told to get ready and open) he had forgotten his trousers! A frantic search for alternatives was to no avail (would we see a repeat of the Finnish tour when 6 foot 3 inches Pekka tried to wear 5 foot 6 inches Eric's whites?) Fortunately, Ben volunteered to bat in shorts allowing Andy to recover (or cover up) some of his dignity.
After what seemed an age our two biggest bra size batsmen, White Viv and The Towel/Ex Councillor, reunited their opening partnership after a gap of a year and all looked well for the opening couple of overs until Lieutenant Pidgeon/Judas 123 showing his usual early season rustiness holed out in the covers – never mind Johnny you'll get into real nick by August. That brought to the crease Mike 'Tiny Temper' McIntyre on the back of two substantial and lengthy partnerships for his Saturday team and it showed as he looked very assured. Meanwhile Jonesy was rolling back the years looking good but it was clear that the heat was getting to him and after 10 overs (with the score on 37 – 1 and Andy on 13) he made the very sensible decision to retire and get in the shade. Those who misinterpreted Andy's statement of "I feel a little queasy" as someone protecting their average should be ashamed of themselves (no names).
It did have one advantage though of bringing in the formerly keen Harry (for his 2nd ever LSCC innings) to the crease to partner Mike and their athleticism was a sight to behold as they ignored a fat boy 3 and instead went straight for an all run 4 – a frantic search of our collective memory banks couldn't ever recall that happening before (if you ignore over throws). Together runs flowed at a very good run rate as we raced to 100 in the 21st over though the exact score and overs was a little confused as the skipper was scoring with his new spectacles and without a calculator! Mike's first mistake led to his downfall as he departed for an excellent 34 in good time as Ben joined Harry and played in his usual flamboyant style.
At 135 – 3 in the 27th over we were looking strong and well on course for a 170+ score but a couple of things derailed us. The first was that (unbeknown to Harry) the skipper had agreed to our opponents request that batters retire after scoring 50 which meant that Harry had to retire after a faultless (if you ignore him getting dropped 1st ball) half century, Harry, in the form he was in, would undoubtedly have taken us to a match winning but rules is rules and it's difficult to refuse a request of the home team and it was agreed just after we were told that their opener had scored 88 last week.
We lost our way a little in the remaining 8 overs but one benefit of Harry's retirement meant that everyone got a bat and some much needed practice which will do the team good in the long run. This included a debut innings from Niall Lavery (recruited by Ben as were short of a player last week) and the club's all-time leading run scorer Trevor (he formerly of the 'World XI' nickname and shirt) who won't mind me saying couldn't time the ball (and miles away from his LSCC goat batter status). Perhaps if he walked out to bat wearing a box he might have felt more confident!!!.
The skipper came and went fairly quickly which brought to the crease last year's POTY so we all felt confident that he would continue where he left off last season. Today's match scribe was asked by Tiger to not go into too much detail on his innings so all I will say was that Nice Pint had to defend the hat-trick ball 2 minutes later. It was left to Flatliner and Nice Pint to push on in the last couple of overs but both struggled against accurate bowling from Old Chelmsfordians opening bowlers. It's an easy game on the touchline when you haven't got the pressure of actually batting but there was some incredulity from the team as some miscommunication led to David and John turning down a fairly easy single off the last ball of our innings – surely they weren't doing a Jonesy and getting 'red inkers'- – never mind we reassured ourselves that one run won't come back to bite us…………………
After an excellent tea in Old Chelmsfordians impressive clubhouse we entered the greenhouse to try and bowl out the oppo or restrict them to less than our score of 151 with a relatively weak and untried attack. One-Liner Nanton was his usual menacing self and Harry delivered the accuracy (his first 3 overs went for 2 runs) and guile we had seen on his debut last season. Harry made the first breakthrough with Ben taking a catch at 14-1 but Old Chelmsfordians recovered well to 32-1 off 9 overs.
Time for a bowling change and the skipper turned to Ben and his mate, debutant Niall. Ben went for 14 off his first over with a semi-return of the yips that has dogged his LSCC bowling career and the skipper thinking about alternatives for the next over. Niall though made an immediate impact with a bouncer first ball which surprised their young opener who could only pop up and easy catch to White Viv in the slips. Off his 5th ball another short ball saw their No 4 batsman depart for a duck with the score at 46-3. Two wickets in your first LSCC over, now that's how to make an impact! The skipper decided to stick with Ben next over which proved an inspirational move as Ben got into his groove and rid himself of the yips to produce 3 more tidy overs. At the other end Niall's unorthodox bowling (tbf this is the first time he has bowled since his college days) kept the batters and fielders guessing but the oppo slowly started to get on top and by the end of the 17th over with the score at 75-3 it was time for another change.
It was time for last year's POTY – could he make a better impact with the ball than he had with the bat (has his golden duck been mentioned?). Tiger did struggle with his first 2 overs going for 18 as he gave himself a good talking to with us thinking the game was getting away? Rumours that the circling helicopters suddenly took a different flight path when they saw Tigers first 2 overs have proved inconclusive. At the other end DT had some success with 2 wickets in 3 balls in successive overs bringing the oppo back to 106-5 after 21 overs and the game very much in the balance. Tiger then got into his groove as he bamboozled their No 5 batter down the pitch resulting in an excellent stumping from Tiny behind the stumps (108-6) which led to the almost orgasmic utterance from mid-off Carol Griffiths of "Wow, flight, guile, spin". In conjunction with the skipper, Tiger tied them down to 7 runs off 5 overs and 112-6 off 26 overs – definitely game on.
It was time to bring back Harry and One-Liner but though they both bowled well without luck, their faster pace meant the ball zipped off the bat quicker and the run rate increased. As the pressure increased we did run out two batters (one a brilliant throw by Ben from 20 yards away) leaving them on 139-8 with 4 overs to go,
Throughout their innings the ball just wouldn't go to hand or we couldn't hang onto many half chances – none more than off David who claimed he had 6 catches dropped his bowling – but he always says that -) as he must be the unluckiest ever LSCC bowler as his wicket tally rarely matches how worth. Tbf there were probably only 2 realistic drops off his bowling and he failed to mention that the easiest chance was by himself for a caught and bowled! There was only one relatively easy chance missed off Harry but it did come with only 4 overs to go which would have reduced them to 9 down. It would be unfair to mention the fielder though there was a disagreement over whether you could call a 20 feet high shot a skier (Nice Pint claimed it was at least 50 feet?).
As half chances went begging it was left to DT and Tiger to bowl the last 2 overs with 8 needed or 2 wickets. The skipper kept it tight conceding 2 runs off the penultimate over leaving the stage set for our POTY to be the star? It was not to be though as old Chelmsfordians wily old skipper (he is so old that when he first played for them they were called Young Chelmsfordians!) saw them home with one ball to spare.
An excellent first match of the season and in this heat we put up an admirable performance to push them so close. We got rid of some cobwebs and hopefully this will set us up for the season. As a famous old Norton St Philip groundsman once said, "it didn't matter who won today cricket was the winner" – a sentiment I totally agree with, just wish it had been us who had won!
Man of the Match
One standout performance today from Harry Rogers with an excellent unbeaten innings and 7 very tight overs – hope to see you more again this season Harry. With a special mention to Mike who as well as a very promising innings performed excellently behind the stumps.
Champagne Moment
Lots of potentials, Harry's early arrival, the skipper winning the toss, Andy's wrong (or no) trousers, Trevor's missing box, Carol's near orgasm over Tiger's stumping, Ben's direct hit run out. There was only one winner though which was unanimously agreed (Paul had gone home by now) with Tiger's golden duck. The POTY had confidently strode out to the middle with everyone waiting expectedly – oh how the might fall – at least no one laughed!! As Andy Mayhew commented " since being POTY he is so full of himself and need taking down a peg or two " (joke, joke we all love you former POTY)
DT
London Saints
Griffiths ct ? b Gardener 2
Jones retired feeling 'queasy' 13
McIntyre ct ? b Clifford 34
H. Rogers not out retired 51
B.Collis ct ? b Warey 16
T. Mayhew ct ? b Gardener 6
Lavery b Scarse 4
Thomas b Mitty 7
Nanton not out 2
Pearce b Gardener GOLDEN DUCK 0
Smith not out 1
Extras 15
Total 151 – 7 off 35 overs
Old Chelmsfordians
T. Mitty ct Collis b Rogers 8
Waring ct Jones b Lavery 17
S. Robertson b Thomas 41
Kant ct Nanton b Lavery 0
Gardener st McIntyre b Pearce 28
Clifford b Thomas 3
D. Robertson mot out 14
Roscoe run out 2
Mitty (A) run out 19
Ball not out 6
Extras 17
Total 152 – 8 off 34.5 overs
Nanton 7 – 1 – 21 – 0
Rogers 7 – 2 – 23 – 1
B. Collis 4 – 0 – 29 – 0
Lavery 4 – 0 – 23 – 2
Pearce 6.5 – 1 – 44 – 1
Thomas 6 – 1 – 16 – 2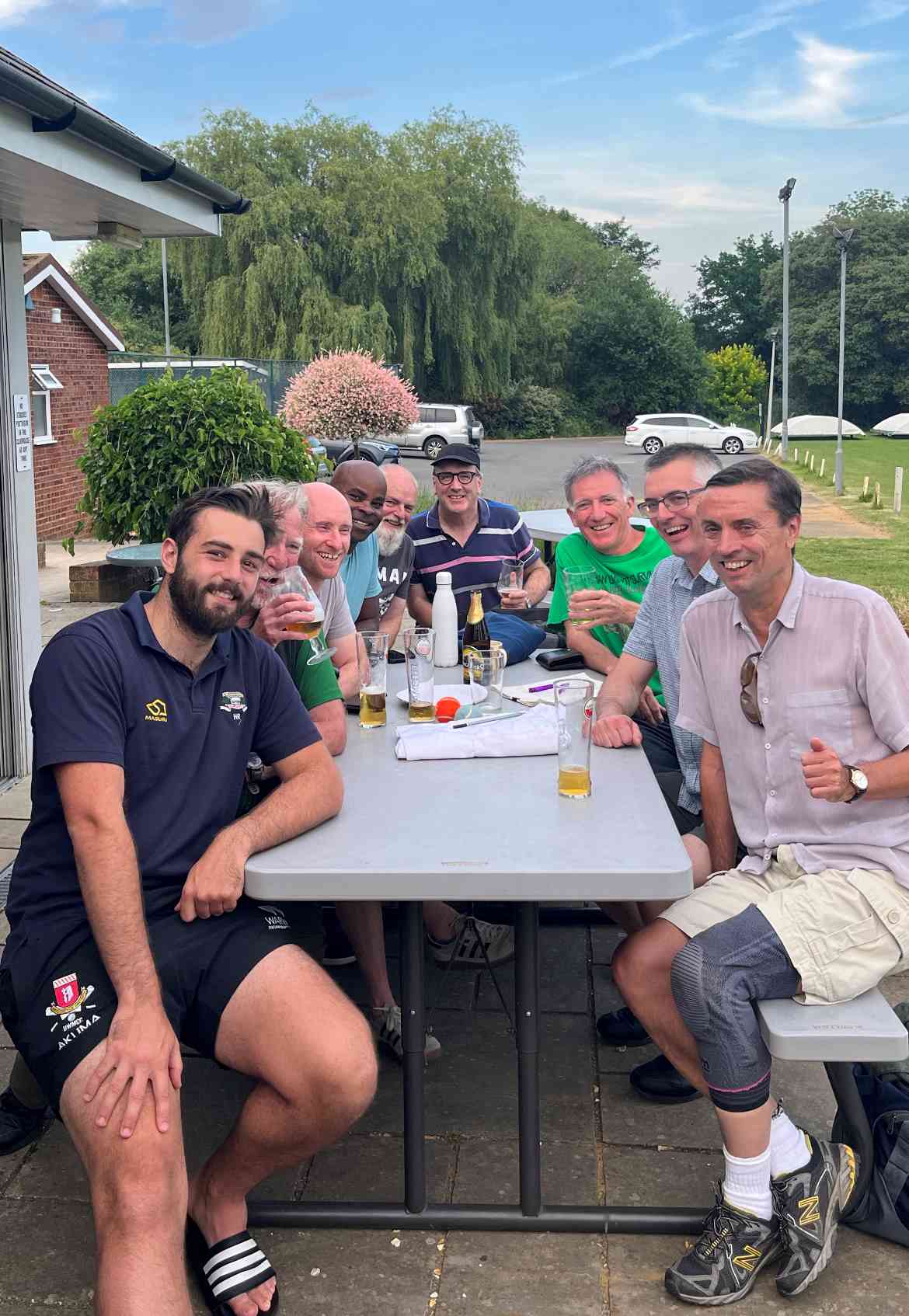 Become a Member
Become a member of London Saints from as little as £5.