Fri Sep 2nd – Ex (Nat West) Blues v London Saints at Ex Blues CC, West Wickham, Kent
Ex Blues 271 – 7 (McIntyre 2-42, lots with 1 wicket and lots of great catches)
London Saints 248 – 8 (Rogers 44, Cohen 40, Dollin 36, Cushion 21, Pearce 20)
Champagne Moment
For the first time ever in an LSCC match report we start with the Champagne Moment due to the fact that it took place well in advance of the match – 7 days to be precise! Dickie, keen as mustard, took an annual day's leave, got up, said his farewell's to the family and got on the bus to Ex Blues. It was only when he messaged Dover to ask him if he was playing today that he was told that the game was next week in 7 days – Notwithstanding the fact that we talked about it at the previous game and said "see you in September ", Dickie obviously didn't read the date of the game on my email, or on the map I sent out or even read the fixture list – like everyone else does …..hmnnn? Classic and along with his 2 ducks this season, Dickie has now firmly cemented himself in London Saints CC's folklore.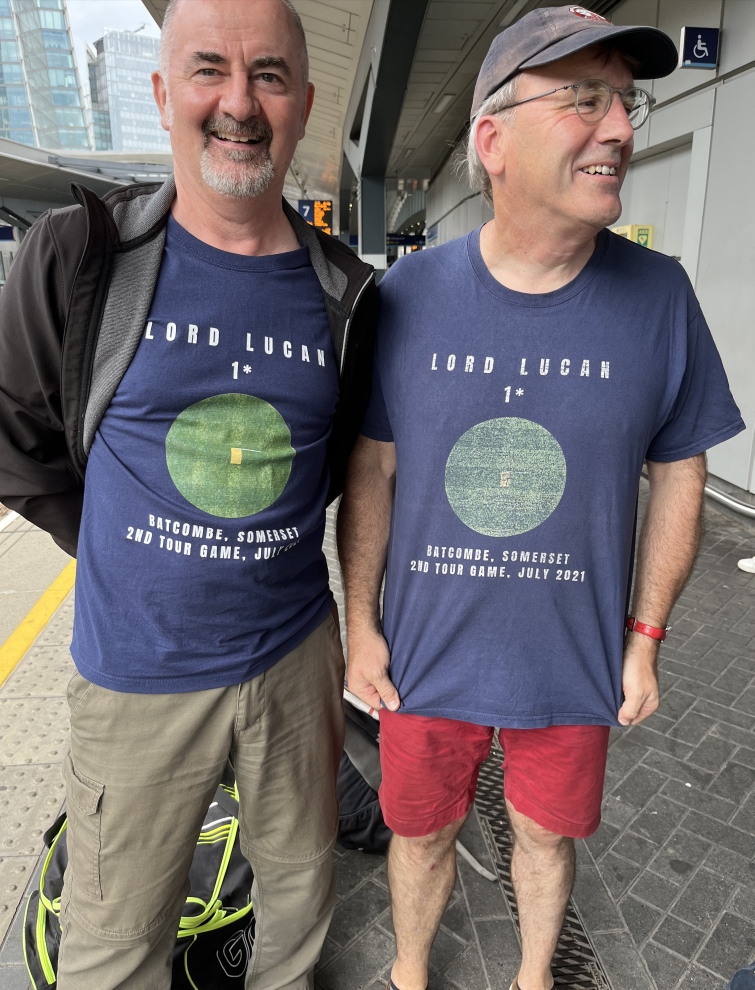 Onto the day of the game (and yes Dickie did turn up again) and it started with the revelation that Carol Griffiths sleeps at night in her Lord Lucan tribute t-shirt (maybe at the request of his Mrs?) which we only discovered when we asked why the shirt looked so dishevelled when we saw it at London Bridge before the game. 11 of us, including Dickie, well 9 from LSCC and 2 guest's courtesy of Tiny Temper (his captains from his respective Saturday and Wednesday teams), as we were short of players, arrived on time for the start.
The usual arrangements were agreed to – a timed game with Ex / Nat West Blues batting first (normally until one of their players scored a hundred) and we bat 2nd in an attempt to win or draw the game. Omens were good with another bright dry day (we've now played them 33 times over the last 34 years without rain interfering) and play started on time with Phil choosing to bowl down the hill with Mike getting the short straw bowling up the hill. Both bowled without luck at first until Carol took a great high catch at deep square leg off Mike's bowling (44-1). Mike then bowled the other opener to leave them at 55-2 when a double change was made with Ralph Palmer, debuting as our No 120 and Mike's Wednesday team skipper, bowling up the hill (and pushing Tiger to record our slowest ball of the season) and Max coming rapidly down the hill. Both took wickets, Ralph courtesy of Mike Dolin (debuting as our No 119 and Tiny's Saturday skipper) taking a great catch at deep mid-off and Max courtesy of another fine catch from Phil.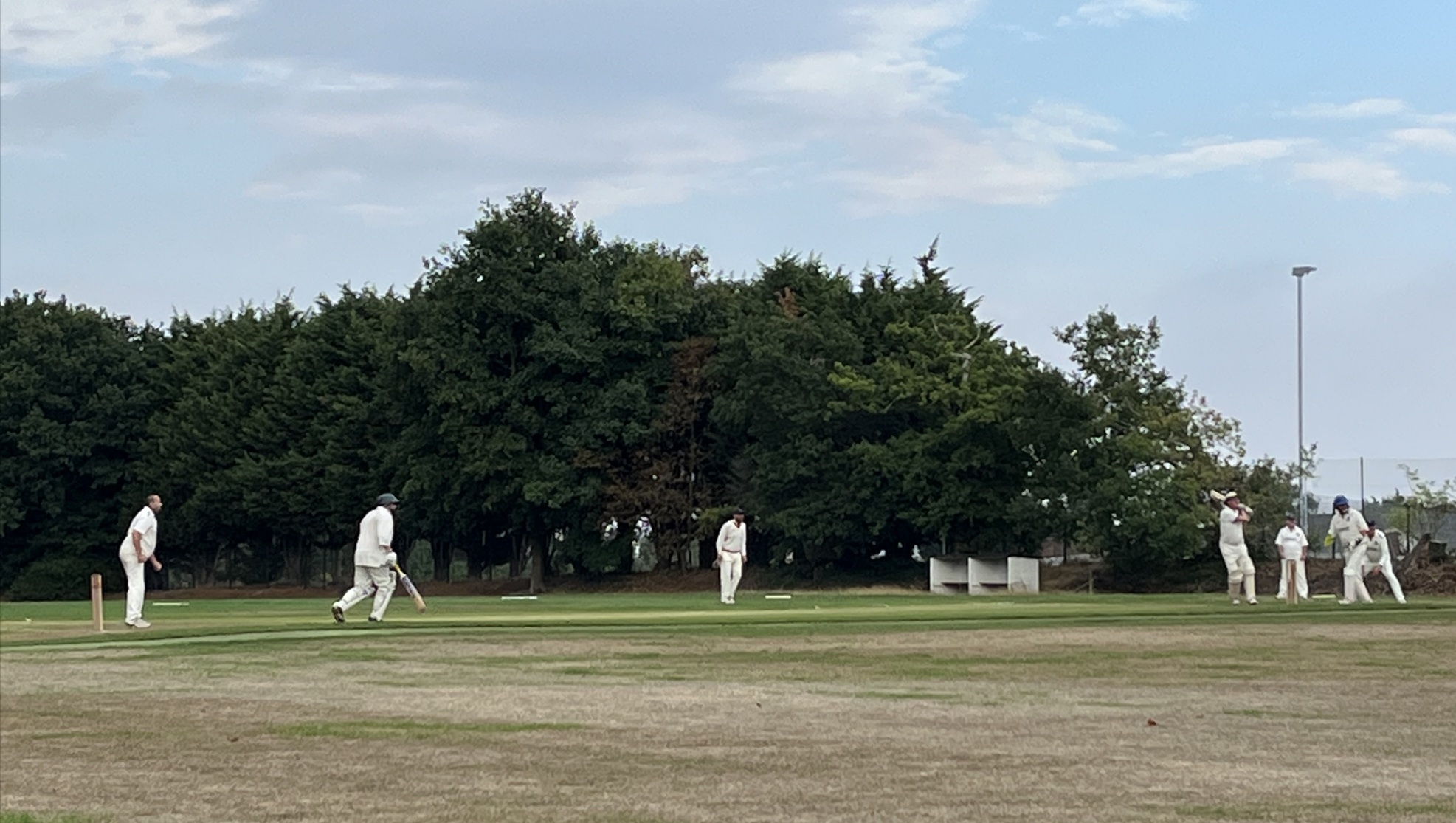 With the bowling being shared around, as we tend to do at Ex Blues for our last game (we were spared White Viv's annual over this year!) we brought on Tiger and Terence as a twin spin threat. Tiger struck almost immediately with his 3rd ball, taking his 14th wicket of the season, courtesy of another great catch, this time from Ralph, and then Terence clean bowled their No 6 to leave Ex Blues at 136-6 to give us a sniff of victory. Ex Blues though have strength in depth and their No 7 and their youngest player, whilst never looking that confident, kept batting and batting which delayed their declaration as Ex Blues wanted him to get to his debut century. At the other end whilst we couldn't get young Redburn out, we toiled away (another great catch by Dickie off Carol's bowling took their 7th wicket at 207). Nice Pint then came on down the hill and surprised everyone with a ball that reared up off a length and had the batsman looking for a helmet! Another experienced batter ushered their young No 7 through to a great century when they declared at 271-7.
It was a long 40 overs but we battled away and caught and fielded very well – well most of us as one piece of fielding would on any other day won the champagne moment. The skipper, blind as a bat all season (he's booked into the optician's next March in a vain attempt to find a solution) went completely the wrong way when a ball was hit towards him on the deep mid-off boundary. Two steps to the right would have resulted in him safely stopping the ball on the boundary whilst his six steps to the left, in totally the wrong direction, led to an easy boundary, much to the histrionics of the ever watchful and 'supportive' Mayhew Brothers. Andy, almost pissing himself laughing, nearly fell off the bench getting his leg brace caught which caused the whole bench to tip to one side spilling Trevor's full pint of beer all down his trousers! – serves him right for not fully respecting the batting prowess of Mr Extras.
After a short tea break we opened up, chasing a daunting target of 272, with Aussie debutant Mike Dolin and Terence on the back of his fine batting down on tour. Both looked solid especially Mike who hit six 4's in his first seven scoring shots. They put on 39 before Terence was given out lbw by Clive Dunn who had come down to Ex Blues to umpire – no complaints from Terence at the decision. Mike was out for a fine 36 (60-2 off 13 overs) which brought together Max who had started his LSCC season with a golden duck and Tiger on the back of his best ever (aggregate) batting season for LSCC. Tiger accumulated a quick 20 before being dismissed (92-3) which brought in Dickie who has been in fine form recently. Dickie scored a quick 21 (137-4) with Max, being vehemently encouraged from the boundary edge by his godfather Judas 123, playing a fine supporting role at the other end. Max was out for an excellent and classy 40 (147-5) and showing (like many of our batters this season) a big improvement in form as the season progressed (pre-season nets might be a benefit for some?)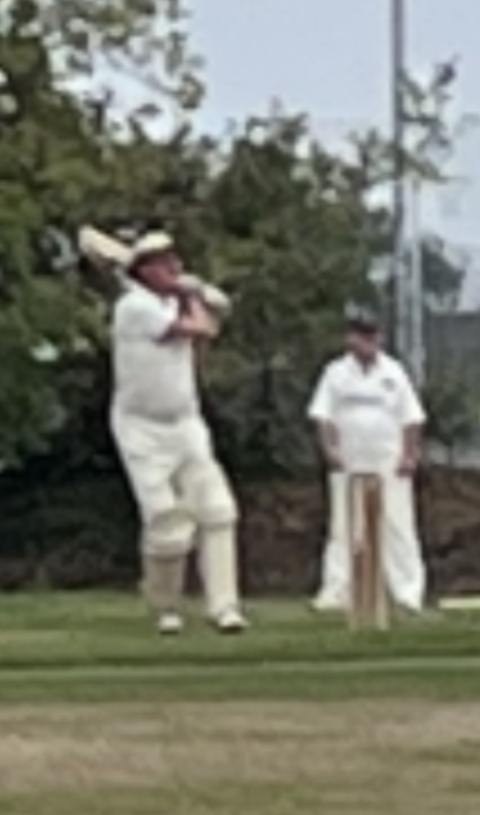 Talking of his godfather, Judas 123, where was our usual opening batsman? Keen to replicate last year's record 8th wicket partnership at Ex Blues with Cinzano Phil when they put 108, Judas asked to be slipped down the order "so I can bat with Phil". With Phil at 7, No 8 would be the spot for him. Judas though firstly got carried away by supporting his godson ("brilliant shot Max ", well played Max "– we thought we were watching Bradman! – and then Terence bought him a beer (defying the skippers rule about no beer before batting!) and he was away, so much so that when he was next man in he didn't have his pads on. Fortunately, he had time to get ready and when he joined Phil we were 163-6 with still 13 overs left to get 109 runs.
Phil, who scored 57 unbeaten runs in the same match 12 months ago, again produced a lovely knock of 44 and put on 61 with Judas as were started to dream the impossible even though the run rate was always increasing. To be fair our best bet of victory was for Phil to have the strike and add to his 8 boundaries but it did lead to the ignominy of Phil turning down singles with LSCC's top ever scorer (119 v Coldharbour) at the other end? Phil did though get out going for the win as did John as we came up just a bit short (helped by Tiny's 3 late boundaries at 248-8 and 23 short.
A great day which saw 519 runs and 15 wickets and a fantastic effort from the London Saints to pull off an improbable victory. Considering we started the season losing our first game by over 100 runs with a record 7 (yes 7) ducks, today was a great performance with all batters making a contribution reflecting the improved performance as the season progressed – a shame it has to end now.
Man of the Match
A number of contenders today with valid shouts for Phi (top scorer and 7 good overs, Max with a LSCC career best of 40 and some lively bowling, Dickie with another faultless display behind the stumps and a fine unselfish 21, but the award goes to Tiny Temper, Mike McIntyre for a number of reasons. Despite being injured, due to the unavailability of our other quicker bowlers, Mike was asked to bowl 9 overs today and was rewarded with 2 wickets. He fielded well, as usual, batted well in the time available, but most importantly he came up trumps when we were struggling for player's midweek and down to 9, by providing two excellent debutants Mike and Ralph who contributed runs, wickets and catches. Some consolation for being pipped by Tiger Pearce to the Player of the Year award.
We retired to the bar, well actually firstly to the large tent outside where we enjoyed the bar-b-cue and beers for the usual end of season jugs to reflect on the season. Retiring properly to the bar the POTY vote was held and as mentioned above, Tiger Paul Pearce pipped Mike 10 votes to 9 (Max got a vote – probably from his godfather?) in the narrowest margins for years. Both players deserved it and Paul just prevailed for being top wicket taker (narrowly missing the target of 200 career wickets by 2) and having his most successful ever batting season – oh yes and he lost his first game as skipper!
One footnote to mention, Ex Blues normally sees the play off for the duck trophy with those in contention going in early but this year we were denied this spectacle as John Nice Pint Smith wrapped up the trophy with two games to play with 4 ducks and two clear of 5 other contenders – congratulations John as we all know that secretly this is the most coveted trophy of the lot.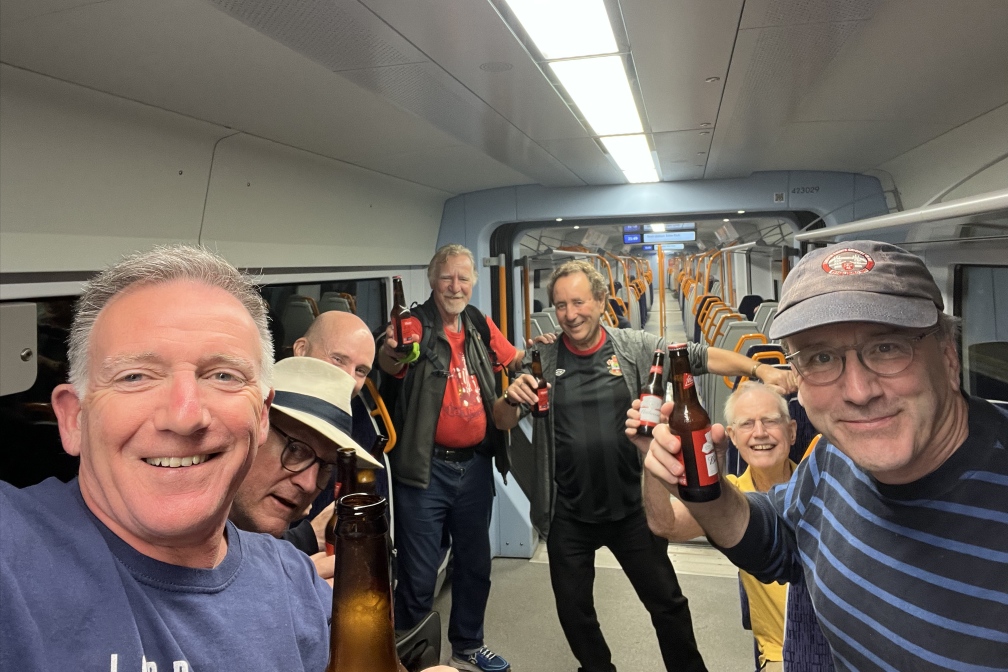 Ex Blues
Dolby ct Carol b McIntyre 32
Stone b McIntyre 21
Triggs ct Palmer b POTY 13
Pett ct Dollin b Palmer 5
Rudgyard ct Rogers b Cohen 32
Walsh b T. Collis 16
Radburn not out 100
Dolby ct Cushion b Carol 29
Pett not out 12
Extras 11
Total 271 – 7 of 42.1 overs
Rogers 7 – 3 – 29 – 0
McIntyre 9 – 0 – 42 – 2
Cohen 4 – 0 – 36 – 1
Palmer 5 – 0 – 19 – 1
Pearce 3 – 0 – 31 – 0
T. Collis 4 – 1 – 20 – 1
Thomas 4 – 1 – 20 – 0
Griffiths 3 – 0 – 33 – 1
Smith 2.1 – 0 – 26 – 0
London Saints
Dollin ct ? b Hart 36
T. Collis lbw b Walsh 13
Cohen stumped b Radburn 40
Pearce ct ? b Triggs 20
Cushion ct Walsh b Radburn 21
Palmer lbw b Petts 9
Rogers ct + b Walsh 44
Griffiths b Hart 19
McIntyre not out 12
Thomas not out 4
Extras 31
Total 248 – 8 off 47 overs
Become a Member
Become a member of London Saints from as little as £5.