London Saints v Nascott
Old Haberdashers' CC, Borehamwood – Sunday, August 14, 2022
30-over match
Nascott 189 all out (27.3 overs) – McIntyre 3-19; Pearce 2-34; Nanton 2-45
London Saints 160-8 (30 overs) – McIntyre 35no (ret); Sykes 35no(ret); Cohen 20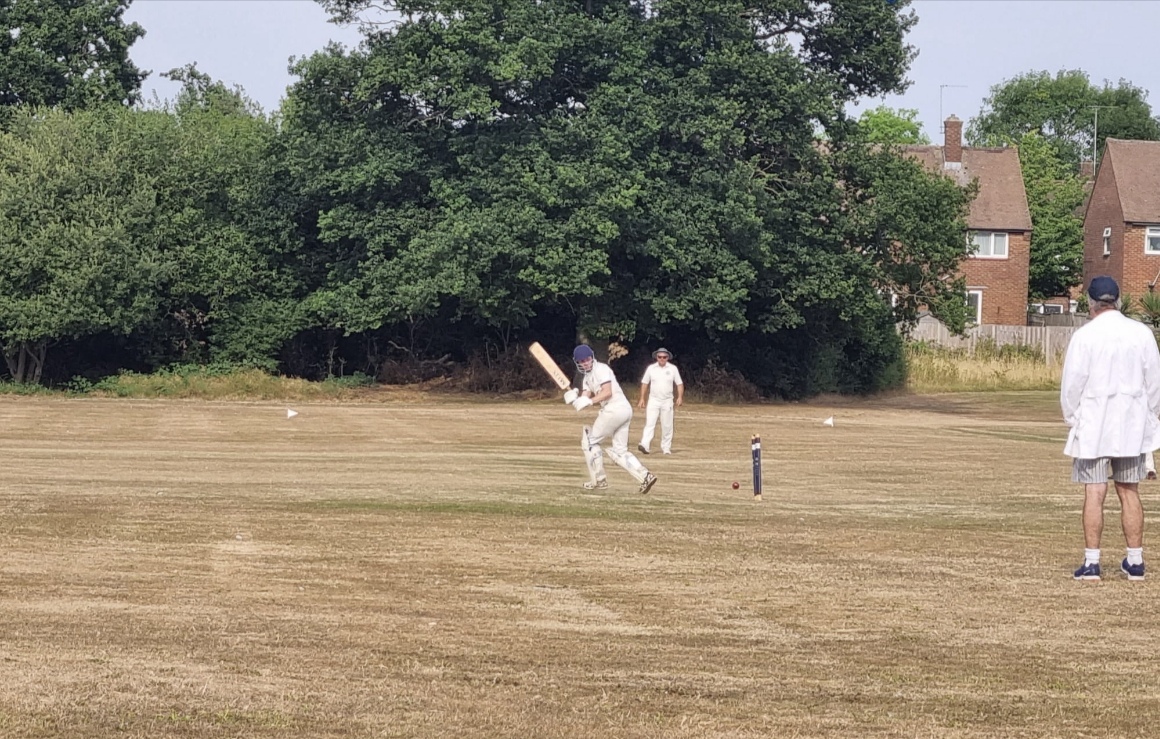 Following the previous week's away win over Roadrunners, a buoyant Saints team fancied their chances at home to Nascott in the penultimate game of the season. Not even the skipper's lucky Euro coin failing, after what must already be a record sequence of winning tosses, was enough to dampen the confidence of the team.
Nascott opted to bat first, having agreed a 30-over game, on account of the hot weather, and batsmen retiring at 35.
Nanton and Calais opened the bowling for the Saints, anticipating a quick wicket after seeing the opener's unorthodox batting stance – his body turned almost at a right angle away from the bowlers. "Can't have played much cricket," was the assumption. Alas, batting stance notwithstanding, Bash lived up to his name, smashing several boundaries and destroying bowling figures, before retiring at 35. One Liner and Dover kept the other batsmen from following suit during their spell, with Nanton clean-bowling the other opener, Finlay, for 13 and Calais picking up the wicket of their Number 3 bat, Dick, caught by Cushion for a duck.
Bash out of the attack, for now, and a change of bowlers, did not immediately slow things down, however, with scores of 25 (Andy) and 35 retired (Craig) from batsmen #4 and #5 respectively. McIntyre had Andy caught by Oscar, before bowling one of the Nascott kids, Andre, for a duck – no slower balls for the youngsters from Tiny Temper! In fact, Mike soon had the wicket of the even younger player, Finn Jr, this time caught by Johnny G, who was roundly booed – by his own teammates. DT had only just swapped Carol and Nice Pint and, had the latter taken the catch, his customary "roar" might have been have been a little embarrassing. Good captaincy or the lucky coin at work… who knows? The coin certainly didn't help when DT, probably still trying to decipher the rules around four players sharing a 5th wicket stand, was roused by shouts of "Catch it!" only to miss one that landed about two feet to his left.
Johnny G attempted to apologise to the kid during the drinks break only to receive the ominous reply, "That's OK, I'm not a batsman; I bowl." leaving Carol quaking in her boots.
On the other end, Tiger was bamboozling the remaining Nascott batsmen, accounting for the often dangerous Shish (17) and Tom (8). The former was bowled by a "faster" ball, shortly after one of the Nascott players was heard to grumble from the sidelines: "There ought to be a minimum speed limit on bowling!" Other comments, helpfully recounted by Tiger's supportive daughter, were "You can think about five different shots before the ball reaches you" and "You can probably get a degree in the time it takes to get there!" Sour grapes from Tiger's victims no doubt, though one was also heard to exclaim that he was "surprisingly dangerous".
One Liner, back in the attack, trapped Craig #2 LBW for 26 which, worryingly, brought Bash back into the wicket. Thankfully he only managed to add another four runs to his total before being caught by Max off Ben Collis. With Champ being run out for 4, the Nascott innings was over for 189 (Mr Extras – 22).
Despite the free-hitting nature of the Nascott innings, we still felt we could make a game of it with Griffiths and McIntyre opening the batting. But a slow start, the bane of many a Saints innings, had us on the back foot early on, and Carol was caught behind in the fifth over for 2 with only 10 runs on the board. Enter the ever reliable Max, a good hitter of the ball, but he also struggled to get willow on leather, so much so that he was only on 15 when both Mike and later Oscar retired on 35 apiece. At the first drinks break, the Saints were up against it with only 35 off 10 overs.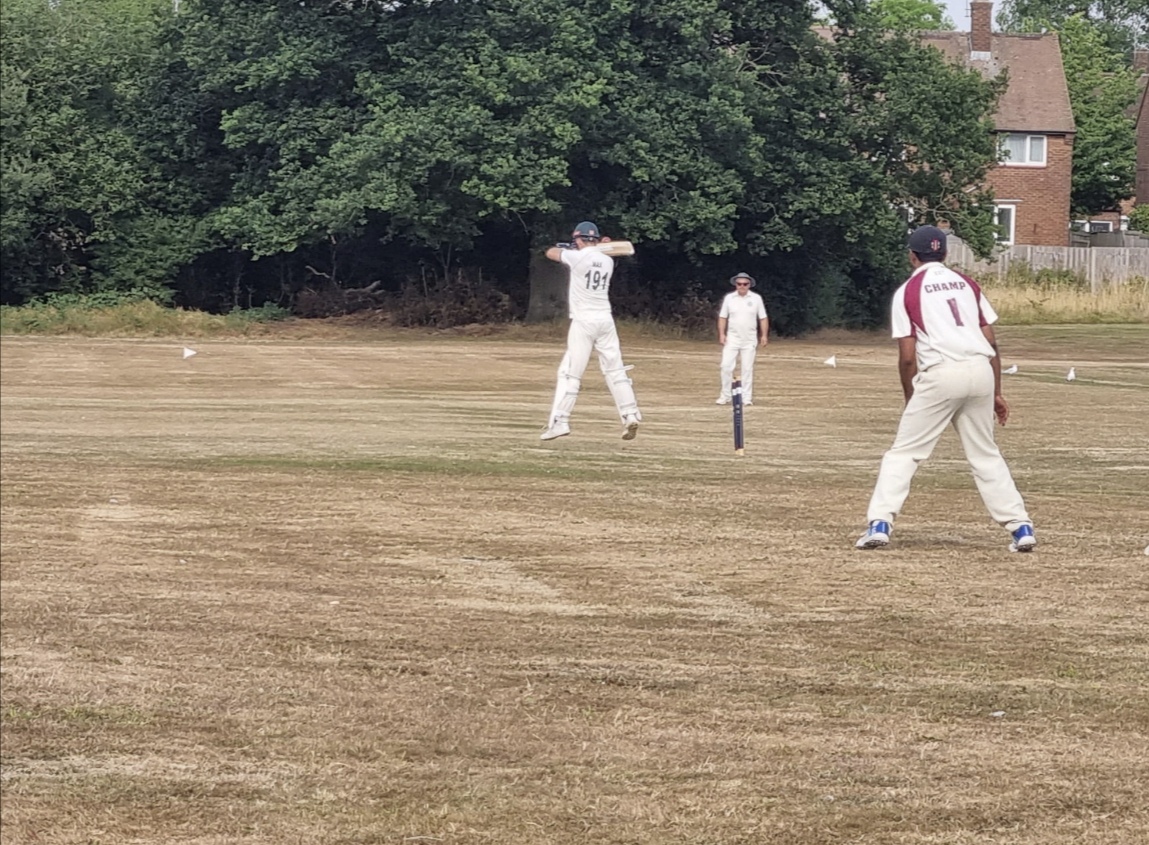 With 155 needed off the remaining overs, a 20-20 batting performance was needed, and Mike responded after the break, accelerating the score to 48 just one over later and racing to his 35 total. Oscar, replacing Mike, had only faced a couple of balls when he suddenly came running back off the pitch having forgotten to put on his box. Nuts! Now safe, he then contributed a quickfire 35, which included 4 fours and a huge six smashed off one of Nascott's kid bowlers. No one booed, and when your reporter commented that he had not seen a six hit that far on this ground, DT was quick to reply "Ah, but Keenan isn't playing." One can only assume that he meant Lord Lucan was capable of hitting the ball even further!
With Mike and Oscar retired, Max (20) soon followed, triggering a batting collapse with the Saints going from 115-1 to 137-6 in six overs – Ben (6), Dickie (5), Nanton (6) and Calais (1) all out trying to accelerate the score. There was still some comic relief though, with Dickie getting his sports confused and striding out to the crease with only one glove. Having returned to get the second, he was halfway back to the crease when someone pointed out that he might want to avoid batting with his phone in his pocket. After the delay – at least one of Tiger's "surprisingly dangerous" balls could have been delivered in that time – Dickie was straight off the mark but then very quickly back on the sidelines!
With 77 needed off the last 10 overs there was still time for more drama, with a swashbuckling rearguard performance from Tiger, supported by DT. Even with 42 needed off the last 3 overs and with Mike and Oscar still to return, there was still a glimmer of hope. Alas, we could only manage 10 off the next two overs with DT departing for 10 and The Wall joining Tiger at the wicket before being run out for 1 with just two balls remaining in the innings. Mike was back in, but on the non-strikers' end. And then it was time for the Nascott to exact their revenge on their tormentor. Tiger, struggling with the slower bowling, managed to fall flat on his face trying to avoid a stumping. He had the last laugh, though, finishing not out on 16, although we lost by 29 runs.
Another good game against a team that started out some years ago as whipping boys but are now well-matched competitors, and one we might have comfortably won on another day. If only we had a lucky coin or something…
Man of the Match: This easily goes to Mike McIntyre, who was the pick of the bowlers (who cares if two were kids!) with 3-19 off just three overs and followed that another excellent batting performance with his 35n.o. to keep us in the game.
Champagne Moment: There is a never a dull moment when the Saints come out to play and this game was no different – from Oscar forgetting his box; Dickie going out to bat with one glove and his phone to DT almost being bonked on the head, again. But the Champagne Moment award goes to Pearcy for the collective comments about his slow bowling, gleefully recounted by his own daughter, and then ending up flat on his face after being on the receiving end of similar bowling. The Tiger – Surprisingly Dangerous!
Nascott innings
Finlay b Nanton 13
Bash ct Cohen b Collis 39
Dick ct Cushion b Calais 20
Andy ct Sykes b McIntyre 25
Craig not out 35
Andre b McIntyre 0
Shish b Pearce 17
Finn Jr ct Griffiths b McIntyre 0
Tom ct ?? b Pearce 8
Craig #2 LBW Nanton 26
Champ run out 4
Extras 22
Total 189 all out in 27.3 overs
Nanton 5 – 0 – 45 – 2
Calais 4 – 0 – 21 – 1
Sykes 4 – 0 – 22 – 0
Cohen 2 – 0 – 17 – 0
McIntyre 3 – 0 – 19 – 3
Pearce 4 – 0 – 34 – 2
Thomas 3 – 0 – 15 – 0
Collis 2.3 – 0 – 15 – 1
London Saints innings
Griffiths ct WK b Shish 2
McIntyre retired 35
Cohen b Johnson 20
Sykes retired 35
Collis b Champ 6
Cushion b Bash 5
Nanton b Shish 6
Pearce not out 16
Calais bowled ?? 1
Thomas caught b Champ 10
Smith run out 1
Extras 23
Total 160 for 8 in 30 overs
Become a Member
Become a member of London Saints from as little as £5.