What a difference a week makes…London Saints CC v Roadrunners CC at Houghton Regis, 7th August 2022
What a difference a week makes…
London Saints CC v Roadrunners CC at Houghton Regis, 7th August 2022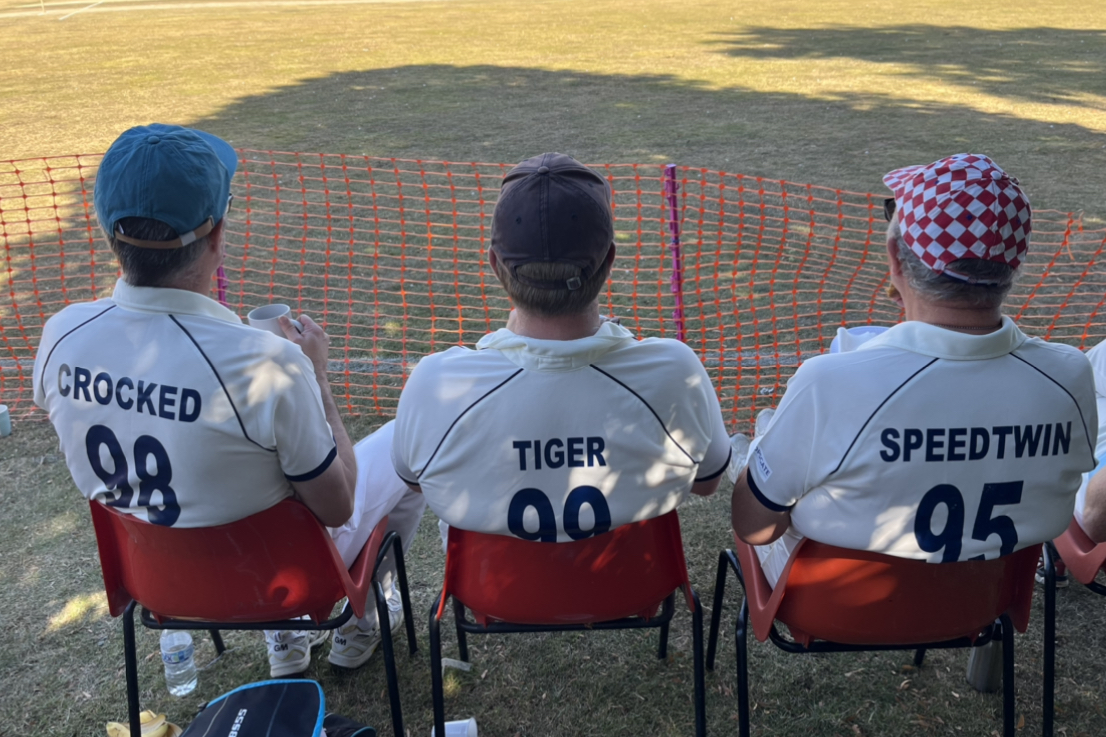 London Saints 244 for 4 (McIntyre 53*, Cushion 53*, May 51*)
Roadrunners 107 (Thomas 2 – 14, Pearce 2 – 16)

LSCC win by 137 runs

It may be a phrase we're unaccustomed to, but if not too gushing in its praise, London Saints CC put on a complete performance in the return fixture against Roadrunners CC. All the more surprising perhaps given last week's result. Though we're all now becoming used to the consistent and beautiful sunny weather for cricket, the team is still coming to terms with the idea of the skipper winning the toss, but back he came from the middle having made it three in a row, with his now trusty 10 euro-cent piece and the news we were batting first.
London Saints Innings

McIntyre and Smith, were sent out to open and the first few overs went by in the not too unusual fashion – Tiny picking off a few runs whilst the Wall held up an end. That was until Roadrunner's opener, Rich, got more into his usual bowling rhythm and beat the Wall's defence, castling his off stump and sending him back to the 'pavilion' with another duck for his collection.
London Saints 17 – 1 (5th over)
Trevor was in at three and wasted no time getting off the mark with a lovely cut shot for a boundary four from his first ball faced. With Roadrunner's looking to keep their bowlers fresh, they began rotating their strike force, but Tiny and Trevor were able to make the most of the new bowlers finding their rhythm, and pushed the scoring along, taking the total to 93 – 1 at the drinks break.
What is it about the drinks break that's such a batter's undoing? After a short respite to take on much needed fluids, Tiny and Trevor were back, Trevor facing the first ball of the new over. A lovely cover drive was followed by a confident call of 'yes' for what looked like an easy single, only for the fielder to pick up the ball cleanly and hit the stumps with a direct hit, leaving Trevor a yard short. A missed opportunity for a 50 perhaps, but still a decent knock of 37.
London Saints 93 – 2 (18th over)

Debutant Harry (nephew of Dover) was in at four and got off the mark straight away with what might have to be a London Saints first – running a three! In normal LSCC parlance that would be prefixed with 'Fat Boy' but if anything it was completed with a canter! This, followed by a boundary four and a run for two gave us a brief glimpse of what we might expect from him in the future, but unfortunately soon after he got the faintest of nicks and was caught behind for 9.
London Saints 105 – 3 (19th over)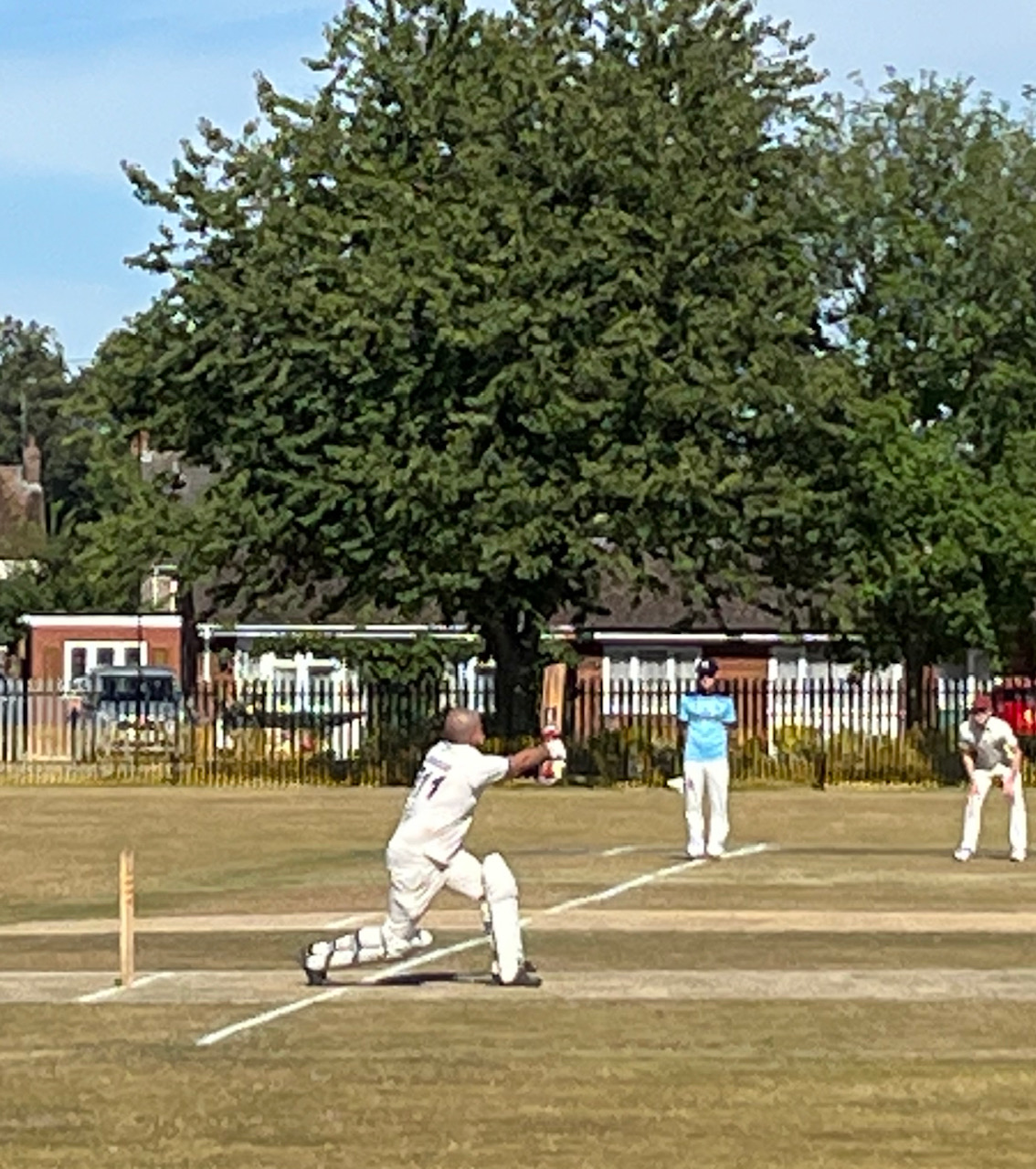 Cushion was in next and steadily got in to his work, helping Tiny reach his half century (53*) which saw him retire, replaced by Jon May. Perhaps with the bowlers tiring in the heat or Cushion and May wanting to be back in the shade as soon as possible, the two started finding the boundary frequently (including a number of sixes). Before long May was retired on 51* with Cushion soon joining him in his shady retreat on 53*, for what may be one of London Saints highest (but certainly the most contributors) fourth wicket partnerships of 105. With retirees aplenty (I'm not referring to the pensioners) four people contributed: McIntyre, Cushion, May and Calais. Now technically Dover got a golden duck (perhaps the pressure of his nephew watching on intently from the other end as umpire), so four contributors is a bit of a stretch, but he assures us that the run on the leg bye that put him on strike was definitely called by him and therefore counts towards his involvement!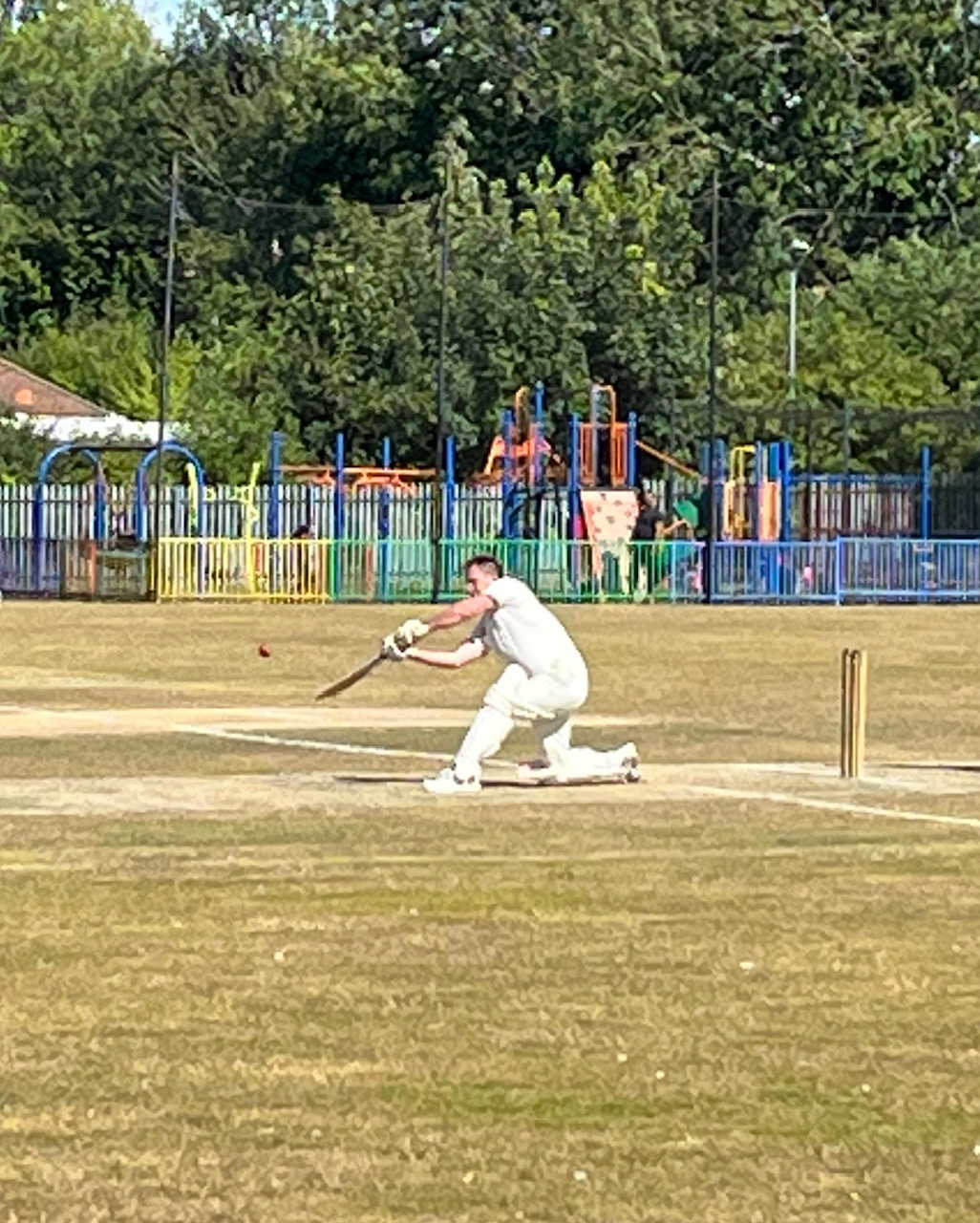 London Saints 210 – 4 (31st over)
Nanton and Pearce were now at the crease and made the most of the last few overs, both finishing not out on 11 and 13 respectively. So after 35 overs, a total of 244 had been amassed and three half centuries made. A very good innings indeed. Oh, and two ducks (one golden) collected – we are London Saints after all!
Roadrunners Innings

After a decent feed (though somewhat lacking in the usual addition of homemade scones), we took to the field. Though we had a decent total to defend, it was felt there were plenty of runs out there, so pre-fielding chat was about making sure we just bowled half decent and defended the boundaries as best we could. Nanton and Calais opened and set the tone perfectly. With a required run rate of seven an over, at the end of their opening spell of eight overs the duo had conceded just 23 with Nanton taking the first wicket
Roadrunners 23 – 1 (8th over)
First change saw debutant Harry enter the fray, with Thomas taking the other end. Harry's first over saw him take our second wicket as part of a spell of four which only conceded a total of seven runs. He perhaps deserved to take more, as he was getting the ball to move, but as can often be the case at our level, if you bowl too well the batter can't hit it! Cue Thomas to show him how to actually do it. A rank full toss in his second over (or was it actually a carefully disguised dipping full ball?) was pulled away square, only to find Calais at square leg, who confidently took the catch. This was followed up though by a better ball in his fourth and final over, clean bowling the Roadrunner's number three. Another eight overs down, 3 wickets taken and only another 23 runs conceded.

Roadrunners 46 – 4 (16th over)
With wickets falling and runs being kept to a minimum in the field (only two of Roadrunner's batters found the boundary more than once in the entire game), the skipper felt he could start sharing around the bowling. Smith and Pearce next came into the attack. John bowled steady from one end, giving Pearce the opportunity to attack from the other end. And it wasn't too long before he snagged a couple of wickets. The pick was Roadrunner's Rich Catlin, who all too familiar with Paul's deliveries, talked himself in and out of a dozen shots whilst an extra teasing slow ball reached him, that by the time it did, he ended up doing nothing and got clean bowled!
A third wicket also fell in this bowling spell, in a somewhat comical fashion. A decent shot behind square leg saw the Roadrunner's batter confidently set off, calling his partner through for a single. The non-striker turned it down, with his partner remonstrating two-thirds the way up the track and showing no desire to go back. London Saints casually fielded the ball back to Speedtwin who removed the stumps – leaving the opposition batters standing at the other end to decide who walked.
Roadrunners 85 – 7 (24th over)
Next on the bowling rota came the all-rounders of Mayhew and May. Three maiden's between them, only ten runs conceded and Trevor taking a wicket (bowled) – some suggest McIntyre's refusal to dive for a catch denied him a second – perhaps showed how everyone wanted to get in on the act.
Roadrunners 95 – 8 (31st over)
With victory very much in sight and the skipper wanting to show the versatility of the London Saints by bowling all 10 outfield players, the two other not out half century makers, McIntyre and Cushion were brought on to bowl. They each picked up a wicket as we bowled Roadrunners out for 107 in 33.4 overs. This was a great result and all round performance making up for some of the near misses in recent weeks – everyone contributed in this resounding victory.
Man of the Match
This could have gone to a number of players with Jon May narrowly taking the prize for his excellent batting, bowling and fielding display. The award, however, could have equally deservedly gone to the other not out half centurions, Mike McIntyre and Richard (Dickie) Cushion. Another honourable mention should be given to Trevor Mayhew who for a time batted like he's never been away and who confirmed his all- rounder status with 4 overs for 8 runs and a wicket.
Champagne Moment
One Liner's running commentary (did he have to field so deep on the boundary?) of the ever increasingly amorous young couple performing rhythmic gymnastics on the boundary had to be heard but the award goes to Tiger's slow ball which bamboozled Roadrunners best player Rich Catlin. Paul almost won the champagne moment award two weeks ago for another slow ball that baffled a Trafalgar batter into playing 3 different shots before the ball eventually reached the stumps but won it today for making a normally excellent player look like a No 11 and secured Rich as his bunny as it's not the first time that Rich has been out to Tiger in this fashion.
London Saints
McIntyre retired not out 53
Smith b R.Catlin 0
T.Mayhew run out 37
H. Rogers ct Wk b Callum 9
Cushion retired not out 53
May retired not out 51
Calais b R. Catlin 0 (Golden)
Nanton not out 11
Pearce not out 13
Extras 17
Total 244 – 4 in 35 overs
Roadrunners
Gazeley b Nanton 6
Gromlich b Rogers 16
White b Thomas 8
Price ct Calais b Thomas 5
Lawrence run out 19
R.Catlin bamboozled Pearce 7
Craig b Cushion 9
S.Catlin b Pearce 8
McKane b All Rounder T.Mayhew 4
J.Catlin b McIntyre 0
V.Catlin not out 2
Extras 23
Total 107 all out in 33.4 overs
Nanton 4 – 0 – 13 – 1
Calais 4 – 0 – 9 – 0
Rogers 4 – 1 – 7 – 1
Thomas 4 – 0 – 14 – 2
Smith 4 – 1 – 22 – 0
Pearce 4 – 1 – 16 – 2
Mayhew 4 – 1 – 8 – 1
May 3 – 2 – 2 – 0
Cushion 1.4 – 0 – 1 – 1
McIntyre 1 – 0 – 2 – 1
Become a Member
Become a member of London Saints from as little as £5.