Another Thriller Ending in Glorious Defeat…………….
London Saints CC v Trafalgar at Old Habs 24th July 2022
London Saints 102 (G. Dowson 26, Calais 23)
Trafalgar 103 – 7 (Pearce 4 – 12, G. Dowson 2 – 21
A beautiful day in north London, with a lovely breeze (which became a gale) blowing diagonally from the club house to the rugby posts…
Incredibly DT won the toss, he confused the opposition by tossing a 10 euro-cent coin, nobody was really sure what was heads or what was tails but our skipper claimed victory and elected to bat first.
Trafalgar only had 9 men so we agreed to lend them a fielder on a rotational basis* we opened with the two Johnnies on the far pitch nearest to the Jackoberry bushes (see my last match report circa 2019). As always a solid and resilient start from The Wall who, stung by criticism of his record breaking duck earlier in the season, was quickly off of the mark.
Soon after The Wall fell, I don't mean he was out, I mean fell over after being hit by our own George Dowson who had been selected by our generous captain as the first fielder we would lend to the opposition. George thought he would try and increase our run rate by running John S out, but instead of hitting the stumps he 'accidently' hit John in the rib cage, leaving a painful looking bruise. Quickly after that Nice Pint did lose his wicket, the first of many of us to be bowled on a wicket with a huge variation in bounce. It was a decent opening partnership of 22 with the Johns batting out 8 overs including 4 from the annoyingly accurate 'Chucker' Kerrigan.
The man with too many nicknames to mention, had moved on serenely to 17 and he and Tiny Temper had moved the score onto 33 when disaster struck, Mike was caught behind to a ball that bounced high, then Dowson Jnr (Henry). was clean bowled first ball leading to me having to sprint off from my spell as loanee fielder to pad up, I only had one pad on when John G was caught, we had collapsed from 33-1 to 33-4 from 14 overs.
Which bat shall I use?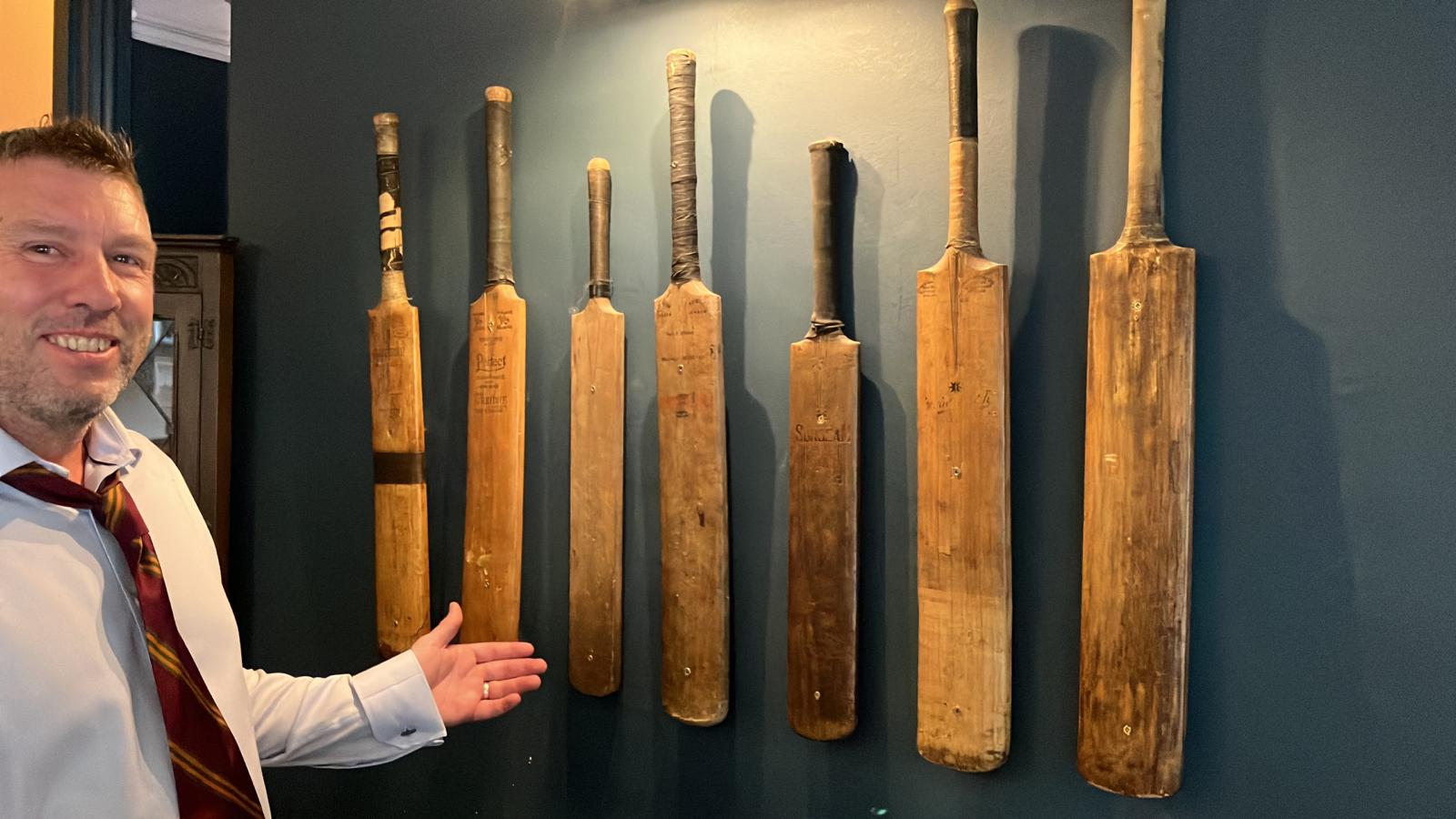 I was yet to score a run so far this season so was a little nervous given our predicament, but three sublime fours from Dowson Snr. (George) in the first over we shared in the middle settled my nerves and reckoning that sooner or later there would be a ball with our name on we went on the offensive. We managed to put on 52 runs in 8 overs before George fell to a good one that came in with the ever-strengthening wind from the club house corner and clip the top of his stumps. I fell next over to a pea-roller that I bottom edged on to my foot and then on to the stumps, we were in trouble again with the score 89-6.
Dickie 'Quinton de' Cushion announced himself as a true contender for the duck trophy in his first full season with the Saints as he too was bowled by one that stayed low, the same fate accounted for DT (1) and he walked off of the field mumbling about his average, then another ball moving with the wind finished the innings when Tiger was bowled for 8, we were a man down too so our innings came to a close at 102-9 off 31.1
A delicious but noisy tea interval followed (there was a 6th birthday party complete with inflatable slide and DJ in progress) having been told I would open the bowling I opted to eat as much as possible figuring that the heavier I became the less the wind would interfere with my run up!
George opened the bowling from the club house end, a fiery opening over with lots of bounce but never threatening the stumps as the slower, skiddier bowling from the opposition had. In conditions that should have suited my lack of pace I never came to terms with the wind (or the belly full of sandwiches and cakes) and gave their tall opener Martyn too much width and he happily cut me for a couple of offside boundaries. The tide turned in the third over when Dickie took a superb catch after a leg side glance from the other opener, a couple of balls later their number three was also on his way back after another faint nick saw the George and Cushion double act claim a second wicket of the over. Fair player to the two batsmen for walking as both nicks were very faint and I'm not convinced the umpires were going to give either.
Trafalgar made good progress from that point, Martyn finally fell to an excellent stumping off the bowling of Tiger for 43 just before the drinks break and at that point they were 88-3 needing just 15 more runs to win at a rate of one per over!
I'm not sure what was in the drinks (not much water that's for sure) but it had a bizarre effect on the opposition batsmen, they lost their 4th wicket first ball after drinks as Chinmay looped one straight up in the air for Tiger to take his second wicket and Dickie take his third catch. From there on in it was absolute carnage, Tiger took another wicket clean bowling their batsmen with the slowest ball I have ever seen, it hung in the wind for ages and as the batsmen was laying on the floor having missed it once already he had a second swing at it, contemplating a third effort the ball eventually past him, we were not sure if it would make it to the other end but finally, approximately 25 seconds after being bowled, it hit the stumps and Trafalgar had lost their 5th. They lost two more wickets on 97 as Henry cleaned bowled their keeper Miles and Tiger took another wicket thanks to a great catch by Tiny Temper snaffling a very firmly hit drive at a mid-on (or was it off)
They only had 9 batsmen so we only needed one more wicket and they still needed 6 runs when Chucker strode out to the middle… a discussion between Captain and bowler ensued, everyone around the bat except me dispatched to Cow Corner for in Tiger's words, 'an essential fielding position'. Chucker caught hold of a short one and dispatched it for four, then the crucial moment as their batsmen stuck the ball firmly but at a nice height to Henry at mid-wicket, unfortunately for him and the Saints this was the one time in a hundred he would drop such an opportunity, soon after the scores were level and even I was called into the circle as we attempted to achieve a tie for the third time in the clubs history, but despite a great effort and the stumps broken they just about managed to scramble the winning run. It was another thrilling match and well done Saints for battling back and getting as close as we eventually did.
Champagne Moment
I would like to give it to myself for a third career forward defensive, but there were two clear finalists in this week's short list. The Wall falling like an ancient oak felled by our own sub fielder George, and the (slowest) ball of the century by Paul 'Tiger' Pearce. After consultation with the captain we have decided, that although being floored by one of our own fielders is quite commonplace these days, having that fielder play for the opposition makes it exceptional, so the winner is Nice Pint for taking it like the man he is and not going on and on about it at darts on Monday! (some of the Brown Bear regulars will never get that image of John revealing his bruise out of their heads)
Man of the Match
For giving us a fighting chance with both bat and ball, this week's MOTM is George for being top scorer with 26 and taking two wickets in a hostile opening spell.
*After the match it was pointed out to me by an anonymous source that DT was very generous in sharing many of our younger fitter fielders with the opposition, that was until he came in to bat when he sent Henry back to the bench and offered them the already injured Nice Pint instead!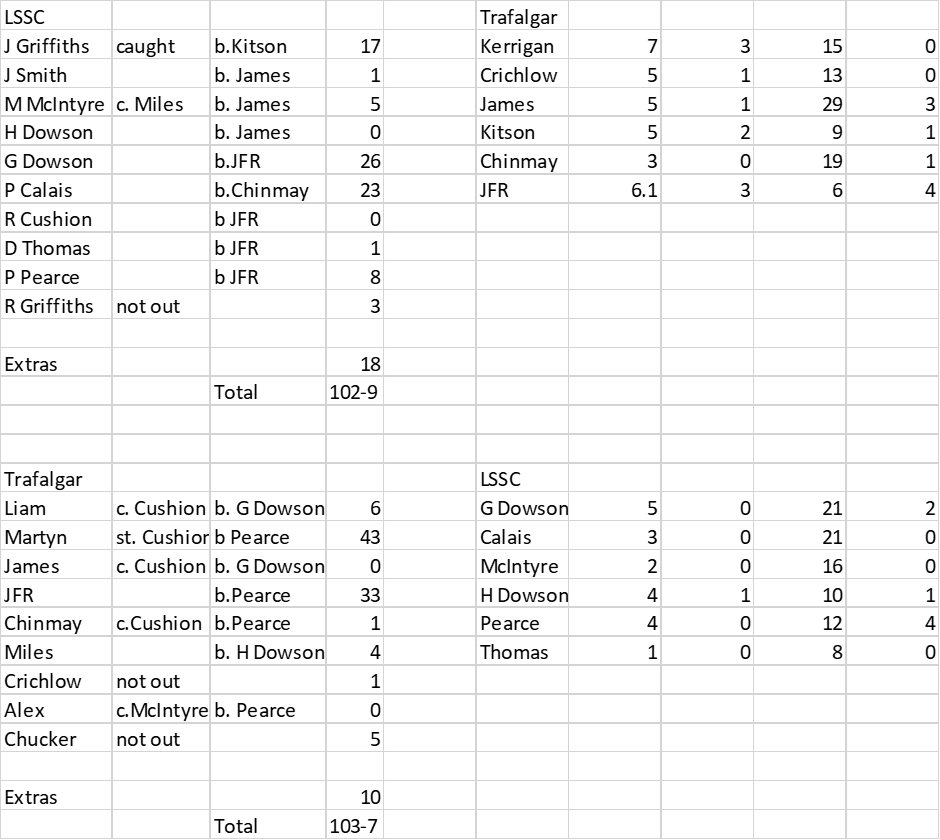 Become a Member
Become a member of London Saints from as little as £5.