Nascott v London Saints – Woodside Leisure Centre, Watford – Sun July10
London Saints 146 all out (J. Griffiths 55 not out, McIntyre 25, Dowson 22, Pearce 17)
Nascott 147 – 7 (Dowson 2-12, R. Griffiths 2-43)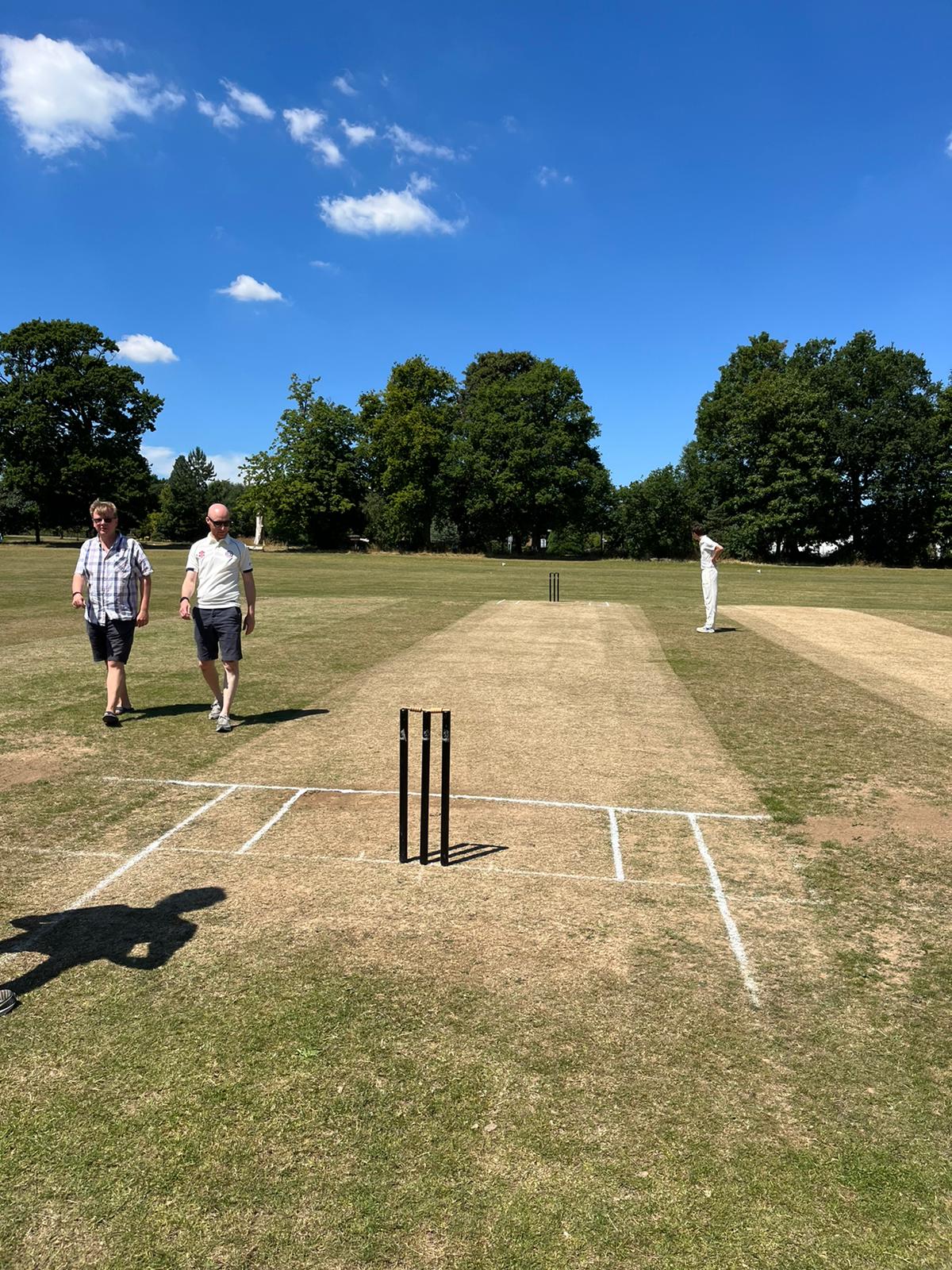 Just a quick report on last Sunday's game as there is lots to still do for the upcoming tour this weekend. I'm afraid the number of players available for this game summed up most of this season with injuries, valid excuses and some less so meaning that at one stage 24 hours before the game we were down to 7 players so thanks to those who helped at short notice and the ever reliable Lana who swelled our ranks to 10 by the start. Some of the council pitches we play on leave a lot to be desired (including the lack of teas) but Nascott's, Watford Council, pitch proved the exception in a delightful setting and a groundsman with a lawnmower that actually cuts the grass (Old Habs groundsman please take note).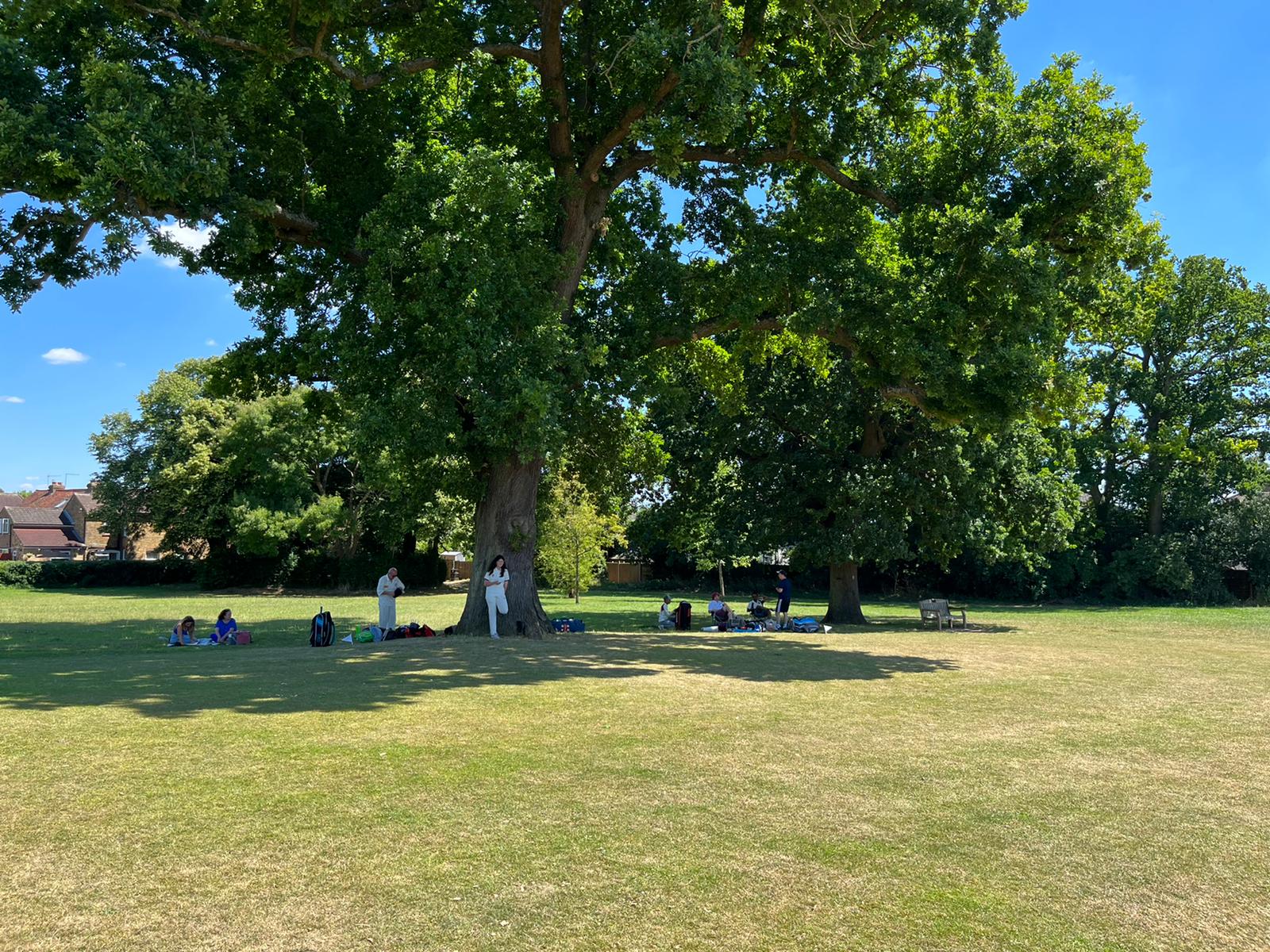 To the relief and surprise of all, the skipper won the toss and decided on this baking hot day to bat first. Carol Griffiths, just back from her Covid sick bed and Tiny Temper made a solid start putting on 46 for the first wicket in 10 overs until John called Mike for a suicidal single, which Mike was too polite to turn down. Good timing as Tiger, on the boundary edge, was just warning his potential son-in-law, Oscar (who was due in a No 4) about Johnny's running between the wickets. The solid start by the openers prompted the skipper to change the batting order by promoting Oscar and George up the order to get some quick runs. These things have a habit of backfiring as Oscar (now in at No 3) was back in the hutch before you could say "golden duck" – Oscar can now say he is a true London Saint – serves him right for bringing along his potential bride (Tiger's daughter Maddie along to watch).
George and John steadied the ship with a 36 run partnership for the 3rd wicket until John, under the previously agreed rules, was forced to retire unbeaten on 50. George was soon also back in the hutch after a fine knock of 22. Nice Pint (who scored off his 1st ball, something he failed to do in 15 overs last week) steadied the ship as we rebuilt and then Tiger, hoping to impress his watching Mrs, plus future son-in-law Oscar, got the innings moving again with a fine 17 until he departed to an excellent catch. The innings ended with the battle of the Twintubs with firstly Lana taking the lead in the family run scoring battle until Gary eclipsed her with a trademark sweep to the leg side boundary for a 4 (oh the memories). There was still time for Carol to come back in as the last batter, as she had retired earlier, and finished unbeaten on 55.
Tea was taken with the London Saints at a competitive 146 all out (9 wickets) off the last ball of the 35th over – a good effort with our depleted ranks. The Pearce family spread rivalled anything seen before from our home-made teas, even beating some of Carol's efforts in previous years – it must be said that her effort for tea this year paled into insignificance though, as it was severely depleted as she misread the earlier drinks break to mean " start tucking into your food now ".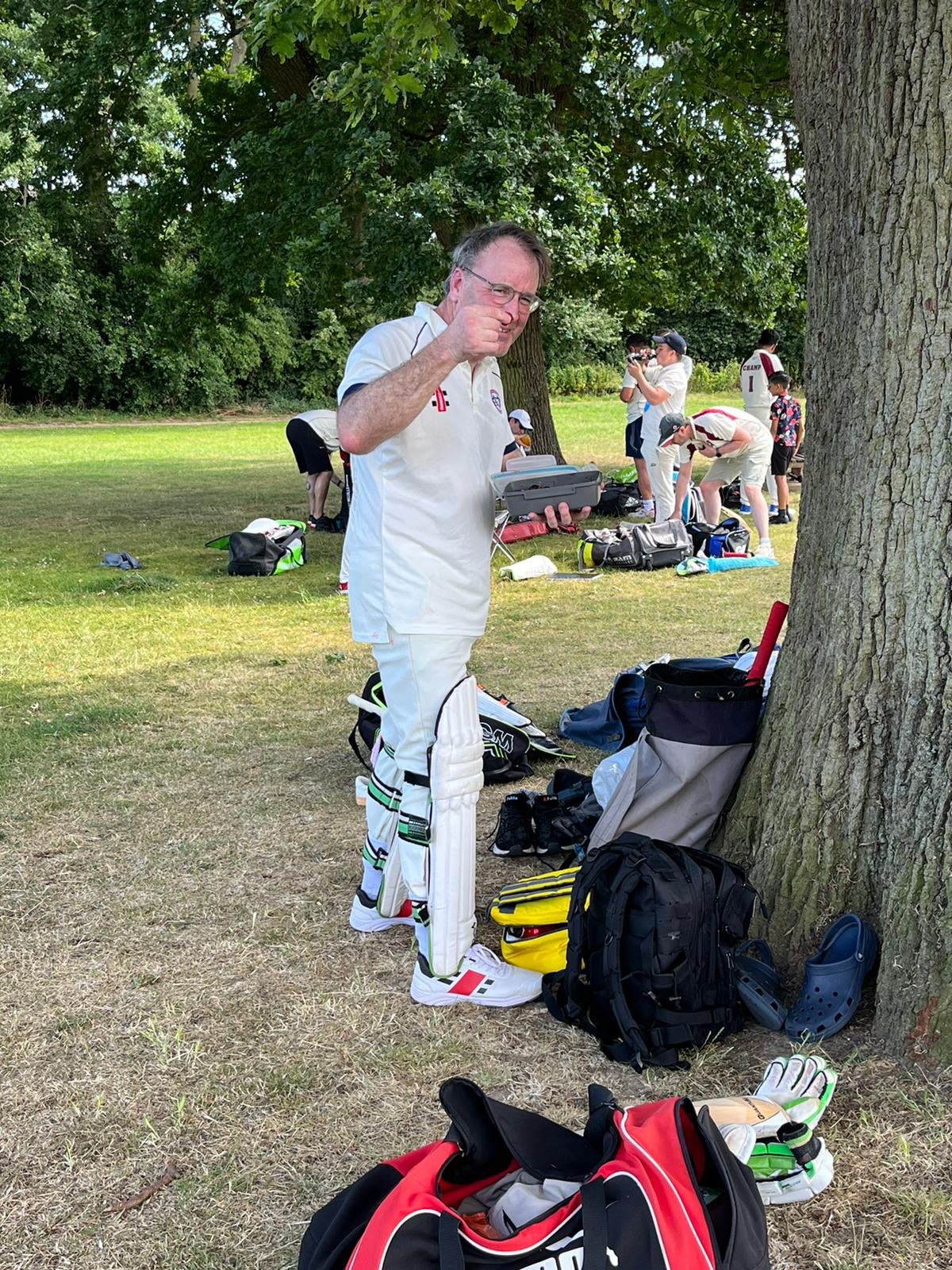 With most of refuelled the skipper had to decide who to open the bowling with as we were two bowlers light due to the withdrawals (I'd like to use this opportunity to pass on the club's deepest condolences to David Nanton and his family whose brother passed away overnight meaning that David had to pull out from his local fixture against the team whom he introduced to us many years ago). We certainly missed his bowling today but George stepped up to the mark with a brilliant spell of 7 overs, 3 maidens with 2 wickets for just 13 runs. Oscar reluctantly shared the new ball but needs must – and then we were left with an avalanche of slow bowlers (I'd call us spinners but that may be pushing things!). The skipper and Tiger struggled today as they were punished by some good batsmen but Son-in-law No 1 bowled a fine spell of 6 unbroken overs and 2 wickets.
Although a score of 147 to defend on a hot day with a lightning fast outfield was always going to be difficult, we kept at it whittling away by taking wickets and did really well to take 7 (including Oscar's first for the club) in the circumstances although never feeling that we had enough runs. In addition, we only had 10 fielders which was reduced to 9 for a while when the unfortunate Gary Speedtwin ended up in the wars behind the stumps. After being hit on the big toe on the last ball of Oscar's over, he was struck on the wrist from the first ball of George's over and had to hobble off with his arm start to swell up. It would be too cruel to Gary to nominate this passage of play as a champagne moment due to the heat and circumstances but it did bring back memories of Reggie behind the stumps who tried to stop the ball with every part of his body apart from using the gloves.
Nice Pint was brought on to see if he could produce a miracle and would have had a wicket if Judas basking in the glory of his innings hadn't dropped a dolly but the resulting chaos led to a run out which unfortunately cannot be awarded (as the scorebook initially recorded) to Nice Pint – sorry John. Nascott hit the winning runs with 10 overs to spare so, on one hand, it was a comfortable win but on the other, another couple of wickets and it could have been very interesting? Well played all those who turned up to play today.
Man of the Match – It has to be the man of many nicknames Carol, Judas, Johnny Griffiths off his sickbed to score an unbeaten half century though honourable mentions must go to George's fantastic bowling spell and runs and Tiny T's runs and taking over from Gary behind the stumps after Gary was forced to retire.
Champagne Moment – The skipper, in a moment reminiscent of Roadrunners away a few years ago, completely misjudged an easy catch off Richard's bowling. His eyes were looking in a completely different direction with his mind distracted composing his post-match rant about a lack of players, almost head butted the ball before cries of "catch it" or "watch out" woke him up to avoid any serious harm (and almost caught the rebound off his shoulder) – thankfully Richard bowled the same batter later that over. Talking of harm, ignoring Speedo's unfortunate couple of balls, the winner goes to Nice Pint's valiant efforts in backing up an exocet missile type thrown in by Oscar. Responding to the calls of "back up", John 'raced in' behind the stumps only to be hit on the knee and felled by Oscar's bullet throw – you had to be there but his pain (which no-one laughed at!) was scant reward for his effort in getting there as most of us wouldn't have even bothered – well done John and hard luck
London Saints
J. Griffiths not out 55
McIntyre run out (J. Griffiths) 25
Sykes b Craig 0 (golden)
G. Dowson b Finlay 22
Thomas c + b Champ 1
Smith run out 6
Pearce ct Craig b Finlay 17
R. Griffiths ct ? b Sheesh 0
Speedtwin ct Champ b Finlay 5
Lana Twintub ct + b Derek 1
Extras 14
Total 146 all out in 35 overs
Nascott
Lito b Dowson 0
Finley retired 35
Andy retired 37
Dave b Dowson 25
Roger stumped (Mike) b R. Griffiths 4
Champ b R. Griffiths 14
Amar run out 1
Derek b Sykes 2
Richard ct J. Griffiths b Pearce 1
Shish nout out 9
Craig not out 0
Extras 19
Total 147-7 off 25 overs
Dowson 7 – 3 – 12 – 2
Sykes 5 – 0 – 35 – 1
Pearce 3 – 0 – 31 – 1
R. Griffiths 6 – 0 – 43 – 2
Thomas 3 – 0 – 24 – 0
Smith 1 – 0 – 2 – 0
Become a Member
Become a member of London Saints from as little as £5.