Coldharbour v London Saints – Coldharbour CC, Sunday July 3rd
London Saints 141 – 9 (Rogers 36, May 27, Nanton 19, R. Griffiths 16)
Coldharbour 147 – 7 (May 3 – 20, Rogers 2 – 27, Cushion 2 – 51)
On a lovely day in the Surrey hills, back-up skipper Paul 'Tiger' Pearce, was first surprised to find out he hadn't actually won the toss, and then even more surprised when Coldharbour put us in. Admittedly on a quick bouncy pitch, progress was slow, but with small boundaries and a quick outfield, we were way behind where we needed to be. Last week's batting hero, Tiny Temper, departed early for 5. In the face of some pretty daunting bowling, Richard hit 4 lovely boundaries to at least get the scoreboard moving. Nice Pint remained stoic at the other end, so much so that the opening bowler was allowed to bowl 7 overs for only 1 run.
Nice Pint eventually succumbed in the 15th over, for the longest opening duck in London Saints' history, eclipsing White Viv's efforts from 2003 and 2006. At 33 for 4 the game looked up, but a brilliant 60 run partnership from Phil and Jon May, gave us hope again. Special praise also to batsman Dave for eventually living up to his nickname, hitting a quick fire 19, and to late recruit Paul Linney, for registering his first ever 6 with an exquisite lofted on drive. Less glorious was the skipper's 2nd ball duck and serial Quackster, Gary Speedtwin's avoidance of the strike. At 141 for 9 we had at least given ourselves an outside chance.
Paul decided to open the bowling with Dickie and Phil, which proved profitable with Dickie picking up 2 early wickets, including a great catch from Jon at point. Unfortunately, Dickie's 5th over resembled Stuart Broad's from the previous day, and he was replaced by batsman Dave. Jon and Phil continued to bowl well, with Jon picking up 3 and Phil 2 wickets, these included another good catch from Jon in the covers and an even better one from the skipper at 3rd man. One seasoned cricket watcher even exclaimed " brilliant fielding positions from the skipper", and he wasn't being sarcastic. Coldharbour still needed 20 odd runs with only 3 wickets remaining, but alas they were able to knock these off fairly comfortably. Given we were quite a few runs short of a par score, it was to everyone's credit that we ran them so close. The skipper's decision not to bowl himself will surely get himself another go when DT and Judas are not available. Thanks to Paul Linney for turning out at short notice, and despite her very rude comments about my phone, to Lana for her great efforts in the field, and allowing for some of the old lags to have a bit of a breather.
Man of the match: on another day Phil's top scoring 36 and 2 wickets would've won it but he was just pipped by Jon May's great comeback performance: 27 runs, 3 wickets and 2 tasty catches.
Champagne Moment: I still don't believe it and I was there – Pearcey's amazing catch. He nimbly tippy toed round the 3rd man boundary, to lean over the fence and hold on to a ball destined for the undergrowth. I think after all these years we have eventually found his fielding position.
London Saints
McIntyre b Marsh 5
Smith lbw Sven 0
R. Griffiths b Collis 16
Cushion b Collis 1
Rogers ct ? b King 36
May ct ? b King 27
Nanton ct ? b Jonty 19
Pearce ct ? b King 0
Linney not out 9
Jackson ct ? b Cornrump 1
Speedtwin not out 0
Extras 27
Total 141 – 9 (35 overs)
Coldharbour
Hopper lbw Cushion 5
Badman ct May b Cushion 8
Kornrump b May 58
Mason b Rogers 5
Gre ct May b Rogers 0
James not out 23
Bash b May 0
Kirk ct Pearce b May 24
Marsh not out 0
Extras 24
Total 147 – 7 (21.3 overs)
Rogers 7 – 2 – 27 – 2
Cushion 5 – 51 – 2
Nanton 4 – 1 – 35 – 0
May 4 – 20 – 3
Linney 1.3 – 13 – 0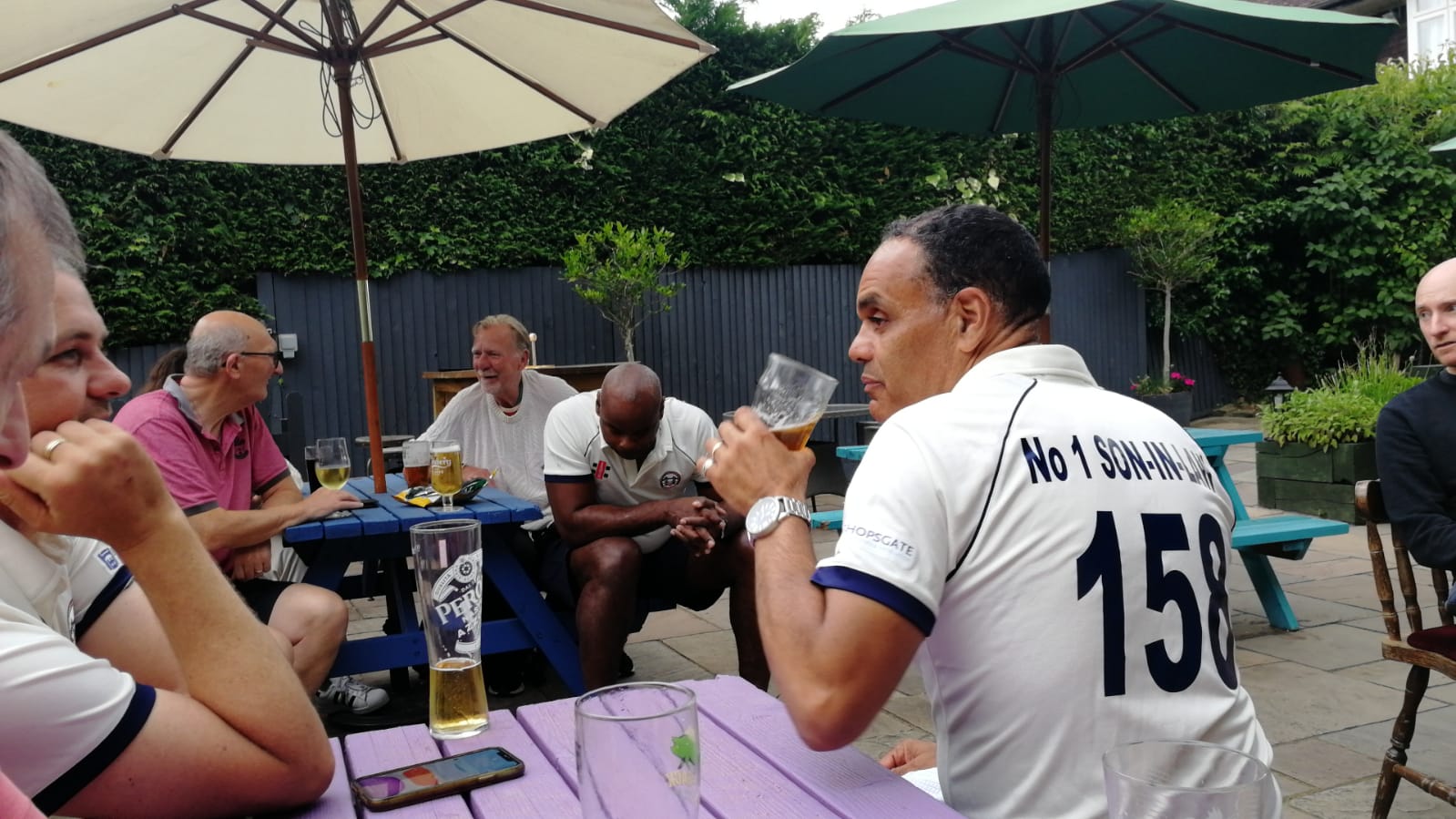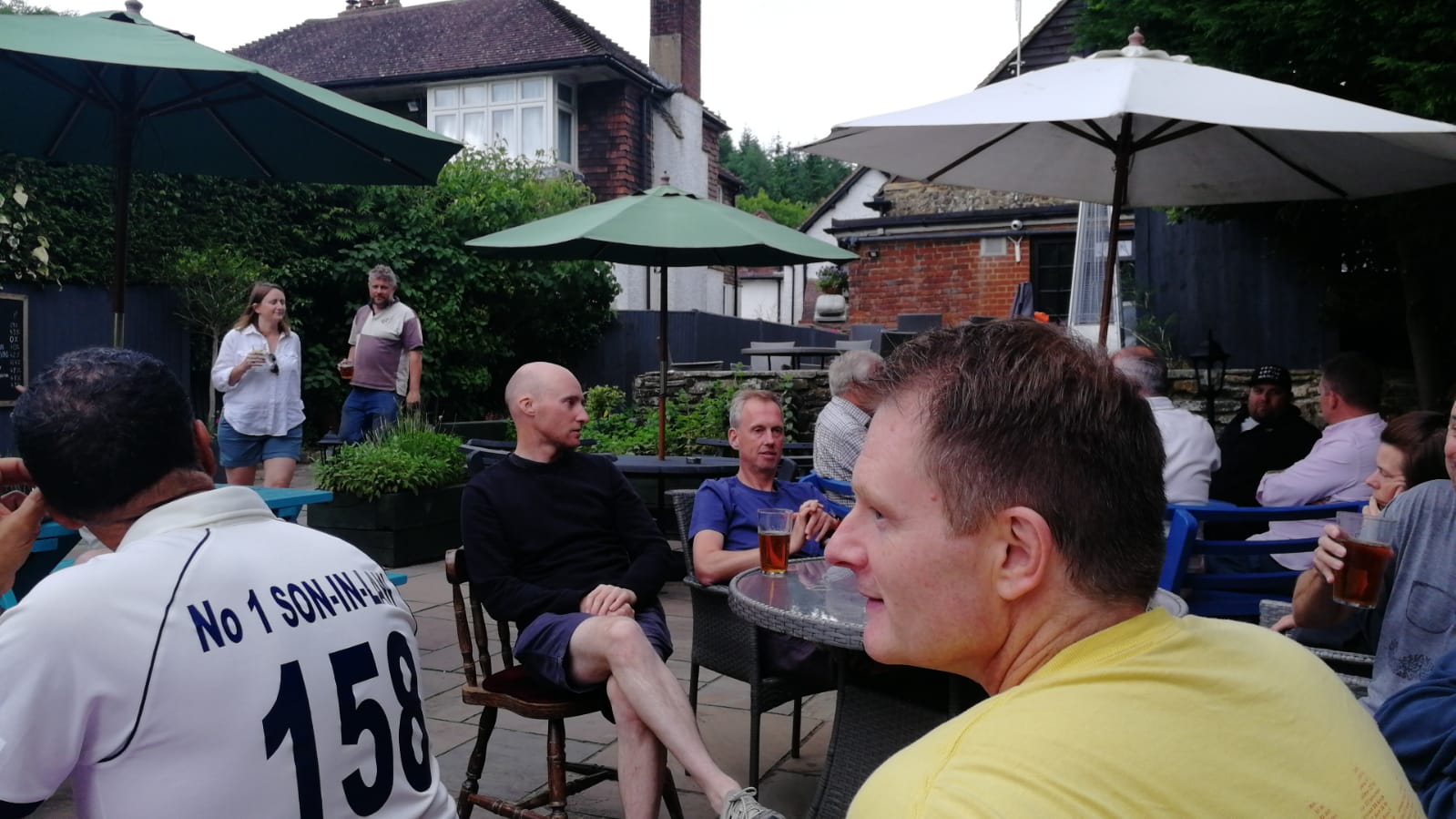 Become a Member
Become a member of London Saints from as little as £5.