Old Chelmsfordian's v London Saints – Sun June 26th – Old Chelmsfordian's CC
Old Chelmsfordian's 158 – 6 (Thomas 2-25, Berkeley 2-30)
London Saints 162-4 (McIntyre 71no, Thomas 68)
London Saints' first ever fixture in Essex proved a headache for the skipper. Despite the lure of souped-up Ford Escorts, white socks and wild women, only seven players were willing or able to make the trip to Chelmsford and with just two days DT began a frantic ring-round to make up the numbers. But such are his powers of persuasion, the skipper had soon tempted Trevor Mayhew – the club's No 2 all-time scorer (after Mr Extras) – out of retirement (while simultaneously alerting the local ambulance station) and also got Hilda Berkeley to bring his nephew James and great nephew Olly to the game. The latter was in itself a club landmark as, following Pete's dad Sid's appearance in the last millennium, it meant four generations of the Berkeley dynasty had worn the famous LSCC shirt (well, they would have done had they had more than one set of cricket whites between them!). The late signings also gave rise to a classic text from the skipper to Pete, which read: "Make sure that James and Olly have Y-fronts or something than can hold a cricket box in place, otherwise they will have to improvise like Ed with his Sainsbury's carrier bag."
So, by Saturday evening we had a team. As a back-up, for our 11th player, the two crocked Andy's (Mayhew and Jones) were in attendance – the logic being that, with two good legs between them, they could share fielding and batting duties (two halves making a whole). DT and John "The Wall" Smith set off on the train, picking up on the way Johnny "Carol" Griffiths – who DT spotted on the platform preparing for the match by scoffing a pre-match pie before boarding the train. Elsewhere on Liverpool Street station, Mike McIntyre boarded another Essex-bound train – sadly for him it turned out to be the Norwich express, first stop Colchester. When Mike phoned to say he'd be delayed, an exasperated DT exclaimed: "I can't believe it, Mike was the sensible man of the team and he's turning into Lord Lucan."
DT's stress increased on arrival in Chelmsford, texting: "I forgot we are in the capital of Chavland – mental place, drunks everywhere and it's only 1pm." Johnny G was amused by one inebriated woman struggling to control her devil dog which was trying to eat a passing pooch. Spotting John watching her, she yelled: "What are you looking at? you think I can't control my dog." When she then turned to her drunk pals, saying: "He thinks I can't control my dog", the three made a quick exit to wait for White Viv in his taxi. The Old Chelmsfordians ground was a welcome sight – a neat ground, with a large modern pavilion and a well-stocked bar!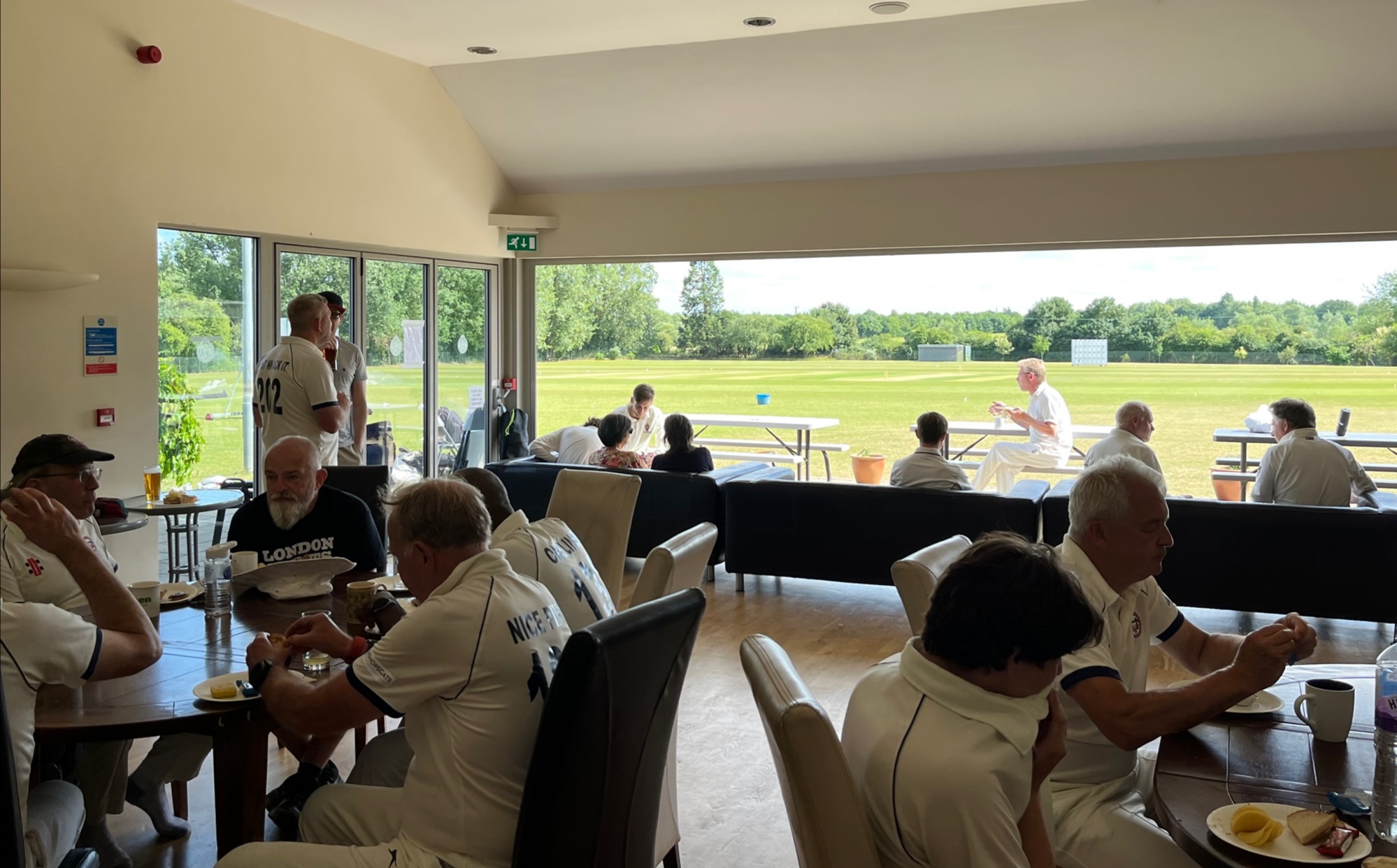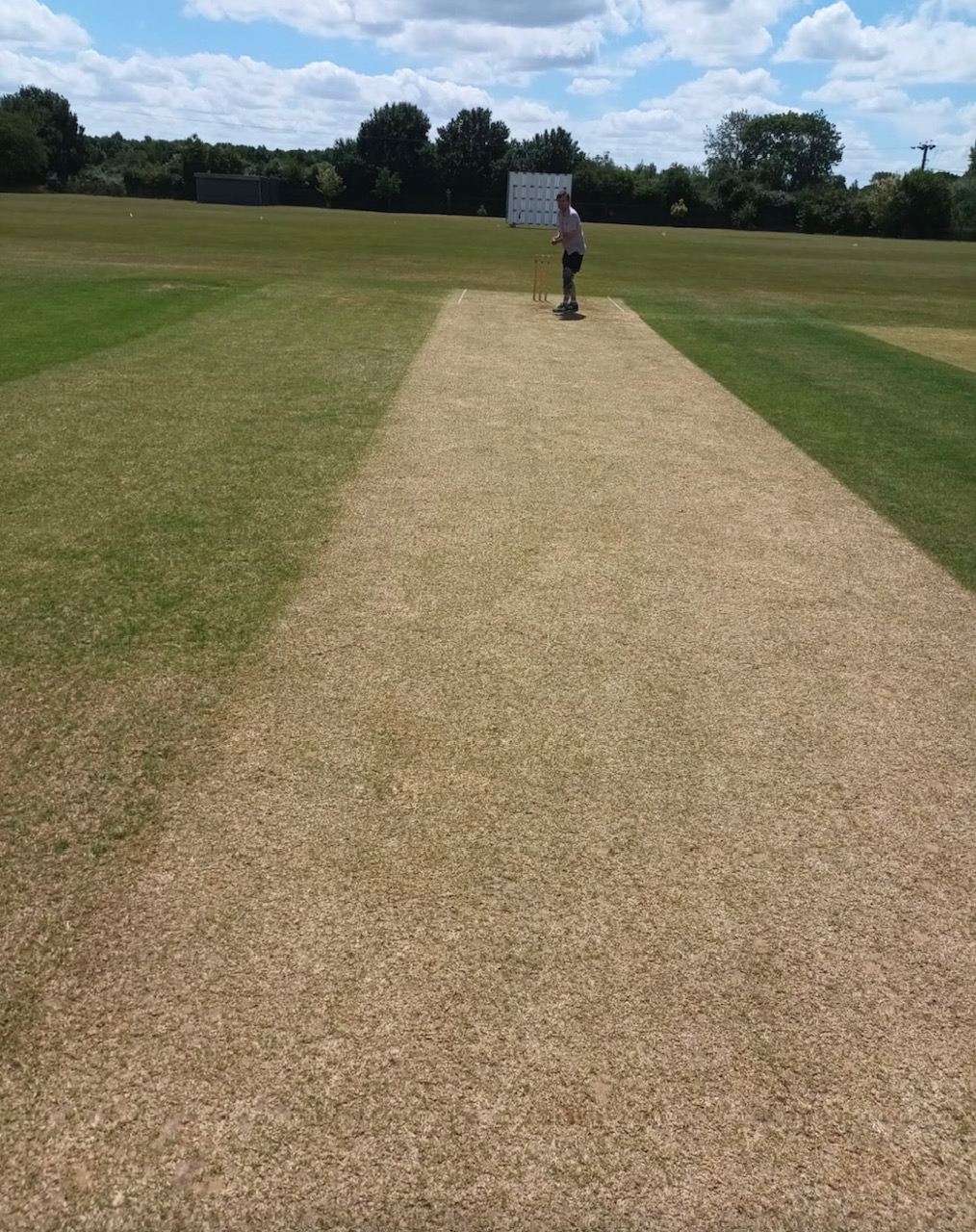 DT lost the toss and the home side chose to bat. But a fine opening spell of bowling from Dave Nanton and Paul Calais pegged back Old Chelmsfordians, who were just 2-0 off the first four overs. The tight bowling was matched by some fine fielding. DT made the first bowling change, bringing on himself and Pete Berkeley and the skipper soon made the first breakthrough, bowling Ball for 4 and then had his opening partner Gray caught by Trevor Mayhew for 29, with Old Chelmsfordians on 42-2. Hilda then removed the next two batsmen – one caught and bowled and the other caught at square leg by Paul Calais – leaving the home side 62-4. London Saints continued to field well. Former Mr Sensible, Mike, was having a good game behind the stumps, John Smith was proving a Wall in the field, while Olly Keatley was doing a heroic job sweeping on the boundary (although DT had to have a quiet word with him to tone down his accurate bullet throws as we were not used to them).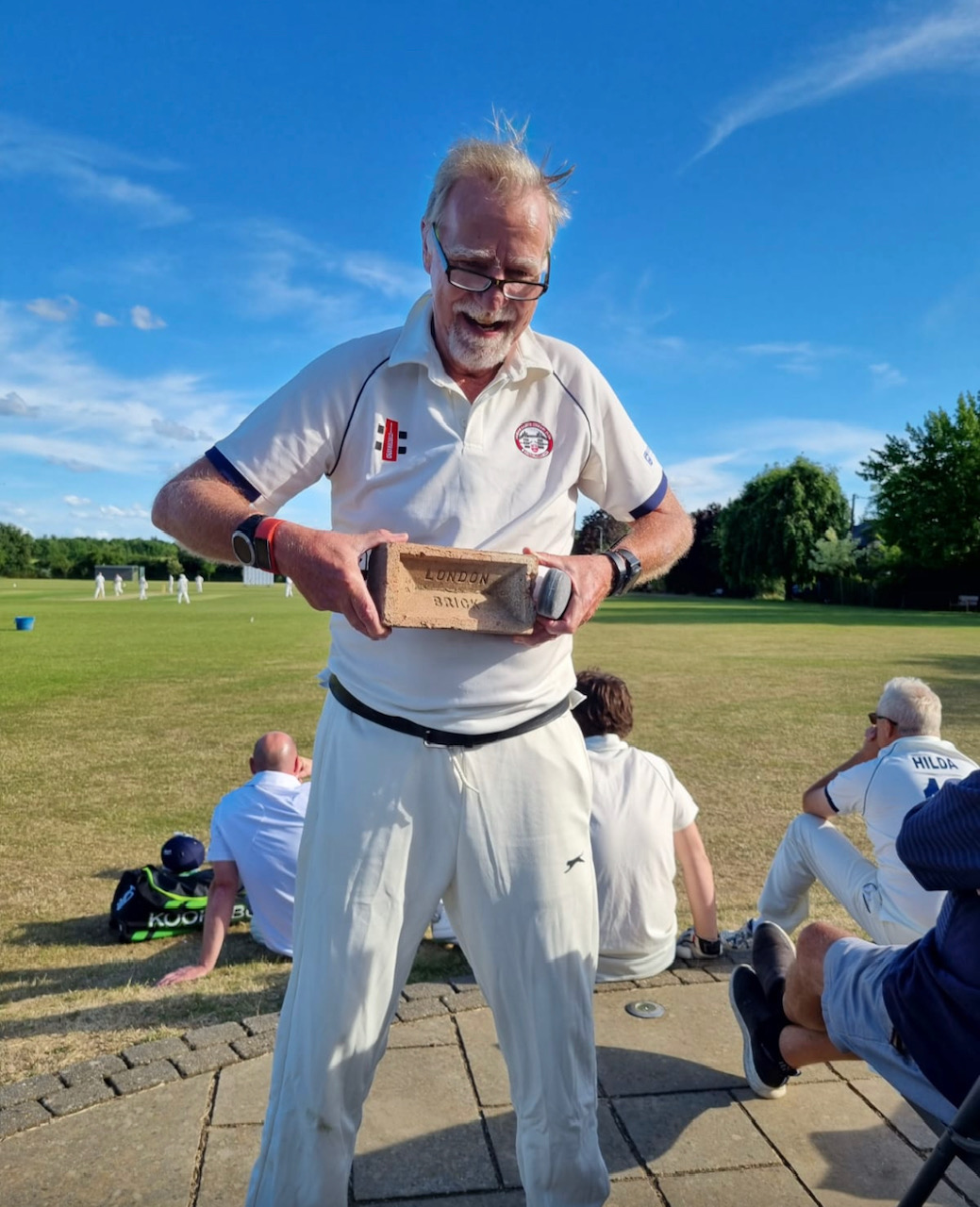 There was one notable exception, when the Old Chelmsfordians batsmen tried to steal a quick single off Hilda's bowling. Nephew James Keatley's throw just missed the stumps but with DT and Olly backing up, the skipper managed to deflect the ball past Olly for four overthrows. Luckily, Pete was very understanding and barely mentioned it afterwards 😄. But the best stop of the game – which was possibly the turning point – was when Old Chelmsfordians' Robertson pulled a Berkeley delivery off the middle of the bat which was stopped on its way to a certain four by smashing into the kneecap of the square leg umpire (which turned out to be the batsman's brother, described by the home side's skipper as their best bowler). There followed a 10-minute delay as the unfortunate ump was carried to the boundary and driven to the pavilion where there was a waiting ice pack. Another first for the London Saints scorebook – umpire retired hurt.
London Saints' fielding heroics included Andy Mayhew, who was standing at first slip (only actually standing with the aid of a leg brace). The idea was that Andy would only have light fielding duties, but inevitably this proved not to be the case and resulted in some comedy moments. His reflex diving stop left the ball just out of his reach and, unable to get up quickly, crawled caterpillar-like to reach the ball which had come to a rest just six feet away. Moments later, an edge had eluded the slip cordon and was trickling to the boundary at 3mph, "chased" by Andy who was trickling after it at 2.5mph. Tragically for Andy, the ball came to a rest six inches from the boundary and Andy had to hobble the full way to retrieve it. (He admitted later that, had it not been in front of the pavilion, he might have accidentally nudged the ball for four to save himself further grief).
Elsewhere, debutant James – still recovering from a recently snapped Achilles tendon – was seeing plenty of action in the field (with his dad watching with some concern from the pavilion!). Hodge and Wallis then began a fightback and the skipper brought Carol and James into the attack. Carol, giving the ball "lots of air", had the good grace to halt one of his overs while a Lancaster bomber flew overhead. Presumably, he did not want to be responsible for bringing down a plane which had survived the Second World War with one of his lofted deliveries. Carol claimed the fifth wicket – a second excellent catch for Paul Calais – and the sixth wicket fell to Oneliner Nanton, back in the attack, caught behind by Mr Sensible. Old Chelmsfordians' innings eventually closed at 158, with Hodge unbeaten on 54.
It was a great effort by a patched up (literally) London Saints team, with no dropped catches. The teams retired to the pavilion for a splendid tea. London Saints began their fightback with Carol and The Wall, with John's promotion up the order immediately justified when he struck his first ball for four. But the opening stand, facing some smart swing bowling, soon succumbed – with The Wall bowled for his 4 and Carol joining him in the pavilion for 2 – leaving the Saints on 11-2. The dismissals brought a reluctant DT to the crease (his request at tea for volunteers for the number three batsman being met with silence until Andy Mayhew suggested that he do it – and so join the duck trophy race!) and Trevor, concerned about his rustiness. So confident was the skipper that he would soon be back in the pavilion that he didn't bother with a hat or sun cream despite the strong sun – a decision he would later regret when he was still batting nearly two hours later and his skin had turned a worrying shade of beetroot.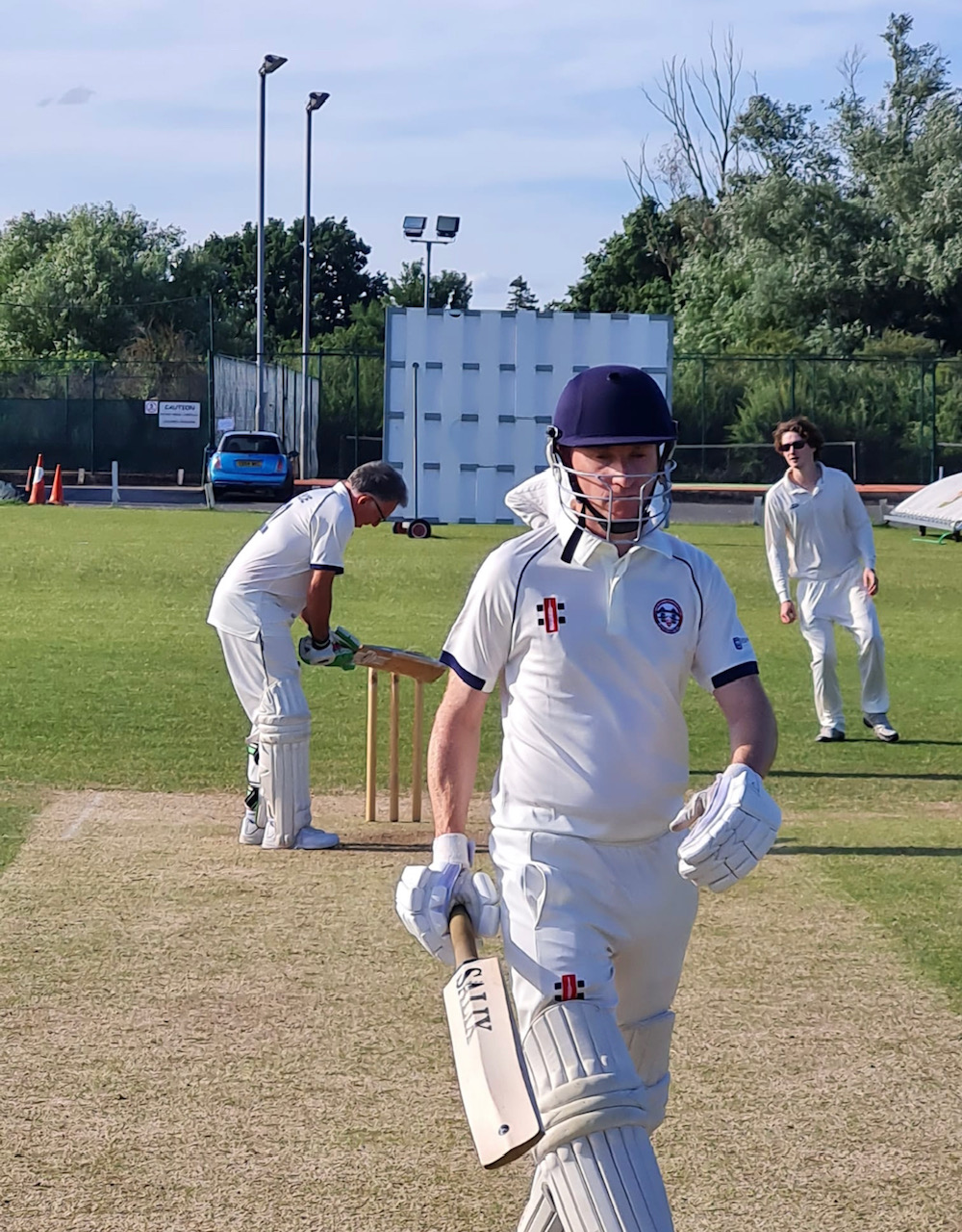 The pair were soon forming an effective partnership, with Trevor quickly regaining his touch. However, with the score on 24, Andy M – "standing" this time as umpire – gave a controversial LBW to send his brother back to the pavilion and set up an interesting journey home in the car. Even the Old Chelmsfordians skipper was surprised at the decision, with the only other person convinced it was out being trigger-finger Carol – who was the square leg umpire.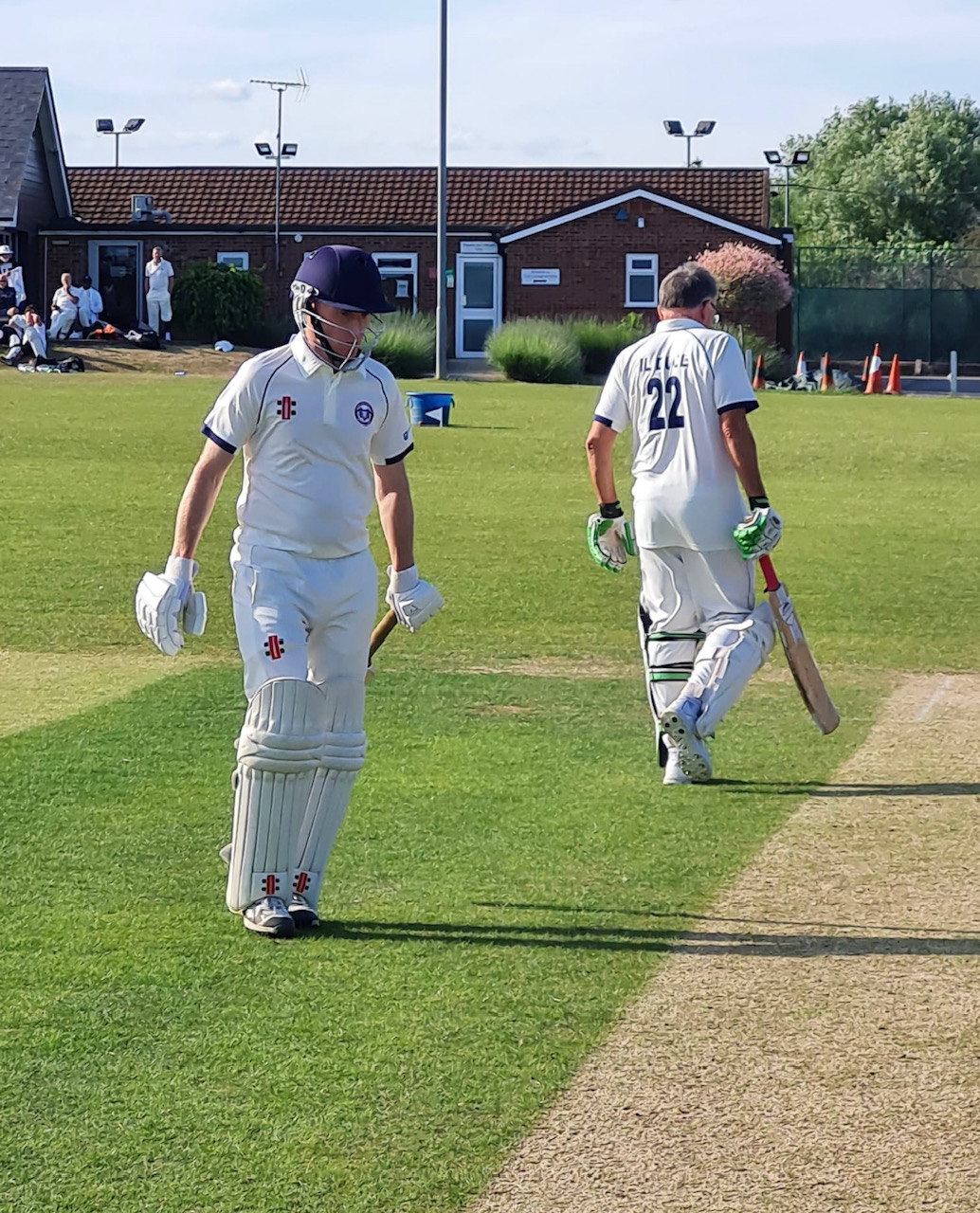 DT was then joined by Mike with the score at an ominous 24-3. What followed was some remarkable attacking batting, with DT hitting three sixes and five fours in a splendid 68, matched by Mike who hit 11 fours in an unbeaten 71. It was both batsmen's highest score for London Saints. The 130-run partnership – a club record for the 4th innings – was ended just five runs short of the target when the skipper was run out. Mike eventually clinched London Saints' memorable victory with his 11th boundary.
A less-than-promising start had turned into a day of records. And London Saints are unbeaten in Essex…unlike Hampshire. (Ed – this last comment has only been allowed as this is, otherwise, an excellent report)
MAN OF THE MATCH: It seems outrageous not to give it to Mike McIntyre, who followed a very tidy game behind the stumps (including a caught behind) with a career-best 71 out out. But he was just pipped for MoM by skipper DAVE THOMAS for his own career-best innings of 68, plus two wickets, all on his 300th innings for the club – an incredible achievement.
CHAMPAGNE MOMENT: Memorable moments included the Lancaster flypast during Carol's over, Andy Mayhew's improvised slow-motion fielding and later his dodgy dismissal of his brother, but it has to be the record 130-run match-winning record partnership of MIKE McINTYRE and DT, which dug us out of a hole and won the game.
Old Chelmsfordian's
Gray ct T. Mayhew b Thomas 29
Ball b Thomas 4
Rowe c + b Berkeley 10
Robertson ct Calais b Berkeley 13
Hodge not out 54
Wallis ct Calais b Griffiths 11
Roscoe ct McIntyre b Nanton 23
D. Robertson not out 2
Extras 12
Total 158 – 6
Nanton 7 – 1 – 27 – 1
Calais 7 – 1 – 23 – 0
Berkeley 7 – 0 – 30 – 2
Thomas 7 – 0 – 25 – 2
J. Griffiths 4 – 0 – 28 – 1
J. Keatley 3 – 0 – 20 – 0
London Saints
J. Griffiths b Wallis 2
The Wall b Mitty 4
Thomas run out 68
T.Mayhew lbw (A. Mayhew) b Mitty 7
McIntyre not out 71
O. Keatley not out 0
Extras 10
Total 162 – 4
LONDON SAINTS WIN BY 6 WICKETS
Become a Member
Become a member of London Saints from as little as £5.