A TALE OF TOO MANY RICHARDS, JOHN'S, PAUL'S, ANDY'S AND DAVE'S London Saints v Roadrunners – Sun June 19th at Old Haberdashers CC – 35 overs
Roadrunners 197 – 6 (Pearce 2 – 30, G. Dowson 1 – 7)
London Saints 136 all out (Mr Extras, 38, G. Dowson 29, Pearce 16no. McIntyre 16)
This day of confusion was always going to happen once I'd retired and no longer able to access the NHS database and computer systems which has produced all the London Saints statistics over many years. Now I'm reliant on a temperamental PC at home and my phone. The situation was not helped by the fact that I was accessing emails on my phone about everyone's availability for this game over the past 2 weeks whilst I was in Italy in a mostly inebriated state! so mistakes were bound to happen.
Anyway I still felt confident that 11 players would turn up on this special day. June 19th was Father's Day – not that I knew about it when I left home as my son messaged me about 3pm saying his card was going to be late as he had missed the post (its Tue night now and it's still not turned up!) and then my daughter messaged me at 4pm having just got out of bed and told me that she's going out tonight but she'll leave a card and some beers in the fridge for me. June 19th was also my 29th wedding anniversary which Sue had reminded me about earlier in the week but as she was out running in the morning I hadn't actually seen her today Well perhaps the 3rd reason for this being a special day (it was my first London Saints' CC's game of the season) would be an improvement on the other two?).
Omens weren't good when 4 players Tiny T, George, the Wall and Max were s delayed due to trains being buggered up in the Blackfriars area, 2 more (Carol and Ed) were stuck in traffic coming up from east London and another, Speedo was stuck on the M25). At least One Liner would be on time for a change as he had just bought a car and was driving to Old Habs for the first time so couldn't blame the trains – so what could go wrong – a phone call from Dave put that right as he was stuck in traffic coming from the west. By 1.00 Roadrunners had almost a full team and we had 2 and the kit (Tiger) hadn't arrived so it was time for delaying tactics and discussions ensued as to how many fielders could Roadrunners lend us if they won the toss and chose to bat first. Good news Son-in-law No 1 (Richard G arrived), only he wasn't down on my team sheet "What are you doing here "was my ungracious response "I was expecting Richard C not Richard G ". Then Richard C turned up and I realised I had cocked up over the Richard's and apologised but it might be ok as some of the others weren't going to be here for ages and at least we could make a start as 3 of the 4 delayed on the train had arrived (the 4th, Max, had gone another way and would be very late.
We had 7 (inc the kit) by the toss with me explaining that it would be better if we batted but Roadrunners said they would lend us some fielders and wanted to bat. Carol and Ed arrived just as we were about to start so we had 9 with Richard C donning the gloves until Speedo arrived, With our other opening bowler still discovering the joys of driving to a game, the skipper shared the new ball with George who put in a fantastic opening spell of 5 overs for 5 maidens, 0 runs and one wicket neatly taken by Richard C behind the stumps. George was getting a lot of (some dangerous) lift from his end so much so that we were glad that we were bowling first and wondered whether we should have invested in some club helmets (fortunately the pitch calmed down by the time we batted.) With players starting to arrive (firstly Gary, who took over wicket keeping duties from Richard C plus Lana which meant that we would have 13 players !!), we turned to Richard G as first change after his 3 wickets in our previous game. One Liner arrived meaning the skipper could stand down from the bowling and then Max arrived so we had 13 so the palaver of fielding rotations followed with moving around, or off the pitch, 2 Richard's, 2 John's, 2 Dave's, thankfully this week only 1 of the 3 Paul's and no Andy's (though Mayhew Senior did turn up to umpire).
We could now all relax and concentrate on the game with our now full array of riches on offer. Chatting to Richard C (who had a very promising debut with bat and behind the stumps last year v Hermits in Newbury) I discovered that he had lost his driving licence but had persuaded his wife (plus kids plus 2 dogs and half the house) to drive him to the cricket so he could play whilst they stayed to wait for him to finish. Now that is dedication in true London Saints tradition so Richard was rewarded, after keeping wicket, with a bowl (and he got a wicket) and to cap it all Richard then agreed to be known as Dickie in future to stop any more misunderstanding. Excellent, Dickie will fit in well with London Saints – all that was missing for him was a London Saints duck………………………more of that later -)
We started promisingly with George's opening spell and wicket and a run out with Dickie vey neatly taking Tiny Temper's throw from the covers to remove their other opener so they were two down for not that many. A solid partnership of around 60 ensued and it needed a special moment to part them for our 3rd wicket. Gary (Speedo/Twintuib) Speedtwin, having taken over the gloves from Dickie took his 150th London Saints dismissal (78 catches and 72 stumping's) off Tiger's bowling which is only right as the combination of Tiger/Speedtwin is probably the most fruitful source of his dismissals? (if only I had the time to check).
This was in the middle of an eventful spell in the game for Paul as the ball seemed to follow him around the field with his number of dropped catches almost matching Dover's effort v Batcoombe on tour last year. Some would say that 4 drops is harsh but as was one off the skipper, and author of this report, it will be included -). To be fair there was only one dolly which would have given Dickie his first LSCC wicket but it went straight in and out and Dickie (got used to his new name already) was very understanding about it. Paul's first 3 balls of his 2nd over went for successive boundaries but then, attempting a 4th boundary on the run, their batter edged it to Speedo and then the very next ball their next batter presented a chance to Carol that was so easy that anyone in the world (perhaps other than Paul himself) would have caught. Two wickets in two balls but the skipper still took him off – harsh but fair with 30 runs coming off his 3 overs.
Roadrunners were on a roll now as we used 9 bowlers in an attempt to stem the flow of runs but some of our fielding let us down with at least 8 dropped catches Our best two bowlers George and One Liner were brought back early to try and break through but to no avail as Roadrunners depth in their batting line up took them perhaps out of our reach at 197-6 off their 35 overs but hope still remained if our best batters could get in.
We retired to the newly painted pavilion for Pauline's tea (we had to phone her to get drinks out halfway through their innings) where I spent most of the tea break wondering how she could charge £90 (+£30 for the bar after) for the tea when it would have cost her about £15 down Lidl to buy it. Anyway at least Carol didn't spill tea down his whites as he had done in our last home game last season!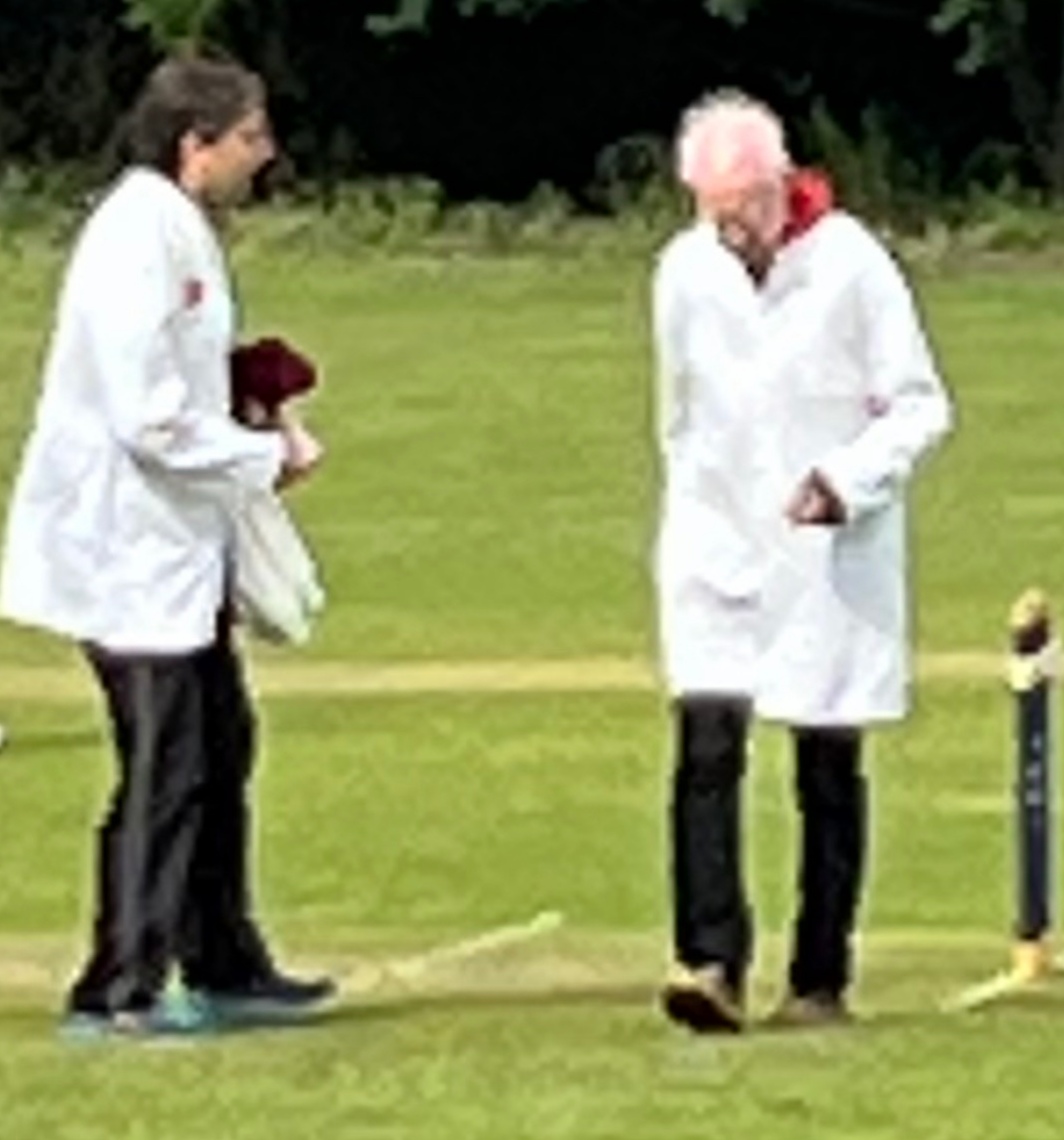 After Tiny T's impressive first match he was asked to open with rusty Carol (I'm too busy to come to nets now that I'm an important Councillor) Griffiths. We made a solid start at 35-0 and life was easy not having to find 'volunteers 'to umpire (as Clive Dunn and Mayhew Senior came along to umpire) or to score as Roadrunners provided their usual excellent scorer for both innings. Andy M umpired half our innings but the old stalwart Tony (Clive D) insisted on staying out there the whole time – what a star and he was keen to remind us that he gave NO lbw's against our team – something his Son-in-law No 2 could learn from? 35-0 quickly became 36-3 as first Mike, John and then Dickie went in quick succession. Dickie was very keen to fully fit in with the London Saints duck tradition (who told him that he's not a full member till you get a duck!) that he presented an easy chance that even Tiger would have caught off his 2nd ball. Amazingly their fielder dropped it so Dickie lived to fight another day…if you can call 3 more balls 'a day'. Dickie's departure brought in Max, who had a golden duck in the first game, to partner George and they put on nearly 50. Around this time with 3 wickets down we looked for our No 6 batsman, Ed who had gone walkabout and was not padded up – doesn't he know that with LSCC collapses you need to be padded up 3 wickets ahead! With Ed nowhere to be seen both Nice Pint and One Liner were asked to pad up in case Ed didn't return. Fortunately, Ed returned and we now had 3 batters padded up – that's more like it – as we could now react to another potential LSCC collapse. One slight concern for Ed though was that he forgot his batting pants but showed great initiative by putting a Sainsbury's carrier bag down his whites to keep his box in place – not altogether successfully but at least we knew where he had gone walkabouts to -).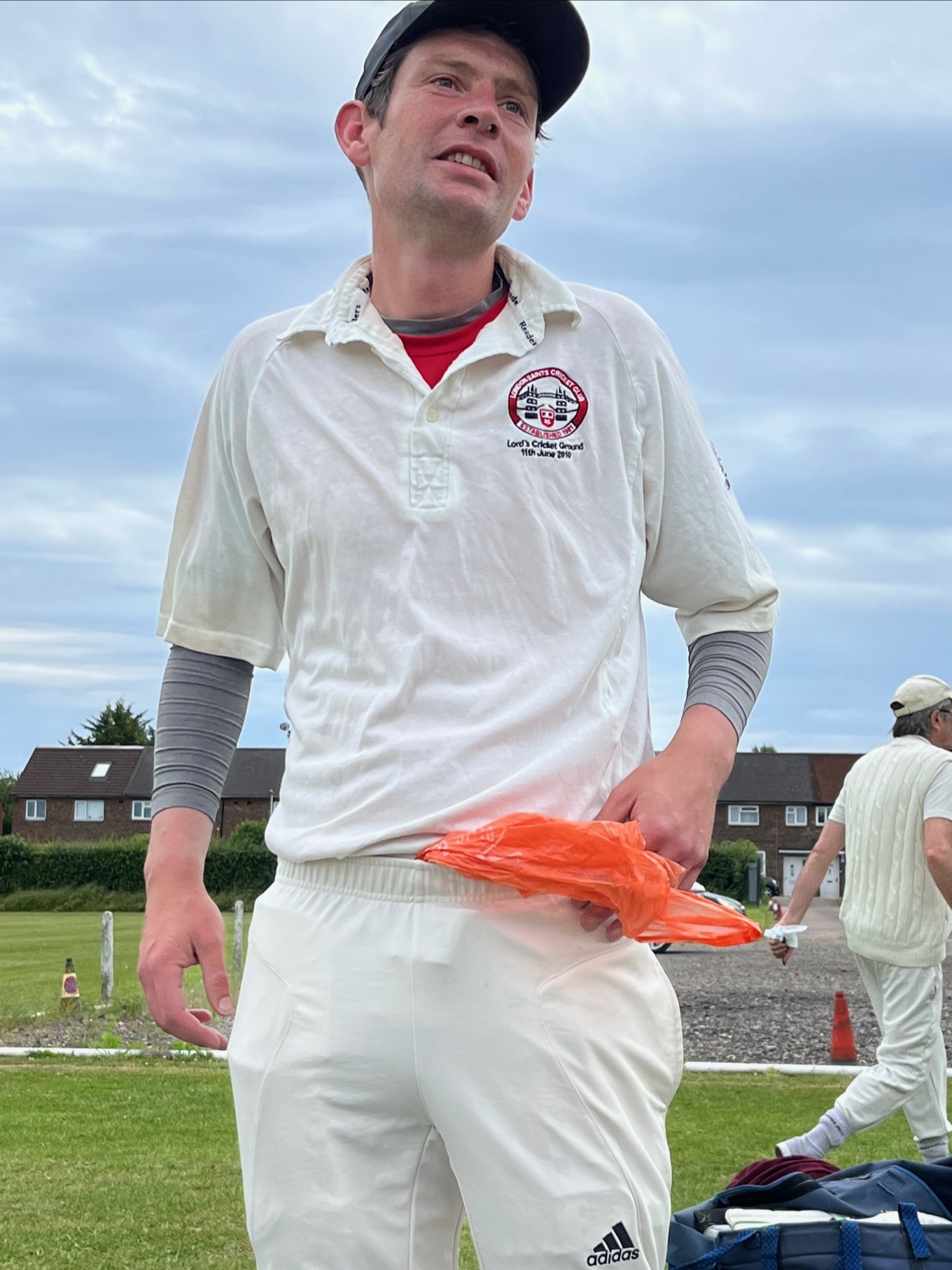 We still had a chance if George could stay in as he was looking excellent on 29 but he picked out the only fielder who could have caught the chance he gave. Max then departed for a solid 13 as 84-3 became 86-5. With so many batters padded up communication may have taken a back seat as with the fall of the 5th wicket we turned to One Liner to say good luck as he was the next man in. Dave stood up and picked up his bat prepared to go in when this figure strode purposely past us all at speed and was at the crease in no time – Nice Pint had taken things into his own hands and before we could ask him where he was going he was taking guard! I like a man with confidence – his stride back to the boundary was a lot less purposeful 4 balls later as he was dismissed for LSCC 's 9th different individual player duck of the season. One Liner, obviously still in shock from Nice Pints 'initiative', also didn't trouble the scorer becoming our 10th duck of the season. With two more potential new ducksters (Tiger and Ed) still to go in or score (Son in law No 1 and Speedo already had ducks from the first game) we were taking odds as whether by the end of play we could field a full XI of ducksters from the first two games (in the whole of last season we only had 9 individual quacksters). Ed, despite struggling to keep his meat and 2 veg inside his Sainsbury's carrier bag, survived his duck ordeal but when he fell we were 87-7 and had lost 4 wickets for 3 runs. Thanks to Tiger's 16 not out, Son in law No 1's eight runs and lots of extras we managed to scrape together a respectable score.
Sometimes though we don't help ourselves – Roadrunners skipper suffered an injury so play was halted so that DT !! (where was Dr Ben when you needed him?) could apply some first aid. Their player couldn't continue so we agreed to offer them a fielder – Mike, who was umpiring at the time offered to field if someone could take over as umpire – red flag to a bull as Carol's eyes lit up and sprinted out to take over as umpire, even faster than Nice Pint a few minutes earlier. So not only had we given them our best fielder, we now had Trigger Happy Carol Griffiths as umpire!! Speedo was last man in and when the ball hit his pads, he didn't have to think twice about walking off, with Carol umpiring, as the famous Griffiths finger was raised faster than you can say "Is that Nice Pint marching out to the middle promoting himself up the order". Gary now takes the lead in the duck trophy race with 2 in 2. Lana, on Father's Day showed no sympathy -) -). Tony looked on incredulously with his umpiring credentials famously enhanced – no LBW's.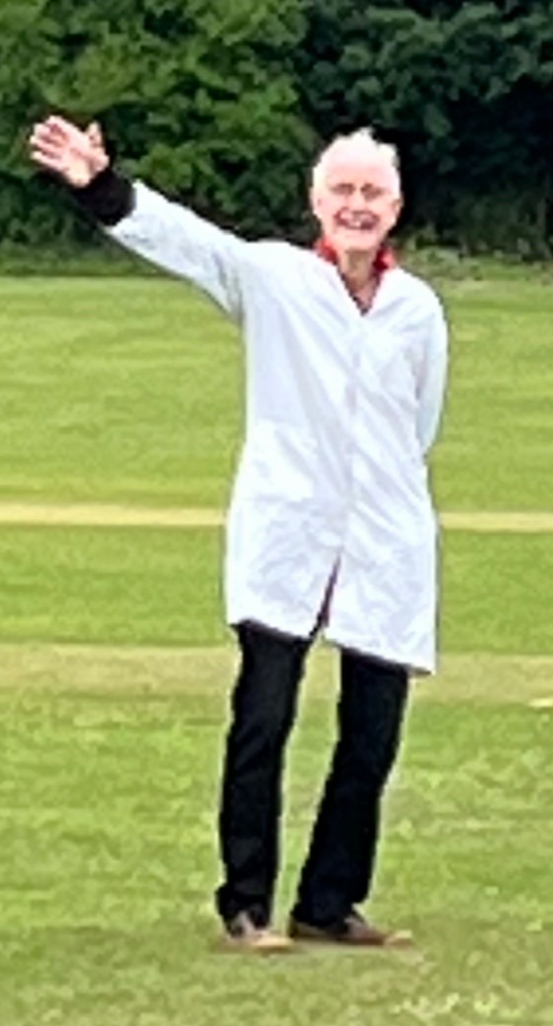 Man of the Match – To show an example to the other LSCC present and future umpires Tony would and perhaps should have been MoM but I have to give to George for his top score of 29 and great bowling spell of 7-5-7-1. (Controversial as the first time they played together George ran Tony out by at least 10 yards – but Tony is very forgiving)
Champagne Moment – There were many candidates
Speedo's remarkable shot when he attempted a sweep, missed the ball, did a pirouette and hit the ball with the reverse of his bat as he came back from his 360 degrees sweep shot (you had to be there to witness it)
One Liner came onto the pitch late and was immediately into the action to field a pull shot off Son-in-law No 1's bowling. Maybe he was disorientated from arriving late after driving to his first game, or failed to take into account the fact that Richard spins the ball, but he completely misjudged the bounce as Dave went one way and the ball the other – to the boundary – again you had to be there.
I'm not sure why this next one is included but here goes – another story of too many, this time Dave's – the two Dave's playing today (the 3rd Dave – Sicknote Barnes was absent, surprisingly injured), were sitting together when George inquired "When are you going in Dave" – the skipper (Dave 1), who had been injured dropping a catch earlier, replied "I'm not batting today as I'm injured", to which George replied "Not you I meant Batsman Dave" i.e. Dave (Nanton) 2 – these youngsters have no respect and to think George has only seen me bat a couple of times – though to be fair one was seeing me get out for a duck the last time we batted together – whilst this might be a popular winner, there can only be one choice
The moment of Speedo's 150th LSCC career dismissal – what a great achievement and one I doubt will ever be equalled – congratulations Gary
Roadrunners
Andrew run our (McIntyre/Cushion) 0
Ahmed retired not out 52
Callum ct Cushion b Dowson 1
Asjid ct Speedo (Gary's 150th dismissal) b Pearce 30
David not out 53
John ct J. Griffiths b Pearce 0
Andy ct Speedo b Cushion 0
Neil b J. Griffiths 39
Sub Total 175
Extras 22
Overall total 197 – 6
G. Dowson 7 – 5 – 7 – 1
Thomas 4 – 0 – 22 – 0
Nanton 7 – 0 – 23 – 0
R. Griffiths 4 – 0 – 32 – 0
Pearce 3 – 0 – 30 – 2
Price 1 – 0 – 12 – 0
Cushion 3 – 0 – 11 – 1
Cohen 3 – 0 – 22 – 0
J. Griffiths 3 – 0 – 23 – 1
London Saints
McIntyre b Neil 16
J. Griffiths b Craig 13
Cushion b Craig 0
Cohen b Rob 13
G. Dowson ct Vic b Rob 29
Price b Asjid 3
Smith b Rob 0
Nanton b Asjid 0
Pearce not out 16
R. Griffiths b Andrew 8
Speedtwin lbw (J. Griffiths) b Andrew 0
Sub Total 98
Extras 38
Total 136 all out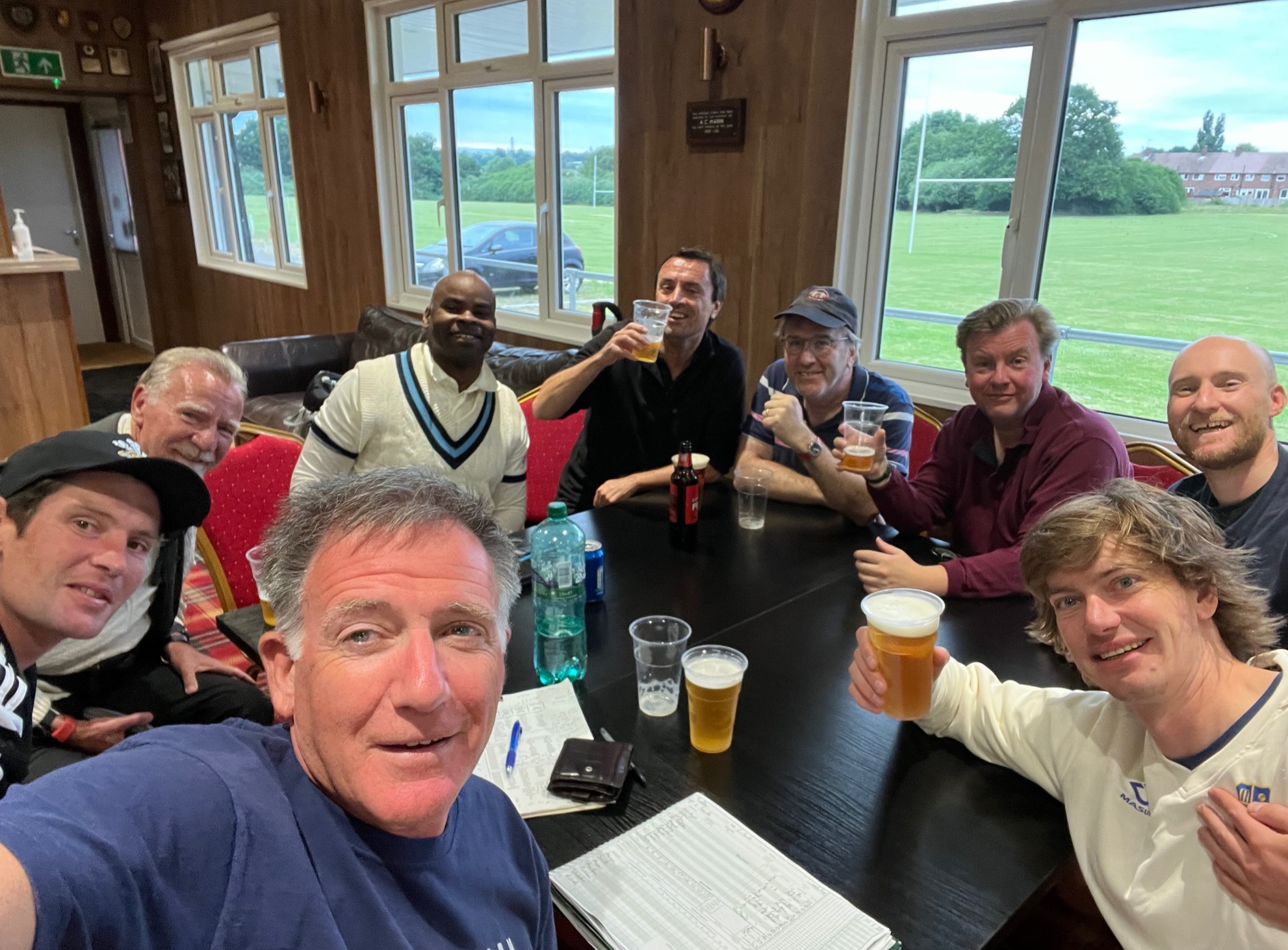 Continuing the age old London Saints tradition of never let a defeat get you down 👍🍺
Become a Member
Become a member of London Saints from as little as £5.