LSCC vs. Trafalgar
Nursery Park, Merton – 29th May 2022
LSCC vs. Trafalgar
Nursery Park, Merton – 29th May 2022
Trafalgar – 227-6 35 overs (R.Griffiths 3-36, Rogers 2-41)
LSCC – 113 all out 31 overs (Sykes 57no, McIntyre 22)
"You can't win anything with kids" – Alan Hansen, August 1995
On a chilly, sometimes sunny day in deepest Southwest London, the London Saints kicked off their season with a memorable defeat to Trafalgar with some team members sustaining a range of medical ailments that will surely aid their memory of this game for many months to come.
With the (very) temporary Skipper, Tiger Pearce stuck en route with the kit bag on the M25, the toss took place seeing London Saints asked to field as/when everyone turned up which actually wasn't much later than the planned start of 1.30pm.
Debutant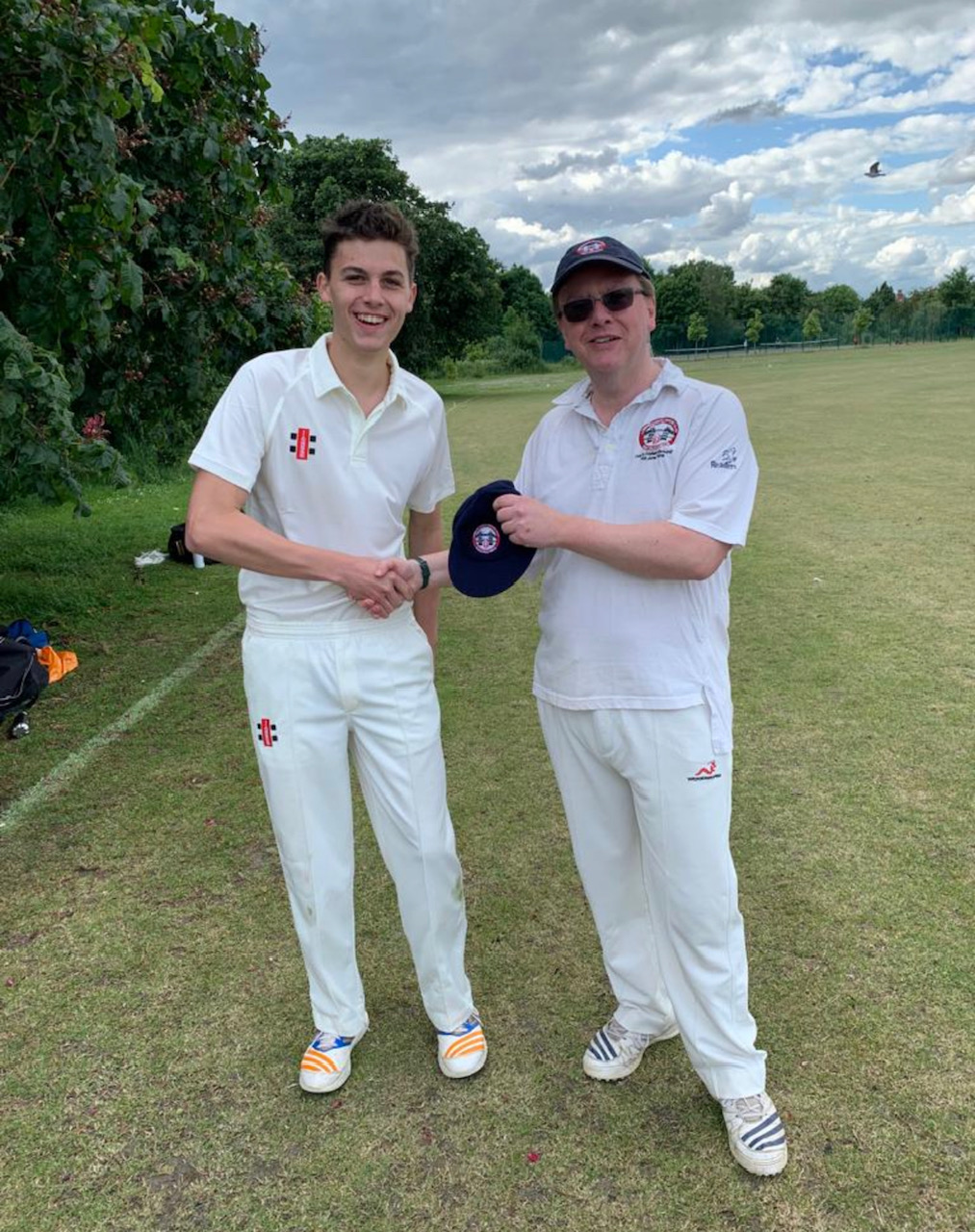 One of the youngest looking teams we've put out in many a year raced on to the ground enthusiastically with Phil and Dover opening the bowling on a very dry wicket with variable bounce from the start along with a rock hard and patchily grassed outfield which bounced as inconsistently as the wicket itself.
Phil struck early – 2nd ball of the innings removing their Pompey supporting skipper with a calm catch taken by one of the many young guns, Max moving to his right at mid-off. Fellow opener Harvey was soon out too bowled by a swinging delivery from Phil and at 5-2 in the 3rd over your skipper was thinking this job is a doddle. Will we need to offer a beer game was my worry?
Our fielding was good, Lana doing some fantastic backing up at square leg to cut off a throw from Ben C on a run out chance being a highlight and reports that the watching Traf players were heard saying "their fielding a bit sharp" with everyone committing themselves to the cause and in the face of balls rearing up off the unreliable outfield.
Sadly, this was as good as it got as the century partnership that followed took the game away from us and we were a bit unlucky – Dave B especially missing the stumps by the narrowest of margins on multiple occasions in an accurate spell.
We soon learned that anything short just sat up to be hit whilst fuller deliveries could scuttle or rear or seam all with clouds of dust appearing every time too.
Son-in-law number 1 found the outfield and light testing at times and inevitably started being followed by the ball – when at long off he moved uncertainly to his left when a lofted half-chance ventured his way only to see the ball land to his right and towards the area he'd just vacated. Dave B was injured trying to take a 'worldy' catch in the same position a little later which would cost us his bowling and batting later on. A suspected broken finger.
A game changing moment arose when Oscar bowled Miles with a Jonesy doodlebug, a high full toss which clipped the leg stump bail and then deflected the ball straight onto keeper, Speedtwin's shoulder. A no-ball was called, and such was our focus on the flattened veteran's condition, we accepted this decision without question. Afterwards however, doubts were raised whether it was possible the ball could have been above waist height and should that crucial wicket have been given.
As other Saints skippers have done before, we turned to spin when nothing else was working and Richard G showed you don't need nets to know how to ply the art of flight and guile. Bowling Miles but at 135-3 in now the 23rd over.
The recovered Speedtwin snaffled a couple of stumpings to help slow the end of the Traf innings and whilst a score on a dodgy pitch of 227 was conceded, at least we took 6 wickets and knew the lightening fast outfield meant it wasn't as bad perhaps as it seemed.
Seni had retired after his century scored off just 73 balls and with Dover injuring himself when trying a handbrake turn at point (is he related to QE2?) and so needing to be hidden in slip, what started as a young virile fielding group ended up somewhat battered and crocked as we took our self-provided teas.
Your skipper had spent all week planning his bowling attack (torn up when One-liner was ruled out by his other half) and especially the batting line-up, but this too was torn up now with injuries to Dave B and Dover along with Ben C's existing broken finger.
Max and Tiny Temper opening but sadly like the Ashes, our innings had a disastrous start when Max deflected a leg-side delivery back onto his stumps off the very first ball of our batting season. What a great start to the duck trophy we thought…. Little did we realise!
Ben C promoted to number 3 had to face the attack combining a very tall lad (Henry) with genuine pace and a very tall veteran (Kerrigan) with a genuine bent arm – this wasn't ideal given his broken finger… timing was massively tricky, and he ended up with a duck too, chipping a delivery back to Henry for a caught and bowled.
Richard G was unlucky to soon follow with a ball on a length which forgot to bounce securing a 4-ball duck leaving us wobbling at 7 for 3 in the 5th over.
Trafs realising this held back some of their pace attack and brought on some new bowlers, but they too proved hard to time with Phil playing on against their VERY slow spinner to leave us reeling at 14-4 in the now 10th over.
Debutant Oscar unused to such a batting fiasco (he'll soon learn) joined John Smith at the crease – sorry Mike McIntyre – and at long last a partnership began to build as our innings moved towards some sort of respectability. There was LOADS of time so despite his frustration at his scoring rate after the game, Tiny Temper helped us get close to batting through our overs and it was difficult out there.
Oscar however was able to get his timing and showed an array of delightful shots in his unbeaten innings – a backfoot cover drive being my pick of them.
The pair got us to 75 with their partnership of 61 before Mike was deceived by the crooked arm departing for a gritty 22.
With the tail now exposed, the skipper sent out who looked coldest as we shivered on the boundary, so Speedo kindly obliged and then promptly returned with a bronze duck secured but at least the walk to and from the crease had warmed him up a little along.
Tiger couldn't hide anymore and joined Oscar at the wicket – we put on 31 to get us past the 100 – I say we, I scored 6 but it's all about partnerships 😊 – and Oscar passing his 50 as well. A great achievement on a dismal day for our batting.
It felt a sort of moral victory that Trafalgar felt the need to bring back their opening bowlers at this point and also let centurion Seni bowl too but as we'd feared could then happen , we fell from 108-6 to 113 all out.
Lana joining her dad with a bronze duck as well – she even turned down a run just before after hitting a ball really well so considerate was she not to outscore the old man.
Dover had hobbled out and back for a duck as well whilst the injured Dave B bravely went out last man only to be sent packing by Griffiths-wannabe Phil giving him out LBW first ball. A decision the Pompey skipper took pleasure in telling us in the pub afterwards had even surprised their bowler – perhaps it was a humanitarian decision to save Dave from any more injuries?
This meant our innings quite tidily started and ended with a golden quacker. A record 7 ducks in total surely.
Man of the Match
Any left-arm spinner taking 3-wickets should always be in the reckoning for this award, so Richard G is worthy of mention. Who needs nets?
Max's fielding was excellent, including taking a catch second ball – little did he realise that was to be the high point of his day. But our fielding was good I felt for pretty much all of the innings on a testing outfield and despite things getting away from us – no dollies of any note to report. Having to cope with these injuries it was a committed performance throughout.
Oscar however has to be given man of the match despite the fact he's going out with my daughter as he hit a mighty impressive unbeaten half century and got us to a respectable score which in my once-only appearance as skipper is a bit of a relief! We won't mention some of his early over bowling but that'll come I'm sure unless DT now insists, he's only a batsman, a fate that has befallen many people before.
Ducks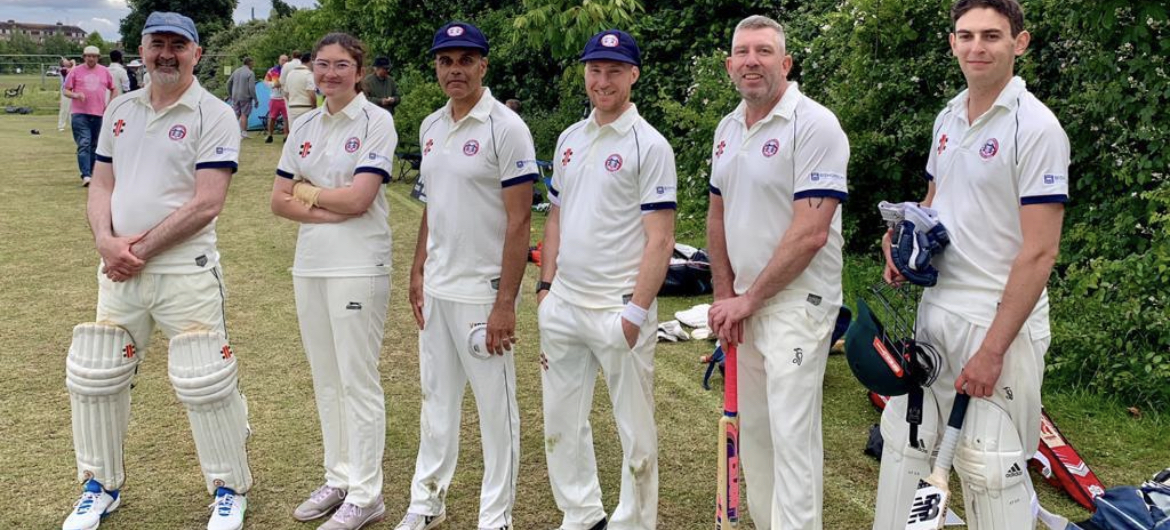 Champagne Moment
The proper cricket option would be Oscar's 50 in such a perilous batting position but obviously it can't be that.
I was delighted to hit the chucker for a boundary (he only conceded 6 runs in 7 overs) whilst Max's perfectly symbolic golden duck to start our season was a close contender. The slight backing away, a ball going down leg, the perfectly judged deflection to take out the stumps, the utter disappointment and disbelief on the batsman's face, and immediately after everyone else thinking someone else in the Duck Trophy is in a worse position than them (not Dave B)…..
But Max & Phil can share the honour for getting the Pompey supporting skipper out for a silver duck in the first over of the game – something I'm sure all Saints fans take pleasure in. It was pretty much the high point in the game as well!
He did get his revenge in the pub afterwards by noting how their normal top 3 batsmen were all missing and their previous top scores have been sub 70 this season all whilst wearing his obligatory Pompey shirt (I know DT loves that) BUT this wasn't quite as painful as it might have been with the 4 of us being Chelsea and Spurs fans and just Tiny Temper having to bite his tongue and he was still busy beating himself up over his own batting strike rate to really notice!
Trafalgar
O'Keefe ct Cohen b Rogers 0
Whetstone b Rogers 4
Evans b R.Griffiths 46
Richards retired 101
Kinnard st Speedo b R.Griffiths 8
Armstrong not out 28
Robinson st Speedo b Pearce 4
Stroud ct B.Collis b R.Griffiths 7
Smith not out 8
Extras 21
Total 227 – 6
Rogers 7-0-41-2
Calais 5-0-23-0
Sykes 7-0-63-0
Barnes 4-0-16-0
R.Griffiths 6-0-36-3
Pearce 6-0-41-1
London Saints
McIntyre b Smith 22
Cohen b Robinson 0 (golden)
B.Collis c + b Robinson 0
R.Griffiths b Smith 0
Rogers b Hussein 5
Sykes not out 57
Speedtwin ct Richards b Smith 0
Pearce ct Smith b Roninson 6
Calais b Robinson 0
Lana b Robinson 0
Barnes lbw (Rogers) b Robinson 0 (golden)
Extras 23
Total 113 all out
Robinson 7-2-22-6
Smith 7-4-6-3
Hussein 5-3-12-1
Armstrong 4-0-21-0
Crichlow 4-0-23-0
Whetstone 2-0-14-0
Richards 2-1-5-0
Become a Member
Become a member of London Saints from as little as £5.