Manchester City Away Drew 0 – 0
Spot the Match Reporter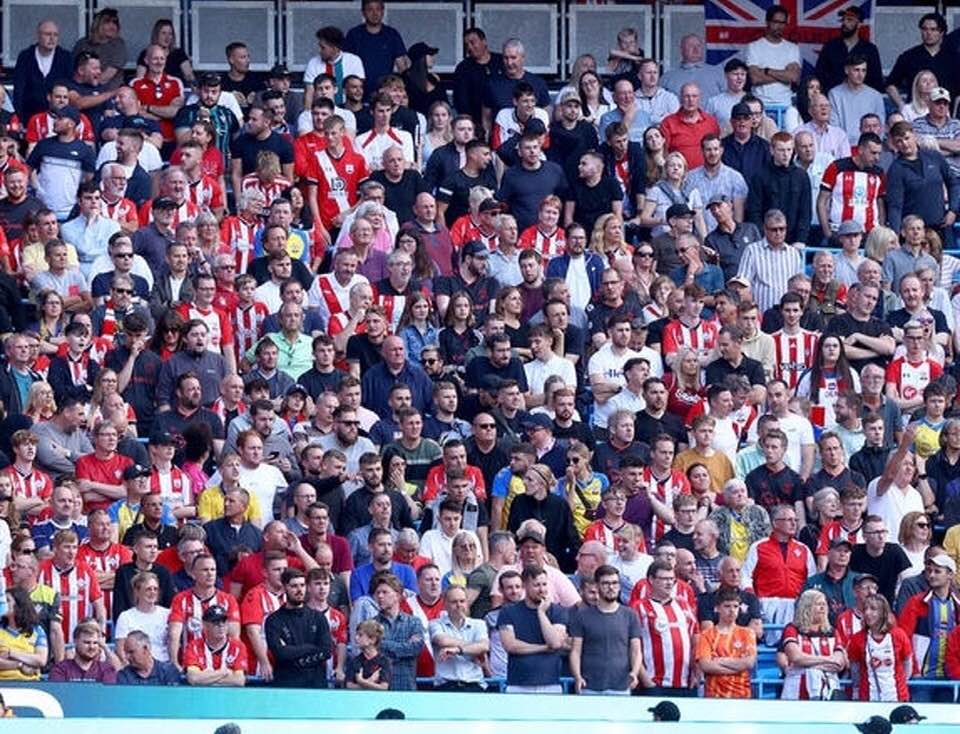 To be honest now, I had kind of expected the Manchester City report to consist of a catalogue of home goals, preceded by a mention of odd pre-match happenings: train delayed by a swan on the line, lunchtime beverage interrupted by a march of Manchester's Loony Tune community in an anti-vax protest. Thanks to a fine performance from Saints, there were no City goals at all and no space for the oddities (doh!). Adams returned to help Adam Armstrong take the game to the opposition where possible while Walker-Peters was chosen to cope with the wide threat from Gündoğan and Grealish, Guardiola's main creative option with DeBruyn on the bench. There was soon a change at centre back as well when Stephens limped off, but that only brought on Silisu, while starter Bernarek was keen to show, indeed prove, that he shouldn't have been dropped in the first place. It all went better than expected and the stats show City with zero shots on target in the first half, although they do hide the brave blocks made by our defence. Ralph saw no reason to change and Pep no reason to panic so things continued in the same vein after the break, but then on the hour Armstrong got through the blue back line only to be brought down by Walker for a penalty and a sending off. That's how it seemed at the time, and the penalty award at least still looks that way to all who've seen it… expect for VAR official Atkinson and match referee Moss who was persuaded to change his mind on both counts. Of course there's many a slip between a having a spot kick and actually winning the game, even against 10 men – and as it was, on came DeBruyne almost immediately, swiftly followed by Mahrez and Foden, just to add to the difficulty of securing a point. Southampton's visits to the danger end became less frequent as the game wore on, and late disappointments are a familiar story on this ground, but McCarthy was still not forced into any meaningful save until into added time. That was a fine effort to keep out Foden but Stirling smashed home the rebound, and not the first time he's dashed our hopes at Eastlands… but hang on, there's an offside flag coming to our rescue, and after an unnecessarily long delay, Martin Atkinson agreed with the assistant's decision. Had Stirling stayed well clear and left Foden to deal with the loose ball, it would have been a different story, but he didn't, and the game remained 0-0, relegating hitherto free-scoring City to the graveyard slot on MotD – welcome to our world, Pep.
LSSC Man of the Match: Jan Bednarek. Not sure what he ever did wrong to be left out, but all credit to Stephens and Salisu for taking their chance so well. Don't want to tempt fate, but we don't look so bad without Vestergaard, do we?
Become a Member
Become a member of London Saints from as little as £5.