London Saints vs Roadrunners – Sunday August 1st, 2021 – Old Haberdashers CC – 30 over match
Roadrunners 127 – 9 (Thomas 4 – 14, Jacko 2 – 22)
London Saints 88 – 9 (Berkeley 14, Cohen 13, Speedtwin 12no)
Setting the scene…
Having been reliably informed by the skipper's pre match update that we would need to navigate engineering works on the Thameslink between St Pancras and Hendon, for this week's home game against Roadrunners, I have to be honest; this did not fill this author with joy. I also need to confess that I actually contacted the skipper in a shameful attempt to remove myself from the selected XI. He was having none of it and as punishment here I am writing the match report, apologies to those of you inflicted with reading my ramblings and I am also sorry it's 'Jonsey' late.
The skipper informed us that the match was looking a bit iffy due to the pitch being 'squelchy', resulting in the Saturday match at Old Habs also being abandoned. In an attempt to placate the WhatsApp mob, the skipper informed us that all was in hand and he would contact Old Habs by 10am on the morning of the match. So Sunday morning arrived and every Weather App known to man was checked and they were duly predicting afternoon showers, but after a pitch inspection by the skipper and his two dogs, the decision was taken (presumably by the dogs) that we could probably squeeze in 30 overs per side, so delightfully it was game on…
Team News and the Toss
Our skipper, for some strange reason granted Mr Keenan a pass (apparently he still owes his subs), so Lana was called up as a more enthusiastic and allegedly more mobile replacement, to freshen up an ever ageing London Saints side.
John Smith not having been selected keenly arrived in 'full kit'. A scene not witnessed since a certain Munich Champions League final win involving John Terry. We believe Nice Pint got wind that a trophy was up for grabs, but more of that later.
The skipper reliably informed us that he had won the toss and had elected to field. His decision was made on the basis that Jonesy was still on the M25 and he didn't want us fielding in the rain that was due later that afternoon, hmmmm!
Roadrunners Innings
So with clear skies and a rather green looking pitch, the ever reliable Oneliner opened the bowling and was having a very tidy spell, regularly beating the edgy batsman for pace. However, disaster struck in his 3rd over in an attempt to take a catch off his own bowling, for what would have been a well-deserved opening wicket. Having clasped his entire hands under the ball, Oneliners left hand hit the pitch resulting in a dislocated finger, this meant he released the ball from his grasp, for what agonisingly has to go down as a dropped catch. To his credit Oneliner is made of strong stuff, so there was no fuss, he actually stated his bowling right hand was OK and he could finish his over, although I don't think anyone actually heard this, so maybe it was in his head? After a pause for treatment his ever sympathetic London Saints team mates directed Oneliner to the nearest bus stop, fortunately the oppo had a bit more sympathy, so gave him a lift to the nearest A&E Department. As Oneliner had 1 delivery remaining, the skipper volunteered to take responsibility, in so, claiming a maiden over for his effort!
After a less than tactical discussion by this author and the skipper, it was decided by the skipper that it was a good time to bring this authors blistering pace into the attack. To my amazement this went surprisingly well making the breakthrough to grab a couple of much needed wickets in my first two overs. This was thanks to a couple of very smart catches taken by both Terrence at point and then Speedtwin behind the stumps.
In-between my two wickets, Pearcy bowling with flight and guile from the opposite end was causing panic for the Roadrunners opener. At this point a loose shot was chipped to yours truly in the covers. It has to be stated that I did do my best to drop this but somehow managed to hang on for dear life and grasp it at the second attempt. I was not so lucky shortly afterwards as an almost identical situation happened again and much to Pearcy's disbelief I dropped the easy chance, sorry mate. This put to an end to your authors good 3 over spell in the match; it was in the stars that someone else was set on stealing the limelight today.
So our skipper decided it was time that he had a bowl, putting in one of those bowling performances combined with astute captaincy that I can only describe as 'golden'. Every field placing worked, including Terrence's and yours truly prior catches, we had got the obligatory pieces of positioning wisdom 'back a bit' 'left a bit' from the skipper. DT firstly removed the very dangerous Rory who was going well. A very smart catch taken by Jonesy, running from the covers and taking the ball as it dropped over his shoulder. It was so good that it has to rival Tiny Temper's catch at Witham Friary as the best I have seen whilst playing for London Saints.
Now feeling the Roadrunners batters quaking, the skipper decided it was time to crank up the pressure and drafted Pearcy in as a second slip, the end result being a very well taken Pearce slip catch. So DT was on a hat-trick, I believe at that point there had only been two others in London Saints impressive 40 year history, I believe the honours are both Clive Dunn and Hilda's. As the team gathered waiting for the new batsman, DT was give his orders to bowl at the stumps as we didn't want any of that jug avoidance nonsense. As we took to our unorthodox 'close in' positions you got a sense that the Roadrunners batter was nervous not wanting to be a hat-trick ball victim, which is never nice as I can testify having been there. So DT bowls and as if in slow motion the batter played straight to the close in cover position and Jonesy's hands. I think even the skipper was astonished that we had taken 6 catches for 6 wickets and 3 of them were for the 3rd hat-trick in the clubs history. It was a glorious moment and one I shall never forget. DT then followed this up with the removal of wicket number 7 by clean bowling their number 4 and calling 'that's out' before the ball was two thirds of the way down the track, personally I'd have been fuming if I was the batter, but he walked off a bit puzzled as to how the skipper just knew.
To close off the opposition's innings Speedtwin showed fantastic swiftness and athleticism when stumping off of Judas number 1s tight spell of spin bowling. In his second spell Pete got a well-deserved bowled wicket and was unlucky to not clean up the tail as Roadrunners finished on 127/9 after their allotted 30 overs.
The Tea
Having a tea to enjoy has been an awfully long time coming, but this was a most welcome addition to the match day. The skipper forgetting formalities, charged to the front of the queue, filling his plate. Only to be informed by his well-behaved and very patient team mates that the opposition rightfully get to dine first.
To her credit, Pauline had put on a reasonable spread and I didn't hear too many grumblings whilst the tea was being consumed.
Not to be outdone by the skipper, the vice-captain, namely Judas number 1 dropped an entire cup of tea down his trousers, there were murmurings from the clubhouse that was not the only thing he had dropped that day, but who is this author to judge?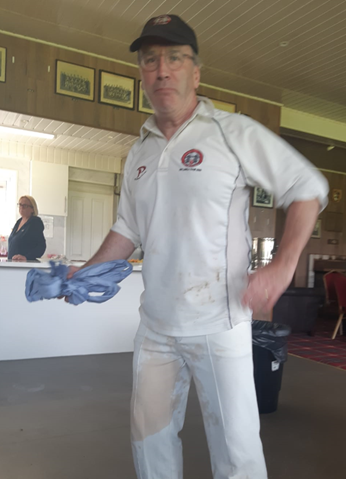 London Saints Innings
So in fairly confident mood and needing 128 to win Max and Terrence strode out to the crease to open the batting. A slow start ensued but in the 3rd over Terrence will likely regret not taking a quick single, as next ball he was out LBW. Max was settling in nicely with a couple of lovely boundaries. He looked nicely set, but unfortunately the ever reliable Vic who I always find deceptively awkward bowled Max for 13, unlucky for some.
The usual openers, Jonesy and Judas number 1 found themselves united in unfamiliar territory at number 3 and 4. They faced some very tight bowling and runs were hard to come by, but the scoreboard ticked over with a few singles and some swift strike rotation. After Judas attempted to take a tight single we all witnessed Jonesy pointing his finger at him in what appeared to resemble Alex Ferguson in his pomp. Not long after Jonsey exhausted after running a 2, was then run out after forgetting that it's a good idea to ground your bat.
Pete then strode out with what I'd imagine was a pretty decent hangover after finally getting to belatedly celebrate turning 60 the night before. Judas was next to go as he edged to their keeper, he didn't looked too pleased when trudging back to his disappointed team mates. Pearcy entered the fray optimistic of getting to two thousand runs in half the time he took to make his first thousand. Unfortunately he didn't last too long and was next to depart, off the bowling of Vish.
In confident mood after his earlier hat-trick, DT joined Pete at the crease. In short, he took another ball to the finger in identical fashion as our tour match the other week. Not one to make a fuss he had umpire Mayhew stride over to the boundary in full Robocop knee brace, looking for the first aid kit and some ice cold spray. Some commented that umpire Mayhew doesn't normally move that fast between the wickets, so what's his excuse for not playing all this season then?
DT resumed, earlier gained confidence diminishing, he departed LBW in a new entry into the duck trophy race. This was given by Max, having quite obviously been taught, the rapid finger raising technique, by a nameless godfather. The decision was later described as plumb! (Ed: what do you expect from someone schooled by Trigger Finger Judas 1)
Yours truly came out to bat wondering if he could finally score some runs with his newly acquired willow. A very nervy start in which he was desperate to get Hilda back on strike, as if we were going to chase down this score, he was most likely to be the man to do it. Pete then fell to a smart catch and with our most explosive batsman now gone, Roadrunners were into our tail and our chances seemed unlikely.
With Oneliner patched up and back from the hospital, Roadrunners had been holding back their best bowling, fearing Mr Nanton's power hitting, there was some talk of him batting one handed, as Malcolm Marshall did vs England in 1984. This was quickly dismissed and Nice Pint strode out with his usual confidence. Nice Pint also being the fittest member of the team was keen to get the strike rotating and some running between the wickets resumed. This was halted by yours truly top edging to give the Roadrunners wicket keeper, possibly the easiest catch he will ever have to take.
The very keen Lana was promoted up the order ahead of her dad, in an attempt to protect Speedtwin from getting his hands on the duck trophy, keeping it alive before we reach the season's finale at Ex Blues. The skipper needn't have worried as the 3rd member of the very effective Catlin bowling attack, clean bowled Lana through the gate. Lana was heard commenting that her old man had taught her everything she knows about batting.
This brought Speedtwin out to follow his daughter. Some further smart running between the wickets and a couple of nice boundaries for Speedo but in truth we had been well behind the required run rate from early in our innings. This left John Smith to take guard and defend the last over protecting his not out in a way that can only be admired. Maybe he could teach the odd England opener a thing or two. So after our 30 overs we disappointingly fell well short on 88/9 from our 30 overs.
Champagne Moment
There are so many contenders that it's a very difficult choice. A nomination for Terrence attempting to take a catch from my bowling and connecting with a diving header of a cricket ball is never a good idea. So concussion protocols have been activated and he now has a 4 week break before our next game against Ex-Blues.
DT's hat-trick heroics and absolute amazement, that 3 London Saints took catches off his bowling. A notable mention must go to Jonesy and Pearcy's fantastic catches, confirming the skipper will for once be getting his round in at Ex-Blues!
However, I have to give the champagne moment to the ever dependable Oneliner. His no fuss attitude to dislocating his finger and it being bent the other way left me in admiration for his pain threshold and calmness in such a situation. The fact he returned 'high' on laughing gas and was mulling over having a bat shows he's made of extremely strong stuff.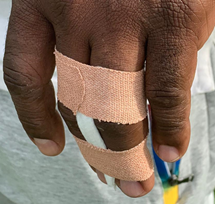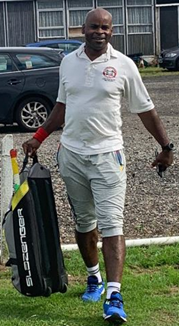 Man of the Match
Speedtwin took a smart catch, an athletic stumping and defied his doubters and duck trophy credentials with a respectable 12no.
In truth despite his duck there can only be one winner and it has to be the skipper. His bowling spell even without the hat-trick was very tight and accurate and he went for very few runs. It pains me to say this but almost every bowling/fielding change he made resulted in a wicket or a chance. It was one of those golden days where he could do no wrong, of course that was until he went out to bat! He was also selected by Roadrunners as their man of the match and can be seen below with his trophy, the one that Nice Pint so keenly had his eye on, very well done DT.
I have to give an honourable mention to our entire team of fielders, as other than yours truly, for once the majority of catches were taken extremely well, the first Jonesy catch off the skippers bowling will live long in my memory.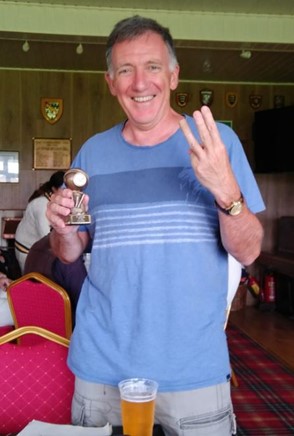 The Scorecard
ROADRUNNERS
Vishal c Collis b Jacko 14
Andrew c Jacko b Pearce 22
Andy c Speedo b Jacko 0
John b Thomas 8
Rory c Jones b Thomas 27
Mark c Pearce b Thomas 5
Chris c Jones b Thomas 0
Vic st Speedo b Griffiths 9
Rich b Berkeley 20
James not out 2
Rob not out 12
Extras 7
TOTAL 127-9 (30 overs)
Nanton 3-1-9-0
Berkeley 6-0-28-1
Jacko 6-2-21-2
Pearce 6-0-38-1
Thomas 6-2-14-4
Griffiths 3-0-12-1
LONDON SAINTS
Collis lbw James 2
Cohen b Catlin V 13
Jones run out 9
Griffiths c Cook 8
Berkeley c Vish 14
Pearce c Vish 7
Thomas lbw Cook 0
Jacko c Catlin J 6
Smith not out 6
Lana b Catlin J 0
Gary b not out 12
Extras 11 (13w)
TOTAL 88-9 (30 overs)
James 4-0-15-1
Brown 4-0-6-0
Catlin V 4-2-3-1
Catlin G 4-1-10-0
Cook 4-0-4-2
Vish 4-0-17-2
Catlin J 3-0-10-2
Rory 3-1-10-0

Signing Off
During the post-match discussions Pete was advised by his better half that today he had reached his 2,500 run milestone. He didn't seem to have a clue so that must have been some hangover. Congratulations Pete that's a huge achievement that Pearcy now has his eye on, it's only taken you 40 bloody years though!!!
I must confess that I have used a little artistic licence whilst compiling this match report. I sincerely hope it's taken with the good nature intended. I shall leave it up to the readers to decide what version of these events they actually choose to believe. I hope you enjoyed my first match report, until next time.
…and finally
I do apologise for this not being cricket related, but if you play Fantasy Premier League (FPL), then with the permission of the chairman and skipper, I have now created a new mini league for any London Saints who would like to join. This is just for a bit of fun so we can follow each other's scores and have a bit of friendly competition. If you want to join please use the following link; https://fantasy.premierleague.com/leagues/auto-join/i0mqnb
Best regards
Jacko.
Become a Member
Become a member of London Saints from as little as £5.