Hermits V London Saints July 25th
Hermits 292-5 (Bevan 100*, Cook 89) (Jackson 2-56, Pearce 1-39) – 25th July 2021
Saints 112-9 (Berkeley 32*, Cushion 22)
Saints lost by 180 runs
A disappointing but rather expected defeat for the Saints on Sunday in our match against the Hermits at Falkland CC, with the Hermits, like last year, picking a couple of players who were a level above everyone else. The writing was on the wall from the start, with the normally excellent Phil getting spanked for 3 boundaries in the opening over. At one point, we did have the opposition at the 58-2 but this was the best that things got. The second wicket came from an outstanding catch from Saints debutant Richard Cushion (Quinton De Cush – a Wk, biffer and a saffer). Hermits then put on a titanic 3rd wicket partnership (140 runs), slogging us around the pitch. More time was actually spent looking for the ball in the foliage around the pitch then fielding. This led us to having 7 men out on the boundary, with just 2 in "the ring".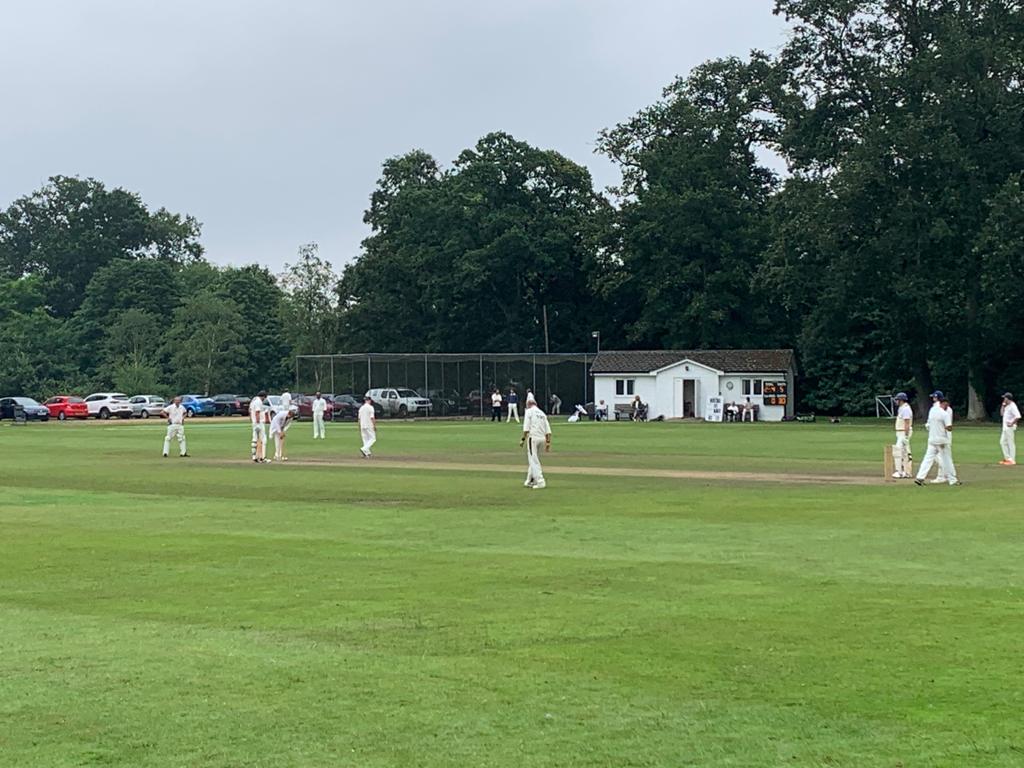 The partnership was finally broken by some more excellent keeping by Cushion, a stumping from a ball very far down leg, which is the exact same way that yours truly stupidly got out to. This removed Cook for 89. Shortly after this their skipper W. Bevan retired not out on 100. The significant platform that the Hermits had, gave their remaining batsman license to slog. There was some more memorable fielding by the Saints though, with Nice Pint taking a catch right in the gut to remove Evans. Hermits finished their innings on an imposing 292. Only a downpour or a Ben Stokes-esque innings could save the Saints from defeat.
Wheelie Bin and Cohen opened the batting in our forlorn response to the Hermits massive innings. Wheelie Bin started well, hitting some lovely drives but unfortunately lost his wicket, bowled for 11. Fellow opener, Cohen, was removed for the aforementioned wicket having struggled to hit the ball off the square! Cushion came in at 3, and gave the Hermits a taste of their own medicine, biffing them around the ground. Making a quick 22 before being out, a great innings particularly considering he hadn't played a match for 10+ years.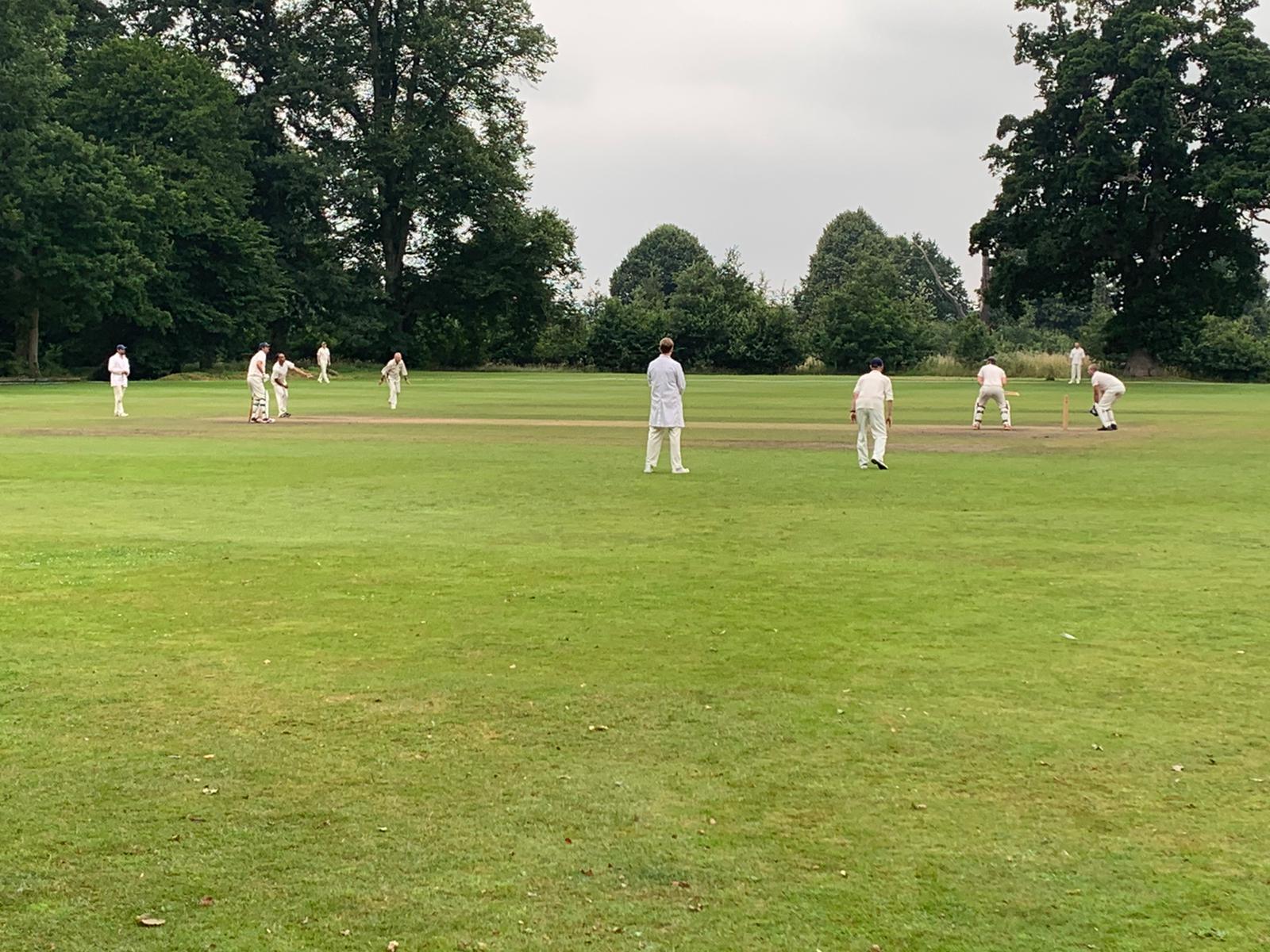 Further wickets fell and it looked like an embarrassing score could be on the card. The Wall (aka Nice Pint) was sent in to stop the rot but after a solid start, he lost his wicket from an amazing diving catch from a Hermits fielder. The honking form of the Hermits continued with their two star players, W. Bevan and Evans, bowling several overs each, which frankly is an embarrassing thing to do in a Sunday friendly match.  (Ed: well said Max)   A heroic 8th wicket partnership between Pearce and Berkeley saved face for the Saints though. This included Pearce making his 1000th run for the Saints, who was eventually removed for a score of 9. Saints finished their innings 112-9 with Berkeley finishing 32*, our standout batsman.
Yet again a very one-sided game and suffice to say that this was the last match between us and the Hermits. A good day out anyway though!
Champagne Moment – Although it was a difficult game for the Saints, there were a few contenders for this, with honourable mentions going to the excellent fielding by Cushion and Nice Pint. The vote however goes to Paul Pearce for reaching the 1,000 runs milestone for the Saints (Ed: a good choice even though this saga rivals only the LSCC No 1 shirt debate for length)
Man of the Match – Paul Jackson bowled well taking 3 wickets, but the vote goes to Pete Berkeley for his fine 32* (Ed: another good choice with a notable mention for a fine debut from Richard Cushion – welcome to the club Richard)
Hermits Batting
Cook stumped Cushion b Jackson 89
Farrell ct + b Rogers 11
Blake ct Cushion b Pearce 5
W Bevan retired 103*
Wotton b Jackson 37
Brook not out 3
T Parkinson not out 23
S Evans ct Smith b Jackson 4
J Bevan DNB
S Parkinson DNB
G Evans DNB
Rogers 7-0-48-1
Nanton 7-0-52-0
Berkeley 4-0-31-0
Pearce 3-0-39-1
Jackson 7-0-56-3
Calais 3-0-24-0
Griffiths Snr 4-0-37-0
Extras: 12
Total: 293 – 5
Saints Batting
Griffiths Jnr b Parkinson 11
Cohen stumped ? b J. Bevan 7
Cushion b Brook 22
Rogers ct Brook b Evans 10
Nanton ct ? b Brook 1
Berkeley not out 32
Smith ct Wooton b Cook 2
Griffiths Snr b Cook 1
Calais ct Evans b Cook 0
Pearce b Evans 9
Jackson not out 0
Extras: 23
Total: 112-9
Become a Member
Become a member of London Saints from as little as £5.