Batcombe v London Saints Sunday July 18, 2021 30 over match
Batcombe 88 all out (Rogers 3-14, Jacko 2-13)
London Saints 90-8 (Rogers 35 no, Cohen 18)
LSCC win by two wickets
The Prologue
On the back of a heavy defeat and several heavy ciders the previous day, London Saints arrived in the tiny Somerset village of Batcombe in convoy. They found the ground some time later, high on a hill, having turned into the field once then reversing, thinking they had crashed a wedding party. In fact, it was the remnants of a party the previous day and LSCC eventually crashed back in and drove into the only shade, forcing a couple to up blanket and slope off. Meanwhile, Wheelybin found he had lost his wallet, London Saints CC Supporters' Club arrived and pinched the seats, DT lost the toss and 11 players wandered out into 30C heat….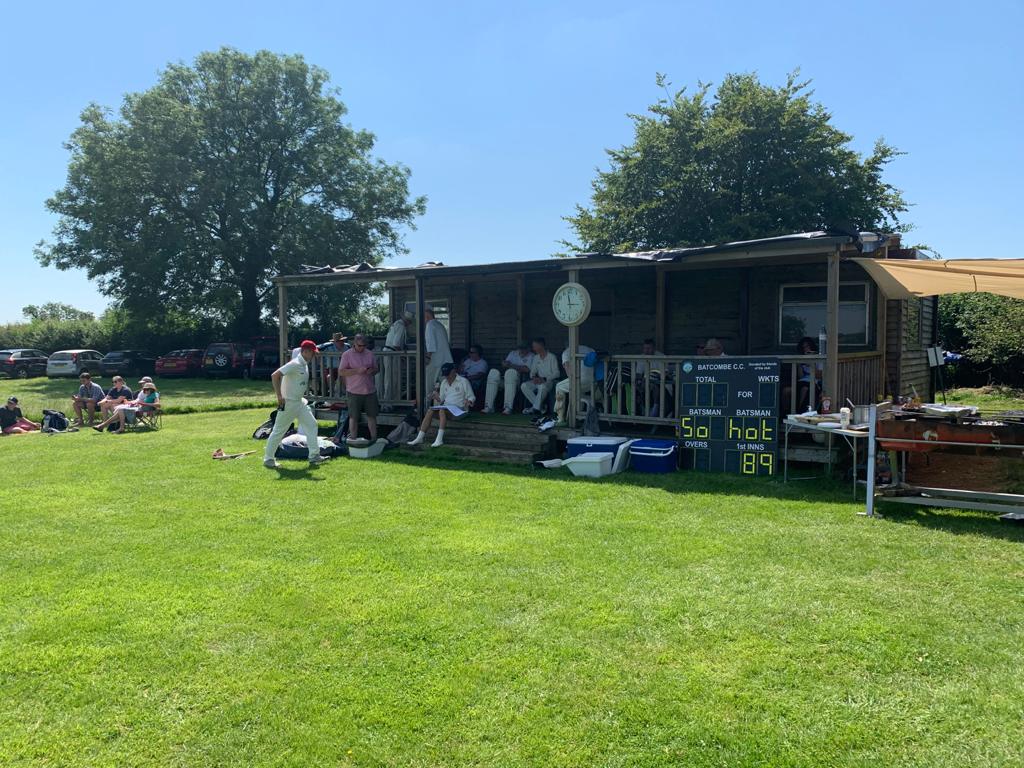 Batcombe bats
Man-of-the-Match from Saturday Phil Rogers opened with a maiden. Sadly, Dave Nanton didn't, his first going for 12 including a boundary that flew straight through Dover's hands. "Very sporting," agreed the Batcombe boys on the balcony. The wobbles then got to Phil who dropped a catch off his own bowling, so it was up to Flatliner to get the scoreboard rolling, splattering the stumps – the first of eight Batscombe batsmen to be clean bowled. Meanwhile, Dover was still pondering the hole in his hands when he misjudged a skier and dropped the second of 12 chances. Well, that's what social media said. "1 of 2," replied the White Cliffs. To be fair, on the day we took only two of seven or eight catches. But then we had Phil.
In a brilliant spell of bowling, he took 3-14 off six overs and ripped out the middle order, matched by Pete Berkeley's tight control at the other end. He finished with 2-7 off four. The more the wickets fell, the more the outlandish Batscombe's shots became with only opener George Stonehouse standing firm. The fact he had Millfield School First XI sewn into his trousers revealed a touch of class, as his reverse sweep for four showed. But a rampant LSCC couldn't be held back and Jacko got the prize, flattening George's stumps when he went down the track and missed.
There was even a wicket for old timers Thomas and Keenan, DT being bailed out by Flatliner who ran in and cleanly took the catch above DT's head and quivering bloodied finger. The Lord was also vindicated, his dibbly-dobbly beating the batsman all ends up after a previous strike was ruled out due to some farcical rule about the ball bouncing several times. Still, it had more pace than Jacko's who hit the stumps but the bails stayed on. A rotation of the field from a squad of 14 LSCC players (14!) helped ensure no Dizzy Gillespie turns, and a remarkable scenario of knocking over the oppo for 88 with four overs to spare.
London Saints innings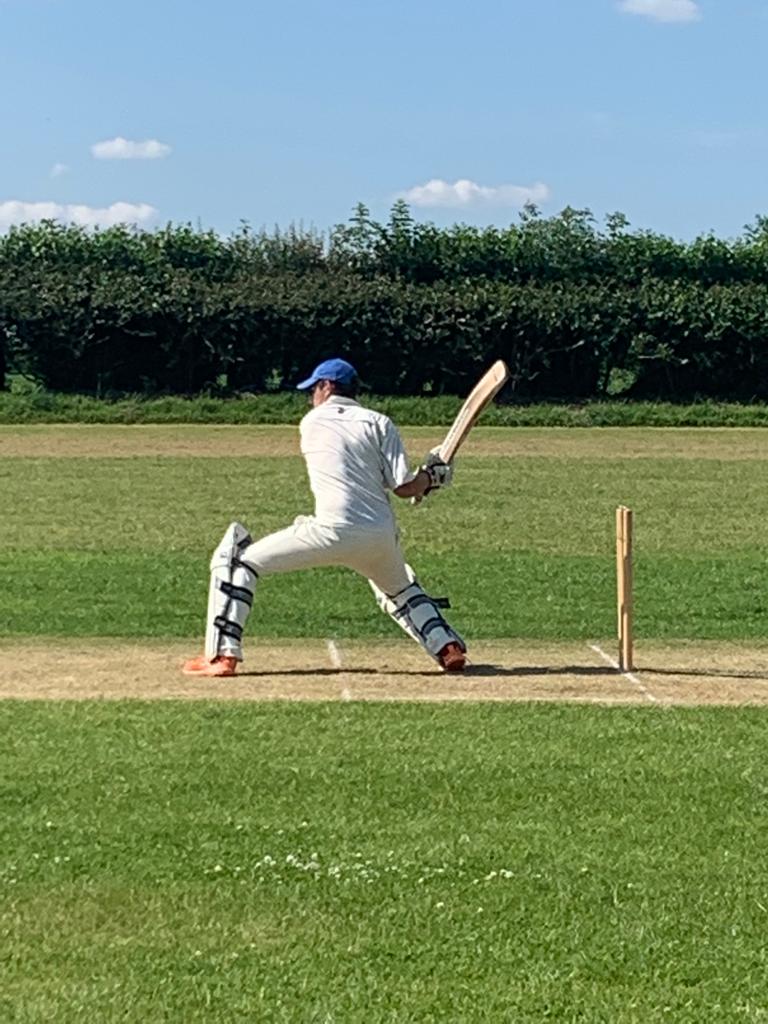 An excellent barbecue mid-innings and an Esky full of iced cider and beer suited the team and supporters amid debate about how many chances Dover missed and whether DT would have taken that catch. In a surprise move, Max Cohen was promoted to open with Wheely mainly because White Viv was still in his pants. It was an interesting change, with Max showing a strong defensive streak and JG playing and missing a dozen times. Eventually, he hit four – and then got whacked for a painful one in the goolies. He sprinted off, not for treatment, but for a box!! Dropping his trousers in front of a five-year-old and her Granny, he rushed back out explaining it was just his 'right nut' that got clobbered. "One ball left," said the umpire, helpfully, and Despicable was bowled next ball. Classic. We were 16-1 off eight, slow but absolutely fine. On 3no, our junior opener was using up his nine lives but suddenly found his inner Max and whacked a six straight down the ground. But wickets were starting to fall regularly (48-5) and accelerated when Batscombe skipper Kav brought himself on to bowl. Flatliner and Speedo went for ducks, and Pete fell to trigger finger Mayhew. At 61-8, we suddenly needed 28 off six overs.
Then Big Phil Rogers took the stage. He was 9no and the clear and obvious plan was to give Phil the strike. Which we did, and he hit a six: 22 off five. Phil was taking no chances, and many singles were refused. Two twos were run, a single pinched off the last ball of the over: 17 off 3. A four off the over, and a single and an extra: 11 off 2. One four: 7 off 1. The Lord then made his biggest contribution to LSCC for several years – a single off the first ball of the last over: 6 off five became 6 off 4 then 6 off 3 as Cool Hand Phil waited for the right ball (Ed: no jokes about JG here, please). The death bowler was Millfield George but he cracked under Phil's death stare. He bowled two wides, then watched as Phil magnificently drove him straight down the ground and halfway across the next field for a huge six. Victory!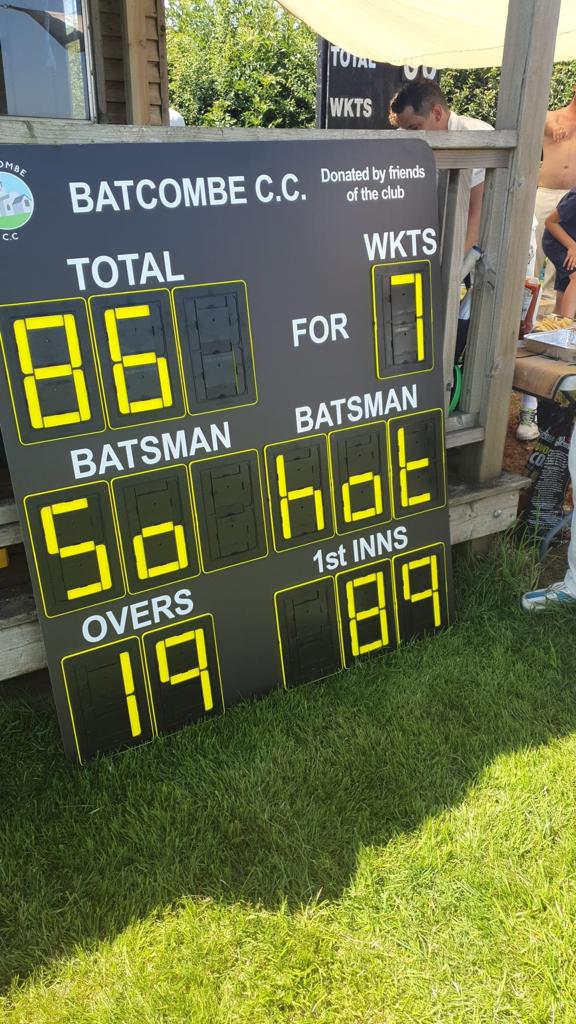 Man of the Match: Well, Max did brilliantly to be the only other player to make double figures and hit a six. But sorry Max, you were done by a Master. Well played Big Phil.
Champagne moment: Flatliner's swift action to save DT further damage was a clear winner in any other game. But Wheely not using a box, bravely brushing aside a crushed (right) nut before distressing two generations of female supporters and being out next ball takes the biscuit ad the fizz.
BATCOMBE
Christopher b Nanton 12
Stonehouse b Jacko 32
Chinnock b Rogers 4
Hyde b Rogers 2
Gilbert b Rogers 2
Slocombe b Berkeley 6
Birch b Berkeley 4
Waddell b Keenan 7
Carr c Jacko 5 (c Rogers)
Pole c Thomas 2 (c Nanton)
Kav not out 0
Extras 12 (5b, 1lb, 3w, 3nb)
TOTAL 88 all out (26 overs)
Rogers 6-2-14-3
Nanton 4-0-23-1
Calais 4-0-20-0
Berkeley 4-1-7-2
Jacko 3-0-13-2
Thomas 3-2-1-1
Keenan 2-0-5-1
LONDON SAINTS
Griffiths b Hyde 6
Cohen c Birch 18
Jones b Slocombe 5
Sherriff b Birch 2
Calais b Kav 6
Rogers not out 35
Nanton c Kav 0
Berkeley lbw Kav 3
Speedtwin b Kav 0
Keenan not out 1
Smith did not bat
Extras 14 (1b, 13w)
TOTAL 90-8 (29.4 overs)
Hyde 6-3-7-1
Chinnock 1-0-6-0
Slocombe 6-1-15-1
Birch 4-0-8-2
Kav 6-0-24-4
Gilbert 5-1-18-0
Stonehouse 1.4-0-12-0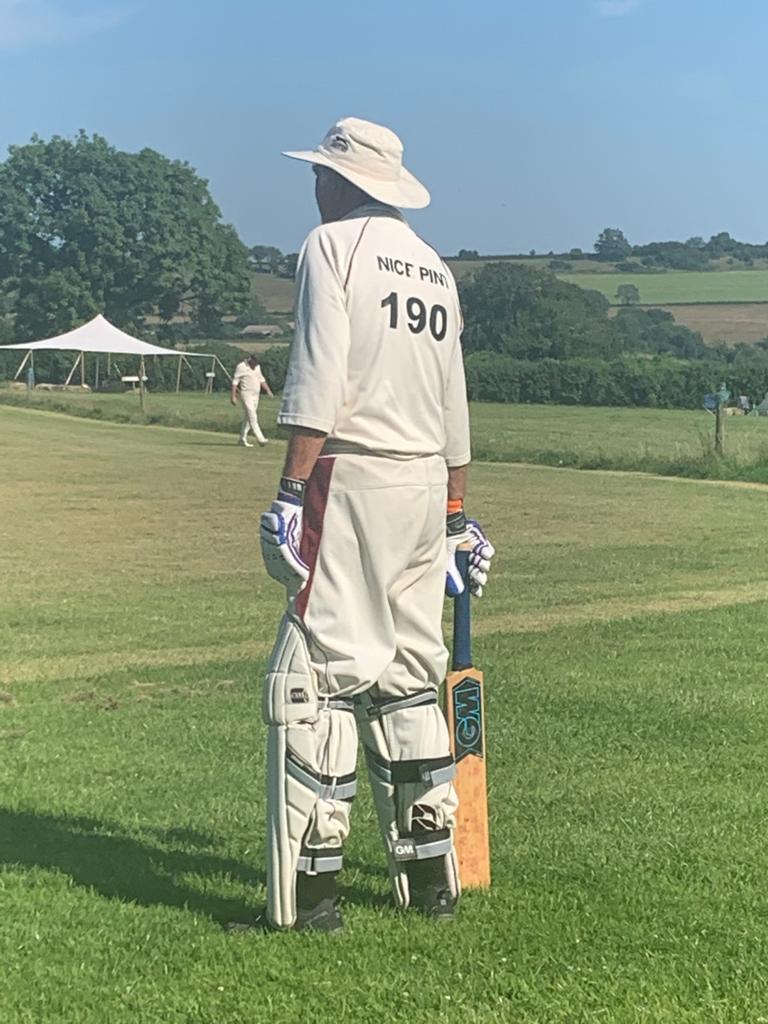 Become a Member
Become a member of London Saints from as little as £5.