WITHAM FRIARY v LONDON SAINTS – Saturday July 17, 2021. Dry and hot
Witham Friary 192-7 (Berkeley 2-24, Rogers 2-32
London Saints 112 (Mr Extras 34, Rogers 28,
TWO years ago, pre-Covid, Witham Friary was a quaint quintessential West Country village. It is much-loved by London Saints players for its magnificent cricket teas and also for the Seymour Arms – whose decor, prices and possibly even the bar staff are relics of centuries past. So it came as a shock to discover that some local folk have used lockdown to drag their village into the 21st century – far in advance of the Saints from that there London. Their mastering of fancy computer software to replace the centuries-old paper scorebook had London Saints skipper and self-confessed cricket statistics anorak Dave Thomas awe-struck, and no doubt wondering how to get it installed on the NHS computer system.
However, it soon began apparent that there are downsides to such progress as the software laid bare every minute detail of each individual's performance, all dressed up with the kind of graphics seen on Sky Sports. Until now, the closest most London Saints players had got to a wagon wheel was to see how many they could eat during the tea interval. These wagon wheels proved far less palatable – shining a blinding light on batting and bowling performances. The statistics provided an insight into the strengths and weaknesses that could have DT adopting a scientific approach to fielding positions.
It disclosed some fascinating facts, eg. every run that DT conceded off his bowling was scored in one quarter of the pitch. Had Chris Silverwood analysed the data he would have no doubt loaded the fielders accordingly, leaving three-quarter of the field empty. DT could adopt the same tactics, once he has learned the names of the fielding positions. Team-wise, Witham Friary scored 42 per cent of their runs from cover or off drives, while a quarter of London Saints runs were scored in cow corner.
Individuallly, the wagon wheels of most London Saints batsmen looked sadly bereft of spokes. As for the game, DT lost the toss and Witham Friary elected to bat, sending the visitors to field under the sweltering sun.
However, that decision looked immediately looked disastrous when Phil Rogers firstly trapped Kennedy lbw with the first ball of the game and then bowled David Heath four balls later, also for a duck with the score on 5-2. This prompted Witham Friary to change umpires, replacing David's brother Steve before he contributed to further disasters. In a familiar story for London Saints, Hyde and Wild dug in to steady the Witham Friary innings. Wild clouted three sixes in a rapid 25 until he was dismissed by a fine catch by keeper Gary Speedtwin after he had edged DT.
Two runs later, with the total on 63, Pete Berkeley trapped Hyde lbw and London Saints seemed to be wrestling back control of the game. Gibson's brief but explosive innings of 12 was ended when he was bowled by Nice Pint Smith – the latter celebrating with a maniacal bellow and victory dance which looked like someone had electrified Michael Jackson's corpse. Subbed umpire Steve Heath then hit 23 before retiring while feeling dizzy in the searing heat. It was only later revealed that he had suffered a suspected heart attack only days previously.
This brought Harvey, complete with dreadlocked topknot, to the crease and he set about the wilting London Saints bowlers. His onslaught was aided when White Viv Jones dropped one of his cover drives off the bowling of Lord Lucan when on 34 – one of only two catching chances of the innings. Harvey was supported by George Hyde, until Hilda added his wicket to George's brother Tom. The heat was taking its toll on Harvey and he employed a runner, but the move proved young Ralph Bartram's undoing when he was run out by Phil Rogers after a mix-up over calling. Witham Friary's innings closed on 35 overs at 192-8.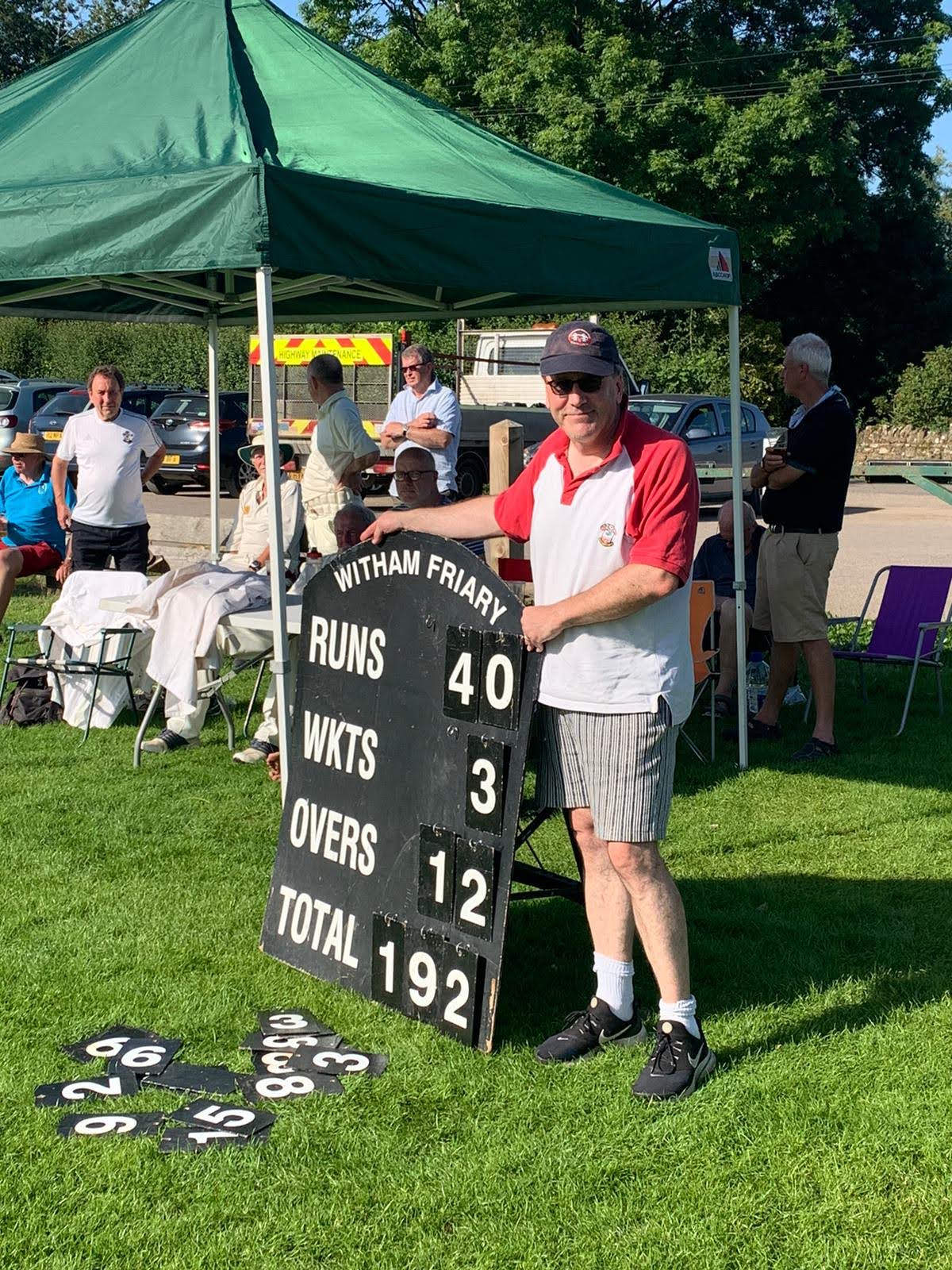 With the fondly-remembered Witham Friary tea not available this year due to Covid, White Viv and Despicable Johnny Griffiths strode to the middle a few pounds lighter than expected. Griffiths showed early promise with two crisply-hit twos, supplemented by a mounting number of byes. But the running between the wickets quickly took its toll on White Viv, who became the second player to retire after suffering dizzy spells. Terrence Collis joined JG and the pair had the scoreboard ticking over until Grifffiths was caught by a fine catch at short extra cover. Ben Sheriff and Terrence soldiered on, scoring the hard way under the scorching sun – in ones and twos – before Terrence fell lbw on 8.W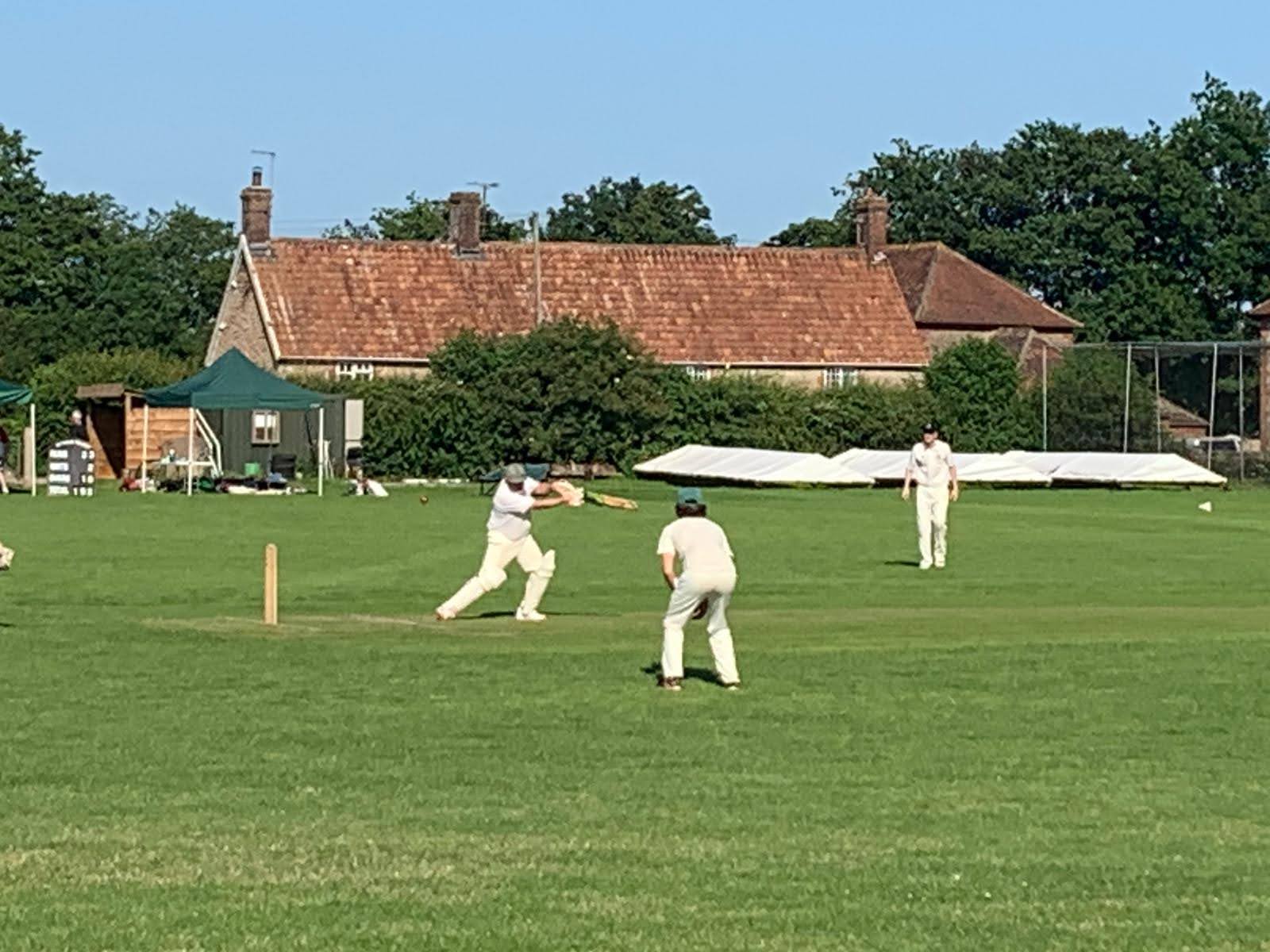 White Viv then returned, having resolved to avoid as much running as possible by scoring only in boundaries. But with the total on 39 Ben was bowled for 5 by the useful Steve Heath. At the other end, White Viv's aggressive tactics brought the words cow's arse and banjo to mind and, after just one boundary, he was bowled for 6. Andrew Davies was next to fall just two runs later when, after being pinned down by Heath's accuracy, he went for a mighty hook shot. The result was less Ben Stokes and more Benny Hill as he span so fast he fell over and his trousers fell down as the ball rebounded off his pads on to his stumps. With the top five London Saints batsmen all out for single figures, it was left to Rogers and Nanton to raise any hopes for the visitors. Nanton had hit 12 of 17 deliveries when the promising partnership was ended by Heath. Rogers bravely continued to attack until he was caught for 28 with the total on 82-7. Hilda followed soon after, caught and bowled for 5 by Aird, who then bowled both DT for 6 and Paul Jackson for a duck as London Saints were all out for 112, 81 runs short of victory.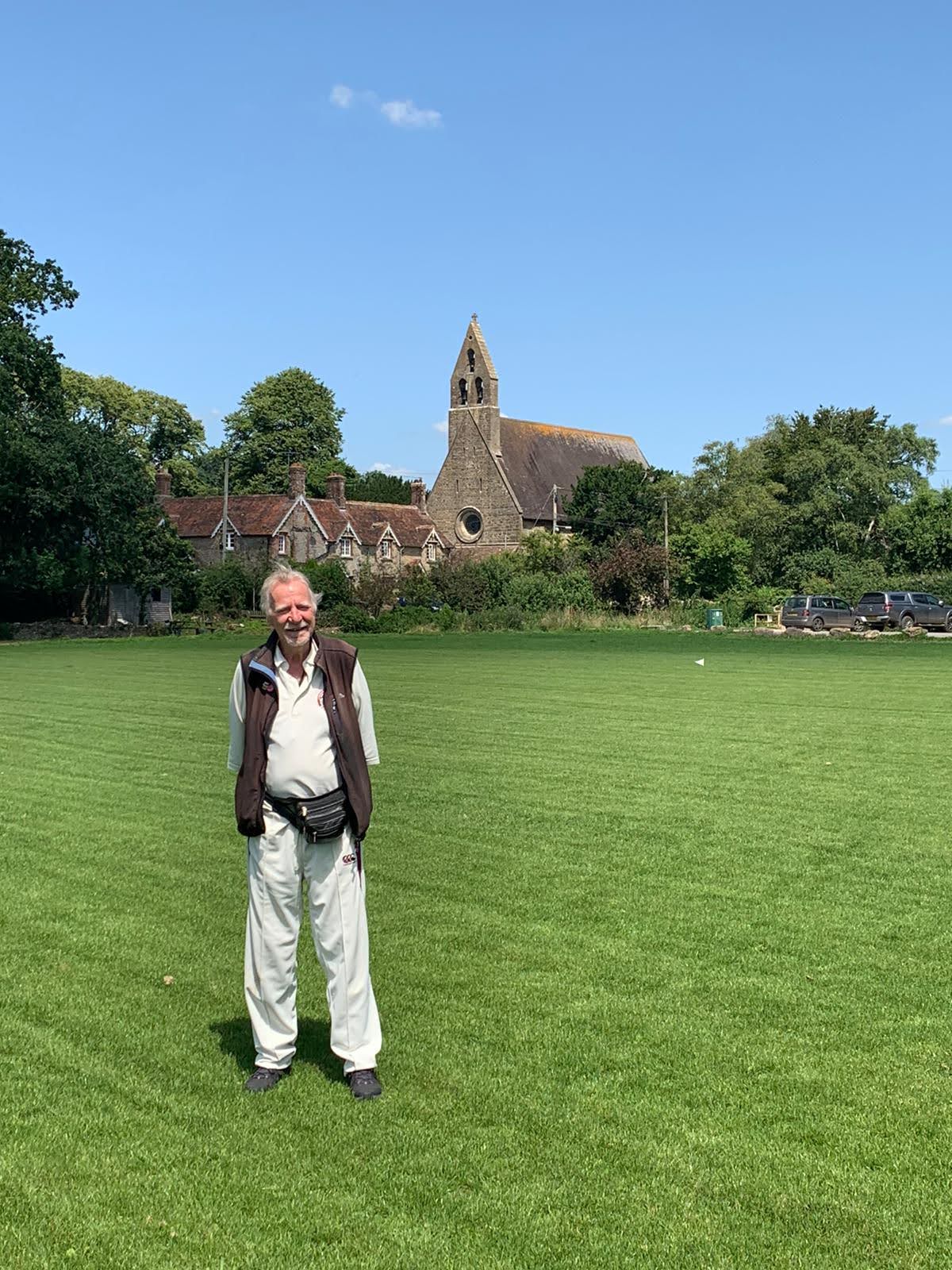 CHAMPAGNE MOMENT: In an otherwise unremarkable match, three instances stood out – Nice Pint's imitation of a wildebeest's orgasm (both in sound and in movement) in celebration of bowling Gibson, Andrew Davies' dismissal after his cameo innings of one when he and his trousers fell independently as he attempted to hoick the annoyingly accurate Heath into the next field and Gary Speedtwin's smart catch behind the stumps to dismiss the dangerous Wild. Normally comedy wins the day for the champagne moment, but in the interests of positivity, the vote goes to GARY SPEEDTWIN, whose efforts gave us brief, if faint, hopes of victory.
MAN OF THE MATCH: There was only one contender in an otherwise disappointing performance – PHIL ROGERS, for claiming two wickets in his breathtaking first over, running out young Bartram and then leading the way with the bat as he clouted 28 off 26 deliveries. A brilliant effort on a tough day.
Witham Friary batting
D Heath b Rogers. …0
J Kennedy lbw b Rogers …0
T Hyde lbw b Berkeley …32
W Wild c Speedtwin b Thomas …25
H Gibson b Smith …12
S Heath retired (dizzy) …23
J Harvey not out …48
G Hyde b Berkeley …21
R Bartram run out (Rogers) …0
E Bartram not out …1
J Aird did not bat
Extras …30
(9b, 2lb, 4 nb, 15 w)
TOTAL …192-7 (35 overs)
London Saints bowling
Rogers 7-1-32-2
Nanton 7-0-35-0
Thomas 5-0-21-1
Berkeley 6-1-24-2
Smith 3-0-15-1
Jackson 4-0-28-0
Keenan 3-0-26-0
London Saints batting
A Jones b Aird …6
J Griffiths c E Bartram b G Hyde …7
T Collis lbw b G Hyde …8
B Sheriff b S Heath …5
A Davies b S Heath …1
P Rogers c G Hyde b J Kennedy …28
D Nanton b S Heath …12
P Berkeley c&b Aird …5
D Thomas b Aird …6
P Jackson b Aird …0
J Smith not out …0
(G Speedtwin, S Keenan did not bat)
Extras …34
TOTAL … 112 (28.3 overs)
Witham Friary bowling
G Hyde 7-3-17-2
R Bartram 4-0-12-0
S Heath 7-2-16-3
J Aird 4.3-0-18-4
H Gibson 3-0-16-0
J Kennedy 3-1-17-1
RESULT: Witham Friary won by 80 runs.
Become a Member
Become a member of London Saints from as little as £5.