Coldharbour v London Saints – Sun July 4th – Coldharbour CC
Coldharbour 232 – 7 (Rogers 3-54, Thomas 2-20, Dowson 2-35)
London Saints 183 (Dowson 77, Rogers 58, Collis 20)
A very creditable performance against a strong team on the usual small but beautiful ground amongst the Surrey Downs with great views of the surrounding countryside overlooking Gatwick Airport, that was when the low clouds didn't set in obscuring the view. Thankfully we escaped the worst of the weather as the old adage of ' catches win matches ' came home to roost as we were beaten by two good innings from batsmen whom we both dropped twice and made 159 of their runs and one outstanding bowler who took 6 for 11 off his 7 overs.
The build up
The preparation for both teams was disrupted leading up to the game. Coldharbour lost two players to Covid isolation the day before leading to the London Saints once again offering up another player from the ranks – more on Judas 3 later. The London Saints numbers reduced from 13 to 10 during the preceding week with drop outs leading to Il Duce making a last-minute change of plan (with permission from his new Old Chelmsfordian teammates) to make up the numbers.
The journey
Tiny Temper took his preparations very seriously getting to the ground a day early – rumours that he, fully kitted, clutching his personalised umpire clicker, slept on the wicket overnight to get a feel for the wicket proved unfounded as, his better half, Emma said that they had stayed in The Plough Inn in the village.
Mrs Doubtfire's day had started promisingly with the news that he didn't have to skipper the side but it quickly went downhill. Firstly, the ticket office attendant asked him for his 60+ rail pass, sold him a Freedom Pass anyway and then a young person offered him a seat on the tube. We all know that John has a history with those under the age of 10 (on the cricket field I hasten to add) so word may have gotten around that he was in town.
The toss
In an attempt to prove Trevor wrong, and to gain the club more points in the prediction competition, Il Duce had been practicing ' the art of tossing ' (chapter 47) and duly won it inserting the opposition to make best use of the overcast conditions. With Coldharbour down to 9 and with Lana making our ranks 12, the skipper asked if anyone fancied playing for the oppo and when the offer of being first change bowler was put on the table, Richard's,(No 1 Son-in-law) hand went up faster than Il Duce's the previous week. So it was 10 v 11
The catches (or not)
Coldharbour's top 3 scored 89% of their batsmen's runs but frustratingly we put down 6 chances with surprisingly 4 of those going to the usually safe hands of Tiny Temper and Dowson Senior (though after his running between the wickets today and remembering how George ran out club leg end Tony I could think of a more suitable nickname !). To be fair Mike and George did well to get to the chances in the first place but down the chances went as the runs mounted. Great credit though to the team as our heads didn't drop with a potential score of 300+ in the making and all bowlers stuck to the task, which is difficult with such small boundaries. Once we made the break-through we came back strongly which included an excellent piece of initiative by Speedo to stump their 2nd top scorer when he was threatening to break loose (he was not a happy man).
Another drop was from Flat / Oneliner – but did it deny Phil a hat trick? as we came back strongly in the field. Some would say this was a very harsh statement as Dave did brilliantly to attempt to catch a ball that was hit very hard on its way to potentially being a 6 so saved 5 runs. Others, as Phil proceeded to take wickets with the next 2 balls, would say that Dave denied Phil from becoming only the 3rd LSCC player to get a hat trick after Hilda and Clive Dunn. The jury is out – would Jonty have caught it? We won't comment on Johnny G's relatively easy missed chance as understandably he was still mulling over the Freedom Pass incident.
The social media dialogue
It was great to see Andy ' The Crock ' Mayhew turn up today to give his usual laconic support to the lads. Andy was giving his fellow crock Tiger Pearce a running update via text messages. Unfortunately Andy's phone having being bought for £2.50 from a Bulgarian market dealer in 1998 does not have the ability to access WhatsApp so Tiger then had to translate Andy's text messages and relay them onto our WhatsApp group for the likes of other crocks White Viv, Sicknote Barnes, Mayhew Junior and other absentees to enjoy. I'm sure Andy was appreciative of our efforts to restrict Coldharbour to 232 off their 35 overs after such a strong start.
The tea
Unfortunately, current government restrictions denied us the usual excellent tea from Coldharbour though Mrs Doubtfire did her best by buying up most of Victoria Station's M+S delicatessen selection and passing it around for the lads to enjoy, though, unsurprisingly, she kept most of the deserts to herself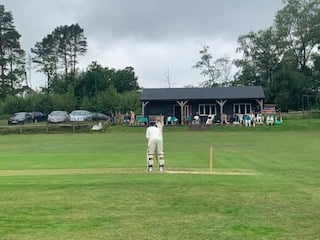 The run-chase
After Nice Pint's excellent effort a week earlier, ' the Wall ' was promoted to opener this week with instructions to blunt their opening attack for a few overs and then, in John's words, explode after 5 overs as we had a large total to chase. Mount Vesuvius John wasn't as he became the first of Marsh's 6 victims. Marsh took the Ex-Councillor's wicket next and then, after Ben had hit two mighty 6's and threatened to go big, produced an unplayable swinging yorker to dismiss Collis Junior for a brief but excellent 20. Sometimes you just have to hold your hands up and say you've come up against a great bowler and we did today in Marsh who was probably the difference as we coped with the rest of their 5 man attack relatively easily.
The heroes (almost)
At 33-4 the target of 233 looked a long way off, well 200 off to be precise so we have George and Phil to thank for a tremendous effort which ultimately resulted in them smashing the club's record ever 5th wicket partnership of 101 which in itself was only set two games ago in the first game of the season by the triumvirate partnership of Sicknote Barnes, Tiny T and No 1 Son-in-law (Judas 3). They got there through controlled aggression seeing off the good balls and punishing the bad balls. The same cannot be said for their running between the wickets with George calling some particularly suicidal runs. There was one particularly controversial moment when a quick single resulted in Richard removing the bails and appealing, along with the rest of his new teammates for the run out. Il Duce stood firm giving George the benefit of the doubt (take note some?) but to be honest it happened so quickly that my old eyes couldn't adjust quickly enough – some in the oppo were not impressed by the decision in particular their No 3 batsman who himself had been given out stumped -) -). Their partnership was finally ended on a stand of 111 with us on 144-5 as Marsh was brought back to cleverly snaffle Phil caught down the legside for a fine 58. George continued on and with overs left a victory was still a possibility but he eventually fell for a brilliant knock of 77 – his highest ever batting score in all forms of cricket. The returning Marsh picked up two more wickets giving him 6 in the match whilst we fell short but Richard wanted now to have a say.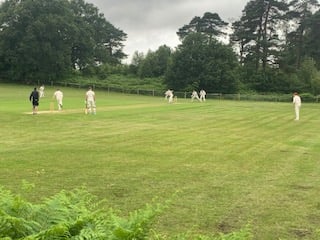 The Villain
I know this could be the case of the pot calling the kettle black but, after jumping ship, Richard did his best to out do Il Duce's effort the previous week. Having first tried to run out our best player and main hope George, he (Judas 3) turned his attention to Lana. Coming in ahead of her dad at No 10, Lana's main thought was to score a run and beat her dad's aggregate total which she had done the previous summer. Lana connected well with the fifth ball of Judas 3's last over hitting the ball in the air back towards the bowler, Il Duce, as non-striker, and Son-in-law No 2, who was umpiring, both tried to playfully get in Richard's way but Judas 3 brushed them both aside to take the catch and dismiss Lana for a duck amidst much booing from the LSCC ranks. Shocking behaviour as her father replaced the obviously grief-stricken Lana out in the middle. Il Duce obviously traumatised by Judas 3's actions proceeded to get out first ball of the next over and so became the 3rd quackster of the day from our side with the duck trophy now well and truly up and running after the last two games with 6 players on one duck.
The conclusion
A great game played in sun, wind but increasingly dark and gloomy conditions and in mostly good spirit though there were a couple of controversial decisions as we surprised Coldharbour with our fightback after a very difficult start. Well played lads and now onto the tour.
The man of the match
Both contenders could have won it. Phil with 3 wickets (was he cruelly denied a hat-trick?) and 58 narrowly missed out to George's excellent best ever score of 77 and 2 wickets (with no mention of his ' enthusiastic ' running – George you have to remember that not many of our team can remember being 31 and quick let alone actually being 31 !)
The champagne moment
Gavin Wingfield (Freddie), when he devised the champagne moment trophy, put two characters on the plinth – a cricketer (for excellence) and a nurse (for piss take) and if we had pulled off a famous win perhaps the cricketing moment would have prevailed but as we lost, the nurse moments take precedence.
Freedom Pass Man, whilst batting, sent Phil, our umpire, back in to put on a dark top as he claimed he couldn't distinguish him from the fielders in their whites. That worked! as he out a few balls later and when Phil went out to bat, who was the first to volunteer to umpire – yes it was Freedom Pass Man, wearing ….yes all white !
Hilda's over enthusiastic celebration for a wicket that never was. George appealed for a ball that was clearly going down leg. The umpire replied not out and gestured that it was going down leg – Hilda, in a great place to watch all this at 3rd man, gave 'John Smith like' roars of celebration charging in to congratulate George whilst the rest of us looked on in bewilderment!
Son-in-law No 2 noting that Judas 3 (and Son-in-law No 1) was next man in to bat shouted the encouragement " come on lads, get him out as Richard is next man in " – of course next ball, the easiest chance of the day came straight to John – and what did he do – drop it of course – sorry Freedom Pass Man I said I wasn't going to mention it -) -)
Andy ' the Crock ' Mayhew loves umpiring when he comes along to offer his usual advice. Today we did have the worrying period when we had Andy umpiring at one end and Mrs Doubtfire umpiring at the other end (it's amazing that George and Phil lasted so long!!), but it wasn't that but one of Andy's interesting observations. Andy remarked to the non-striker "what a great shot (by Flatliner), I almost had an orgasm at that last shot " – you know what happened the very next ball, yes Flatliner was another victim of Mr Marsh.
And the winner goes to…………cricket was the winner today, but Hilda charging in to celebrate a non-wicket just takes the prize.
DT
Coldharbour
Hopper ct Dowson b Thomas 89
Kornrumph bowled Rogers 35
Beer stumped Speedo b Dowson 70
Ashford lbw Thomas 1
Badman not out 19
Vermarck ct Nanton bowled Dowson 1
Marsh ct McIntyre bowled Rogers 0
Norton not out 3
Kruis bowled Rogers 0
Extras 14
Total 232-7
Dowson 7-2-35-2
Nanton 6-1-31-0
Berkeley 4-0-29-0
Rogers 7-0-54-3
McIntyre 4-0-30-0
Thomas 4-2-20-2
Griffiths 3-0-34-0
London Saints
Griffiths b Marsh 5
Smith b Marsh 0
McIntyre ct Marsh 6
Collis b Marsh 20
Dowson b Marsh 77
Rogers ct ? b Elson-Dew 58
Berkeley ct ? b Marsh 4
Nanton ct ? b Thomas 4
Thomas ct ? b Hopper 0
Lana Twintub ct + b Judas(3) 0
Speedtwin not out 0
Extras 9
Total 183 all out
Elson-Dew 7-0-43-1
Marsh 7-1-11-6
Vermarck 7-1-30-1
Judas(3) 5-0-34-1
Beer 6-0-53-0
Hopper 0.1-0-0-1
Become a Member
Become a member of London Saints from as little as £5.