London Saints CC vs Old Chelmsfordians 5th XI, Sunday 27th June 2021
London Saints 72 (Griffiths 24, Calais 13) off 22.4 overs
Old Chelmsfordians 73-6 (Berkeley 2 – 6) off 21.4 overs
A forecast threat of heavy rain meant we opted for a 30 over contest against first-time opponents, Old Chelmsfordians 5th XI. Having lost the toss, an abject batting performance by London Saints meant the game was certainly going to be short, if not sweet (rather like this match report).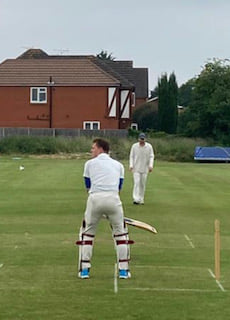 The match will go down in the London Saints' annals, however, for the fact that our Club captain not only volunteered to make up the Chelmsfordians XI but proceeded to come on first change and return the kind of tidy spell (3 overs 2 for 12) which we haven't seen for the Saints in many a long while. But as we know all too well, Il Duce (now aka "Judas 2") is never one to idle.  Even before his early entry into the Chelmsfordians' attack DT, fielding at square leg, had surprised his new teammates by loudly shouting "No Ball" and gesticulating to the scorers following an unfortunate beamer from one of the opening bowlers. Clearly confused as to which of his many roles to play next, he also could not resist informing the Saints' stand-in skipper that he should have opened with John "The Wall" Smith.  
Clammy conditions and a very green strip meant batting was never easy against a comparatively youthful and accurate opening attack from our Essex visitors. Wallis was particularly probing and soon bowled make-shift opener, Ben Collis, for the first of the three ducks of the afternoon (Hilda and Speedtwin were the others) to ensure that the perennial intra-club duck-trophy competition is up and running.
The same bowler also nipped one back to bowl Tiny Temper (2), the first of a run of low scores from the Saints' middle order. Judas 2 was responsible for two of these – a controversial LBW decision from Umpire Calais removed a briefly irate Jon May, pointing to his upper thigh as he marched off; a spinning off-break was too good for One-Liner who allowed the ball through the gate to hit his middle stump.
Quickly swapping umpire's coat for bat and pads, whilst avoiding eye contact with Jon, batsman Calais thumped a couple of boundaries including a hefty six into the bushes before departing for 13. All along John ("Nice Pint") Smith had been building his wall-like reputation, but alas not a sizable innings. He finished 4 not out having gone in at no.6 with more than 15 overs to play with. The lower order was undone by two excellent "caught and bowleds" from D. Robertson. Having only used 22.4 of our overs, the London Saints were all out for 72 with the ever-consistent Mr Extras contributing the team's third top score of 10.
It could have been all over very quickly, but Saints bowled some tight, accurate spells and soon had the visitors 3 down with fewer than 20 on the board. The wickets were shared around with Hilda, sending down his nagging "dibbly dobblies" on a tacky pitch, the pick of the bowlers (4-0-6-2). There were also two excellent catches – a juggle and grab from Ben Collis at short extra cover, and a diving, sprawling effort from Oneliner to give Jon May his wicket.
With few runs to play with, the stand-in Skipper tried to share the bowling around, but had to show an Il Duce-like ruthlessness in removing his Godson from the attack after an expensive over. Max's one over of longhops were despatched for 15. It left your correspondent scratching his head as to how our young left armer had managed to get him out so often in the nets.
The OCs' skipper Alan Ball steadied the ship before becoming one of Hilda's two victims. Unfortunately (and not just for Alan), this just happened to be captured on film by . . . DT, who else? He had now turned cameraman whilst berating his erstwhile teammates from the side-lines in his more conventional role as the other half of Statler and Waldorf.
It took Old Chelmsfordians one over less than the Saints had used to knock off the runs, finishing at 73-6 to record a four-wicket victory. Successfully dodging the rain, the game had been played in a great spirit and, over a few post-match beers, plans were hatched to repeat the fixture next year with a visit to Chelmsford.
Champagne moment – Only one contender. We all know DT likes to moan about the countless jobs involved in managing and captaining an increasingly decrepit cricket team (he does them all brilliantly Ed.), and that's before he starts on his own long list of injuries and ailments. On Sunday he only showed up to give us some moral support; he said he had fancied a weekend off and a rest. It hardly came as a surprise, however, when he couldn't resist making up the numbers for the opposition; taking two wickets to boot, umpiring at the same time whilst offering on-field advice to your correspondent on the Saints' best batting order. The champagne moment goes to his shout of "no ball", arm raised to this side whilst stationed as a fielder for Old Chelmsfordians at Square Leg who were clearly asking themselves "who is this man?"
Man of the Match – probably a toss-up between veteran bowler Pete "Hilda" Berkeley and batsman "Judas 1" Griffiths who anchored an otherwise wayward Saints innings, and one which probably ended up 40 runs too short to be competitive.
London Saints
B. Collis b. Wallace 0
J. Griffiths lbw b. Robertson 24
M. McIntyre b. Wallace 2
J. May lbw b. Thomas 4
D. Nanton b Thomas 9
J. Smith not out 4
P. Calais b. Robertson 13
P. Berkeley caught 0
R. Griffiths c&b D. Robertson 1
M. Cohen c&b D. Robertson 5
G. Jones bowled D. Robertson 0
Extras 10
Total 72 all out
Wallis 4-2-2-2
Nzemer 4-0-12-0
Thomas (Judas 2) 3-1-12-2
Saker 6-0-27-0
S. Robertson 3-0-13-3
D. Robertson 1.4-0-5-3
Vijay 1-1-0-0
Old Chelmsfordians 5ths
Aditya bowled McIntyre 5
Helen ct Nanton b May 2
Wallis jr ct Collis b Berkeley 3
Ball b. Berkeley 11
Aditya b. Calais 6
S. Robertson b. R Griffiths 15
D. Robertson not out 7
Nzemer not out 6
Extras 19
Total 73 for 6
May 4-1-7-1
McIntyre 4-0-13-1
Berkeley 4-0-6-2
Nanton 4-0-10-0
Cohen 1-0-15-0
Calais 2.4-1-8-1
R. Griffiths 2-0-6-1
Old Chelmsfordians' 5th XI won by 4 wickets
Become a Member
Become a member of London Saints from as little as £5.