LSCC vs. Nascott Old Haberdashers, Elstree – 6th June 2021
LSCC – 149-6 35 overs (Barnes 42 not out, McIntyre 40)
Nascott – 115 all out – 29 overs (DT 4-17, Tiger 3-17, Barnes 2-5)
After our game was called off last week, Saints marched in to their first game 'proper' looking to maintain their unbeaten 2021 record – after a moral victory last week as we had a team, the opposition didn't, could we make it 2 wins on the bounce as we seek to be 2021 Invincibles and so go down in Saints history as immortals.
Initial signs were perhaps not, as our planned opening bowling attack of George and debutant David Barnes had to be rethought as George had to miss the game unfortunately whilst Barnes had broken down with multiple injuries the day before – truly 'one of our own' with that sort of health!
Under cloudy skies and facing a steamy humid afternoon, the Old Habs groundsman maintained his kind tradition of sticking us on the wicket closest to the shrubbery and rubbish short boundary. He spoils us with that every year bless him!
Another tradition continued as DT lost the toss but to everyone's delight, we were asked to bat. DT then claiming we'd have batted anyway if he'd won the toss – obviously no one believed him BUT miraculously Andy Jones was already present at the ground so perhaps he might have done, we'll never know as its most unlikely that will happen again this season after all.
So shocked was DT at losing the toss he then struggled to retrieve the team's kitbag out of his car as it wouldn't unlock for him…. Only after a while did he realise; he was using an umpire's clicker to try and open it and not his car keys!
Saints' openers of choice, Jones & Judas Griffiths were sent out to bat and in a surprise to no one the first runs of our season came from a legside nurdle by Corporal Jones. The wicket proving slow with variable bounce making timing tricky – especially after our Nets having been on such different tracks to this!
Nascott bowlers soon showed that bowling full was needed as anything short just sat up and invited being hit – Johnny G falling first to a fine yorker from the accurate Shish.
Terence C was sent in to take the shine off the ball and help see off the opening attack and did so admirably whilst Jones departed after an unfortunate leading edge was caught at gully. This brought Ben C in to join his father and more worryingly saw Judas Griffiths sent back out to umpire. Terence was next to go given out LBW plumbers, a decision your author took so quickly my finger was up even before Johnny G's who had instinctively done so too from his square leg vantage point.
Ben hit a huge 6 and then was unfortunately bowled off his pads, bat, you name it, and our innings was suddenly precariously placed at 30-4 off 10 overs. Fortunately, 2 of our most technical batsmen were now batting together – debutant Barnes and Surrey-coached McIntyre. Both working out that playing straight and not cross-batting was the key to survive on the wicket they were facing.
Barnes in particular despite being crocked the day before showed that our thorough testing of his technique in pre-season Nets had largely swept away 40 years of rustiness and he looks a fine elegant batsman, reminiscent of retired former World XI member Trevor Mayhew and dare I suggest it Lord Lucan in his pomp. This was not to be the only Mayhew reference point however….
Umpire Griffiths having completed his spell with an unprecedented lack of controversy was back safely sitting on the side-lines and despite his repeated volunteering to head back out to relieve other team members of the weighty responsibility of counting to 6, found his kind offers rebuffed as we all knew it wouldn't last if he was set free again on our developing partnership.
It was a struggle though as there were few 'freebies' from the bowlers and at drinks we were 62-4 after 18 overs. Breaking Barnes announcing he'd look to speed things up now – he then simply hit 3 lovely 4's in the next over before adding a thundering 6 as well soon after.
The scoreboard (if there had been one) was now starting to move along nicely until disaster struck, with the partnership at 75 (the third best 5th wicket total in our history) and the score now 104-4 in the 26th over, another part of Barnes broke, this time the all too familiar T. Mayhew hamstring injury and our debutant had to hobble off retired hurt. To be fair he'd done well to bat with Mike that long without suffering an injury so speedy is Tiny Temper running between the wicket.
Another Mayhew family member would approve of such protecting of your average in securing a red inker – actually I think Andy did the same having reached the same level of 42 at Coldharbour – must be something about you at that score…. It left us in hot water.
Now depending on your views on retiring hurt and partnerships, Son-in-law No. 1, Richard Griffiths joined senior partner Mike M at the crease and they took the score to 130 – a 101 runs on from the 4th wicket falling (a club record or not depending) before Mike decided he'd had enough of batting and run himself out after hitting a ball straight to a fielder and setting off for a suicidal cheeky single and rightly being sent back.
Soon after, the nemesis of any Griffiths – an 8-year-old – was brought on to bowl off a shortened length with a cap as his crease 'guide' and he claimed the unfortunate batsmen chipping up a slow delivery to mid-on.
Nanton and Pearce saw out the innings with DT umpiring keen to point out to both that there had been no ducks so far and despite this encouragement, the team walked off feeling a score of 149-6 was pretty good with such a slow outfield but knowing defending it would be challenging with the very short boundary and a diminished bowling attack.
Lana and Gary produced the largest tea hamper / cool box to win the best Tea award hands down, but we were soon out there with Nanton and McIntyre chomping at the bit to be unleased on Nascott after their fine form in Nets and unexpectedly being promoted to opening attack. Broken Barnes sitting out as Lana kept our team at 11 on the field and David keeping our WhatsApp group up to date.
Nascott's batsmen immediately deployed the Paul Calais approach to the art of batting and with 'Big Dog' and JP keen to hit out, this early season pressure meant both our bowlers had some struggles with Nanton losing his Nets accuracy at times and pulling out of the locker, his trademark legside beamers designed to unsettle the batsmen, exhaust keeper Speedo and keep Mike at very fine leg busy. One such boundary was given as byes not wides much to everyone's surprise and in Speedo's case understandable dismay!
Mike also found it tricky bowling uphill but in inspiration/desperation (delete as you wish) switched from bowling over to around the wicket and immediately found his length and line, befuddling Big Dog with his first delivery and then cleaning him up with his second that way….. Big D stood in amazement for a few seconds not realising he'd been bowled by a beauty (hitting the top of off stump as it had done).
The score was however chugging along after 8 overs and 37 runs on the board, with South African, Lito adopting a similar Calais type-innings but also tending to play cross-batted rather than straight as our 2 best bats had done.
This had mixed results as the unfortunate Griffiths was picked off and pulled to the short leg boundary (on their onside) with these batting shots, and he saw a tough catch on the boundary put down so chances were coming, just could we get them out before the runs were knocked off in boundaries?
For Tiger Pearce with the huge boundary on the onside, protected by a fired-up Ben C covering most if it however these batting shots were welcome and he claimed a rare LBW to remove the other opener who hitting across the line was out plumb, the only question being if the ball would have reached the stumps or not…. It was 52-2 after 10 overs.
DT replaced Richard and the 2 alleged spinners both bowled through their full 7 overs – Pearce fortunately collecting 2 more wickets snaffled by old bucket hands Corporal Jones, one being a very sharp catch at square leg to dismiss the left-handed Shish. The other a rank wide toe-ended to gully!
Saints fielding really stepped up as we sought to keep the runs down with Ben C throwing himself around the outfield doing more forward rolls than a gymnast at the Olympics and taking a great skied catch off DT to remove the Nascott skipper as well.
Many runs were saved with Mike M and Ben C taking turns to save runs inspiring Lana (like her dad) to adopt a 'none shall pass' approach to fielding and using any part of her body to stop a ball and so keep the increasingly frustrated batsmen in check. Personally, it meant I didn't concede a boundary during my spell, and everyone who has ever seen me bowl knows that's pretty hard to believe – thanks to Ben and Mike especially in my last over for that record!
So committed was the display we even saw a flash of the artist formerly known as Jonty Nanton as he dived / fell over to stop a smartly hit drive to mid on stopping any run being taken. Terence and Lana also had any number of races chasing the ball from point and slip – it was a great effort by the team!
And yet we'd only taken 5 wickets (it felt like 15) at drinks after 18 overs and Nascott were 88, only needing 62 from 17 overs.
After Tiger was bowled out, Broken Barnes was summoned from his medical sedan chair in order to let Jonesy recover from his own ailment – sore fingers – thus allowing him to bowl in tandem with DT.
The sight of 2 old crocks barely able to walk 3 paces to the crease to deliver a ball now added a whole extra level of tension – who would break down first and if they did, would Judas Griffiths have to be brought on? A man who it is feared is unable to bowl this season due to an arthritic shoulder, no doubt from his being over bowled during the last 20 years – or so his teammates believe anyway.
But on the old warhorses went with wickets suddenly falling regularly as the stumps were peppered including debutant Barnes being on a hat trick after dismissing Champ for 1 and then Imran first ball – facing the young lad, 8-year-old Finlay to collect his place in Saints history, Broken Barnes opted for kind-heartedness bowling a gentle delivery away from the stumps for his hat trick delivery.
Next over DT showed no such concerns and cleaned up the little fella and walked off proudly wondering how many points the spread betting would score for his 4-for.
Such a great way to start the season and with £30 spent on getting the lady to serve beers through the clubhouse window, the post-match celebrations and Peronis went on a good while as DT ensured the team got its value for his employing her services!
Man of the Match
Andy Jones is the obvious choice as he took 2 catches for your author and honourable mentions to Ben C, Mike and Lana for the runs they saved (especially for me) with their committed fielding but apparently, I need to consider other performances.
DT taking 4 wickets with a tight closing spell, bowling 7 overs straight through was a triumph for the NHS and his medical support team, chiropractors etc. but brutally skittling an 8-year-old as one of these 4 rules him out. He won't be getting any Christmas cards from Nascott either as in what must be another first, he claimed the wickets of 3 generations of the same family – grandad Derek Clow, Son and skipper Andy Clow and the little fella Finlay Clow.
Mike M's record-sharing batting and fielding display is a worthy contender but breaking with tradition, debutant David Barnes failed to score a duck and instead top-scored with 42 not out (future scorers be warned – he counts his runs so don't try and short-change him!) and then closing out the game taking 2 wickets bowling in tandem with DT and off a 1-legged walk-up, so he has to take the Man of the Match.
Here's to a quick recovery and seeing Better Barnes back out on the ground before too long!
Champagne Moment
It could be DT's problem with his clicker versus car keys confusion, or Mike refusing to use one of the team's clickers when heading out to umpire as he has now got his own personalised, family-crested clicker, or your author falling face down on the pitch whilst calling Nanton for my first run causing Dave to 2 full pirouettes at the non-strikers end before finally running through for a comedically slow single as I finally managed to get to my feet.
The prize however goes to Son in Law Number 1, everyone knew when the 8 year old, Finlay Clow was brought on to bowl that Griffiths was in trouble – the only surprise was that the wrong Griffiths got out to him – Richard need not worry though as the club 'memory' will soon recall it was Son in Law number 2, Johnny G who actually fell to the kid – why let facts spoil a tradition?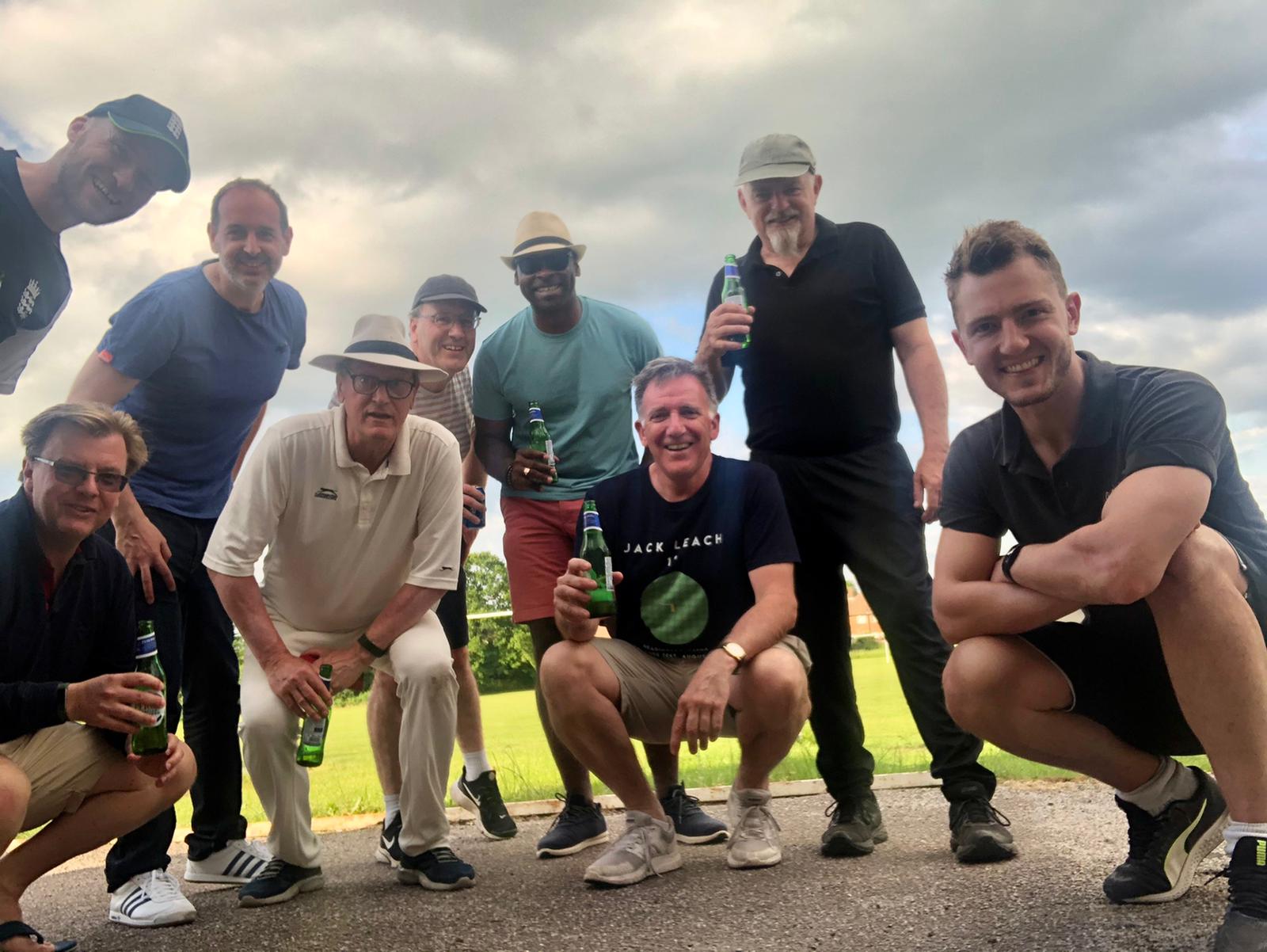 LSSC – 149-6 35 overs
Corporal Jones ct b Shish 9
Griffiths J b Shish 1
Collis T LBW b Clow (D) 3
Collis B b Lito 11
Barnes D Retired hurt 42
Tiny Temper Run out 40
Griffiths R ct b Clow (F) 5
Nanton Not out 9
Tiger Not out 6
Speedtwin DNB
DT DNB
Total 149, Extras 23 (11w, 5nb, lbs 5, byes 2)
Finn 6-0-27-0
Shish 7-1-30-2
Lito 4-0-15-1
Derek C 7-0-19-1
Johnson 7-1-33-0
Champ 1-0-7-0
Imran 1-0-8-0
Clow (F) 2-0-3-1
Nascott 115 all out 29 overs
Dave 'Big Dog' H b McIntyre 8
JP LBW b Pearce 20
Lito ct Jones b Pearce 22
Finn b DT 19
Andy C ct Collis B b DT 13
Shish ct Jones b Pearce 1
Craig Not out 7
Champ b Barnes 1
Crow (D) b DT 0
Imran b Barnes 0
Crow (F) b DT 1
Total 115 Extras 23 (7w, 8lbs, byes 8)
Nanton 4-0-18-0
McIntyre 4-0-19-1
Griffiths R 4-0-34-0
Pearce (Tiger) 7-1-17-3
DT 7-2-17-4
Barnes 3-0-5-2
Become a Member
Become a member of London Saints from as little as £5.