Cricket Review of the Season 2020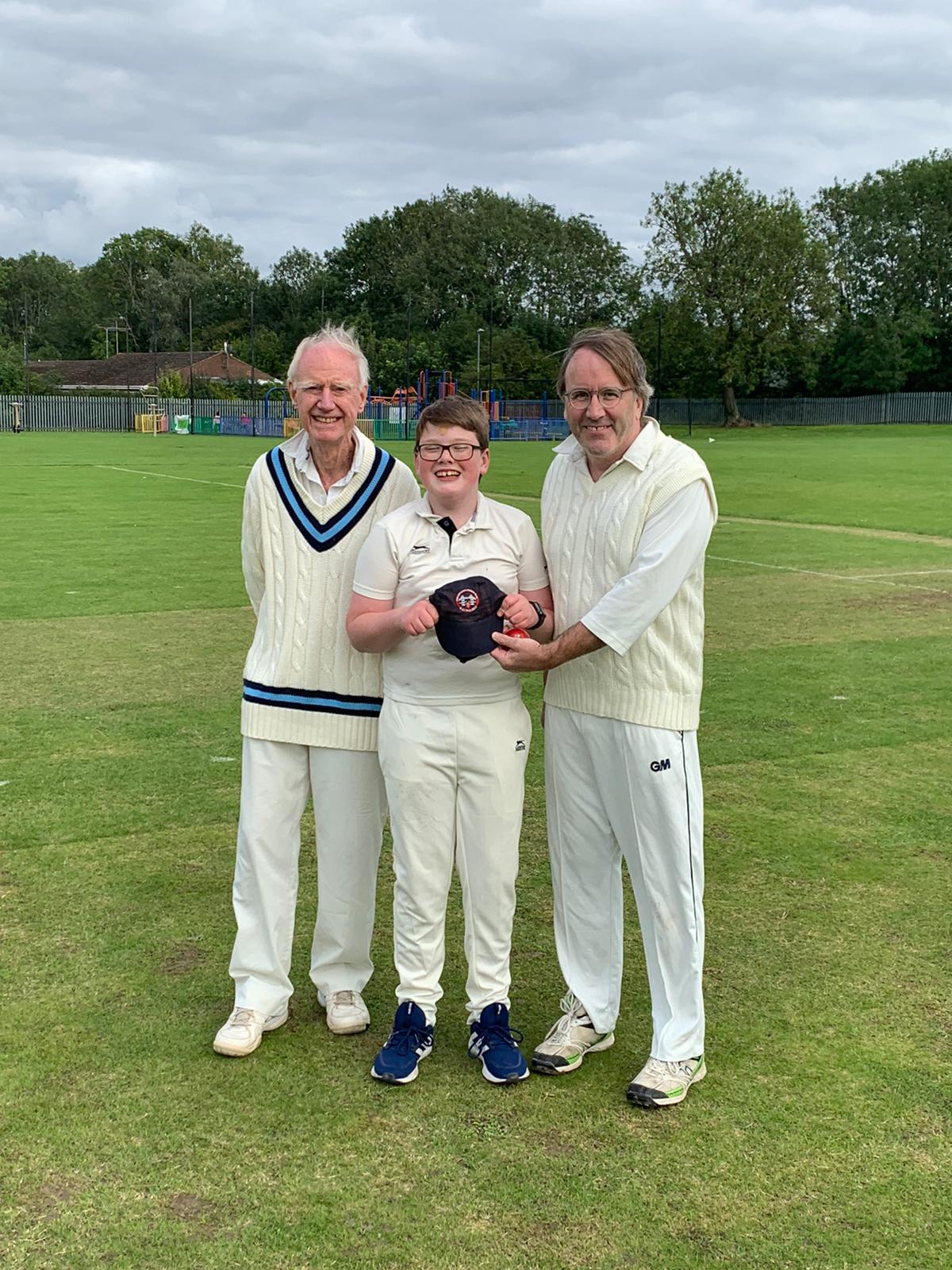 The club's 40th, and in many ways strangest, year saw us play our 439th match welcoming one new player (Oliver Griffiths being the 3rd generation of the massive Grimes/Griffiths mafia that is threatening to take over the club) into the squad taking the overall number of players  who have represented the club over the 40 years, up to 209. In total 23 players were used, which is a remarkable figure considering the much reduced 6 game programme, 21 of whom batted, 19 of whom bowled with 13 of these taking wickets and 10 players taking catches. Of these 23 players, 15 played at least 3 games so we achieved the aim on the resumption of cricket, which was to share the games around and give everyone who wanted to finally get out and play some sport, the chance to play as many games as possible. Next year will be our 40th anniversary of our very first game on 21st June 1981 at King Georges Fields v Bridon CC (that infamous game with the scorebook showing Eric Shadick as our No 1) and in normal times we'd have been planning a celebratory tour or event but unfortunately, as we all know everything is on hold at the moment.  
Pardon me for a moment of self-indulgence but I think it's important to put the season into some sort of context. Whilst I had not suffered any personal tragedies like some of us or worked on the front line, again like some of us or my daughter, I was pretty knackered having been heavily involved supporting our frontline heroes and witnessing some distressing scenes as well as being inspired by the amazing togetherness and spirit of my hospital's workforce which pulled together in a united effort. So when the ECB, quite suddenly produced their blueprint for a return to cricket, I must admit that the last thing I wanted to do was get into all the hassle of arranging fixtures, grounds and opponents etc – well that's my excuse for my crap batting and ultimately winning a trophy (more of later) – but seeing the joy on our faces following the great last gasp victory in our final match and receiving some very kind comments, made it all worthwhile and hopefully I played my bit in bringing some semblance of normality back into many of our lives after a crap 2020. Enough of the sentimental bollocks, now onto the real stuff. 
Our full record was – Played 6, Won 2, Drew 0 and Lost 4. Our two victories were very different with a comprehensive victory in our first game v Roadrunners and a nail biting final over win v Trafalgar in our last game of the season. In between we had two narrow, last over, defeats in our return with Roadrunners and in our match v Nascott along with two heavier defeats to Hermits and Ex Blues.
The Player of the Year vote was the closest in many years with Jon May winning a tight contest just pipping Phil Rogers and the skipper (the latter obviously for non-cricketing reasons) closely followed by Ben Collis and last year's winner Mike McIntyre with David Nanton and Andy Jones also getting votes (and despite accusations from the Griffiths mafia machine – no Andy did not vote for himself). Congratulations Jon, very well deserved and great that a new name (19th different player in the 29 year history of the trophy) and Jon must have been forgiven for running out some of his team mates as even some of them voted for him.
The Garry Burrell Duck trophy went down as usual to the wire. Going into the double header last weekend of the season, we thought that four players were in with a chance with Mark Barber, with his first ever club duck, in pole position. That would be too boring for London Saints and from nowhere Messers Pearce and Thomas came off the rails to challenge for the coveted prize. Having endured the taunts of Lana as she outscored her more experienced elders, Paul and Dave's ducks on the Saturday put them into the nervous pole positions going into the Sunday game and DT's 2nd duck of the weekend saw the trophy coming back to his home for the 2nd time in its 34 year history – interesting that we initiated the duck trophy five years before the Player of the Year trophy.
On the batting front, Henry Dawson had an amazing two games topping the aggregated runs table with 150 undefeated runs, a magnificent century v Roadrunners (becoming LSCC's 7th different centurion in our 40 year history) and a 50 v Trafalgar, both games which we won but as he only played two games was not entitled (under the strict rules designed by Donald Trump) to be considered for the Player of the Year trophy – next year Henry?. Henry's brother George (better known as the man who has run out club legends Clive Dunn and Gary Speedtwin) was 2nd in the aggregated number of runs scored but as with Henry his two innings weren't enough to get into the official batting averages (3 innings minimum qualification) so the averages were topped by Phil Rogers with an average of 26.33.
On the bowling front, the 36 wickets were shared around, with Tiny Temper McIntyre topping the chart with 6 followed by Jon with 5 and then Tiger Pearce with 4 who started the season so promisingly before nose diving away. The (Donald Trump) qualifying mark for the bowling averages is 10 overs (which 10 different bowlers achieved) and was topped by Jon May with his wickets being taken at an average of 15.40. On the fielding front again our 14 catches were shared around with Henry taking the most with 3 then Tiger Pearce and Max Cohen with 2 each, the latter reflecting a successful all round first LSCC season on the batting, bowling and fielding fronts following his move up to London. Perhaps the most noticeable difference this year was the improvement in fielding standards when we managed to get out the younger element of the club as Mike Mc has been carrying the team, on the fielding front, in recent years. If we had a fielding trophy, the excellent and enthusiastic Ben Collis would have won it this year and it makes such a difference to us oldies to have young legs in the side.
Only two milestones were achieved in 2020 due to our much reduced programme with the skipper finally getting his 450th club career wicket after being in the 440's for many years and Gary Speedtwin playing his 150th innings in our final match – if George had known that Gary, he might not have called you for that suicidal single, but well done for sacrificing your wicket for the greater team good. A special mention to Mr Extras (who no longer appears in the club's official averages following an appeal by one of the club's prima dona elders) and who in 2020 averaged 26.50, his 2nd highest ever average in our 40 year history (the highest was in 2013 with an average of 28.15 – Statto)
The 'Ian Shiels Tourist trophy' was obviously not awarded this year as there was no tour and the Clubman of the Year award will be announced at the clubs annual awards dinner when that is safe to be held so that leaves us with the Champagne Moment trophy – and what a palava that turned out to be and it makes the alleged shenanigans from our orange friend across the pond seem timid in comparison! The six nominations were split between three pieces of excellent cricket and three piss takes (gone are the days when all nominations would be for taking the pee) and it became apparent that the famous champagne nurse trophy was going to end up on the Griffiths mantelpiece but to whom as father and son Griffiths were neck and neck. In taking a wicket on his debut young Oliver Griffiths became the 2nd youngest player in the club's history to take a wicket and with his dad, writing the match report, describing it as the ball of the century, Oliver was bound to get many votes. His father, John 'Mrs Doubtfire, Wheeliebin, Judas 123 etc etc take your pick, Griffiths was the other contender for being out-sledged by a 9 year old female bowler. Griffiths Snr was well ahead at one stage and with some calling for the count to stop, mysterious out of town ballots from ex-players and non-playing squad members turned up and were counted as the full force of the Grimes/Griffiths machine rolled into town. Oliver came from behind to pip his old man, nine votes to eight from the 29 total votes cast and the ex-Councillor decided to accept the decision and not call for a recount. In all seriousness, congratulations to Oliver for his debut wicket and may it be the first of many.
So, overall, despite the very late start to the season and the restrictions laid down in the ECB's guidelines which everyone followed, we made the most of what we could salvage from the shortened season and achieved our goal which was to get anyone who wanted to get back out onto the field at least some cricket this season. The positive response from 23 players to play some part this summer shows promising signs of participation numbers going forward with the club in good and much younger hands as the baton hopefully passes onto the next generation. Let's hope for a much better 2021 when we can put 2020 firmly behind us and look forward to a return to normality in the world as a whole as well as on the cricket field.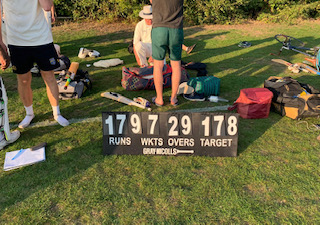 Cheers
DT
Become a Member
Become a member of London Saints from as little as £5.