Trafalgar v London Saints – Sunday 13 September, Raynes Park, Wimbledon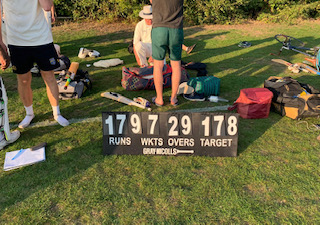 Trafalgar 177 for 7 off 30 overs (H.Dowson 2-13, G.Dowson 2-21, Smith 2-29)
London Saints 179 for 7 off 29.2 overs (H.Dowson 50ret, G.Dowson 49, B.Collis 39)
The passing of the guard?
Well we started on a high, with a win in our opening game at home v Roadrunners and we finished on a high with a brilliant victory with just 4 balls to spare, this afternoon in our final and sixth game, in this truncated and strange season, v Trafalgar at a very sunny Raynes Park near Wimbledon. Arranging a new set of fixtures, and finding venues, in early July when the government and ECB allowed cricket to recommence was problematical to say the least and we agreed to take what we could. This led to the awkward situation of ending up with two fixtures in two days something we hadn't done (apart from tours) for around 20 years but a quick poll amongst the squad gave me confidence that we could amazingly field two teams over the final weekend of the season. Thanks to the 6 players (7 if you include Lana) who played both days and the 17 different squad players who turned out this weekend.
When the skipper ("tails never fails") returned from the toss to say that he had lost the toss and we were fielding first again on another warm day, some of the older members of the squad and especially those who had played both days were less than amused – but what we did have today was some youth in the side with four players in their 20's (when did that last happen?) plus Lana who is just into her teens and which gave us an edge in the field. The team today also had a family orientated feel about it with father and son (Terence and Ben), father and daughter (Gary and Lana) and brothers (George and Henry) in the ranks.
We opened with George and One Liner who bowled tightly but couldn't break through some very solid early batting. In an inspirational, and to some surprising move, the skipper (well he did f**k all else all day) threw the ball to Nice Pint, John Smith as first change. John certainly repaid the skippers faith, dismissing their very dangerous opening batsman, who had amassed 39 runs very quickly, and then their No 3 in a spell of five unbroken overs – and of course we were treated to the Smith 'roar' twice.
George nipped in with a wicket but then their No's 4 and 5 accumulated 79 runs between them as Trafalgar were heading for a formidable score. The breakthrough came though through fielding pressure as our excellent inner ring of youngsters George, Henry, Max and Ben backed up by, the ever-reliable Mike, forced a run out as Trafalgar chanced their arm one too many times. Oh, I've been wanting to report fielding like this for years and being a old sentimental sod, having been around for most of our 40-year history, and remembering when we were young and fielding like this, it felt like the passing of the baton onto a new generation of London Saints cricketers. The run out also led to the one of the most comical events of the day when their batsmen, having been run out for 44, out did Tiny Tempers tantrum in Somerset a few years ago – more of that later in the Champagne Moment nominations.
Our 5th bowler was shared around between four bowlers and arguably won us the game as most of them bowled tightly in comparison to Trafalgar's 5th bowler – more of that later. Well perhaps not all elements of our '5th 'bowler attack as Tiger Pearce's tough weekend continued leaving him with combined weekend figures of 6-0-69-0 (almost Lucanesque). Paul's mood was not helped by seeing Andy Mayhew arriving to grace us with his presence and words of advice and wisdom (at least you didn't win the duck trophy Paul). The best of our 5th bowler quartet was undoubtedly Henry who in his 3 over spell, including two wickets, worked up a pace as quick as anyone this season and allowed us the luxury of seeing the Dowson brothers bowling in tandem for the last 4 overs.
177 was a formidable score in 30 overs but we were confident with a strong batting line up and a very quick outfield. We ate our assortment of packed lunches on the boundary edge in anticipation of the run chase and the traditional end of season duck trophy race as ducks the day before from the skipper and Tiger Pearce had resurrected a trophy, we all thought was destined for the hands of Mark, the QE2, Barber. In a very poor ducks performance by the squad this season, there had only been 2 ducks in the first 4 games but, with the heat turned up, in more ways than one, there were 6 this weekend a further 4 today, more later.
And so to our reply, Terence and Ben wanted to bat together at Ex Blues and so thought that batting at No's 2 and 3 they would. Spot the potential flaw there? yes Terence was first out so they missed each other so the only way to guarantee a Collis partnership was for them both to open. With Max, George, Henry and Mike to come, Terence was given the instructions to just keep one end intact whilst the runs came at the other. What could go wrong? the pitch was true, Terence had batted well in his first game of the season at Roadrunners and 'trigger happy' Griffiths wasn't playing so couldn't umpire. We didn't count on Andy Mayhew turning up and volunteering to umpire which most of our team seemed happy for him to do. With the ball going way down legside (Terence's version of events), a loud appeal from their opening 'chucker' bowler resulted in Terence walking off for our first duck of the day.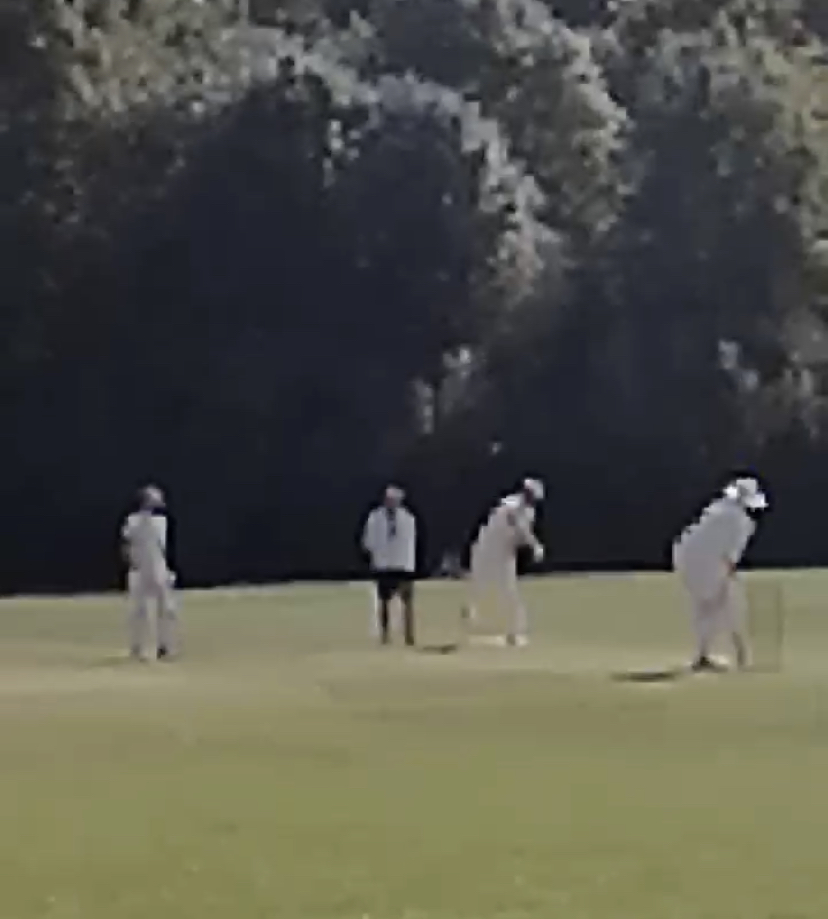 Max had volunteered (under pressure from the skipper in the absence of other willing candidates) to bat the dreaded No 3 position and got a beauty from their chucker opener to become the 2nd quackster and we were 7-2 in the 3rd over. No worries we had the Dowson brothers and a wealth of 'experience' still to come to bat with Ben. Henry continued as he had left off following his 100 not out retired in our first game of the season and along with Ben put on 96 in 13 overs of measured batting along with some big hitting. Ben, having opened, played particularly well and fully deserved a half century and the agreed retirement mark, but was bowled for 39. That brought George to the crease and the Dowson brothers made hay for a few overs until Henry reached his 50 and had to retire with still more than 70 required for victory meaning that Henry still hasn't got an average this season with 150, not out, runs to his name.
That left George to bat with a series of LSCC stalwarts / or old farts, take your pick (Messers, Speedtwin, Il Duce, Tiger and One Liner) to get the 70 odd runs whilst we held back Tiny Temper and Nice Pint in case of emergencies. George picked up where his brother had left, with some very sensible batting whilst wickets fell at the other end. Though he batted well, George should come with a health warning for over 60's as, after running out Tony last year, he ran out another LSCC legend Speedo today, for our 3rd duck, by miles expecting everyone else 30 or 40 (50 in Tony's case) years older than him to be able to keep up with him and taking over Mr May's title of the LSCC 'run-out' king.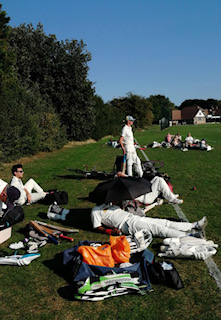 Tiger, with the pressure of the duck trophy off, managed a couple before departing bringing One Liner to the crease to join George who was putting their bowling to the sword. With 6 overs to go we still needed 47 but what gave us hope was that their skipper had either miscalculated or realised that they only had 4 decent bowlers because they had almost bowled out all their top 4 bowlers (6 overs maximum) and was looking around to who could bowl their remaining overs. Was it the pressure of captaincy? but, with it only being a 30 over game, he didn't have the added pressure of it being a 35 over when some skippers have difficulty counting up uneven overs and who has to bowl the final over?.
This brought to the crease in quick succession the two players who could deprive Mark of the duck trophy and the skipper, not wanting the situation to detract from our main aim of winning the game, decided to clinch the trophy quickly and in style so that we could get on with our victory chase. In my defence I will say (well I would, wouldn't I) that it was an unplayable ball, a ball to rival Reggie's 'ball of the century' at Lords in our 30th anniversary game in 2011. From obscurity to the duck trophy in two days was quite a turnaround and an achievement and I'll blame the pressure of captaincy, work, the world situation and the fact that Jupiter was behind Uranus or my anus but the scorebook never lies so I will accept being an able successor for Mr Jackson's crown.
Obviously realising that he had to bowl us out to win, their skipper bowled their last decent bowler through in the knowledge that he would have to bring on two brand new bowlers to bowl two of the last three overs (who would be a captain?). 41 were required off the last 5, 36 off 4 and 29 off the last 3. The 28th over was the turning point as George helped himself to a 6 and a 4 and the team taking 15 off their 6th bowler. It was now down to 14 off 12 but with 10 to get off 11 balls, George, knowing he had to retire on 49, went for huge shot only to get caught. It brought together Tiny Temper to join One Liner to get the 10 runs off the last 10 balls. Dave, with the memory of our last ball defeat to Nascott, in his mind kept his nerve and along with Mike and a good knock from Mr Extras (courtesy of excellent umpiring from Terence under supreme pressure from their "I wouldn't have given" that League umpire and their 6th bowler) got us down to just 4 required off the last over to be bowled by their new and 7th bowler. It only took two balls for Mike to hit the winning runs and victory with 4 balls to spare and triumphant scenes. Our overall strength in depth told as their combination of bowlers for their 5th bowler went for 54 runs off 5.2 overs at an average of nearly 10.5 whereas their top 4 bowlers went for 4.4 an over
What a victory and our deserved 2nd win helped to better reflect our season which could have been even better with two other defeats in the last over and for once we can say that our youth policy and overall strength in depth prevailed. We had a good drink in the pub with the oppo who turned out to be more sociable than some of their demeanour suggested during the game – even their Skate (he changes into his fishy shirt after the game) turned out to be ok and not one of the neanderthal knuckle dragging morons that normally follow the Blue Few.
Champagne moment:
The Champagne Moment should be awarded to one of our players but we have to mention the amazing strop by their No 4 batsman who after being run out for 44 proceeded to throw a 30 min sulk which included throwing his (hope it wasn't a club) bat three times (each time an increased distance) on his slow walk back to the boundary. On reaching the boundary he (Tiny Temperesque) sat about 50 yards from his team mates took off his pads one at time and chucked them, again at increased distances, along the boundary edge. His afternoon wasn't much improved as he was their 5th bowler and went for 34 unrewarded runs off his 4 overs – classic.
I suppose the Champagne moment could / should have gone to the run out or the winning run but we've had too many 'good' champagne moments recently and historically the award was set up, if possible, to take the pee out of the squad to highlight the hopefully light hearted and sometime less than serious way we approach our cricket. So step forward Mr Mayhew. Andy has been absent all season with a poorly knee or whatever ailment he normally hobbles around with but we didn't think this would affect his athleticism 80 yards away from the pitch. Keeping Lana company during her 5 over rotation off the pitch the ball rolled towards them, the boundary, and the thick bushes behind so we expected Andy to pick the ball up and throw it back thus avoiding a search in the bushes for the ball. Instead Andy jumped over the ball ("it might have hurt my knee" he claimed afterwards) and then claiming that he couldn't bend down sent Lana into the prickly bush to retrieve the ball, in the knowledge that Lana's father was 80 yerds away
The skipper's car has had champagne moment nominations before for those who remember it getting stuck in the long jump pit at the Sexys Schools playing field on tour in Somerset, well today the replacement car was involved in a bizarre episode. During the 15 min drive from the pitch to the Alexandra pub in Wimbledon, the skipper realised that his watch wasn't on his wrist and after Max's search of his bag revealed nothing, the skipper was resigned to his regular habit of losing yet another personal item. Getting out of the car outside the pub, determined not to let another item loss spoil our great victory, the skipper's mood was lightened when he spotted his watch on the roof of the car that had amazingly remained in the same place despite a long and twisting and bumpy journey – don't ask why it was there in the first place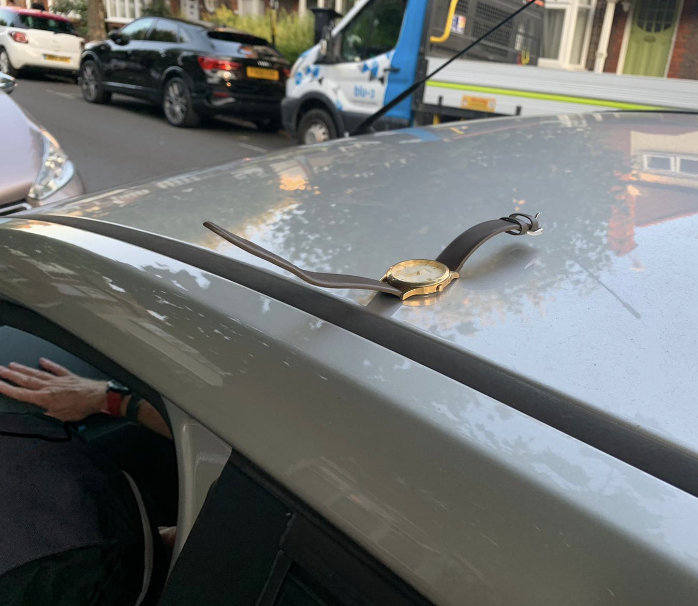 .
Man of the match:
Special mention should be given to Terence who as umpire in the closing overs stood up to some intimidatory sledging from some of our opponents whilst correctly calling wides as well as the other member of the Collis family, Ben, for a fine innings to get the team off to a solid start. Also mention in dispatches for Mr Roar, John Smith, for a great spell of bowling to dismiss their top two players but it boils down to a contest between the Dowson Bros. It is very hard to split them, both batted and bowled excellently but the award goes to George (despite running out another LSCC stalwart) who edges out Mr No Average, Henry, on the basis that with one award each this season, it fosters sibling rivalry and hopefully encourages them both to come back next season to prove who is the more superior Dowson.
Scorecard:
Trafalgar
Jason ct H.Dowson b Smith 39
Liam ct H.Dowson b G.Dowson 9
James ct Cohen b Smith 12
Rhys run out 44
Martyn b G.Dowson 35
Henry b H.Dowson 0
Kerrigan ct G.Dowson b H.Dowson 4
Rob not out 8
Parkinson not out 0
Extras 26
Total 177 for 7 (30 overs)
G. Dowson 6 – 2 – 21 – 2
Nanton 4 – 1 – 24 – 0
McIntyre 6 – 0 – 29 – 0
Smith 5 – 0 – 29 -2
Pearce 2 – 0 – 19 – 0
Cohen 2 – 0 – 21 – 0
Thomas 2 – 0 – 9 – 0
H. Dowson 3 – 0 – 13 – 2
London Saints
T. Collis lbw Chucker Kerrigan 0
B. Collis b James 39
Cohen b Mr Chucker 0
H. Dowson not out retired 50
G. Dowson ct / b Rhys 49
Speedwin run out (George) 0
Thomas b Henry (unplayable) 0
Pearce b Mr Chucker 2
Nanton not out 3
McIntyre not out 6
Extras 30
Total 179 for 7 (29.2 overs)
London Saint won by 3 wickets with 4 balls to spare
Become a Member
Become a member of London Saints from as little as £5.