Hermits v London Saints – Saturday 12 September, Falkland CC, Newbury
Hermits 240 for 6 off 35 overs (Berkeley 2-40, McIntyre 1-38, Nanton 1-40)London Saints 155 for 9 off 35 overs (Jones 35, Rogers 32, Griffiths 28)Match reporter: Phil Not Kenny RogersOn a perfect day for cricket, we gathered at the picturesque setting of Falkand CC in Newbury – a virtual home fixture for four of the team, but a three and a half hour drive for Essex-based Andy Jones.Having watched a few minutes of proper cricket at the main ground, we moved round the corner for the game against our old friends the Hermits – but not before John 'Wheelie Bin' Griffiths showed a worrying lack of spatial awareness by colliding with a beer garden parasol. I think he had only had one pint. To add insult to possible injury, legendary skipper DT then placed John at gully, "but not necessarily catching". Our opening bowlers made a very good start, with Jon May and Dave Nanton delivering quick and accurate spells. Dave was unlucky to see the ball roll onto the stumps without dislodging a bail but soon took a deserved wicket with a perfect in-swinger. Peter Berkeley replaced Dave and soon sent the other opener packing with a good return catch. When Ben Collis showed his class with an excellent run out of their number three, all was looking good. Their scorer didn't fill in the fall of wickets section but 'Oneliner' Nanton remembered them being 39 for 3 off 10 overs. Mike McIntyre helped keep them quiet at the other end with some more tidy bowling and added a run out of his own from a good throw by Jon.By then their tall, bearded number four was starting to get into his stride. Apparently W Bevan normally plays a good standard of league cricket and he went on to make 120 before retiring. It was his first century and he made exactly half of his team's runs. Wherever we bowled, he connected and he ultimately plundered four sixes. As at least one bowler later remarked, having made the mistake of checking his figures, today wasn't the day for second spells. Our first four bowlers all had decent returns for their initial spells, but then encountered Bevan at the height of his powers in their second. Pete and Mike did at least take some consolation in picking up a late wicket each.The unlucky Paul Pearce didn't need a second spell to record the worst figures though, while your correspondent was perhaps lucky that his dodgy knee allowed him only four overs. We trudged off for our home-made sandwiches a little dejected – made worse later by the final score at Palace. At least Spurs fan Paul wasn't bothered by that.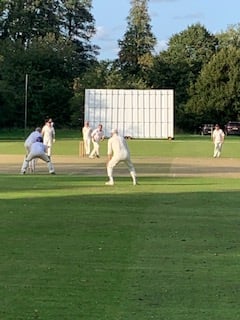 John opened our reply with his longstanding sidekick 'White Viv' Jones. They rolled back the years to put on a fine opening partnership of 70. Late cuts were much in evidence and their running between the wickets, if not exactly quick, was well-judged.They fell in quick succession (Andy for 35 and John for 28), having laid the platform for the big hitters to have a go at the massive target. Ben got off the mark with a boundary, but was then bowled by the centurion Bevan. Your reporter (32) and Dave (16) put on a brisk 50 partnership but the run rate was still climbing and the bowling accurate. Then followed two late entrants for the Duck Trophy competition – the skipper (to a fantastic catch by the keeper) and Paul (it really wasn't his day). This set up a very interesting final fixture the following day. Mark Barber was in the hot seat with one duck in two innings but wasn't playing.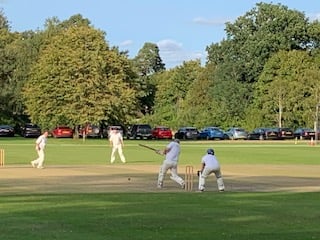 One or two players could scoop the prize with a golden duck, while DT (one in three) and 'Tiger' Pearce (one in four) could do so with any type.Gary Jones' daughter Lana came to the crease,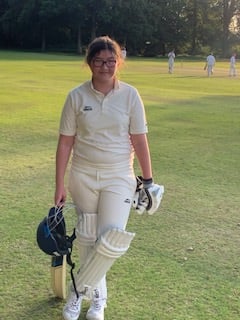 and cheered on by the rest of the team, scored a single before she and Mike (2) became the Hermits' final victims. We ended up with 155 off our 35 overs, respectable but way short of the 240 target.One player apart, the teams were fairly well-matched. Our bowling and fielding were, on the whole, good and we happened to come up against a player on a day when everything came off for him. Champagne moment: Honourable mentions to Lana, whose run came from a powerful pull shot that eluded midwicket. She memorably went on to sledge Dave and Paul, having outscored them and "hung around longer".However, Ben's run out was the best moment of the match for us. He made a diving stop and, while, still rolling, threw down the stumps to the disbelief of the beleaguered batsman. As Pete suggested, it wasn't exactly a typical London Saints piece of fielding. With other youngsters having joined Ben and Mike to raise our fielding standards in recent years, let's hope we see more of the same in seasons to come. Great work, Ben!Man of the match: Our first four bowlers were in all in contention at the end of their first spells, but the prize goes to London Saints veteran and my old Sri Lanka room-mate, Andy Jones. His top-scoring 35 was a classic opener's knock and his handling in the outfield was faultless throughout their challenging innings. Well done, Jonesy!Scorecard:HermitsBrook b Nanton 8Farrell c & b Berkeley 26 Blake run out (Collis) 1W Bevan retired 120Hobbs run out (McIntyre) 9Cobb b Berkeley 41J Bevan not out 7Stiles b McIntyre 1Parkinson not out 5Palmer did not batB Bevan did not batTotal 240 for 6 (35 overs)May 7-1-43-0 Nanton 7-1-40-1 McIntyre 7-0-38-1Berkeley 6-0-40-2 Pearce 4-0-50-0 Rogers 4-1-21-0The bowling figures were adjusted as their scorer seemed to give byes and leg-byes as runs against the bowler, but they still might not be right.For the record, Gary Jones kept wicket but did not bat as we had a squad of 12.London SaintsJones lbw b W Bevan 35Griffiths c ? b Brook 28Collis b W Bevan 4Rogers c W Bevan b Cobb 32Nanton b Parkinson 16Thomas c Farrell b Parkinson 0Pearce b Cobb 0Buaklee-Jones b Stiles 1McIntyre b J Bevan 2Berkeley not out 8May not out 0 Total 155 for 9 (35 overs)Hermits won by 85 runs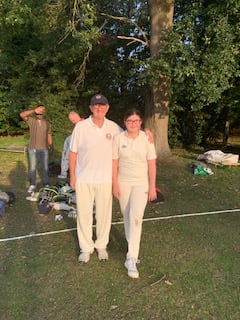 Become a Member
Become a member of London Saints from as little as £5.