London Saints v Ex Blues – Friday Sep 4th – Ex Blues CC, West Wickham, Kent – Time Game
London Saints 158 all out (McIntyre 31, Jones 24)
Match Reporter: Eric Shadick, ex player and current holder of the No 1 shirt
Chairman Mick and I arrived at Ex Blues ready to dispense unnecessary and unwanted advice from the boundary edge, only to find LSSC had already made a breakthrough without it, courtesy of Phil Rogers. Mike McIntyre soon cleaned out EB's number three and when Phil executed a single stump direct hit run out from square leg, the hosts were on 61-3. We know from experience how the Ex Blues innings can yet thrive from such a position (despite a healthy youth policy, there was plenty of experience amongst our 15 combatants in this game), and sure enough the fielding was soon put under pressure by a grandfather/grandson partnership from the Edgler/Barham family. Lewis Barham was striking the ball particularly nicely, but several of his aerial shots could have gone to hand, and quite a few did, only to go to ground as well – modern times give an excuse to resurrect an old joke: if there was a virus affecting the Saints fielders, it certainly wasn't catching. Time indeed to report on an incident involving Ben Sherriff and Pete Berkeley that ended with both players getting their hands on the ball at some point before bodies collided; it could have caused a nasty injury but fortunately ended up being just plain funny. Subsequent inquests concerned the lack of a call from either party, but even that isn't foolproof: what if they both call "mine"? Or, worse still, if both call "yours"? Eventually Grandad Edgler was bowled by DT (significantly as it turned out) but his junior, in years at least, went on to complete a hundred before retiring and two more Ex Blues also returned to the bar voluntarily on completing half centuries. It was left to the Bailey father and daughter partnership to set a declared target of 291 to win in this traditional time game.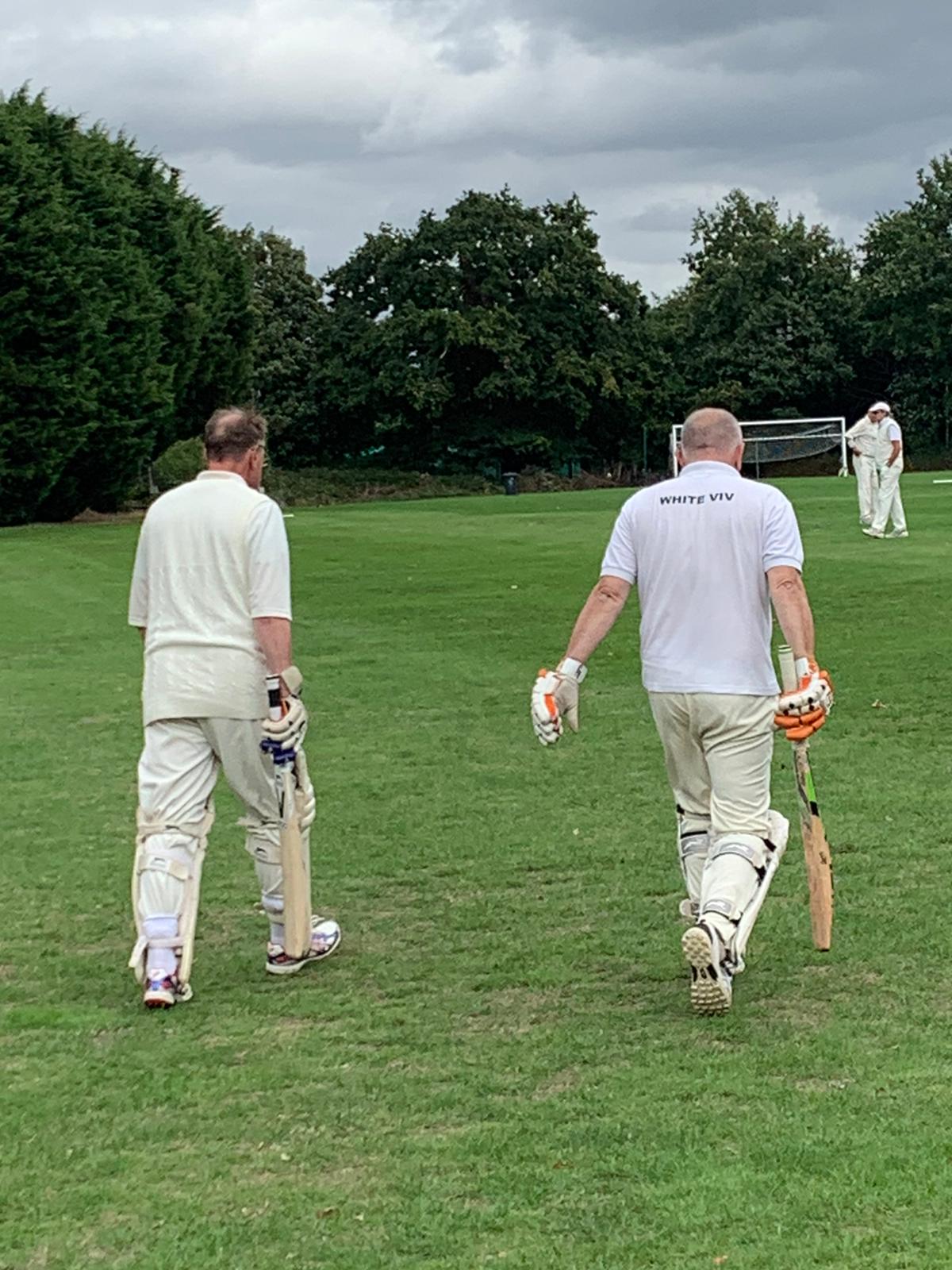 The home team didn't have the only dynasty in the contest as Terry and Ben Collis asked to be placed at numbers 2 and 3 with a view to batting together. Have you spotted the potential flaw in their strategy? And an unfortunate expectation that Andy Jones couldn't carry his bat through the opening partnership at least? As it was Terry took matters into his own hands by running himself out in the fourth over while Andy seemed to have luck on his side, being bowled by what was called a 'double bounce' no ball (wrongly, I think) and dropped off the next delivery. He was eventually fourth out for a dogged 24, leaving some well struck blows to the shorter boundary (OK, Cow Corner) by Ben Collis and Ben Sherriff  to enliven the middle order. At a low point of not too many more than 50 for six, a heavy defeat could yet have been saved by dogged defence to secure a dishonourable draw despite a precocious spell by young Georgia Bailey, but Ex Blues still had some penetrating bowlers to call upon and when our skipper was bowled by one of them with 2.2. overs of the allotted time remaining, the match was officially over. By agreement LSSC batted on with only pride and Duck Trophy points to play for (neither disturbed) before we ended on 158 for 11, top scored by Mike McIntyre's 31.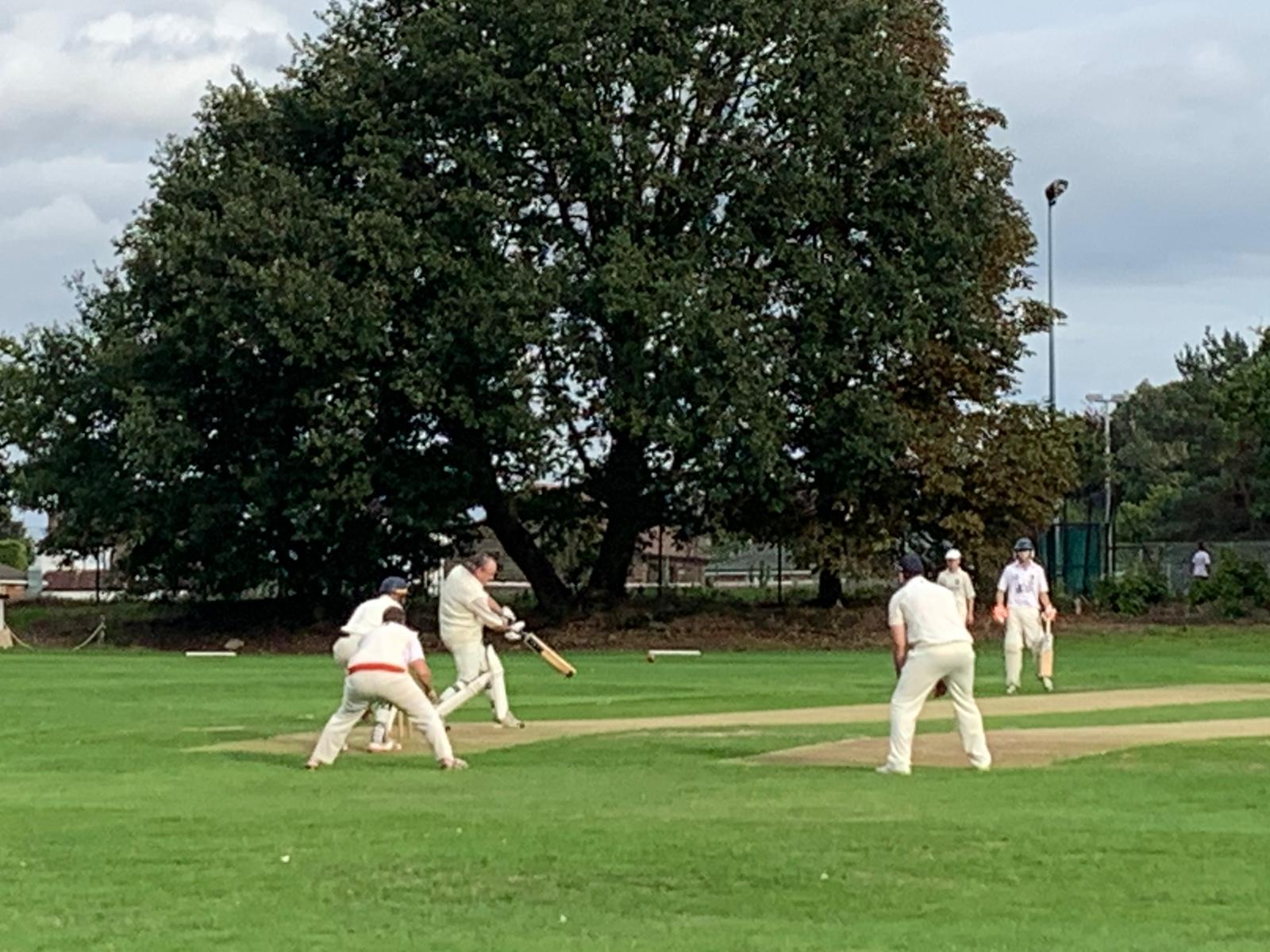 Man of the match. A contest between all-rounders Phil Rogers and Mike McIntrye, with Mike's better figures seeing him home, despite Phil's fielding run out.
Champagne Moment. It could have been Phil, for decent cricketing reasons as above, or the Sherriff-Berkeley collision, but bowler's end umpire Andy Jones then reported this exchange between a new bowler and our own John Griffiths:
John: I hate facing this sort of bowling. A ten year old got me out once.
Georgia: I'm still only nine!
So there we have it, ex Councillor Griffiths out-sledged by a nine year old.
Milestones. Mark Barber's belated entry to a curiously uncompetitive 2020 Duck Trophy was his first blob in 39 LSSC innings – some sort of record in itself. Some of his colleagues might find some justice in his nought as Mark had fielded for precisely zero of 41 overs of the Ex Blues innings… I couldn't possibly comment, though.
More importantly in the wider scheme of things was the skipper's 450th wicket for the club. Still 150 shy of James Anderson's test match total, but despite recent efforts by the England team, Jimmy won't have had as many catches dropped off his bowling as DT, myself certainly amongst the culprits. A great achievement, and worthy indeed of a jug of ale at the bar.
Scorecards
Ex Blues
Loughlan b. Rogers 4
Barham retired 103
M. Pett b. McIntyre 2
Stone run out (Rogers) 6
Edgler b. Thomas 23
R. Pett retired 55
Dean retired 50
S.Bailey not out 19
G.Bailey not out 2
Extras 26
Total 290 for 7 – 41 overs
(I assume no prior agreement on retirements, so those three players must have retired 'out'!)
Rogers 8-0-42-1 McIntyre 5-1-11-1 Cohen 3-0-23-0 Berkeley 5-0-34-0
Keenan 3–0-17-0 Smith 4-0-32-0 Thomas 3-0-15-1 B. Collis 3-0-32-0
Griffiths 2-0-24-0 Sherriff 1-0-28-0 Jones 2-0-27-0 T. Collis 2-0-3-0
(Not sure how accurate these figures actually are as the home team's scorers understandably had some difficulty with our use of 12 bowlers and frequent changes amongst them. An excuse available for those with the most unflattering returns then, but on the other hand I can't really believe only 26 extras, given a glut of no balls and wides.)
London Saints
A. Jones ct. Harris, b. Edgler 24
T. Collis run out 1
B. Collis ct. Harris, b. S. Bailey 17
M. Barber ct ?, b. Dolby 0
B. Sherriff lbw b. M. Pett 10
J. Griffiths ct ?, b. M. Pett 14
M. McIntyre b. Dean 31
M. Cohen ct ?, b. M. Pett 7
D. Thomas b. Loughlan 12
P. Berkeley c & b Stone 10
P. Rogers ct ?, b. Loughlan 9
J. Smith not out 0
P. Jackson }
S. Keenan } did not bat, or show any inclination to do so
G. Speedtwin }
Extras 23
Total 158 for 11 – 41 overs.
Officially 146 for 10 all out so Ex Blues won by 144 runs. id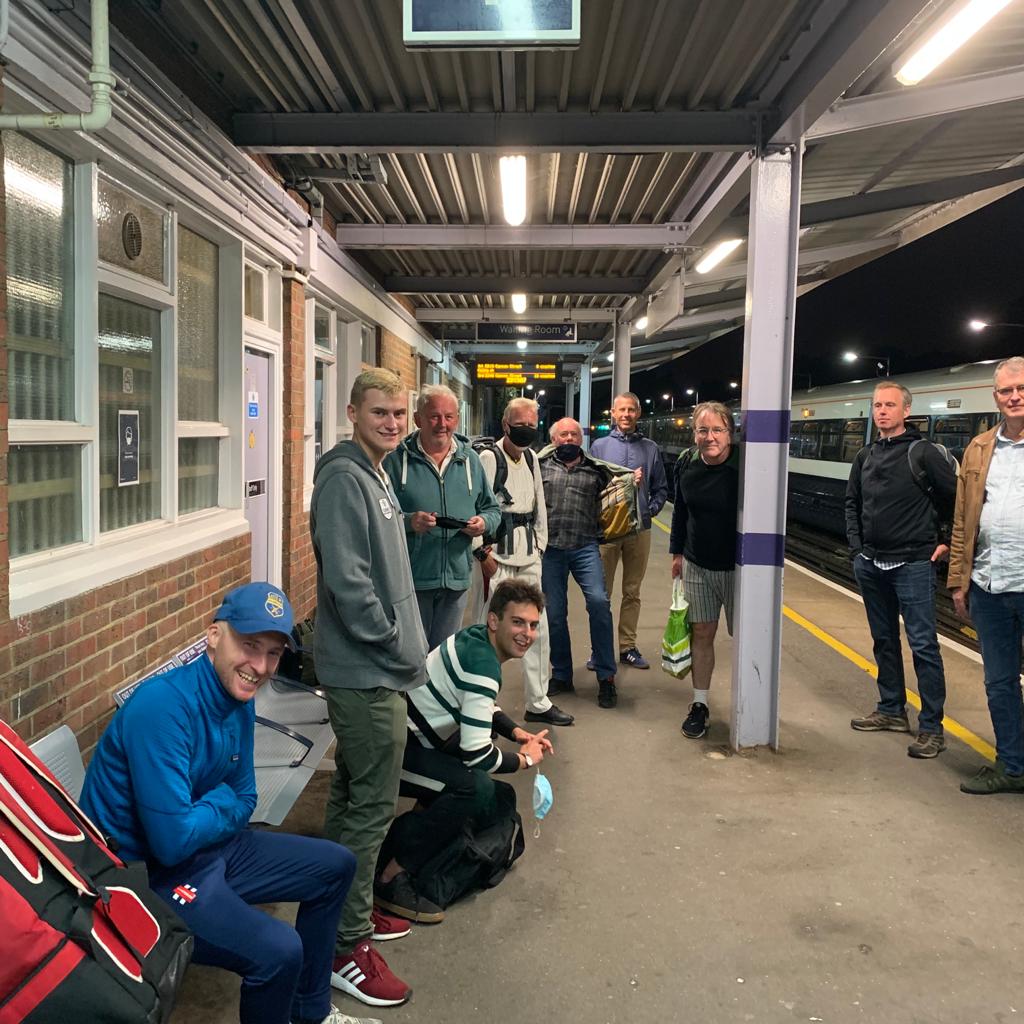 On the way home at West Wickham station
Become a Member
Become a member of London Saints from as little as £5.