Roadrunners v. London Saints – Sun Aug 30th – Houghton Regis, Beds – 35 overs
London Saints 121 – 8 (Mr Extras 31, Berkeley 21, Nanton 18, T. Collis 14)
Roadrunners 123 – 7 (McIntyre 3 – 22) won by 3 wickets
For their 3rd post-lockdown game of this unique summer, London Saints CC travelled to Bedfordshire for the return fixture against the Roadrunners. Having won a thrilling encounter at Elstree, featuring a blistering century from 20-something Henry Dowson, the Saints fielded a more experienced XI for the return match. Half the team could have used a bus pass to get to the ground. The average age was brought down slightly by the debut of 13-year old Oliver Griffiths, one of three generations of Grimes/Griffiths in the Saints' line up.
The Skipper lost the toss under cloudy skies, and with the temperature resembling late April rather than late August, openers Judas and Clive Dunn were well wrapped up striding to the crease. A mere 12 runs coming off the first 7 overs presaged an attritional innings from the Saints on what was a sticky, drying wicket with a damp outfield. Our first boundary (other than one mighty six from Paul Calais) was not recorded until the 25th over.
Wickets tumbled at regular intervals leaving the side precariously placed at 37 for 5. An unusual fifty partnership steadied the innings as Terrence "9 lives" Collis (14) and Peter Berkeley (21), playing his first Saints' game for over a year, pushed the score towards 100. What was more usual was the healthy contribution to the eventual total from the Saints' perennial top-scorer, and head of the all-time averages, Mr Extras with a much-needed top score of 30. Some healthy blows from Oneliner (18) enabled the Saints eventually to set a total of 121.
RoadRunners' tea is always one to look forward to, but in these strange times we once again had to resort to our own crisps and sandwiches.  However, one tradition of this fixture survived the Coronavirus as Tiger Pearce opened a large piece of tupperware to reveal a mouth-watering selection of cream and jam scones baked specially by Debbie.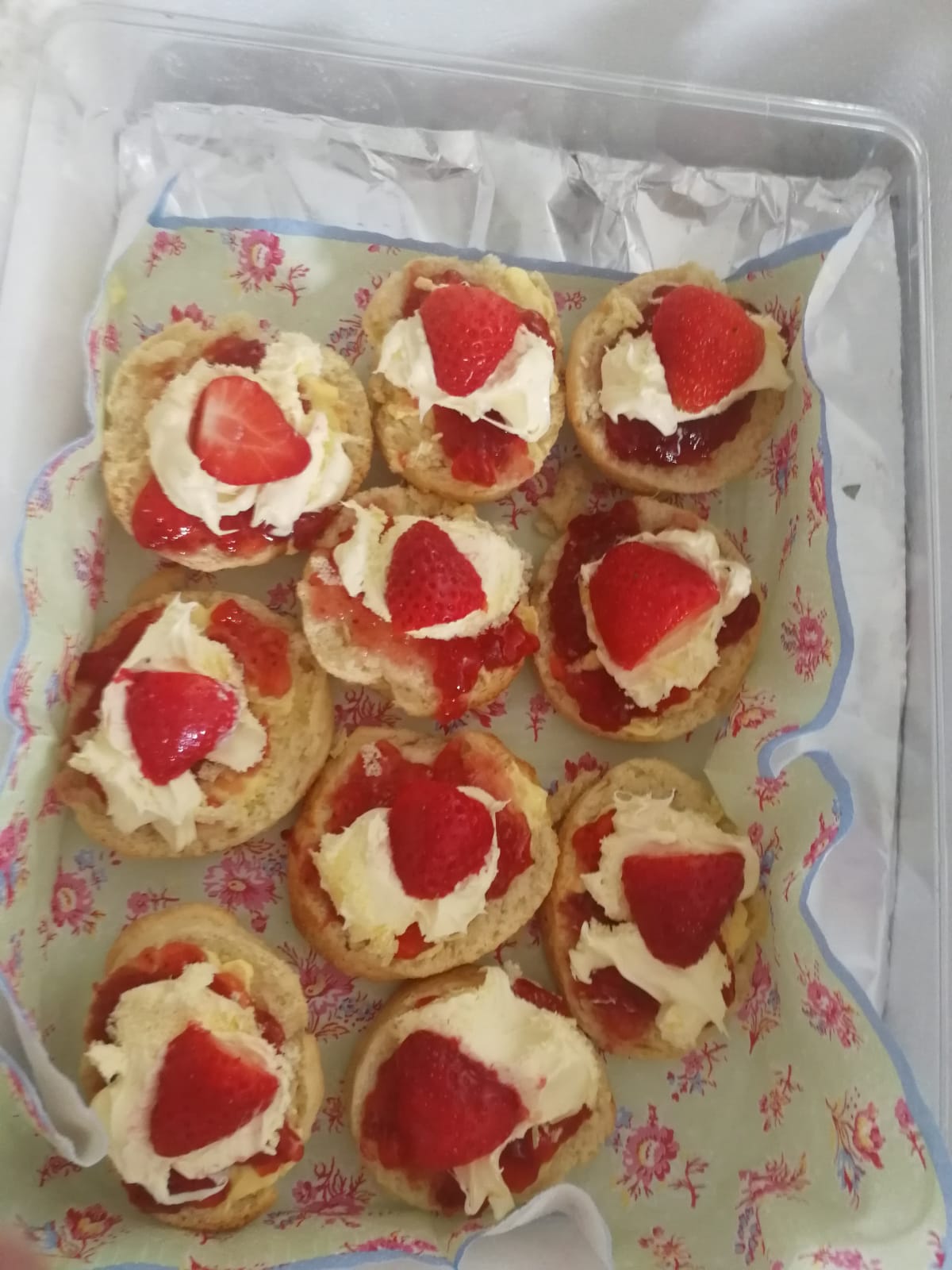 Whether or not the extra ballast affected our fielding is a matter of conjecture, but the Saints proceeded to spill at least 6 catches in the Roadrunners' innings (and those are just the ones we should have caught).  
A few seasons back, Il Duce bagged the champagne moment on this ground when he completely missed a catch at long on whilst distracted by a pretty young passer-by. Judas had no such excuse this year when a ball headed his way at square leg. However, losing the ball against the green backdrop surrounding the ground, he completely failed to pick up the flight of the ball, and whilst teammates shouted at him from all corners, it ended up closer to hitting him on top of the bonce than being caught. It rather set the tone.
Nevertheless, Saints' bowlers kept us in the hunt with excellent returns from David Nanton (1-27) and Mike McIntyre (3-22). Paul Calais, though wicketless owing to the aforementioned dropped catches, conceded just 9 runs from his 7 over spell. Oliver Griffiths on debut bagged his first wicket in only his second over, bowling seam up down the hill.
As the home-side passed 100, Rich Catlin seemed to be swinging the game Roadrunners' way with a huge 6 over long-on, only for Mike McIntyre to bowl him middle stump the next ball. It left Roadrunners requiring 11 off the last 2 overs. The Skipper bravely brought himself on to bowl the penultimate over (admitting his maths had let him down again in rotating his tiring attack). A tidy over was spoilt by a boundary off the last ball which left the Runners requiring just 3 from the last which they duly achieved to record a home win by 3 wickets.
MoTM For his 3-22 and a fine fielding performance (despite contributing to one of the dropped catches), MIke again stood out.
Champagne Moment
An honourable mention has to go to the skipper who, in the midst of an innings of abject Saints' fielding (catching), threw down a stump with only one to aim at to run out one of Roadrunners' middle-order batsman.  However, and showing no favouritism whatsoever, your correspondent's choice is Oliver Griffiths' first career wicket, a swinging, seaming full-length delivery which bowled the Runners' no.5.  In so doing, he became the second youngest LSCC wicket taker after Stephen Ramdial (12) in our famous Nelson Cup win of 2002.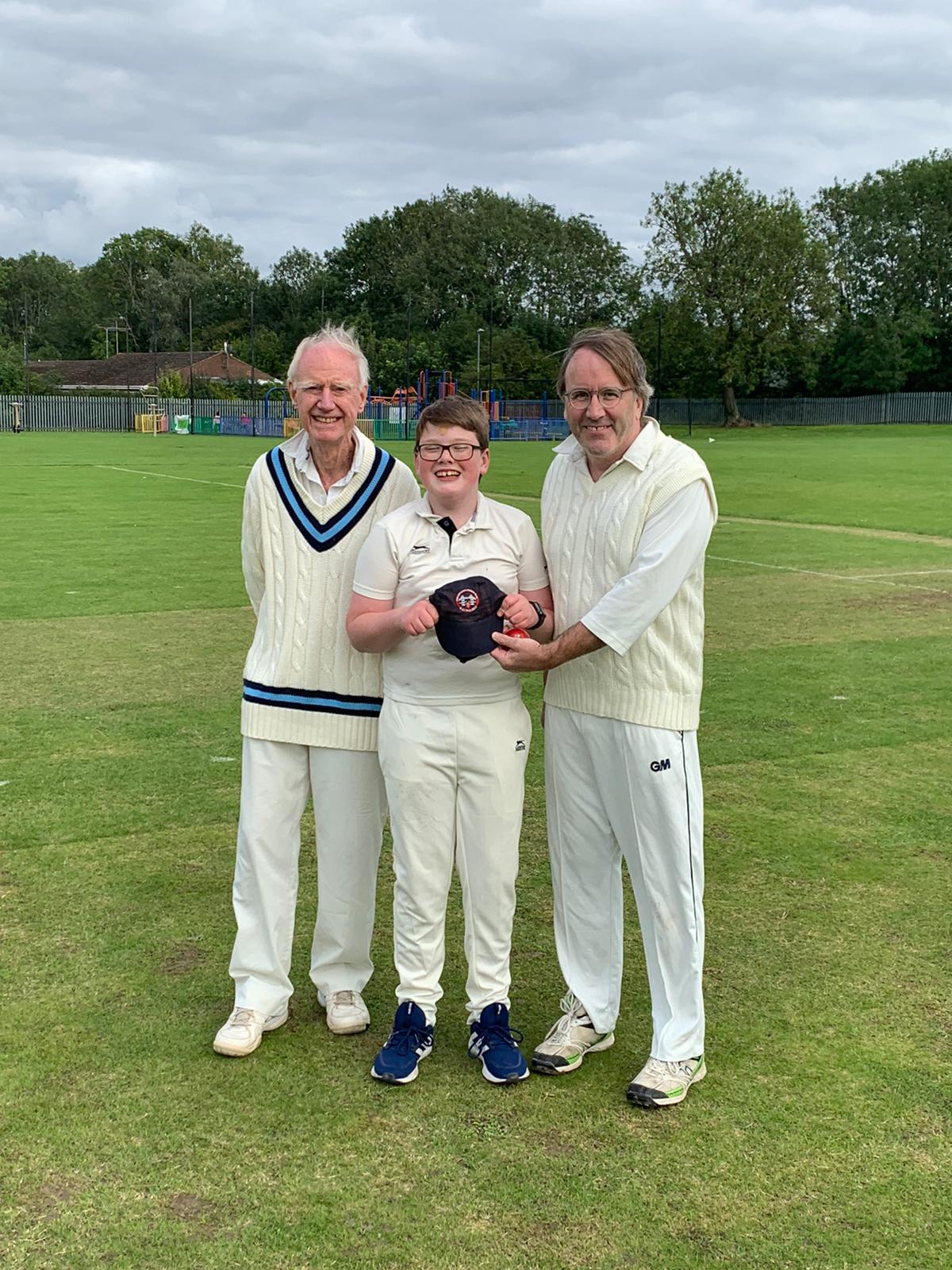 Batting
Griffiths J bowled 4
Grimes bowled 5
Jones LBW 12
McIntrye bowled 4
Collis bowled 14
Calais bowled 7
Berkeley bowled 21
Nanton caught and bowled 18
Smith not out 4
Pearce not out 1
DT Did Not Bat
Griffiths O Did Not Bat
Extras 31
TOTAL 121 –8 off 35 overs
Bowling
Nanton 7 –1- 27 –1
Calais 7 –2 –9 –0
McIntyre 7- 2- 22- 3
Pearce 5-0-11-0
O. Griffiths 4.1 – 0 – 20 –1
Berkeley 4 – 0- 20 –1
Thomas 1 – 0 –8 –0
Become a Member
Become a member of London Saints from as little as £5.