London Saints v Nascott – Sun Aug 23 – Old Haberdashers CC – 30 overs match
Nascott – 136 – 7 (Pearce 3 – 24)
London Saints 132 – 9 (G.Dowson 41, Calais 19)
It all came down to the final ball.
More than three hours of toil (interspersed with the odd sandwich, pie, quiche and Mrs Wheelie bin's latest tray bake) was going to be resolved by a single delivery – with London Saints needing six runs to win off the last ball of the match.
It was a suitable end to a game which had been nip and tuck from the start.
The game had started under bright but chilly skies with Nascott, having won the toss, electing to bat first.
Nascott started steadily but slowly against a lively opening attack of John May and George Dowson.
The first wicket fell to JM when Pearcey held on to a skier so high that his teammates had time to phone Ladbrokes to find out the odds of him dropping it (5 to 1-on, incidentally)..
Paul Dover-Calais then joined the attack and he ended a promising second wicket partnership thanks to a JM catch.
At the other end, David "Former Jonty" Nanton was rewarded for some tight deliveries by bowling the Nascott number four.
Then up stepped Pearcey, bowling in tandem with George's second spell, and his devastating spin removed three batsmen in quick succession – bowling one, having one caught at slip and catching the third himself on his very next ball.
Nascott ended their allotted 30 overs on 136 for 7 – a decent but not insurmountable total.
After the break for packed lunches (it's just not the same! [with the exception of Mrs W's marvellous creations]) and a quick pee behind the Portakabin, London Saints set about chasing their second successive win.
Openers Wheeliebin Griffiths and father-in-law Clive Dunn Grimes found it tough going against Nascott's opening bowlers, with Shish particularly impressive with some accurate swing bowling.
Tony was first to fall, bowled by Shish for 0 – so launching the 2020 Duck Trophy competition.
Wheeliebin followed soon after for 9.
Andy White Viv Jones and Mark QE2/Sightscreen Barber set about seeing off Nascott's opening pair – but not before they narrowly avoided causing their own downfall when Mark desperate to make it an impressive 38 innings without a duck – called a "quick" single after pushing a ball straight to a cover fielder. Luckily, Nascott managed to blow an easy run out chance.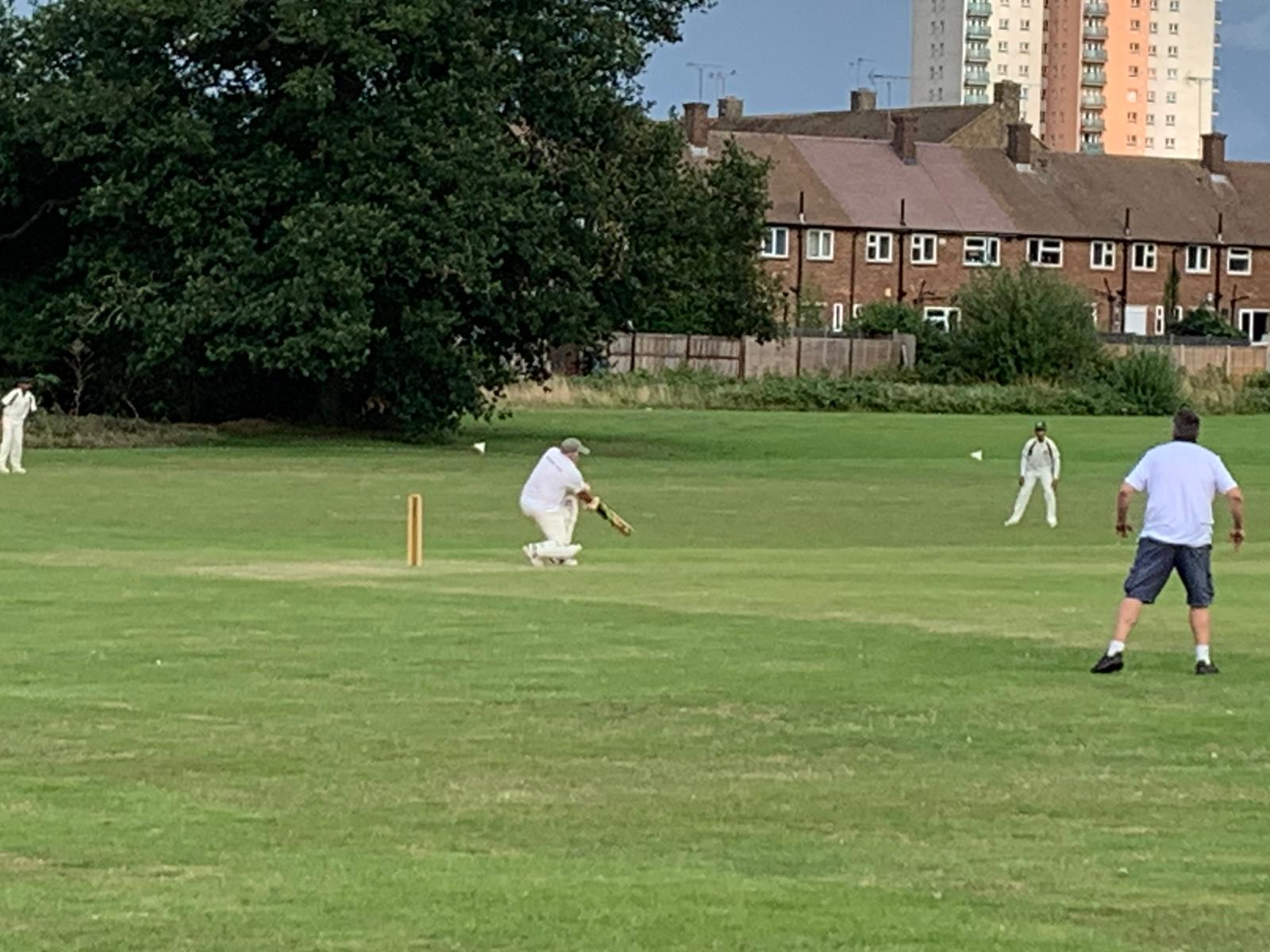 Gradually, the scoreboard started to move and had crept up to 33 before White Viv was caught at point, before QE2 was bowled one run later for 3 – and London Saints were back in trouble.
Nascott's tactics of steady offside bowling was working well, but the wickets had brought John May and George Dowson to the middle. The pair moved the score along well with some mighty hits and quick running until JM was caught for 11 with the score on 63.
Paul Dover-Calais, with his new tactic of "just bloody hit it", then joined George and the total quickly moved on to 107 before Paul was bowled for an excellent 19.
George continued to strike freely but, after a brief partnership with DT (bowled for 5), he was eventually caught for a brilliant 41.
Time was running out, but there was still hope with Former Jonty and Pearcey – both big hitters – at the crease.
Sadly, Pearcey was bowled for 1, bringing last man Speedo to the middle.
The final over came, the tension grew.
With Jonty Nanton facing, with the shorter boundary on his leg side, it was just a slog away from victory.
But the runs wouldn't come and so it all came down to the last ball – with six needed for victory.
Nascott's Champ ran in as time slowed to almost a standstill.
The ball ballooned out of the nervous bowler's hand – a slow full-toss that seemed to hang in the air.
Former Jonty, sensing glory from a shot that would be forever remembered and discussed at London Saints tea intervals long into the future, skipped down the pitch and lifted his bat in his flamboyant Brian Lara-esque fashion.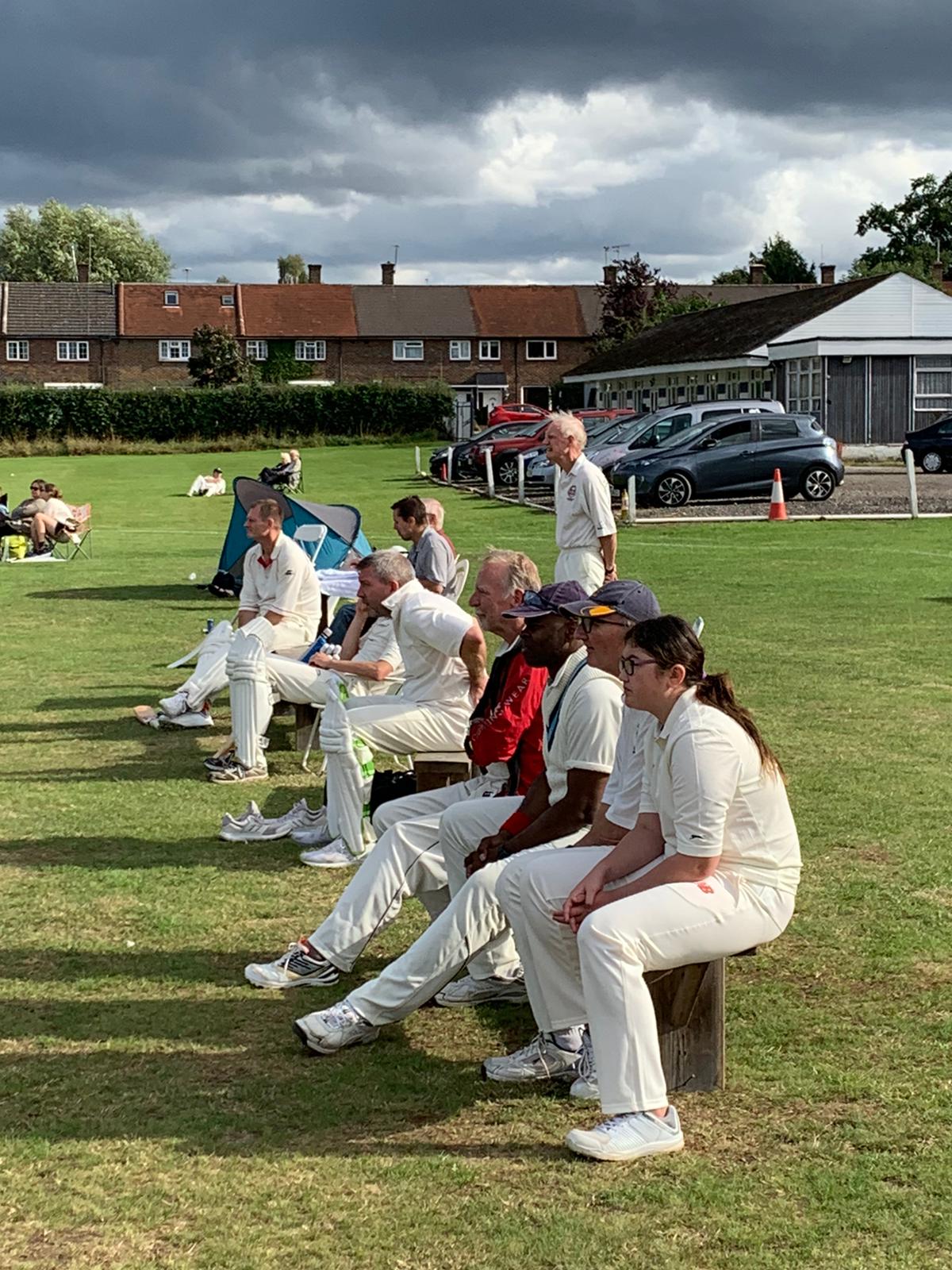 His teammates watched in silence as Jonty swung his bat with all his might and connected…somewhere near the handle and the ball dribbled to mid-on for a single.
The game was lost.
So near but yet so far.
It may be cold comfort but cricket was the winner – a cracking game between two well-matched sides played in great spirit.
CHAMPAGNE MOMENT
In a close and focussed game there were few obvious memorable moments. There were the three almost-dismissals (QE2 surviving when the ball hit his stumps but failed to dislodge the bails; White Viv being caught at square leg off a no-ball and George escaping a clear run out when the Nascott wicket keeper and slip collided in their rush to grab the fielder's throw). But it is impossible to give the award to three events. So for me, and I feel a bit guilty about this, it goes to JOHN Nice Pint SMITH, who, in helping to move and steer the ridiculously heavy sightscreen into its resting place, managed to run himself over in a way that would have made E17's Brian Harvey proud. (Sorry, John, it must have been painful but it was funny to see).
MAN OF THE MATCH
There were only two obvious contenders for the top honour of the day. George Dowson followed up his bowling spell of 1-27 off six overs with a quick fire 41 which almost won the match. But PAUL PEARCE just nicked it with his 3-24, which included a sharp caught and bowled to set up a hat-trick ball chance, and for catching a tricky skier.
Nascott
Craig not out 51
Shish ct Pearce b May 5
Finley ct May b Calais 10
Andy b Nanton 5
Champ b Pearce 9
Dave b Dowson 5
Pete ct Jones b Pearce 2
Danny ct + b Pearce 0
JP not out 14
Imran not out 1
Extras 31
Total 136 – 7 in 30 overs
May 4-0-11-1
Dowson 6-0-27-1
Calais 6-0-21-1
Nanton 6-0-21-1
Thomas 3-0-14-0
Pearce 5-0-24-3
London Saints
Griffiths ct Shish b Finlay 9
Grimes b Shish 0
Jones ct ? b Craig 14
Barber b Craig 3
May ct wk b Shish 11
Gowson ct wk b Champ 41
Calais b Champ 19
Thomas b Andy 5
Nanton not out 7
Pearce b Champ 1
Speedtwin not out 0
Extras 22
Total 132 – 9 in 30 overs
Become a Member
Become a member of London Saints from as little as £5.