LSSC vs. Roadrunners Old Haberdashers – 2nd August 2020 – The New Normal Saints win by 90 runs
Roadrunners – 137 all out – 28.3 overs (May 4-23, Calais 2-11)
LSSC –  227-8 – 35 overs  (Dowson H. 100 no, Rogers 38)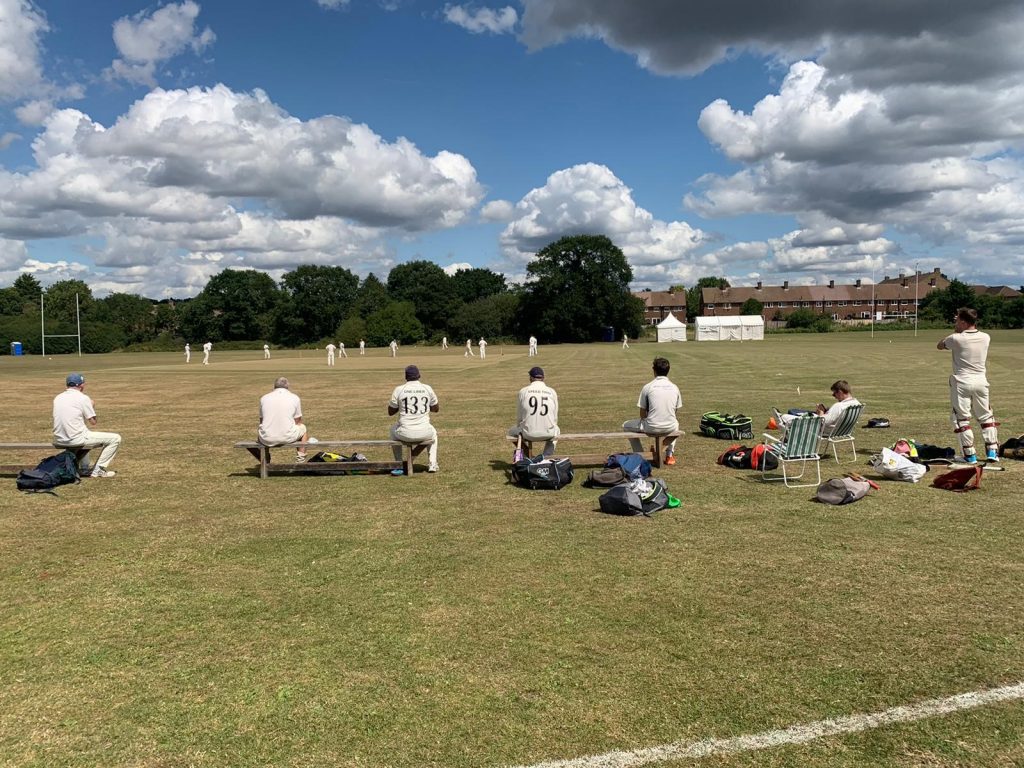 We should have seen this coming really in this the most unpredictable and unlikely of years, London Saints finally started the 2020 season and did so with a win and a comprehensive one at that.
For months it looked possible not a ball would be bowled this season and yet on a glorious sunny day with a welcome cooling breeze we found ourselves turning up at our home ground for an actual game of cricket. The Runners are a good bunch too and so the day was set fair.
The London Saints squad has regenerated like Dr Who or Fawkes in Harry Potter such that skipper DT now finds he has to juggle the 'array' of talent now at his disposal, much like Pep Guardiola or Ed Smith and he controversially rested 2019 Player of the Year, Tiny Temper. Hoping no doubt for a Stuart Broad response when Mike is rightly recalled in the near future.
We still boasted 12 players for the game with a mix of youth and experience although the Roadrunners scorer was distraught to hear Andy Mayhew is sadly out for the season with a bad knee – the ultimate step in protecting his batting average we explained sympathetically. We also had 9 Saints fans playing with just One Liner, Max and Tiger letting the side down.
Roadrunners squad is evolving too having lost their big hitting and opening bowler Yarnell since last season whilst Vishal lives in Uxbridge now, close to one the finest Universities in the whole of West London, but he was summoned to strengthen their team which included 5 Catlins!
In this new world some things don't change, and skipper DT lost the toss as normal but fortunately we were asked to bat. The Old Habs groundsman also gave us that usual wicket he likes to prepare for us – the one as close as possible to the shrubbery, nettles and trees on the far side of the ground. This time we weren't to complain about that!
We opened with the Johns – Smith and Griffiths in order to blunt their opening attack and get the shine off the ball. Judas hitting the first boundary of the season with a legside flick so well timed that their bowler, Niall, applauded whilst still on his follow through saying what a good shot it was too.
This unexpected compliment clearly unsettled our opener (we'd never compliment John of course) as he was then out next ball, LBW to a ball that kept low and trapped him on the back-foot plumbers despite his late leg shuffle to try and pretend he'd got well outside offstump!
The bounce was definitely erratic with one end seeing frequent scuttlers and the other seeing balls spit off a length – one such causing Nice Pint to fall when gloving a sharply rising ball to slip – leaving us 11-2 after 4 overs.
Ben C and Henry were next in and what a partnership this was to be – Ben C arriving with a hangover as part of his pre-match preparations – but a mixture of intelligent running between the wickets and brutal hitting soon quietened down the Runners in the field.
They turned to 2 of their most accurate bowlers – Vic and Vishal – but to no avail with Vic bowled straight through for his 7 overs despite Henry in particular taking a liking to his bowling (which wasn't bad at all by the way) and dispatching the experienced bowler for 66 runs!
Ben fell for 20 with the score on 88 in just the 14th over – ending a partnership of 77 in 10 overs. He then promptly went for a nice lie down in the sun to try and finally shake off the night before.
Dover/Calais came in next with his trademark 'just hit it' approach although onlookers were appalled when he actually left a ball – he fell caught & bowled to Vishal soon after. Paul proudly announced that was actually the 3rd ball he has ever left in his Saints batting career afterwards. The scorebook actually had Paul with '0' but DT umpiring remembers the edge which brought him his 1 so we've overridden that, we don't want another of those 0 or 1 controversies after all!
Max was the new man and with Henry taking the lead, this partnership saw another 78 runs scored in very good time (11 overs) with Henry bringing up a splendid first century for us before being retired by DT to avoid his breaking Johnny G's club record high-score – it would have been too cruel with John's parents there having a picnic.
At one of the many 6-over ball wipe breaks, we noted we were on 200 after 30 overs. Not a common sight that!
Useful contributions continued to come with Phil and Jon helping move the score along whilst Runners stuck well to their task, so scoring wasn't that easy on a still unreliable pitch.
John G had reluctantly been sent out to umpire the last 10 overs along with debutante umpire Calais and inspired by his senior adjudicator, Paul was able to give an LBW soon after before a jealous John was also able to bring out his trademark trigger too to dispatch yet another victim leg before – remarkably this time, it wasn't a relative or godchild of his but Jon May.
Rumours that Johnny was out there umpiring just in case Henry needed to come back in to bat and so be there to see off any threat to his club record failed to be tested as One-liner and Tiger played for their averages in the last over. Leaving us all very satisfied with a score of 227.
With no Teas to sit down to, an impromptu inspection of each players tea revealed One-liner Nanton to be the inaugural winner of the 'LSSC best packed lunch' award with slimline keeper Speedtwin a close second. I expect better efforts in this area in the matches to come!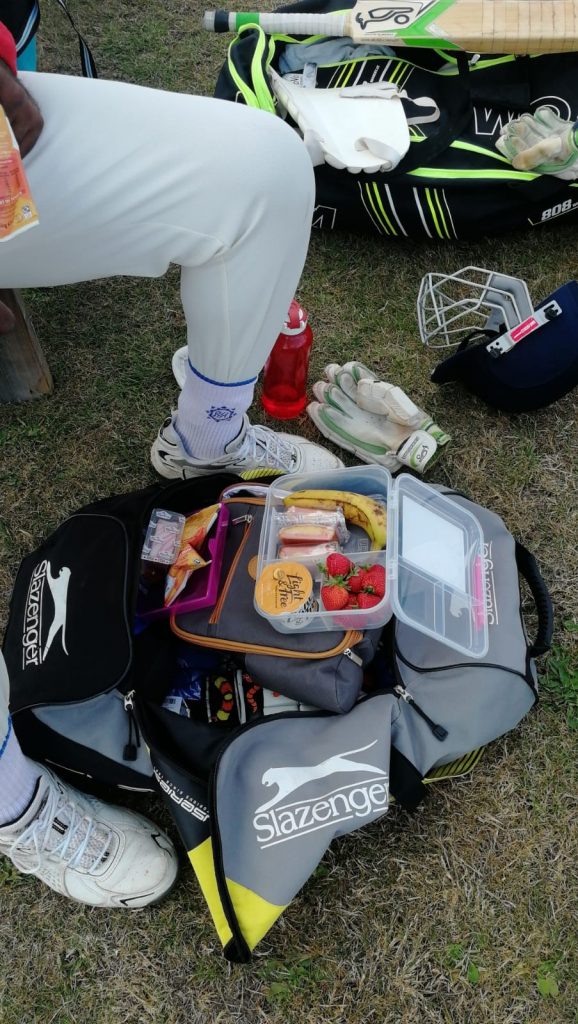 A surprise guest appearance from Andy Jones at the interval boosted team morale further as we speculated whether his new classic car might be at risk given it was parked close to the boundary edge but showing his years of Saints experience, he wisely left before any of our spinners were brought on.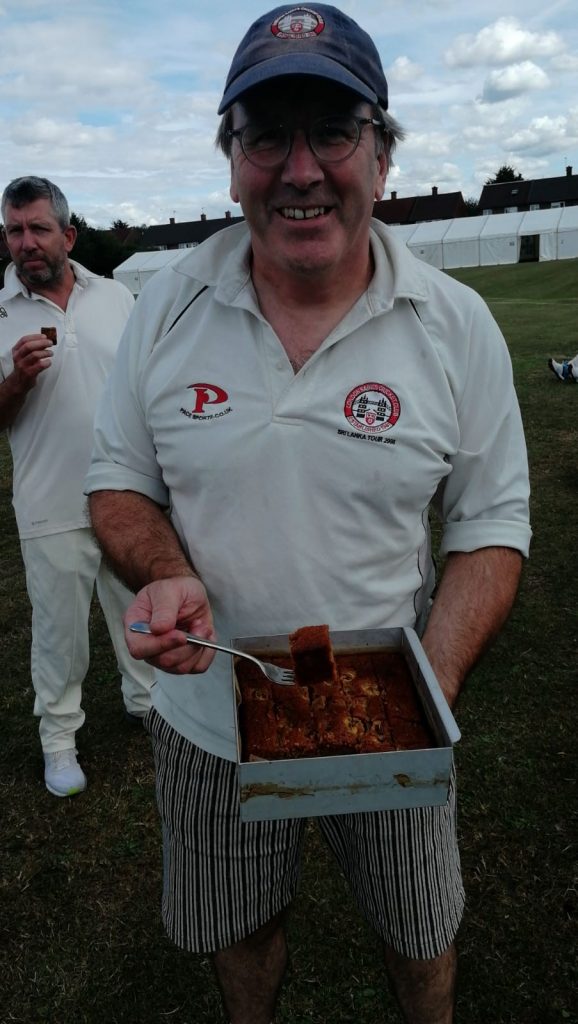 We confidently went out to defend our total knowing if we put the ball in the right spots, it would do plenty. Opening with Nanton and Jon, our bowlers took differing approaches however, Jon without any nets or pre-season, claimed the crucial wicket of Vishal LBW in his accurate first over whilst Dave (who had been to both nets) instead was using the air (not the pitch) to deliver a range of beamers and wides to test our keeper and fine leg before settling down a bit.
The skipper was making up for months without bossing us around and fielders were being moved all over the place – including Ben C brought in from deep point, the ball before a ball was sliced straight there and instead going for 4 to cost Jon another wicket. Redemption came when off the same bowler, DT moved Johnny G straighter at deepish mid-on and the batsman then presented a catch which our fielder took well moving to his left. DT claiming the assist.
Wickets continued to fall regularly and were shared around the bowlers with some good catches taken and little signs of rustiness bar Calais' boundary fielding with his shins proving less effective than he might like (including off my bowling so clearly this has to be reported).
The short boundary fielding cordon was as athletic as it can have been in years with Max, Ben and Henry stationed there and worked very well. One occasion all 3 hared after the ball, diving to save the boundary, passing it to another who then threw in. When was the last time 3 Saints fielders even chased after the same ball I wondered?
With so many runs on the board, DT allowed yours truly to bowl and a mixture of filthy wides and the odd one that pitched was highlighted when what first appeared to be an awful legside wide turned square and bowled the befuddled batsman behind his legs – it must have hit something (maybe one of the lollipops that were inexplicably lying around on the Old Habs ground?) – but DT called it the ball of the century and if he says so, who am I to argue with him?
Anyway, the real cricket was seeing Henry take a blinding catch to dismiss Rich Catlin off Max's bowling – he was at point and a sliced edge saw the fielder having to make ground to his left, dive full length and catch it just off the ground. Breath-taking for the old lags amongst us watching it – I reckon even his Lordship would have been impressed and he sets a high bar.
With perfect symmetry, our opening batsmen were brought on as the bowling 'closers' and it was Nice Pint Smith who claimed the last wicket with Max taking another great catch behind square to deny the unlucky Niall his 50 and see the Runners all out for 137.
What a great day. Our 2020 unbeaten run continues into late August! And no ducks yet!
Man of the Match
Henry was obviously the prime candidate for this award but under a little pressure when Jon claimed 4 quick wickets in his opening spell, he made sure of the award with 'that' catch.
I did ask if someone can be player of the season based on just 1 game – Phil said he'd won it once for 3 innings, so that is clearly the minimum Henry will need to display to have a similar chance!
The new normal of a packed middle-order of players sub-50 is great to see and DT's much heard lament over many years that 'but for that one batsman, we'd have won the game' was actually reversed – Henry's performance really did make all the difference in such a comfortable win BUT encouragingly the whole team made valuable contributions, it wasn't just Henry – and the Skipper who selflessly denied himself a bat or a bowl ends his 50's with a superb win under his leadership. He did shamelessly try and claim some assists but if it keeps him happy, who cares!
Champagne Moment
DT regretted putting himself in cow corner to my bowling and having to run miles round the 'big' boundary whilst the batsmen ran a leisurely 3, he was still trying to get his breath back, doubled-over, when the next ball went racing past him again to which "oh god, not again" was all he could gasp as he once again turned on his heels and set off. Naturally I was removed from the attack straight after that.
Post-match in the pub, John Smith's novel way of returning with food as well as buying a round. Only 2 hands and 2 pints, so John started to rummage around inside his Saints shirt and from deep within, like a magician, he pulled out packs of crisps to hand to fellow teammates – Cheese flavour of course after such a sunny day outside….
It could have been Henry getting his century but whilst we like to look for cockups or comedy in this award, on very rare occasions we actually see something so good it has to be commended.
You might be thinking, surely Tiger isn't talking about that bloody wicket he fluked again and you are quite right – I'm not – it was the blinding catch Henry took to 100% ensure he got the Man of the Match award and which gave fellow young-blood, Max, his first wicket for us at our home ground.
It was a corker.
LSCC 227-8 35 overs
Griffiths J lbw b Niall 7
Smith J ct Sam b Rich 1
Collis B b Vishal 20
Dowson H not out (retired to protect JG) 100
Calais P c&b Vishal 1
Cohen M lbw b Sam 16
Rogers P b Rich 38
May J lbw b Stew 13
Speedtwin G b Rich 1
Nanton D not out 2
Pearce P not out 2
Extras 26 (7 byes, 3 lb, 12 wides, 4 no balls)
Niall 5-0-21-1
Rich 7-1-28-3
Vic 7-0-66-0
Vishal 4-0-22-2
Andy 3-0-25-0
Stew 6-0-33-1
Sam 3-0-11-1
Roadrunners 137 All Out – 28.3 overs
Vishal lbw b May 0
John ct Ben c b May 11
Rory Bamber ct Judas b May 12
Mark b May 5
Andy b Tiger 1
Alex b Rogers 20
Niall ct Max b Nice Pint 47
Sam ct Rogers b Calais 3
Stew b Calais 8
Rich ct Henry b Max 0
Vic not out 3
Extras 27 (7 byes, 14 wides, 6 no balls)
Nanton 5-0-18-0
May 5-0-23-4
Rogers 4-1-21-1
Pearce 5-0-31-1
Calais 4-0-11-2
Cohen 3-0-12-1
Smith 1.3-0-7-1
Griffiths 1-0-1-0
Become a Member
Become a member of London Saints from as little as £5.