London Saints v Roadrunners – Sun August 4th – Old Haberdashers CC, Elstree / Borehamwood
Roadrunners 168 all out (Rogers 3-23, R. Griffiths 2-27)
London Saints 170-5 (Mayhew 46 no, Nanton 31)
I woke up full of optimism last Sunday morning, optimistic that England would roll over the Aussies and that we'd take a 1-0 lead in the Ashes. I was also optimistic or at the very least hopeful that having so nearly beaten Roadrunners on their home turf earlier this season we could pull off a second successive win.
By the time I arrived at the ground for my home debut, my optimism with regards the Ashes had all but disappeared but I still had a good feeling about our match.
With the start fast approaching, and Roadrunners still a couple of players short it was agreed by the captains (Andy Mayhew was our skipper) that no toss would be necessary and that Roadrunners could bat first to allow their stragglers including our nemesis Paul Yarnell (PY) more time. As we had an extra player and they only had 10 we loaned them Nice Pint (no option to buy).
With PY literally pulling in to the car park as we took the field Roadrunners opened with John and Carter, we opened the bowling with Jacko (nickname extension to follow) and Tiny Temper. After a sedate start the breakthrough came in the 3rd over, with Carter having a swipe at the ball and a top edge looping over the keeper for Tiny Temper charging in from fine leg to take an excellent running catch just a couple of inches off the ground, he added a roly poly for good measure – standing close to the action at square leg I thought this was more cry for attention and a champagne moment nomination rather than out of necessity!
In at 3 came Cameron, this was when the scoring tempo suddenly increased and trying to defend the short boundary I spent a fair amount of time in a particularly thorny fruit bearing bush retrieving the ball. I was relieved when I was called upon to bowl as at least that meant someone else could field down there. As mentioned earlier this was my home debut and I have my doubts as to whether the pitch is as long as it should be as I was having a lot of trouble getting the ball to pitch, Cameron did very well to edge one beamer hurled at his head for 4. Fortunately Phil Rogers came on at the other end to restore some control and he managed to clean bowl John for 11 in his first over. Our celebrations were muted as this meant that PY was now strolling out to the middle with his usual air of confidence. The instruction from the captain to me was very simple and unusually forceful, "get him out or you're off", I failed in my quest to dislodge him in what turned out to be quite a long over as he twice dispatched me into the aforementioned prickly bush, fortunately it was Jacko fielding down there by now.
Phil carried on at the other end and I was replaced by Nanton, I positioned myself as far away from the short boundary as I could. After a couple of overs of tight bowling the key moment was suddenly upon us, PY played and missed but I for one thought there was a nick, as we all appealed it became obvious that the nick wasn't from the bat but from the bails, one of which had been dislodged. PY stood there in open mouthed disbelief convinced it must have been the gentle breeze that dislodged the single bail, but he was out and finally walked slowly off.
At 5 they had a young debutant called Stewart, Cameron asked if we could take it easy on him (he was only about 12) and sportingly Phil bowled the last two balls of his over at a much reduced pace. Our captain announced that "we need someone crap bowling at this end whilst the kid is in" quickly followed by "Pearcy warm up…" at more or less the same time -). Once Cameron reached his 50 he retired (but see below he came back in later) and was replaced by Shibley, the score at this point was 89-3. At the point where Cameron left the field we had a chat in the middle and agreed that keeping the kid in the middle wasn't a bad idea as he had only scored 1 off of 10 balls or so, so of course next ball Tiger had him caught and bowled ! There were a few good quotes from our skipper that afternoon but asking "did you catch that with your belly or your breast" as the ball nestled in Paul's midriff was one of my favourites. 94-4
From that point it was a good contest between bat and ball, there were two hat-trick chances with Richard (Son-in-law No 1) dismissing Andy and then Nice Pint (doing his bit for London Saints) with successive balls before bowling a wide with his hat-trick ball (there was a suggestion he didn't want to buy a jug of ale), and later I managed to get rid of Rich and James with successive balls both with the help of Speedtwin who had a great day behind the stumps with two stumpings and a catch, I was much more subtle than Richard in failing to take a wicket with my hat-trick ball. 142-8
In the interim Jacko spent so much time in the very prickly bush bearing a fruit that I couldn't identify, that I would like to propose that from now on we call it the Jackoberry Bush, and consider Jackoberry his new nickname. He also dropped a dolly off my bowling which we will be discussing all the way to Burnley and back! I wasn't going to mention that Andy Jones also put a couple down although in his defence the second one was travelling like a rocket, but the Captain has insisted that the drops get mentioned in the report, he also asked me to mention that Nanton's fielding was "very pedestrian" (Dave was very ill suffering from level 4 man flu which he hardly mentioned all afternoon, he was also involved in a taxi crash en route to the ground)
When Phil managed to remove Vic for his third wicket the score was 157-9 meaning that Cameron could return to the crease and after some frantic hitting and running he was eventually run out for 66 leaving Shibley unbeaten on 39. Their score 169 all out.
After a delicious tea it was time to knuckle down and knock off these runs, England were being slaughtered by this stage, we needed to pull off a win to keep spirits high. Knowing a good start was essential our skipper selected White Viv and Tony to open the batting, I had the pleasure of umpiring for only the second time ever, and like Tony was shocked to see the 5th ball of the first over jump off a length hitting him on the shoulder, but that scare aside the "boys" made a solid start seeing off a tidy opening spell from Rich and Vic. First change for Roadrunners was to bring on James a young left hander and he very quickly got Tony lbw, my maiden dismissal as umpire.
Earlier in the day there was a lot of Whatsapp chatter comparing Moeen Ali's bowling to that of Tiger Pearce, I'd like to throw into the mix that their batting techniques aren't dissimilar either, the way Tiger got his bat out of the way to give the ball an unhindered route to the stumps was very similar to Moeens dismaissal the previous day, Paul was out for 3 and James had his second victim 35-2. White Viv was playing nicely at the other end and was joined in the middle by Speedtwin who was off the mark first ball.
Andy J was eventually out for 20 lobbing the ball to square leg and Speedtwin took his score up to 15 before being dismissed by John C the score at this stage 63-4 after 16 overs. The foundation had been laid and now it was time for the "engine room" to up the run rate.
Dave, despite being very very ill, strode out to the middle, for me it was a day of firsts, my first home match, my first dismissal as an umpire and now the first time this season I had seen One Liner make contact with the ball! He hit his 4th ball for a boundary, smashed the only 6 of the game and went on to make a very impressive 31 off of 19 balls (bowled by PY) and with the Skipper playing a very solid innings at the other end we were in with a chance. As Phil joined Andy in the middle the score was 109-5. The two of them played some excellent shots and with Roadrunners realising they were in trouble played out 7 successive overs from the ever dangerous PY. The run chase was excellently paced and the two rarely looked in any trouble, they saw us home victorious with 3 balls to spare. It would have been over a ball earlier had it not been for an excellent piece of fielding by Nice Pint which drew an array of swearing and mutterings from our team! An excellent performance with everyone involved and a second win on the spin!
Man of the match was between two players; our skipper Andy Mayhew for an excellent and well-paced innings and a stunning catch off Richard Griffiths where he took a half step forward and took the catch just 24 inches of the ground! and, Phil Rogers who steadily played his part in steering the team home and took 3 wickets. Given that one of the three wickets was that of Paul Yarnell and was probably the key moment of the match, the MOTM award goes to Phil!
As for the Champagne moment, I'm going for Paul Pearce's Belly or Man Boob catch first ball after we'd all agreed it would be a good idea to keep that kid in the middle for a while!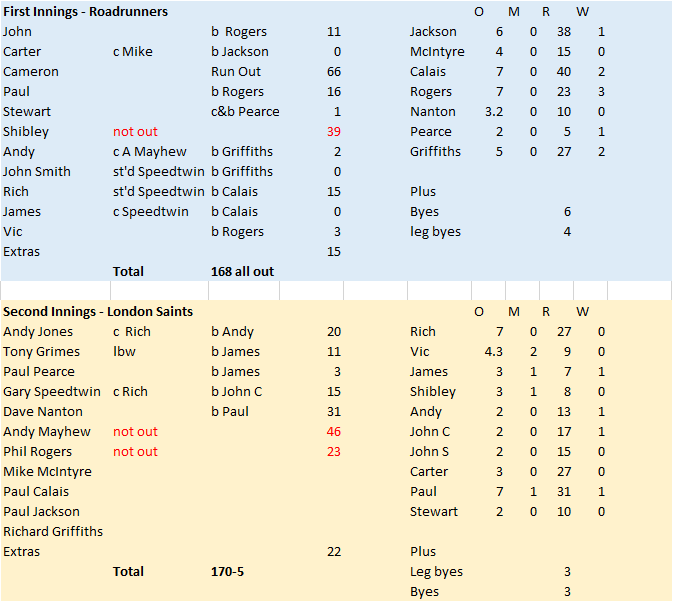 Become a Member
Become a member of London Saints from as little as £5.