EX-BLUES V LONDON SAINTS September 1, 2018
EX-BLUES V LONDON SAINTS
September 1, 2018
Timed match
Ex-Blues 222-9 (36 overs)
Rogers 3-7
Thomas 3-19
London Saints 206-8 (39 overs)
Thomas 52 no
Mayhew. T. 52
Mayhew. A. 45
Result: Draw
When I get older losing my hair
Many years from now
Will you still be sending me a Valentine
Birthday greetings bottle of wine
If I'd been out till quarter to three
Would you lock the door
Will you still need me, will you still feed me
When I'm sixty-four
Jonesy (photo: bottom, right) is younger than his seated neighbours, John Smith (65) and Tony Grimes (77). But experience was allied to youth in the form of Ben Sherriff (18), who brought the average age of the squad down to a sprightly 54.
The years rolled back from the first ball when Ex-Blues opener Rughers was bowled by frisky Phil Rogers (52), whose opening spell of seam bowling was superb. The records don't tell if a 0-1 score off one ball was a first, and soon it was 4-3 with Phil and Paul Jackson (45) picking up further wickets.
It was already a day of surprises, with the season's Duck Trophy champion elect John Griffiths pulling out earlier, citing a dodgy pork-based paella. "A nasty bout of the runs," said duckster JG. "We wish," said skipper Dave Thomas (58).
In a statement to the press later, JG Lt Pigeon Wheelybin Judas 123 said: "I can assure you that this was not a case of (half) jug avoidance, or of avoiding the ignominy of accepting the duck trophy for 2018."
With too much detail, he added: "We have a street food market on a Thursday in Farringdon which is usually great – the Korean fried chicken is particularly good. I opted for the paella as the queue at the Korean was too long. A big mistake."
Less of JG's bowels: more about Phil's balls. A superb return of 6-3-7-3 inspired the team to new heights – in the case of Neil Hotston (56), a steepling catch to dismiss dangerous Harris, which nobody thought he would take, least of all Neil.
Birthday boy Andy then celebrated with a sharp stumping and Ex-Blues were reeling at 78-5 – which prompted Jonesy to utter the immortal words: "At this stage, it is increasingly unlikely to see how we could lose this game." Doh!
Naturally inspired, Ex-Blues regrouped and despite DT taking three good wickets, the tail wagged strongly, adding 108 for the last two wickets. A very respectable 222-9 was posted, with Danks just failing to make his maiden 50- despite Ex-Blues adding at least three overs in a timed game!
To be fair, DT used nine bowlers and, to be unfair, DT unilaterally overruled the umpires and said Ben's caught-and-bowled wicket was a no-ball. That after the lad had dropped a catch. The Art of Captaincy moves in mysterious ways…
Just before the interval, another LSCC veteran, Trevor Mayhew (50) turned up for a cup of tea and was immediately selected to replace Pork Paella. "I don't want to open," said Trev, who was promptly told to pad up by DT.
The opening partnership of Jonesey and Trev (114: years, not runs) unravelled fairly quickly, when Andy's first decent shot went straight to the hands of a fielder. The scorebook recorded 0 but an affronted AJ insisted he'd nicked a leg-bye. "You can't give him a duck on his birthday," argued Jacko, hardly a cricket argument but, as Lennon/McCartney wrote, we do still need him at 64 (Ex-Blues also fed him veggie burgers. Bless them).
More years rolled back as the Mayhew brothers joined up at the crease, another surprise ensuing when Andy Mayhew (52) inexplicably hit his first ball for six. It was even more suprising than when DT ran out Barham in the Ex-Blues innings and Andy (who had replaced Jonsey as wicket keeper) claimed a stumping.
Spookily, Andy had told his brother the previous evening: "All I want to do is hit one more six." Not only that, the brothers were just three short of scoring 100 between them as the game lurched heavily into LSCC's favour.
With 20 overs to go, we were 118-3 needing 105 for victory – less than a run a ball. Cue the collapse. Mark QE2 Barber (56) scored five off one ball then was out, followed by a Hilda (three ducks in a row). Neil, Ben and Phil all fell to the deadly accuracy of slow bowler Stuart Dilley, who finished with 4-1-5-3. The total was 140-8 and the required run rate now more than eight an over.
There was time for one more surprise. DT recorded his highest ever score, 66, in July 1990 – before Ben Sherriff was born. But coming in at No9, in the failing light, he played like a young Il Duce with a series of boundaries, ably supported by No10 Tony Grimes.
The pair put on 66, at one stage looking as if they might nick the game. They didn't – but finished just 16 short of the Ex-Blues total while heading into the LSCC record books as the second-highest ninth wicket partnership.
In a nice touch, Ex-Blues skipper Stuart ordered his bowler to deliver a dolly last ball, from which DT reached his half-century, ending 52no. Said DT: "Stuart said he realised that if I didn't get the 50, I wouldn't have had to buy a jug."
Which DT did, along with many others. Well played the team and thanks to Ex-Blues for the game, barbecue and great spirit.
Man of the match: Many contenders, not least Trevor's rapid switch from interested spectator to half centurion; Andy's 45 (including that six) and outrageous claim for a stumping, and Phil's brilliant open bowling spell. But it has to go to DT for his three wickets, half-century and need to be loved at this stage of the season so that he does it all again next year.
Champagne moment: Three great contenders:
1) On the platform at London Bridge, a man waved through the train window towards Tony, who enthusiastically waved back. A woman behind Tony said he was actually waving at her.
2) Andy Mayhew's six off his first ball. We've never seen anything like it.
3) Phil Roger's wicket off his first ball. That's never happened to LSCC.
But the winner is: Andy Jones, who in a kindly spirit 'volunteered' John Smith to help him collect the boundary markers. The couple were over halfway around the pitch with armfuls of white plastic when an Ex-Blues player told them the markers needed to be left out because there was a match the next day.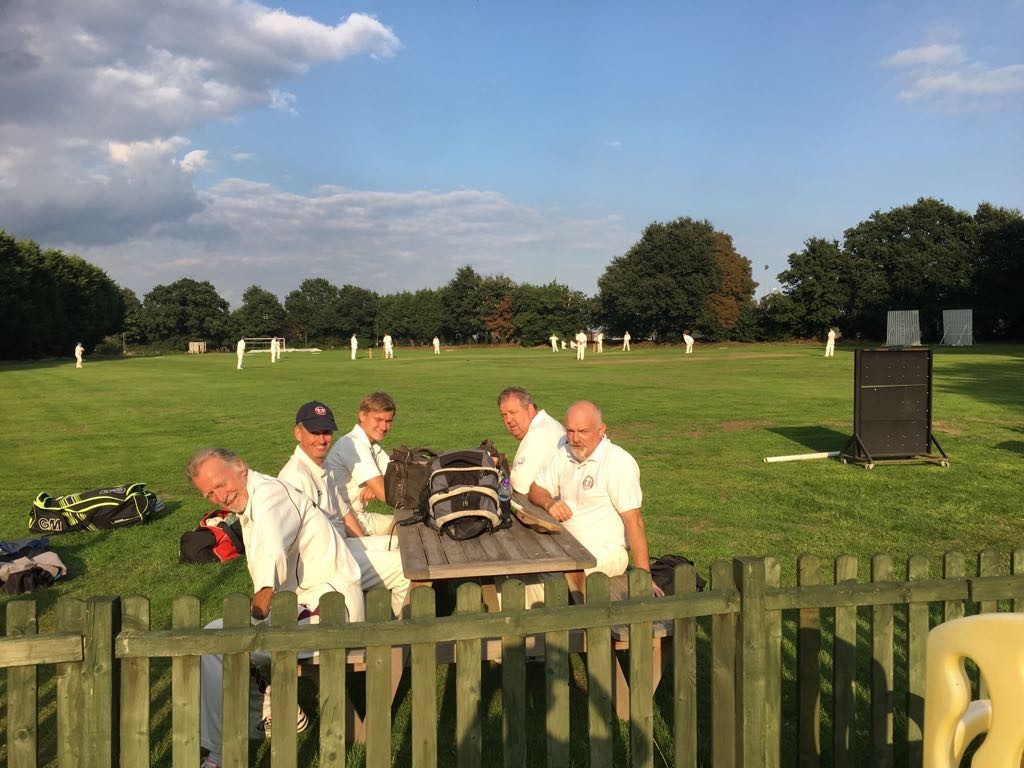 SCORECARD
Ex-Blues
Rughers b Rogers 0
Cowan b Rogers 0
Dilley. S. lbw Jackson 1
Gerish st Jones b Keenan 24
Harris. R. c Hotston b Thomas 33
Barham run out (Thomas) 13
Viner b Thomas 13
Loughan b Rogers 44
Dilley. J. b Thomas 0
Danks not out 45
Harris. A. not out 27
Extras 27
TOTAL 222 – 9 (36 overs)
Fall of wicket: 0-1, 0-2, 4-3, 58-4, 78-5, 94-6, 114-7, 114-8, 187-9
Bowling
Rogers 6 3 7 3
Jackson 6 1 30 1
Keenan 4 0 22 1
Grimes 4 0 42 0
Thomas 5 0 19 3
Smith 3 0 16 0
Sheriff 4 0 34 0
Jones 2 0 17 0
Barber 2 0 12 0
London Saints
Jones c b Rughers 1 (* subject to review)
Mayhew. T. lbw Dilley. J. 52
Mayhew. A. st b Danks 45
Barber c b Danks 11
Hotston b Dilley. S. 0 (silver duck)
Sheriff st b Danks 0
Rogers b Dilley. S. 0
Jackson b Dilley. S. 4
Thomas not out 52
Grimes not out 13
Extras 29
TOTAL 206 – 8 (39 overs)
Fall of wicket: 21-1, 87-2, 124-3, 125-4, 126-5, 128-6, 134-7, 140-8
Bowling
Dilley. J. 7 0 20 1
Rughers 5 0 41 1
Harris. A. 3 0 16 0
Loughan 5 1 14 0
Barham 3 0 10 0
Danks 8 0 44 3
Dilley. S. 4 1 5 3
Harris. R. 4 0 34 0
Become a Member
Become a member of London Saints from as little as £5.