ROXBOURNE v LONDON SAINTS at Met Police Sports Ground, Bushey, Herts, on Sunday August 4, 2018
London Saints 70 (Mr Extras 14, A. Mayhew 14)
Roxbourne 74 – 3 (Nanton 2-19, Run Out George 1 – 36)
London Saints cricketers are a lot of things but they are not a proud bunch.
A mixture of eternal optimism and advancing senility has meant that we will take on any team who offers us a game.
And so it was that the fixture against Roxbourne CC came about, following a meeting between the skipper, Lord Lucan and two blokes in a pub after a Watford-Southampton match last season.
I understand that alcohol had been taken and the conversation went something like:
"Do you have a cricket team?"
"Yes, but we're all old and really shit."
"Really, so are we. Let's fix up a game!"
"OK then."
And therein lies the problem with creating cricket matches – as one man's shit is another man's massive pile of poo.
But, in our never-ending quest to find a team at our level, we all made our way some eight months later to the Metropolitan Police Sports Ground in Bushey, Herts for the contest. Well, almost everyone – Neil Hotston was a late withdrawal, amid suggestions that the mere mention of the fuzz caused to him to scarper.
Neil was replaced by Trevor Mayhew, who arrived at the ground with brother Andy to find Nice Pint, White Viv and Clive Dunn (combined age 210 years) "limbering" up with a vigorous nets session.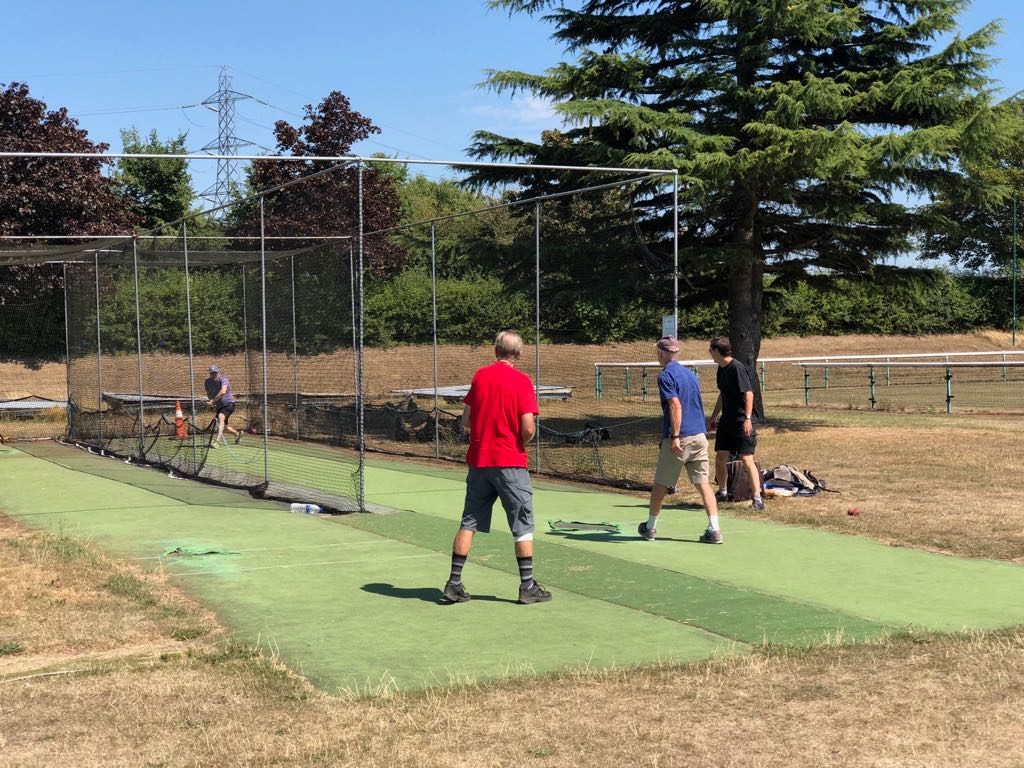 Eventually the rest of the team arrived and we made our way through the plush licensed bar to the clean and spacious changing rooms. This was living the dream!
The skipper was a bit cagey about whether he won the toss or not – it sounded more like some sort of dodgy agreement – but the upshot was that we were batting first.
DT then produced another surprise by naming himself as opener with White Viv, dropping the all-time LSCC run-maker (don't mention Mr Extras) Trevor Mayhew to number five.
The strip had been rolled well enough to resemble concrete in texture but not quite enough, it transpired, to even out all the bumps.
Despite a fast outfield and a temptingly shorter boundary, progress was slow. Balls were staying low, occasionally popping up, but usually skidding on.
By the end of the eighth over, with the score on a paltry 13-0, DT resolved to "have a go".
Next ball DT was caught at mid-off.
This brought Andy Mayhew to the crease and the two Andys – fresh from their 92-run partnership in the previous game – briefly offered hope of raising the run rate. But with the total at 26, DT (now wearing an umpire's coat) decided he had seen enough of White Viv's scratching around and gave him out lbw to put him and all those watching out of their misery.
In strode Dr Ben Collis who was soon off the mark with a sweetly-hit boundary, but hopes of breaking Roxbourne's stranglehold ended the very next ball when he was bowled.
Mike McIntyre entered the fray and immediately impressed with some stylish forward defensive shots against Reed, who was building up a head of steam.
But he soon was bowled for 1.
This brought the Mayhew brothers together to revive memories of glorious partnerships of old. But one had barely time to utter "Do you remember the time when…" when Andy was on his way back to the pavilion, the fourth of six London Saints batsmen to be bowled.
Nanton joined Trevor and the pair, fondly remembered for their svelte athletic bodies in days of yore, achieved a "Fat Boy Three" after a hefty blow by Nanton.
However Trevor's stumps were broken soon after, bringing debutant George "No Nickname Yet" Dawson to the middle.
However, a clatter of leather on whatever wood stumps are made of soon sent Nanton back to the pavilion and it was the turn of Pearcey – still on a high after his match-winning partnership with Lord Lucan in the previous match.
Pearcey clattered a quick three before he too was castled. Jacko went in, then out again – also for three – but at least ending the run of players bowled by being caught.
All eyes then turned to the skipper who had to decide between Tony Grimes and John Smith as to who batted number 11 (we had 12 players and only 11 batting places).
If DT chose Tony it would confirm non-playing Johnny Griffiths as the 2018 Duck Trophy winner.
With a gleeful glint in his eye, DT sent Tony out to the middle as congratulatory messages were sent to Johnny G.
But as his teammates later remarked in the bar, no one remembered to warn 28-year-old George about the "no quick singles" clause in 78-year-old Tony's contract.
And so it was that George added to the list of unforgettable London Saints debuts by running out Tony for a diamond duck to end the innings.
We all repaired to the air-conditioned bar for tea – a good spread which included freshly fried chips and warm samosas and onion bhaji's, which got a thumbs-up from tea committee member Pearcey.
It was a wrench to walk back into the searing heat with just 70 to defend, but, like true professionals, we headed out with optimistic hearts.
Within minutes of the re-start Nanton had bowled opener Green for 0 and number three Hutchinson for a golden duck to set up David's third hat-trick chance of the season. But Fabray kept another good ball out to deny the hat-trick.
However, next over the same batsman – skied a ball from debutant Dawson only for the skipper to put it down at mid-on.
Not only was it a missed chance but it was a fraction of a second away from being a champagne moment as DT – in a likely tribute to that day's passing of Barry Chuckle – tried a desperate "to me, to you" with Dr Collis as the ball headed for the turf but even the good doctor could not snap that one up.
Roxbourne's Fabray and opener Holland continued to play their shots against some good bowling and rode their luck with a succession of edges which found the boundary. That was until No Nickname George eventually found an edge which was smartly snapped up by Paul Pearce at first slip, much to the surprise of…Pearcey.
But with the score at 58-3 London Saints needed a miracle.
Jacko and Clive Dunn replaced Nanton and Dawson, but Fabray – still swinging freely – finally confirmed Roxbourne's victory by smashing a four.
CHAMPAGNE MOMENT
There were a few contenders.
Steve Keenan, for bigging us up while setting up this one-sided fixture and then pulling out of the game himself (who would do such a thing?!?). Lord Lucan's excuse was that he had a few dahlias to sell in Albert Square.
On the playing front, Pearcey's sharp slip catch was a joy to behold, as were a succession of fine diving stops by Mike McIntyre behind the stumps and the dogged chasing by Dr Ben in the deep.
Then there was David Nanton – who only minutes before had terrorised the Roxbourne batsmen with his athletic display of ace bowling – only for him to rick his back in the changing room while putting his pants on.
There could even have been a team prize as we all moaned about the higher-than-normal pitch fee as we drank in the bar for two hours – never once thinking about having a extra game of cricket to get our money's worth. However, it was enjoyable watching the players on a neighbouring pitch toil away in the heat as we downed cool drinks knowing that our day's work was done (they were still playing as we left the ground).
But the champagne moment has to be George Dawson, who "capped" a fine debut by running out the 2017 London Saints player of the year, Tony Grimes, for a diamond duck. With a debut like that we knew that George had slotted in perfectly to the squad.
MAN OF THE MATCH
He may not be very good at putting on his pants, but David Nanton's two early wickets in an impressive bowling display brought brief hope of an improbable victory on a blistering hot day against superior opposition.
ROXBOURNE v LONDON SAINTS at Met Police Sports Ground, Bushey, Herts, on Sunday August 4, 2018
35 overs. Weather: Very hot (>30C)
LONDON SAINTS
Jones lbw b Lawson 11
Thomas ct ??? b Hunt 8
Mayhew A b Francis 14
Collis b Lawson 4
McIntyre b Fabray 1
Mayhew T b Francis 3
Nanton b Fabray 5
Dawson not out 6
Pearce b Francis 3
Jackson c Udy b Campbell 3
Grimes run out (diamond duck) 0
Extras 14
Total … 70 (29.5 overs)
Hunt 5-1-11-1
Udy 5-4-5-0
Dawson 5-0-14-2
Reed 5-2-6-0
Francis 5-1-13-3
Fabray 3-0-12-2
Campbell 2-0-4-1
ROXBOURNE
Holland c Pearce b Dowson 17
Green b Nanton 0
Hutchinson b Nanton 0
Fabray not out 45
Udy not out 6
Extras 6
Total 74 (11.4 overs)
Nanton 5-1-19-2
Dawson 5-0-36-1
Jackson 1-0-7-0
Grimes 0.4-0-9-0
Become a Member
Become a member of London Saints from as little as £5.