LSCC Cricket Tour of Somerset 2018 – part 1
After a break of one year due to our Finland tour in 2017, the London Saints returned to familiar pastures this year, or did we? (more later) as a new opponent and the hot weather, which resulted in Witham Friary's ground being unplayable, meant we played on two new grounds on our 2018 tour.
Firstly the preliminaries;
1. The LSSC Golf Open (Friday pm) was won by Paul Pearce with an excellent 40 points (do the organisers not know that this bandit used to play off 9!!) from 10 others. Tour debutant Chris Stapleton scored 32 points narrowly pipping John Quinn, on countback, to take 2nd place. As usual, it was an excellently organised event at the impressive Orchardleigh course with hopefully more being able to make it next year although it's a tough call as some of the golfers (no names) were flagging by the end of the 2nd cricket game on Sunday due to the weather on all 3 days. ]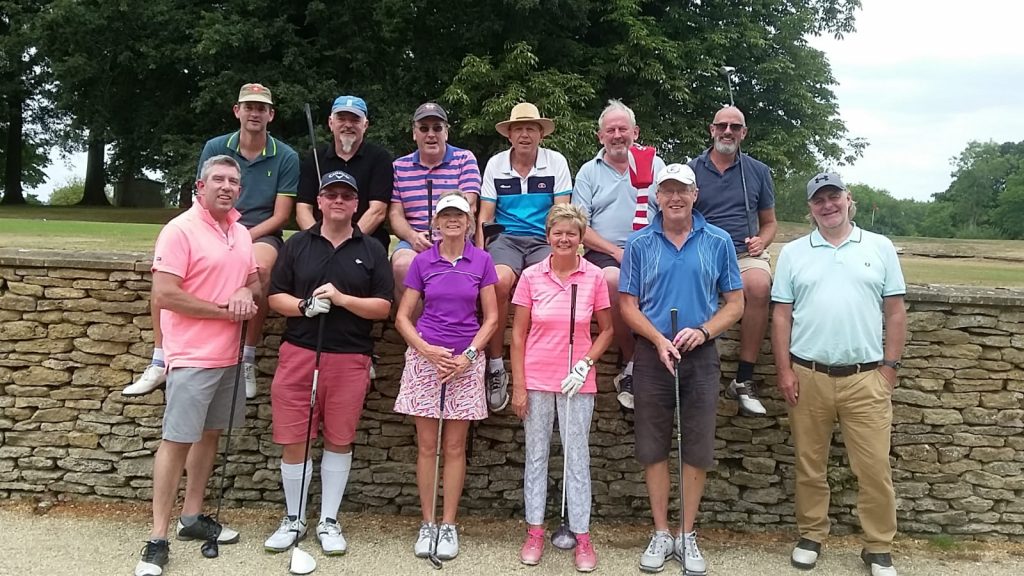 2. Witham Friary CC Quiz (Friday eve) with the golfers hot footing it back from the course, DT managed to delay the start of the quiz to just before 8 which allowed London Saints to enter 3 teams to raise funds for Witham Friary's new colts section. DT (I hate to call him ' the skipper ' anymore – more later) – was confident as his team included John Smith and Where's Jon, (along with Andy Mayhew) and you'd be hard pressed to find two people who know so much useless crap general knowledge information in the land. When we arrived though we found out that it was to just be a sports quiz so that advantage was thrown out of the window. Anyway to cut a long story short, it was a great night with all 3 LSCC teams finishing in the top 6 (out of 17 teams) with the DT, Mayhew, Smith and Where's Jon team coming from behind in the last round to clinch a narrow victory over the 2nd LSCC team of Keenan, Griffiths, McIntyre and Davies with the 3rd LSCC team of Mr and Mrs Quinn, Wath, Jones, Calais and Stapleton in 6thish. The other 3 members of the winning team all acknowledged that Andy's wider sporting knowledge was the key to the victory.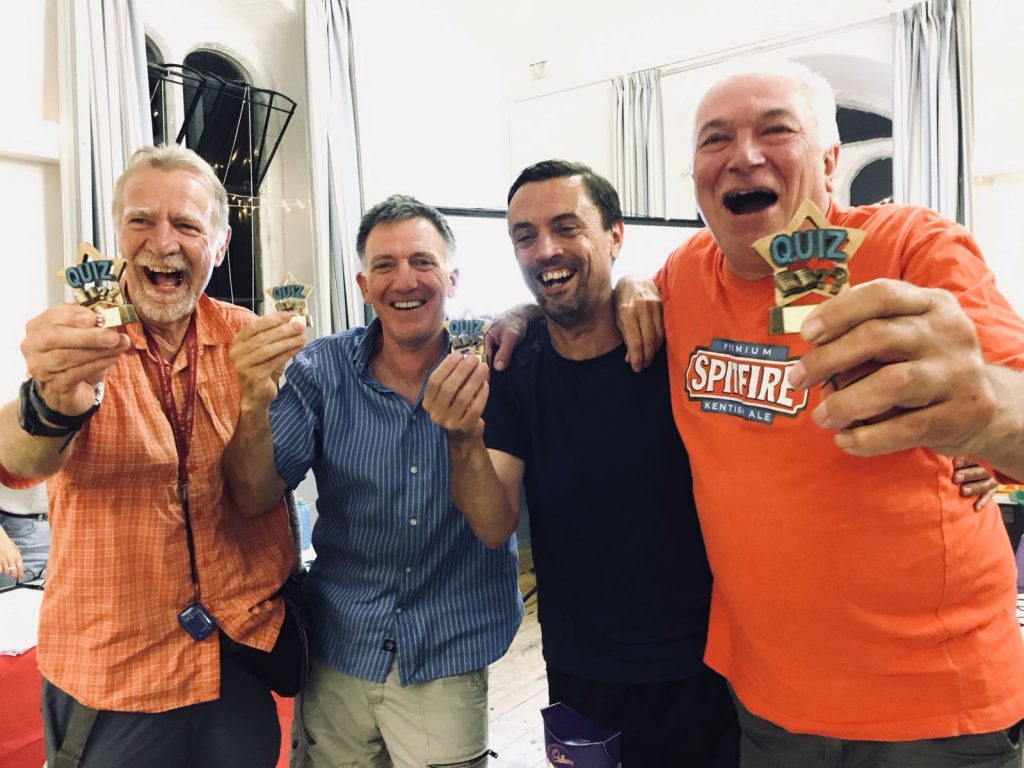 3. Southwick Country parkrun (Sat am) with some of us not leaving the Seymour Arms until 12.30 the night before, the prospect of a 5k run in the hot sunshine did not appeal to all. Anyway 7 brave, or foolish souls (in order of finishing – Calais, Rattue, Thomas, McIntyre, Stapleton, Smith and Nanton (pulled up lame) took part, most of whom regretted it. We were supposed to do Bath Skyline parkrun hosted by Sister Stanley but after Mick's unfortunate heart scare on Thursday night we switched courses – this was for you Mick, get well soon and hopefully we'll do Bath next year.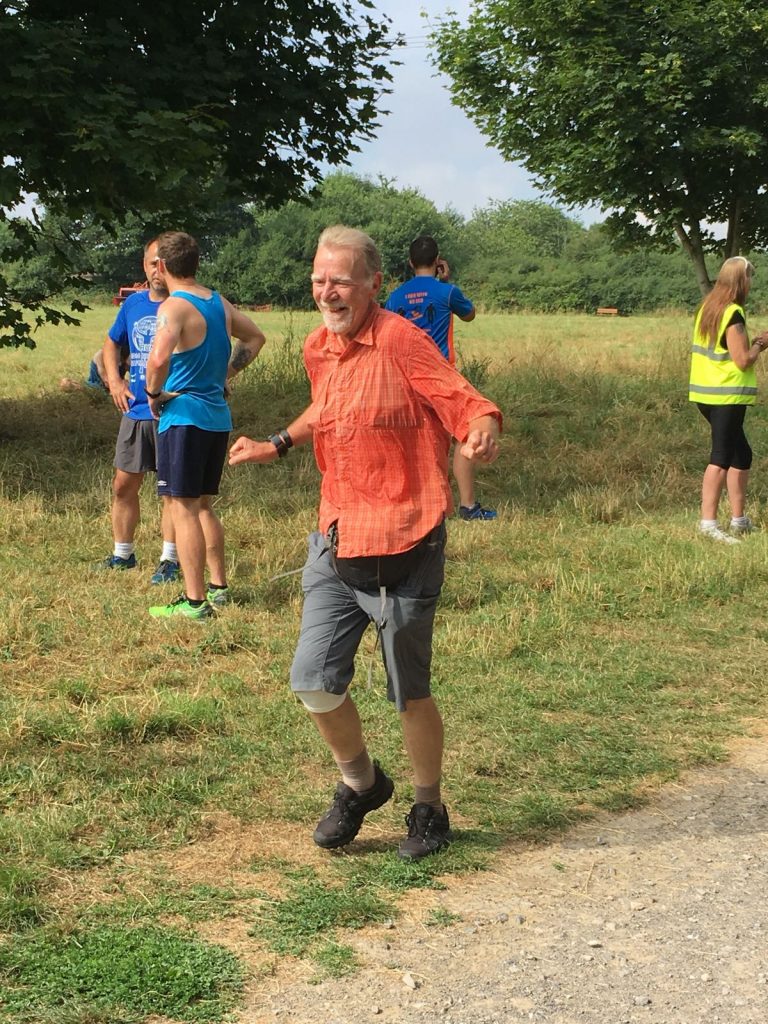 On to the cricket;
London Saints v Witham Friary – Sat pm at Horningsham CC – 25 overs
Witham Friary 205-8 (Thomas 2-5, Calais 2-8, Pike 2-33)
London Saints 171-5 (Rogers 55no, Nanton 27)
It was with some trepidation that DT approached the whole weekend. With echoes of " you're getting sacked in the morning " still in his head from far off Morocco following LSCC's marvellous win over Coldharbour 2 weeks ago and an undercurrent of unrest in the camp, what could he expect, who could he trust? It was obvious who the main protagonists were but would they openly 'out' themselves or plot amongst themselves in the background, waiting for their moment to strike – et tu Brute !!
It was then with some surprise that DT had been paired with the other 'candidate' Andy Mayhew to share a room in The George Hotel. After an initial frosty encounter when Andy told DT that he had spent half of the Coldharbour subs on irresponsibly buying beers for the team (was he buying favours?) the two got on well, with Andy supporting DT to remain as skipper (as long as he was officially recognised as deputy (a wise bargaining move or what?) It made DT wonder whether Andy had been put forward as a stalking horse with other dark forces waiting in the background?
Witham Friary Parish Council had deemed the pitch unplayable (and a later inspection proved that a correct decision with 3 foot deep ruts in the outfield so luckily they managed to hire Horningsham CC's ground. We couldn't start till 3 so a 25 over game was agreed to allow us to get back to the Seymour Arms in Witham afterwards for the bar-b-cue and beers. We met for a beer in the lovely Bath Arms just up the road from the pitch, well I say beer; two of our entourage (Mayhew and Nanton) chose to have a coffee instead and sat together in the corner – was this another sign of a conspiracy – who can trust men who drink cappuccino instead of beer on tour? DT lost the toss and Witham chose to bat first so DT led out his team onto the field, wondering how many of this team were 'following' him. Witham Friary were struggling for numbers with only 7 so Nice Pint, Andrew, the Rat and Chris were asked to play for them to make up the numbers, wisely keeping the suspected plotters on his side and on board for the time being.
It was a nice little ground but was surrounded on all sides by bushes, trees and undergrowth, which, as a result of our bowling, meant we spent as long looking for lost balls as we did playing cricket as the LSCC suffered against a couple of their youthful batsman who have grown from kids, when we first played them, into excellent big hitting batsman – thank gawd for the agreed 50 and retire rule. The look of amazement on Lord Lucan's face when asked to open the bowling will live with us for a long time – this was Steve's 150th LSCC game but first for two years as various tulip and car / petrol related excuses prevented him playing recently. We all hoped that Steve had kept trim and stayed in shape in those two years (anyway bowling is like riding a bike isn't it?) but the 'good life' down in the country has taken its toll and he bowled more like Felicity Kendall than his previous Glen McGrath persona (older readers will get that)
With Steve smartly removed from the attack after two overs, even the usually excellent Phil and sub plotter Nanton suffered at the hands of excellent batting without luck. It was left to Ed (Pike) to make the breakthrough. It wasn't immediate though as he also took some punishment which was not helped by the conflicting advice he received from White Viv (" bowl short of a length") and DT ("pitch it up") within 30 secs of each other before the start of his 2nd over. After choosing to take Andy's advice and being despatched into the next field, the understandably confused Pike wandered down the pitch and asked the batsmen where the ball had pitched and where he was going wrong? We're not sure whether it was the batsmen's advice (it certainly wasn't ours) or whether Ed worked it out himself but he made the breakthrough with White Viv taking a well-judged high catch at mid-off. Next in was JG's chum and fellow Liberal Democrat the ex-MP David Heath who tried a strange reverse sweep or switch hit off Ed which Mike took cleanly behind the stumps for a duck.
A modicum of control and a slowing of the run rate was established due to losing the ball over the boundary and then a long eagerly taken drinks break in the heat. We're not sure what Witham put in the drinks but their batsman who was struggling beforehand proceeded to hit us all around the park. Thanks to the 50 and retire rule two of their batsmen left the scene of the carnage and the run rate slowed. Perhaps this was partly due to the fact that all 4 of the LSCC players playing for them appeared at the crease. Paul Calais in an particularly impressive spell of 4-0-8-2 clean bowled Andrew Davies, JG's mate (and who has played for us before on tour) from down these parts and then pleaded with the skipper to be given another over as his mate Chris Stapleton had come into bat. Paul duly despatched Chris' middle stump and retired to the outfield with a big smile on his face – no rivalry here then! Rat was caught by Andy Jones in the last over off JG's bowling (see below) and Nice Pint was trapped lbw by Lucan's 'faster' ball.
Meanwhile out on the boundary, the other captaincy candidate Andy Mayhew was having one of those days in the outfield as the ball followed him around the field, normally passing him and ending up over the boundary. Today's scribe is conscious that he made some fielding errors the next day so is danger of pot calling the kettle black but…. some of it was comical, through his hands, through his legs, one could suspect that there was a deliberate campaign to make DT's captaincy look bad as the runs stacked up? JG was only 2 wickets short of his 100th for LSCC when what can only be described as a dolly went up and was put down in Andy's direction. What made it worse was when he got his 99th in the next over so is still waiting that 100th milestone. Andy's day was summed up when he injured his little finger failing to stop another boundary for which he had to leave the field and couldn't bat and proceeded to show everyone his bruise all night.
The skipper (stand-in?) showed true leadership in taking off One Liner for the penultimate over as a 10 year old walked into bat – seeing this as an ideal opportunity to try out his dodgy elbow, he bowled his first over of the season, saving the unfortunate child from One Liners pace (the children wouldn't be so lucky the next day – see tomorrows match report). DT allowed the youngster to take a single but then proceeded to bowl 2 adults out – a fact not recognised by the blind sub-plotters whose agenda had already been written. Rat came in for DT's hat-trick ball, not wearing a box, gloves or pads so not wanting to do harm to a fellow parkrunner, DT chose to forgo the chance of a hat-trick with a slow delivery (again showing compassion and leadership).
Witham's score of 205 was the highest in their history for 25 overs and a daunting task ahead especially as this year there were not the usual magnificent Witham Friary tea on offer, which may say is the highlight of the tour. During the interval, checking the scorebook it was clear that the final overs of Lord Lucan and Tiger Pearce had been confused by Witham's scorer. In pointing out the error, their scorer understandably replied "it's easy to do as they both look the same and bowl the same pace"
So a large total to chase was not helped was the Ex Councillor was bowled for a duck and his 3rd this season and with a golden already under his belt, could the Wheelie-bin have already wrapped up this year's contest? He may have done it to be in solidarity with his fellow liberal and ex (like most lib-dem's are these days) MP David Heath who also got a duck for the oppo. This brought Phil to the crease and he continued his excellent 2018 form hitting 55 undefeated runs and working the 50 and retire rule in style by getting to 49 and then hitting a 6. Wath came and went for 2 promptly injuring himself and being unavailable for the rest of the tour and maybe season with whispers of ' 50th duck avoidance ' from some. One Liner came in and had another good partnership with Phil as the two leasing contenders for POTY battled it out together with David departing for an excellent 27.
Pike was due in next but a message came out to DT who was umpiring at the time that he been 'requested' to leave by his girlfriend who was bored sitting by herself in the pub. DT obviously concerned as to Ed's well-being (but mainly to ensure he got Ed's £10 subs in case he didn't reappear the next day) left the field to speak to him. We bade Ed farewell to face the music and surprisingly received a text the next morning saying that he had left his lights on in his new hire car, had a flat battery so couldn't play the next day – were the two events related? Dover2Calais came in next and Chris got his revenge in taking a steepling catch which rebounded off his chest leaving a nice mark but some sense of justice. With Pike long departed, LSCC's two left handers, came to the crease and arguably punished some much weaker bowling. As Gareth Southgate said you can't apologise for it and you can only play what's in front of you but did that silence the critics? – no it brought them out from under their shells clearly showing you they were… but these plotters were in a dilemma as their stalking horse was hardly showing leadership qualities as he was lying down with a poorly pinkie finger!
So overall our score of 171 was respectable but in reality never really challenged Witham's target. A great, if long day, was completed with the usual fine ales and bar-b-cue in the Seymour Arms. Perhaps it's a sign of the age of the team or the fact that golfing and cricketing out in two days of hot sun had taken its toll but only 6 out 14 of the tour party managed to make it out into Frome for the night but those 6 that did managed to make it to last orders and 1.30 but would suffer the next day.
Man of the Match – Phil Rogers for his faultless 55 not out and retired.
Champagne Moment – The look of astonishment on Steve's face when asked to open the bowling – wtf I only came along to stroll around and eat blackberries and you want me to bowl first against this 6 foot 6 inches kid, who proceeded to knock Steve around the park – he got his revenge on Nice Pint later!
Witham Friary
Pritchard not out 63
Dackcombe ct Jones b Pike 29
Heath ct McIntyre b Pike 0
Webster not out 50
Davies b Calais 8
Stapleton b Calais 2
Nice Pint lbw (Nanton) b Lucan 2
Hyde not out 6
Whitcombe b Thomas 14
Cooper b Thomas 0
Rat ct Jones b Griffiths 1
Extras 31
Total 205-8
Rogers 3-0-20-0
Lucan 5-0-50-1
Nanton 3-0-21-0
Pike 3-0-33-2
Pearce 3-0-35-0
Calais 4-0-8-2
Griffiths 3-0-28-1
Thomas 1-0-5-2
London Saints
Jones ct b Darkcombe 8
Griffiths b Whitcombe 0
Rogers not out 55
Wathan b Hyde 2
Nanton b Webster 27
Calais ct Stapleton b Pritchard 7
Thomas not out 26
Pearce not out 18
Extras 28
Total 171-5
Witham Friary won by 34 runs
Become a Member
Become a member of London Saints from as little as £5.