Coldhabour match report 8th July 2018
London Saints 171-8 (Nanton 44, Rogers 43, Griffiths 34)
Coldharbour 155-8 (Rogers 4-15, Berkeley 2-32)
Stand in skipper Andy Mayhew gave me (Ben) the daunting prospect of writing a report that would result in a London Saints defeat, it wasn't going to be any different was it…
However, the eleven Saints players buoyed by the nation's growing optimism and a fresh captaincy approach (when is that coup arranged again?) had other ideas. Skipper Mayhew entered the field with his opposing counterpart and did what is often a London Saints rarity, winning the toss. Although, despite this fresh approach of captaincy that we all came to enjoy Andy decided that he would continue with DT's new method of bat first and this was vindicated initially with an opening stand between Judas and The Champ of 53 runs. Nevertheless, the optimistic feeling in the Saints camp quickly vanished with the "here we go again" mood when Saints went down to 58-3. Sherriff went cheaply caught for four soon after Judas himself was caught by an outstanding effort from the same fielder. The third quick wicket to fall was The Champ Mike, clearly rattled by the loss of two partners in short succession and his life a couple balls before.
Stand in skipper Mayhew had the audacity to rope spectators into the hotseat of umpiring, Sherriff Senior was reluctantly pushed to the wicket and in his first ball of umpiring ever he had a contentious decision to make. Mike was out caught, however, hikers by in the process of the delivery shouted "LBW" allowing Mike to have a reprieve with Sherriff Senior after some confusion deciding the ball to be a dead ball. Up stepped Wath and Flatliner with one of two approaching a unique milestone of 50 London Saints ducks (I'll let you decide if you don't know already who you think that is) with the task of steading a sinking ship. Steadied they did with Nanton particularly enjoying the short boundaries that the, as ever, picturesque Coldharbour has to offer. No milestone achieved for Wath (to some disappointment from selections of the London Saints camp) as he departed for six which brought the 2016 London Saints player of the Year Phil Rogers to the crease. This cumulated in a fruitful partnership between Nanton and Rogers even with some dodgy running in between, "runnnn Daveee" screeched Rogers on more than one occasion. However, the occasional confusion between the pair didn't stop the duo scoring at a strong rate and with Nanton entering the 40s, one could be forgiven for thinking that he would be able to get his exclusive first Saints 50, unfortunately for Dave and his teammates he reached 44, a score that he achieved previously at this ground and remains his highest career score. Dave was bowled with an impressive delivery from a spinner who could actually turn a ball, something that London Saints could do with!
Up stepped Hilda and, in his haste to keep the scoreboard moving, he found himself caught departing having scored the solitary run. This brought Tiger Pearce to the middle alongside Rogers with Rogers also departing after a few more boundaries attempting another big shot to haul Saints up to a defendable total in the 30 over a side game. Rogers left having made a superb 43 and once again providing a backbone to the Saints' innings. Number 9 finally brought the skipper himself Mayhew to the crease, one can be forgiven for thinking that the ex-Saints opener/number 3 pushed himself down the order to protect that precious average of his! Nevertheless, Pearce and Mayhew recorded a six run partnership to move the London Saints onto a score of 171-7 off 30 overs. At half-time when the London Saints demolished the ever-wonderful Coldharbour teas and, feasted their eyes on the wonder views the Surrey Hills offer, the general consensus was that 171 was a below par score. That left Saints needing to bowl tight particularly early on with some wickets to go alongside to stand a chance of a first victory of the season.
Skipper Mayhew called on Rogers and Berkeley to deliver the early breakthroughs that the Saints needed to trouble the Coldharbour side. Rogers first up, and three balls in, got the breakthrough of opener Gundry. Gundry picking out the bucket hands of Wath who took the comfortable catch of the opener in the cover region. Berkeley took the ball with Coldharbour 1-1 off their opening over, Berkeley thought he'd go one better than Rogers producing a wicket-maiden with his first over which included a plum lbw and a look to his strong entourage who failed to appreciate the magnitude of his opening over. At the end of the fifth over Saints were in a commanding position with Rogers striking twice in the over to leave Coldharbour in a more than precarious position with the score at 8-4, by that point the looks around the field were one's of genuine optimism. The optimism was even greater considering one of those dismissals was a catch from "bucket hands", "never in doubt", "he moved that far?" Wath taking his catching tally to two for the game. Wicket number five and six were not far away for the London Saints either, Berkeley claiming his second scalp in his third over and Jacko striking in his second. Jacko bowled batsman Jago after playing along the wrong line and seeing the ball clip his leg-stump. This meant that the London Saints had incredibly taken six wickets conceding just 20 runs in what must be the smallest boundary we play on every year.
Surely Saints would go onto wrap up victory quickly and easily from that position? The London Saints often don't take the easy route and why blame us, it's less fun that way! Coldharbour batsman Mason and Roach put on a mammoth partnership which showed early signs of promise when the duo (particularly Roach) put a stop to Hilda's tight spell of bowling. When Hilda had bowled out, Mayhew turned to spinner Sherriff with the youngster having a sense of deja-vu when lining up against the big-hitting Roach. However, his first over produced both a champagne moment candidate and a near dismissal when Jacko tumbled into a boundary fence in cow-corner attempting to stop a four to no avail and when Sherriff shaved the leg-stump. Onto a spell of bowling from Nanton who informed the match reporter that he was just three wickets away from the milestone of 150 London Saints wickets, his first over yielded just two runs. Sherriff continued from the other end and, like the first over he bowled, it included a champagne moment candidate and a near dismissal. This time the champagne moment and near dismissal were rolled into one when the batsman picked out Nanton at mid-off, a simple chance initially, turned into a dramatic dive forward with Nanton's belly rebounding the ball so far that Sherriff lifted his head out of his hands to cries of "run him out Ben" such was the force of Nanton's belly! On the last delivery of that over a chance to break the momentum-increasing partnership occurred once more, this time Rogers putting down an opportunity on the fine-leg boundary but in his eyes he saved two runs by stopping it going for six, a view the match reporter may not have agreed with.
Nanton continued from the other end bowling a disciplined line whilst Sherriff in his third and to be final over conceded 13 runs, enough to turn Mayhew's head to Pearcey who replied with "cheers Skip" sarcastically of course. After Pearcey went for 10 in his first over Mayhew decided more change was needed and the man to do so was opening bowler Rogers, Rogers returned conceding 5 off his first over in his second spell when he replaced Pearcey. Big belly Nanton (edit DT if not allowed! – no it's ok Ben, that's a fair description these days of a once fine athlete – DT) was still bowling through his overs and his partnership with Rogers was key. After the Coldharbour duo of Mason and Roach found runs at ease the pair had been restricted to just two runs in three overs and this swung the momentum back in London Saints favour after Coldharbour had had an advantage. Nanton finally had his reward when in the last ball of his 6th over he got Mason lbw. Another plum decision with the umpire justifying his delay by saying that he didn't want to put up the finger too quickly (London Saints take note, you know who you are!). This broke a crucial stand of 103 between Mason and Roach. This meant that with 5 overs to go the scoreboard read- Coldharbour 123-7 requiring 49 of 30 balls so with the destructive Roach still at the crease at tight finish was still a possibility. Thus, it was fortunate that in the next over and Rogers' last over he took a caught and bowled of Roach shouting "mine" when to be frank no one else in the Saints ranks were going to challenge him when Roach skied one into the air. Roach left with the highest knock of the game, a very well made 69 which took Coldharbour from no chance to strong possibility of victory. Jacko and Pearce bowled out the remaining overs and their tight bowling left Coldharbour on 155-8 off their 30 overs, giving the London Saints a deserved victory.
To summarise, a decent batting display from London Saints largely indebted to the work from Griffiths, Nanton and Rogers gave London Saints a batting total which wasn't bad but one which many thought wasn't strong enough. Although, a strong performance in the field ranging from Wath taking some good catches, Mike showing why he is now the number 1 keeper with just four byes against his name leaving Mayhew wicket keeper number 71 and stand out bowling performances from Rogers, Berkeley and Nanton gave Saints their first victory of the season.
Man of the match- In most other games Nanton would have won this with his 44 and spell of 6 overs 1 for 19 but such was the performance of Rogers. Nanton is an unlucky runner-up. Rogers scored an impressive 43 and ended on remarkable figurers of 6 overs 4 for 15, therefore, he is the man of the match.
Champagne moment- The champagne moment could be Wath purely for his catching expertise! Nevertheless, it comes down to Jacko and his stinger to the eye for his desperate launch for the ball cumulating in a nasty collision to the boundary fence and Nanton with his run-out attempt off the belly. Perhaps fittingly after missing out on the man of the match Nanton receives the Champagne award. A comical attempt to take a catch in the deep led to one of the strangest potential run-out attempts you'll see, rebounding off the belly of Nanton, the ball was inches away from hitting the stumps and dismissing the oncoming batsman.
London Saints
Griffiths ct 34
McIntyre b 17
Sherriff ct 4
Nanton b 44
Wathan ct 6
Rogers ct 43
Berkeley ct 1
Pearce not out 9
Mayhew not out 5
Extras 8
Total 171-8
Coldharbour
Gundry ct Wathan b Rogers 0
Snook ct McIntyre b Rogers 4
Russell lbw Berkeley 1
Harman ct McIntyre b Rogers 2
Mason lbw Nanton 31
Bash ct Wathan b Berkeley 4
Jago b Jackson 5
Roach ct and b Rogers 69
Trollop not out 14
Badman not out 14
Extras 11
Total 155-8
Rogers 6-0-15-4
Berkeley 6-1-32-2
Jackson 6-0-28-1
Sherriff 3-0-33-0
Nanton 6-1-19-1
Pearce 3-0-28-0
View from the pitch looking towards Gatwick Airport – Highest pitch in Surrey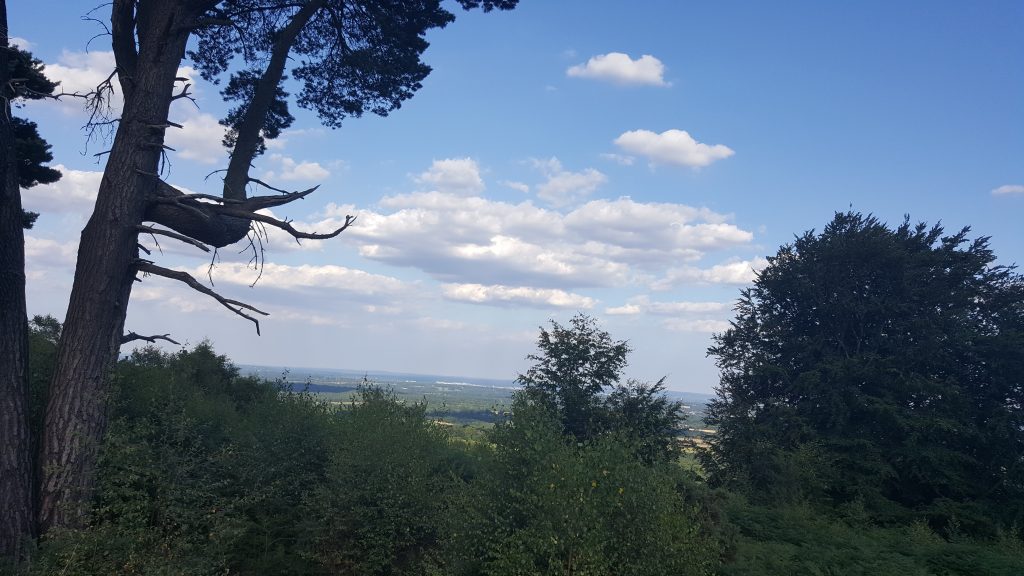 Become a Member
Become a member of London Saints from as little as £5.