LSCC vs. Nascot Cassiobury Park, Watford – 27th May 2018 Match Report
LSCC – 92 all out 31.2 overs (Jones 35, Pearce 12, McIntyre 10)
Nascot – 93-2 11.4 overs (Archbishop Desmond 1-15, Pearce 1-17)
So here we are again with my same match report dusted off from earlier years for our first game of the season.
Despite expectations that the game would be called off early on Sunday, the thunderous weather spared the Watford area and allowed our boys to turn up (relatively) eager to kick off the season and with a fun fair next to the pitch offering us alternative attractions should food or fun be needed instead! Mr Scones securing a large double cheeseburger with bacon bap being an obvious case in point.
DT turned to experience to get the kit bag from the car park to the tree that was to be our usual vantage point for the game (and less wisely our shelter should lightning arrive). Nice Pint and Clive Dunn earning brownie points for helping the skipper with his baggage – the younger players wisely saving their energy for what mattered.
Paul 'Jacko' Jackson received a warm welcome and applause pre-match as DT presented him with a musty fading LSCC cricket cap found at the bottom of the kit bag to mark his becoming the team's historic 200th player. Could have been worse, it might have been one of the strangely green boxes in there he was given instead!!!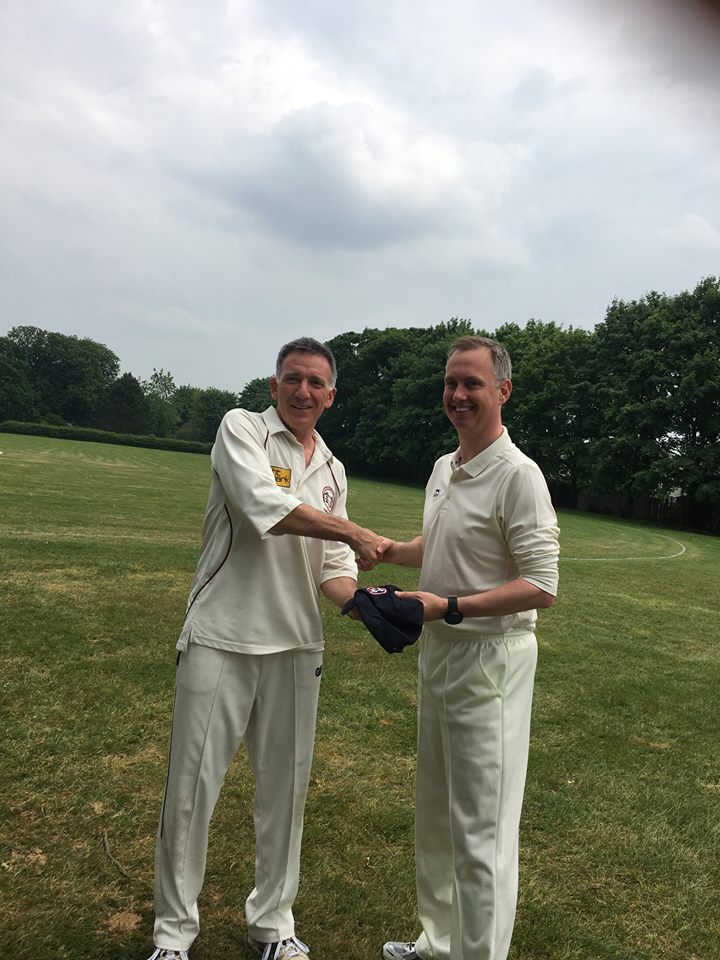 As is traditional in this game, both skippers were keen for us to bat first on what is always a sticky track but this year having a better cut outfield to at least help the ball potentially reach the boundary. Both Tiny Temper and DT sadly failed their late fitness-tests & so were unable to bowl.
Naturally opener White Viv was running late and so despite his protestations, it was left to Andy Mayhew to open the innings with Mr Scones. Another tradition was maintained when once again after the first over of our season, we had 2 runs on the board and both were to the credit of LSCC multiple Man of the Match winner, Mr. Extras.
Timing the ball was difficult and Mr Scones departed for a silver duck when caught and the score only 3. Mayhew surprised onlookers by hitting a boundary and was so shocked he then nicked off but remarkably having scored more than a run an over – a handsome 7 in just 5 overs!
Last year at the drinks break we were 38-3 after 18 overs and with White Viv in at 3 looking a tad rusty and Tiny promoted to number 4 and practicing his immaculate forward defensive, a similar attritional partnership ensued but without the farcical running between the wicket seen last year!
At drinks we had improved on last year and were 40-2 after 17 overs. But as we know, a drinks break is dangerous, and Mike was bowled first ball after the restart. Specialist skipper (a la Brearley), DT was next in but coincidentally just as a spinner was brought on and so predictably he was soon back sitting under the tree but having avoided a duck at least.
Your scribe and an increasingly fluent White Viv then had a partnership of 35 in 6 overs with us recreating our Coldharbour partnership from some years ago of not bothering with running but only doing boundaries or dot balls – 20 runs coming off 2 overs almost giving the scorer Scones a nose-bleed. Sadly, this ended when Pearce middled a half tracker straight to the square leg fielder who took the catch in front of his eyes.
The score was now 77-5 after 25 overs so with 10 overs left and 5 wickets in hand, surely a score over 100 now looked on?
But no, it was time for the first and surely last batting collapse of our season – as we recreated England's earlier batting demise by subsiding for 15 more runs losing 5 wickets.
During this we had the entirely predictable sight of our top-scoring batsman being given out LBW but the rather unexpected sight of Gary 'driven from Southampton' Speedtwin ran out without facing a ball as Dunn and he (combined age = Jurassic) sought to roll back the years and actually run a 2, they realised too late that this early season madness was a bit ambitious and by the time Gary was sent back to his crease, he was unfortunately out.
Gary securing a diamond duck and so joins a very select group to have endured this experience – Stanley and Pearce being the others. I don't think it was much comfort that Gary also took the record from me for the longest drive to achieve such a record either! Lana, his surprised daughter, was also taken aback to see her Dad sat back beside her so soon.(she will learn – Skip)
Dunn perished soon after clearly still coming to terms with the shock of nearly running a 2 and/or the unfortunate run out, as he first trod all over his stumps and then proceeded to hit them with his bat as well just for good measure…. Batting partner Nice Pint ambitiously still calling him for a run nonetheless.
This allowed Jacko to debut at number 11 and show great potential – a rapid promotion seeming likely – in his brief innings of 6 not out, all the runs coming in 2's.
This may not seem remarkable but given the rest of the team managed just a couple of these the rest of the innings, it shows a level of keenness and energy to run that much but also means his scorecard suggested Archbishop Desmond to your author and thus a potential first nickname should this habit of running too much when batting continue.
Fortunately for our wannabe Desmond, he had a willing and selfless partner in Nice Pint Smith who brought our innings to a close when he was bowled for a battling and now trademark 0 whilst taking on oxygen at the time.
An improvement on last year's score of 78 but would it be anywhere near enough? 3 ducks in the innings – including a silver and diamond. That's the way to start the season at least!
Tea was of course in absentia despite members of the Teas committee being present, Johnny Griffiths being rather wiser than the other members by not making himself available for this game and absenting himself too.
We went out to field in the sticky afternoon and realised the score wasn't high enough as new player and some might say 'ringer' Rudie proceeded to hit us to all parts – opening attack Nanton and especially Grimes suffering. Many fielders started to count their blessings that we hadn't fielded first at least….
With Mike and DT unable to bowl, Nice Pint was first change followed by Jacko and then Pearce, but all were unable to halt the onslaught. Only one tough chance being put down at long-on – so we at least caught better than England (ok we didn't take any catches, but we only dropped 1 half-chance, not 5).
A 10-wicket defeat looked nailed-on and a brooding DT was already wondering about our heaviest defeats when the Archbishop bowled Nascot's skipper to at least spare us that indignity (80-1) and also of course open his account for the LSCC! Here's to many more I'm sure.
Rudie having bowled a lot and batted impressively, Nascot then oddly sent in their opening bowler Shish but he became another victim of a long-standing LSCC combination – the pie-chucking of Pearce (record high moon balls drawing gasps from the crowd watching) and the quick movement of Speedtwin securing a lovely stumping to raise his and our spirits immensely.
An 8-wicket defeat inside 12 overs (!) didn't feel too bad and we consoled ourselves afterwards that it had been a good 'net' for all of us and surely, we'd be less rusty next time out.
Man of the Match
Andy Jones is the obvious choice as the backbone of our innings, but he lost some marks for not actually being able to move as a result when it came to our fielding and, we don't want him to nail down Player of the Year too quickly (i.e. turn up at Ex-blues next, score 50 and win it then)!
Jacko is therefore going to be my pick as he made an impressive debut and may already have a first nickname if he delivers on his potential in games to come.
His batting and running between the wicket showed great promise and taking that first wicket to save us from a 10-wicket thumping was a massive relief to all of us.
Clearly some of those batting in future with Desmond may need to take inhalers out to bat with us if he is only ever going to score in 2s but to break a long-standing tradition and not secure a duck on debut for LSCC is quite an historic achievement in itself so he deserves the award just for that.
Champagne Moment
It could be Gary's unfortunate run out as punishment for even remotely considering going for a second run, it could be Dunn's violent assault on his own stumps whilst racked with remorse over his part in that earlier event but actually for me it was the Archbishop taking that first wicket and saving us from a brutal whitewash of a season opener.
We bowlers are up and running and now like England, just relying on the batsman to score us some runs to defend!
LSSC – 92 all out 31.2 overs
Mayhew c b Shish 7
Scones c b Craig 0 (Silver)
White Viv LBW b Craig 35 (Mayhew the assist)
Tiny Temper b Rudie 10
Brearley c b Chav 1
Tiger c b Derek 12
One Liner b Craig 1
Dunn Hitwicket x3 b Shish 3
Speedtwin Run Out 0 (Diamond, Dunn the assist)
Nice Pint b Rudie 0
Archbishop Desmond not out 6
Total 92, Extras 17 (14w, 3nb)
Shish 6-2-9-2
Craig 6-0-15-3
Derek 7-1-25-1
Adam 2-1-5-0
Rudie 5.2-5-2
Chav 2-0-14-1
No.32 2-0-14-0
Andy 1-0-6-0
Nascot 93-2 11.4 overs
Rudie not out 64
Andy b Desmond 16
Shish st Diamond Speedo b Pearce 8
Roger not out 2
Total 93-2 Extras 3 (3 wides)
One Liner 4-0-20-0
Hitwicket x3 2-0-21-0
Nice Pint 2-0-21-0
Archbishop Desmond 2-0-15-1
Tiger 1.4-0-17-1
Become a Member
Become a member of London Saints from as little as £5.