LSSC vs. Roadrunners Old Haberdashers CC, Rickmansworth – 11th June 2017
LSSC –  128 All out  31.1 overs  (Jones 56no, Griffiths 25, Grimes 14)
Roadrunners – 238-6  35 overs  (Grimes 2-29, Nanton 2-26)
After our unbeaten start to the season, London Saints quickly came back to earth with a bump losing heavily to the Roadrunners on a sunny but very windy day at our home ground.
We were again using the pitch closest to the trees and shrubbery leaving a very short boundary which both teams exploited, one team slightly more than the other!
Pre-match Roadrunner's skipper Adam had advised your reporter that they had 3 of their strongest players taking part and I suggest if you refer to the scorecard below, you might see the impact they were able to make – as DT observed (not for the first time in his career) but for them we'd have been well in the game… twas ever thus.
Anyhow, with Saints reported to have held all but one of their catches last week, the skipper was clearly keen for us to field first.  Now I have a theory in my own golf game and that is that the less I play, the better I play and this theory may also account for the abject fielding display that we delivered – last week's superb efforts were a result of 8 months rest and preparation, it seems with just 7 days to recover, Saint's fielders were clearly still drained and stale as a result with such a short turnaround relatively.
Well over 10 catches went down – many of them being better than 5/10 opportunities but few actual dollies to be fair – the phrase 'catches win matches' was never truer as these chances were usually off the 3 Roadrunners who scored their 50's and thus able to retire not out.
Gary Speedtwin defied this malaise with an early snick taken off Flatliner but with a lot of hitting going on in between the drops, frequent trips were made to recover the ball from the boundary. Some of these boundaries involved the ball magically going straight through a fielder with Messrs Hotston and Nanton having some memorable efforts on the ropes.
After 26 overs, Roadrunners were on 208 with just 1 wicket down and a record score looked in prospect but tight closing spells especially from Tony and Flatliner restored respectability with the last 9 overs only going for circa 30 runs and 5 wickets falling. This included Flatliner clean bowling their skipper and breaking the middle stump with part of the stump landing 20 yards away! It was though a daunting total.
The full Teas committee being present and with Doug Mayhew in attendance as unofficial Honorary President, the spread was highly commended – there is a significant uplift in the quality of the sandwiches and the scones were lovely – the cream is back to normal and none of that weird yellow paste thankfully!
As the other players headed back out for our innings, the President & Committee hovered to 'sweep up' but a week of shocks continued when it was found the Roadrunners had demolished their Tea, leaving even less than us! This rare defeat is possibly a first for Saints and poses a clear challenge to restore our reputation in the return leg later this year.
Back outside the Roadrunners elected to hold back their opening bowling and allowed some of their part-timers or developing youngsters to have a bowl which did offer opportunities to openers Griffiths and especially Jones to feast upon.  We raced to 70-odd at well over 6-runs an over before Andy had to retire after getting his 50 with a host of boundaries to his name – trademark cuts and leg-side pulls featuring heavily.  Partner Griffiths was so shocked that Andy had reached his 50 out of the total score achieved that he soon perished for 25 with the score at 84 in 13th over.
This was as good as it got as the bowling quality improved and surprisingly Andy Mayhew and a rusty Neil couldn't get bat on ball as much as they would wish and despite a range of lusty swipes by Barry as if he was being bothered by a host of wasps as he faced. Andy fell to a good caught and bowled and DT snicked off to leave us wobbling.
Vishal was rather cruelly then brought on (as I came in to bat!) and that was it really – 5 wickets taken, all bowled in his 4 overs.
On the bright side this did at least open the Duck trophy account for 2017, with Messrs Smith and McIntyre being 2 of his victims scoring 0. Mike with a 'silver' second ball duck and John a now trademark battling duck (12 balls faced this occasion).
Andy J had to come back out to bat (having retired at his 50) and the tail wagged a little with Clive Dunn scoring some lusty boundaries too.
A heavy defeat and heavier than the scorebook suggests BUT if we'd taken our catches, especially early on, then it might have been rather different.  The game was as usual played in good spirits with a 'generosity' on wides for example and personally when the Roadrunners umpire started coaching me on what I was doing wrong in my bowling action – it really helped!
Man of the Match
Tony's tight second spell finished the Roadrunners innings with the excitement of a possible second hat-trick (narrowly missed) after last week's glory and this combined with some late runs was a good effort whilst the catch he 'dropped' wasn't really a chance as it raced to the boundary nearly taking one of his fingers with it.
Andy Jones however takes the prize for his 56 not out and because his dropped catch was one of those horrible swirly high things which are never easy – especially in the strong cross-wind. It also wasn't off my bowling so that carries less of a penalty!
Champagne Moment
 Not any great stand-out moments to report – there was Mike taking a very good catch on the boundary off DT's bowling only to then signal it was a '6' – he'd needed to do a Jason Roy to stay inside the line. Clearly that type of catch technique is something for DT to add to his training regime for the team.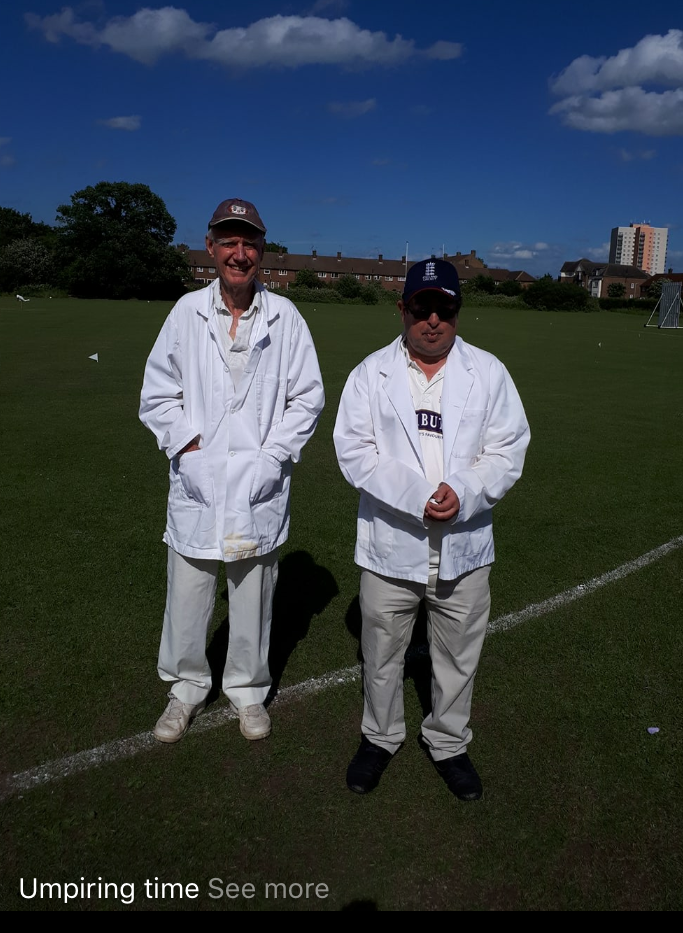 Umpire Watkins walked up to the stumps for the start of the 10th over of our innings but then surprised everyone by just continuing to march back to the pavilion enquiring if anyone else was going to umpire – this left the ready to go players and other umpire somewhat bemused in the middle.
Dave (Flatliner) Nanton breaking the middle stump resulting in a piece landing 20 yards away and ensuring that pictorial evidence was displayed widely on social media.
Report readers will note below there was a lesser spotted Saints run-out and this involved Pearce to Grimes. Tony somewhat teased the poor Roadrunner as he trundled up the wicket to the non-strikers end and had time to do up his laces, put the kettle on, have a brew and then still run the poor man out but just waited until the last second to nick off one bail just before the batsman finally made his ground. Given the time that this had all taken, other fielders couldn't quite believe he was still out – but he was.
 Andy Jones however wins the award for bringing up his 50 and so then being retired. This it seems to me is a microcosm of his LSSC career as having seemingly retired for good, it was barely 10 minutes later that he was forced out of retirement and back batting in the middle for us once again.
 Roadrunners – 238-6 (35 overs)
 Matt                c Speedo                     b Nanton                     14
Vishod            Retired n/o                                                      50
Vishal              Retired n/o                                                      50
Saari                Retired n/o                                                      50
Adam                                                  b Nanton                     27
Rob C                                                  c&b McIntyre             26
Andy               Not out                                                            1
Paul                 Run out                                                           1
Garth                                                   b Grimes                      1
James               Stumpd Speedo          b Grimes                      0
Justin               Not out                                                            0
Total 238-6, Extras 18
McIntyre         7-0-41-1
Nanton            7-1-26-2
Smith               2-0-16-0
Grimes             7-2-29-2
Pearce              3-0-28-0
Watkins           3-0-22-0
Thomas            3-0-37-0
Griffiths         3-0-21-0
LSSC – 128 All out (31.1 overs)
 Jones               Not out                                                            56
Griffiths          Ct                                b Garth                        25
Mayhew                                              c&b Garth                   9
Hotston                                               b Vishal                       4
Thomas            Ct                                b Rob                          5
Pearce                                                  b Vishal                       4
Smith                                                   b Vishal                       0
McIntyre                                             b Vishal                       0
Nanton                                                b Vishal                       1
Watkins                                               b Saari                         4
Grimes                                                 b Sarri                          14
Total – 128 All out, Extras 10 (5w, 5b)
Justin               4-0-34-0
James               3-0-14-0
Andy               2-0-29-0
Garth               6-1-16-2
Rob                 5-2-8-1
Vishal              4-1-9-5
Adam              5-2-10-0
Saari                2.1-1-3-2
Become a Member
Become a member of London Saints from as little as £5.