London Saints v Nascott – Tony Grimes Hattrick Victory
Sunday 4th June 2017 30 over match played at Old Haberdashers' CC in Elstree
Nascott 81 (Grimes 5 – 7,
London Saints 85 – 3 (Jones 25, Mayhew 23no)
It was a game which had non-playing club captain, Il Duce (last victory 2013) scurrying for his record books.  A London Saints' player who is the wrong side of 75 taking a hattrick should have had DT consulting Wisden not just the annals of the London Saints.  In a remarkable spell of off-spin bowling, Tony "Clive Dunn" Grimes took 4 wickets in 7 balls, including three in his first over and ended with match-winning figures of 4-0-7-5.  We may as well engrave the 2017 PoTY trophy now.
Our opposition, Nascott, were a couple of players short.  Jeff Sherriff was persuaded to don some whites (but not the skipper's spare box briefs – match reports passim) for the first time and turn out for our opponents against son Ben.  In a game of 30 overs a side, Saints' opening seam attack of Nanton and McIntyre soon grabbed a wicket apiece.
Our spinners Sherriff (B) and Grimes entered the fray after eight overs.  Nascott were already in a spot of trouble at 15 for 2, but things took a considerable turn for the worse in the tenth.  Clive Dunn's first over yielded three quick wickets, these included the Nascott skipper, Tendle, for 19, nonchalantly caught and bowled, and their danger man, the wiry left-hander Shish, a scourge of London Saints in previous encounters.  Chow was clean bowled, deceived by a late, sharp-turning offbreak whilst Shish smacked his first ball to square leg where Ben Sherriff held a smart catch. The hattrick came in the third over when Moneypenny chose to drive his first ball straight to David "bucket hands"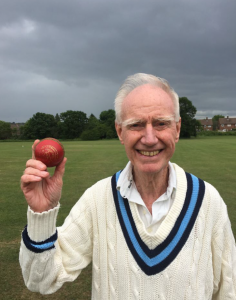 Nanton at short cover.  It was a remarkable day also in that London Saints held their catches.
Nascott's total only assumed a degree of respectability thanks to some strong hitting by the last man standing, Sechlara.  He thumped his way to 38 before being bowled by the stand-in skipper who had controversially taken his father in law off to ensure he didn't get any more of the limelight.  The Nascott innings featured no fewer than 6 ducks, including a particularly obdurate 0 from S Tames who held her end up for most of the innings whilst her colleagues were throwing their wickets away.  Tea was taken early at just after 3.30pm; we had restricted our opponents to a total of 81 all out in just 24.2 overs.
Saints' reply began with clouds rolling in and rain threatening. We need not have worried.  Andy Mayhew was due in at three to give the innings momentum.  He didn't disappoint.  Coming to the wicket after our Welsh openers, Jones and Griffiths had put on 18, Andy saw the team home with an average-protecting 23 not out from 20 overs. White Viv top scored with a rusty, but invaluable 25.  Whilst Mark "never had a duck" Barber did his best to get one, with a Wathanesque heave to his very first ball.  He finished 13 not out, with a couple of cracking boundaries, to see Saints to victory by 7 wickets.
DT, who had been unavailable owing to "athletic commitments" earlier in the day, hurried to the ground once he heard that London Saints were on the verge of a second consecutive victory (and only their second since 2014) under stand-in skipper, Judas.  Dave is considering his position.
Nascott innings Tendle  ct and bowled Grimes 19
Gibbs    b Nanton 0
D Chow  b McIntyre 0
S  Tames run out 0
A Chow b Grimes 0
Shish ct Sherriff b Grimes 0
Moneypenny ct Nanton b Grimes 0
Sechlara b Griffiths 38
Adam b Grimes 0
Sherriff no
81 all out
London Saints bowling McIntyre             6-1-21-1 Nanton                 6-0-17-1 Sheriff                  7-3-24-0 Grimes                 4-0-7-5 Smith                    1-0-15-0
Griffiths               0.3-0-1-1
London Saints innings Jones A                bowled, Gibbs 25 Griffiths               ct Shish, Moneypenny 11 Mayhew              not out 23
Grant                    bowled Moneypenny 7
Barber                  not out  13
Nanton
Sherriff
Grimes
Jones G
McIntyre
Smith
85 for 3
Champagne moment No Lancaster bombers flew over the match this year.  There again, they are as rare as a London Saints' victory, as Il Duce well knows.  Dave Nanton's abdication of the captaincy before the toss citing an "essay crisis" left his teammates scratching their heads.   White Viv's opening his Paddy Power book on the Saints' struggling to make 82 had some takers; Mike McIntyre sprinting 50 metres to retrieve a ball in the field barely 10m from the stand-in skip . . . nothing really stood out . . . Tony's nonchalant caught and bowled dismissal of the potentially dangerous Tendle was certainly the moment it all began, and suggested we were about to see something quite special.
Man of the match A straightforward choice – Tony Grimes recording only the second ever hattrick in London Saints' history and depriving what's his name of that unique record!
Become a Member
Become a member of London Saints from as little as £5.