EFL Cup Final Wembley V Manchester United Lost 3 – 2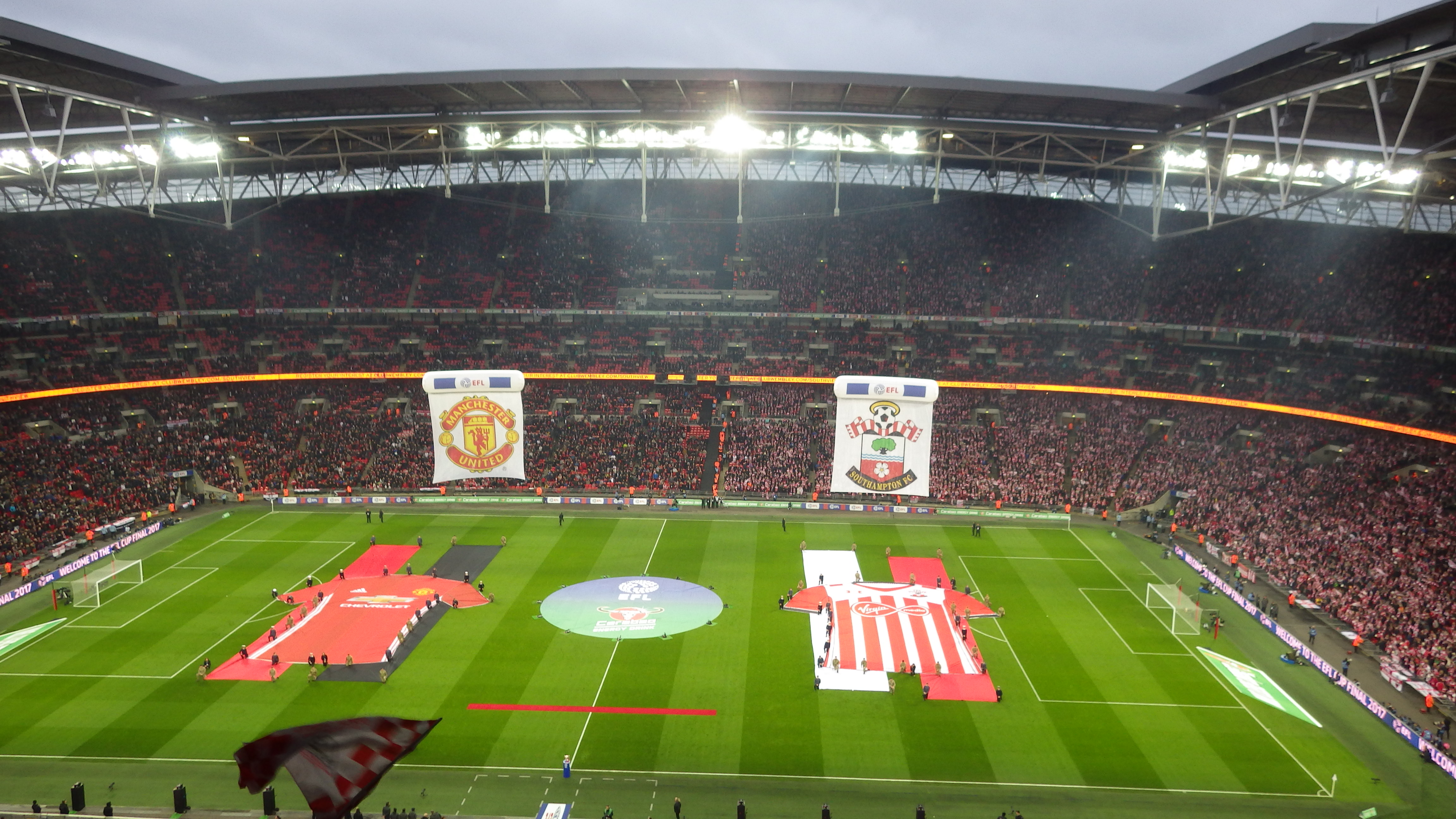 Cup Final day (EFL version anyway) and Claude Puel led out a Southampton team against top flight opposition at Wembley for the first time since… well, since Ian Branfoot did actually, so best gloss over that for the moment. Claude also had a selection dilemma caused by the acquisition of experienced international defender Martin Cáceres, but he chose to stick with Yoshida and Stephens at the back. The two of them had fewer problems than Manchester United's equivalent as Saints performed as they had at Sunderland rather than at, say, Sparta Prague and would have been well worth the opening goal, which seemed to be scored by Gabbiadini when he turned in Soares' tenth minute cross. It wasn't allowed to stand because of an offside flag against Bertrand who couldn't possibly have been judged to have been interfering with play under the current interpretation of the rule; we'll remember that when José Maurinho suggests TV replays of crucial decisions, as he surely will when frustrated by one of his many penalty appeals. There were no doubts about the free kick that gave his side the lead instead, and indeed Romeu was cautioned for a late tackle that was all the more disappointing as it was unnecessary. It was an awful long way out but Ibrahimović sent the ball over the smallest man in the wall and past one of the tallest keepers around. The underdogs, as we definitely were, continued to be just as definitely the better side, but they found themselves two down on 38 minutes when Lingard steered the ball home through Yoshida's legs. Despite all the difficulties they were causing their illustrious opponents, this was threatening to go pear shaped, but Gabbiadini wasn't to be denied a second time when he turned in Ward-Prowse's cross just as the first half was drawing to a close. He wasn't finished there either, and a clever poacher's finish put Saints level just a few minutes into the second period. Many would have expected this to cause United to raise their game, but they remained on the back foot and were inches from going behind when Romeu headed a corner against the post with De Gea beaten. M. Puel made his first tactical change after 77 minutes, replacing Tadić with Boufal – a positive move, but not particularly successful. Five minutes later, Long was on as well, denying Gabbiadini the chance of a hat trick. In fact the game had begun to pass the Italian by, but his scoring record in three incomplete games eclipses Long, and who knows if he might have done better than Long with Bertrand's inviting late cross that could have provided a winning goal? Sadly, though, that came at the other end, after Ibrahimović led a breakaway from a corner. Saints seemed to have repulsed the attack and regrouped, but there was still some disarray as Herrera crossed for an unmarked Ibrahimović to head home from close range. Would Cáceres have prevented it? Probably not. Would Van Dijk, had he been fit? Probably! So a 3-2 defeat, same result as for Ian Branfoot against Nottingham Forest in the 1992 ZDS final – another game where Saints fought back from two down only to be denied by a late winner (in that case during extra time).
LSSC Man of the Match: Manolo Gabbiadini. The official MotM was Zlotan Ibrahimović, but he only had the ball in the net twice.
Become a Member
Become a member of London Saints from as little as £5.