Europa League Home Inter Milan Won 2 – 1
Internazionale arrived at St. Mary's without coach Frank De Boer, sacked two days earlier, but with no replacement in place, they weren't quite ready for the notorious new manager bounce. That didn't stop them taking a 33rd minute lead, the ball hit home by Icardi after some nice play down the right, a debatable clash between Van Dijk and D'Ambrosio and a last-gasp block by Martina – this was against the run of play, with Rodriguez never quite able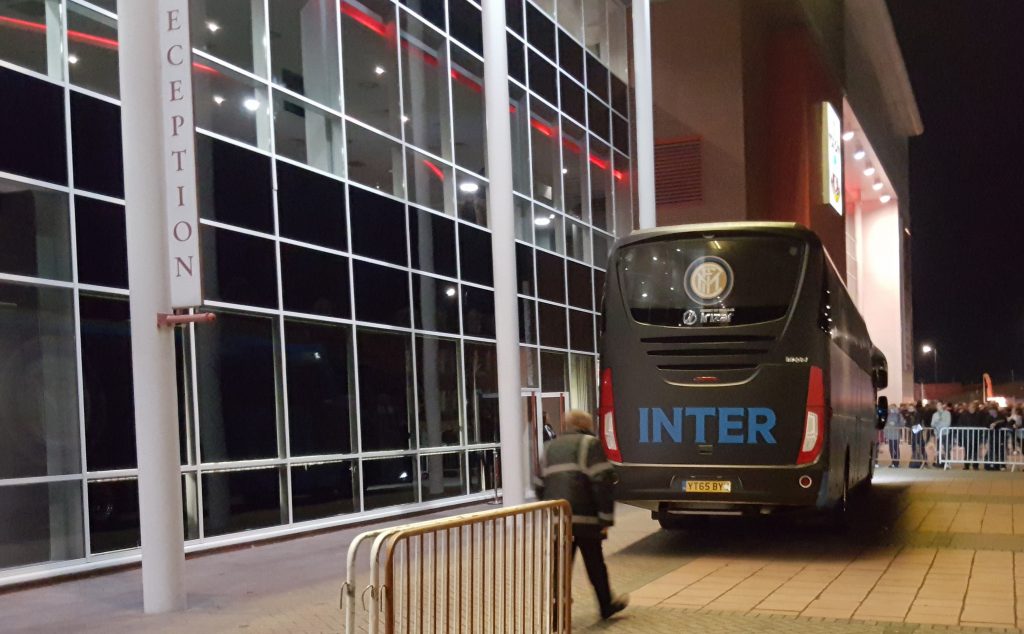 to make the most of Southampton's early chances. Then in first half added time the ball broke to Højbjerg after a corner and his progress was halted by the ball bouncing up onto Periŝić's arm: you could immediately see why the referee gave a penalty and only slo-mo shows why he might not have. Inter then went into what appeared to be a rehearsed routine, with a posse of players trying to persuade the official to change his decision (like they do!) while Candreva went about the equally unseemly business of abrading the penalty spot. This was spotted by McQueen who got an elbow in the face for trying to protect the area, and then an inevitable scuffle followed. Eventually order was restored, Candreva probably considered himself content with just a caution, and after an age Tadić stepped up to take the kick… and we then understood why Austin insists on taking control of these situations when he's on the pitch as a poor effort was kicked to safety by Handanović. With Clasie, Fonte, Davis, Austin and Boufal all available, some action off the bench was expected at half time, but the same XI retook the pitch and with no apparent change in tactics. There was a change in attitude by a still riled team, though, and Ward-Prowse, Rodriguez and Van Dijk all forced saves from Handanović before the pressure eventually told: the loose ball from a corner was turned back by Romeu over the 'keeper but onto the bar, only for Van Dijk to sweep in the rebound. Within five minutes the game situation was turned right round when a cross by Tadić was touched by two Inter defenders, the second being Nagatomo who put it into his own net; you usually make your own luck, and it was about time something fell nicely for Saints over the two games against the Italians. Davis came on to protect the lead, rather surprisingly it was for Tadić, and did well as a third home goal looked more likely than an equaliser, but for some late corners that came to nothing.
LSSC Man of the Match: James Ward-Prowse, as he had been at the San Siro. He's given a more responsible role when Davis is sidelined, and seems to thrive on it.
Become a Member
Become a member of London Saints from as little as £5.