Match report of our VICTORY vs Hermits on tour
Hermits CC v London Saints Sunday 17th July 2016 30 over match at Marden CC 
2 years? You get less for murder!
On the 20th July 2014, London Saints CC took to the field somewhere in North West London and overcame the might of Nascott CC in a match that was memorable mainly for Johnny Griffiths' boyish histrionics at the sight of a Lancaster bomber. Little did we then know that it would take 3 days short of 2 years to record our next victory.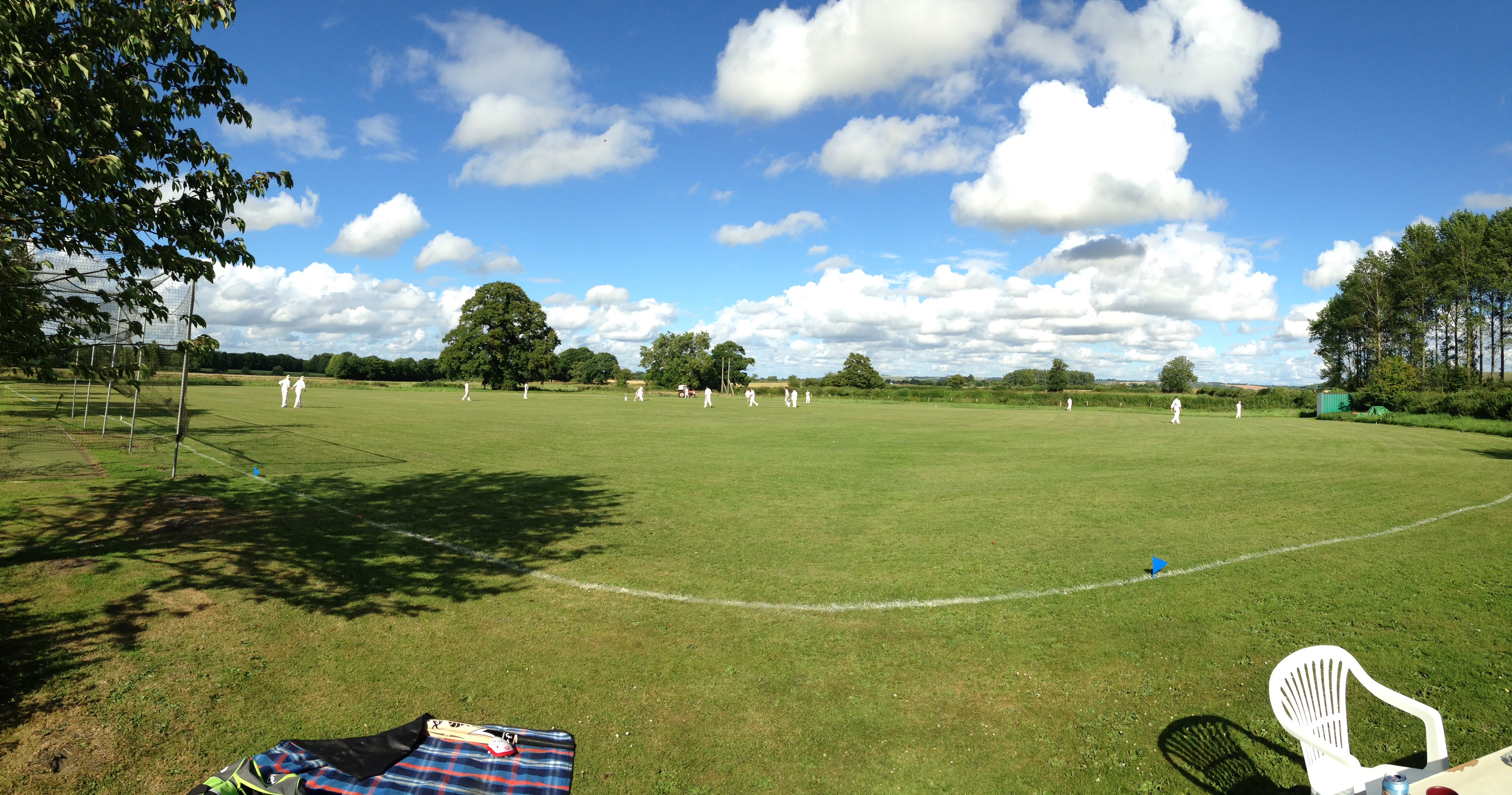 We took on Hermits for the first time in the 2015 tour, and the weather was the winner that day. That was never going to be the case this time at a picture perfect venue in the village of Marden, near Devizes. Jonny Griffiths, captaining for the second day in a row, lost the toss which meant batting first (at this point we all assume we'll be on the road by 5.30). JG got all power crazy and sent Mike out to field for the oppo who were one short (Mike was to later bat at 11 – wonder what he did wrong). The batting line-up appeared a little random but we're used to that! The opening pair of Phil Rogers and Andy Jones encountered a tricky wicket and a slow outfield so runs were proving hard to come by. Jonesy didn't hang around and in came Dave Nanton who the previous day had pulled something Mayhew-esque. Dave set off with positive intentions but his body let him down and he left the field until later in the innings; replaced by Ben Sheriff who joined Phil and they set about a building a solid partnership that proved to be the backbone of the innings. Ben's eventual dismissal sparked a familiar collapse which eventually included Phil, just 2 off what would have been a deserved half century. Jonty eventually did return to the crease with Ben proving to be a speedier runner than Andy – or Dave would have been! Given the slow wicket, 131 was probably a par score – but we're London Saints and so it never really felt that way as we scoffed our way through a sumptuous tea!
The early signs of Hermits' innings were that they were also finding the wicket slow going but excellent catches by JG and Mike saw the removal of their openers, bringing together Blake and Bevan who increased the scoring rate with several boundaries. The match perhaps turned when Phil covered considerable ground to remove skipper Blake off Lucan's bowling. Paul Pearce impressed the watching family by removing Bevan in unusual style. His trademark loopy delivery bamboozled the batsman with the ball striking his box and bouncing onto the wicket – his face a picture! The remainder of Hermits' innings never really got going with wickets shared among the bowlers. JG bought himself on for a single over when his Godson, Max, came to the square and on a day when the catches stuck, was soon sent packing. An excellent game, fantastic settings and weather. Let's hope it's not another 2 years until the next win.
London Saints innings
Jones                bowled, Max 3
Rogers              bowled, Blake 48
Nanton              bowled, Burgess 10
Sheriff               bowled, Bevan 18
Smith                stumped, Blake 1
Griffiths             ct, bowled Bevan 6
Berkeley            ct, bowled Bevan 9
Wathan              ct, bowled Burgess 4
Pearce                not out 10
Keenan               bowled Burgess 2
McIntyre             not out 3
131 for 9
Hermits innings
Brook                    ct Griffiths, bowled McIntyre 0
Burgess                 ct McIntyre, bowled Keenan
15 Blake                ct Rogers, bowled Keenan 24
Bevan                    bowled Pearce 20
Cohen                    ct Wath, bowled Griffiths 5
Ogden                    lbw, bowled Berkeley 8
Dawood                lbw, bowled Pearce 2
Lawrence              lbw, bowled Berkeley 0
Brown                   caught & bowled Rogers 1
Hacknen               not out 0
Brook (again)      ct Keenan, Rogers 8
93 all out
London Saints bowling
McIntyre             4-0-14-1
Nanton                 4-3-5-0
Sheriff                  4-0-28-0
Keenan                3-0-6-2
Rogers                  4.2-0-15-2
Pearce                  3-0-22-2
Griffiths               1-0-3-1
Berkeley              2-0-3-2
Champagne moment When the injured Dave Nanton came to the crease, the plan was that he would hide his pain in order for him to be able to call for a runner a few balls in. Down he went and Andy Jones was informed that having already batted he was the man. Trouble was that he had already removed his pads and we all know how long he takes to prepare so after a lengthy break and with Jonesy finally taking to the field, it dawned upon the skipper the reality of White Viv as a runner so he immediately ordered Dave to leave the field and an exasperated Jonesy to walk off again!
Man of the match A straightforward choice – Phil Rogers top scored with 48, took 2 wickets and a couple of catches.
Become a Member
Become a member of London Saints from as little as £5.