LSSC V Nascott Old Haberdashers CC, Rickmansworth – 5th June 2016
LSSC – 132-7  35 overs (Mayhew 36, Grimes 22, Scones 21)
Nascott – 136-5  25 or so overs (Thomas 2-16, Smith 1-11)
So here we are again – a later start to the London Saints season with a reduced hand-picked set of opponents to save our aging legs too much pain. For some a new season offering great excitement and surging hope for those of us showing promise after our pre-season form at nets.
Yet for one such individual just a few short hours later this game was kindly to be summarised by his team-mates as he left the post-game drinks as 'just write you got a duck and bowled shit'.
The sun was inexplicably out after a lousy half term of weather and the world was our oyster as Skipper David (never lost a game) Nanton cunningly lost the toss and had us inserted to bat.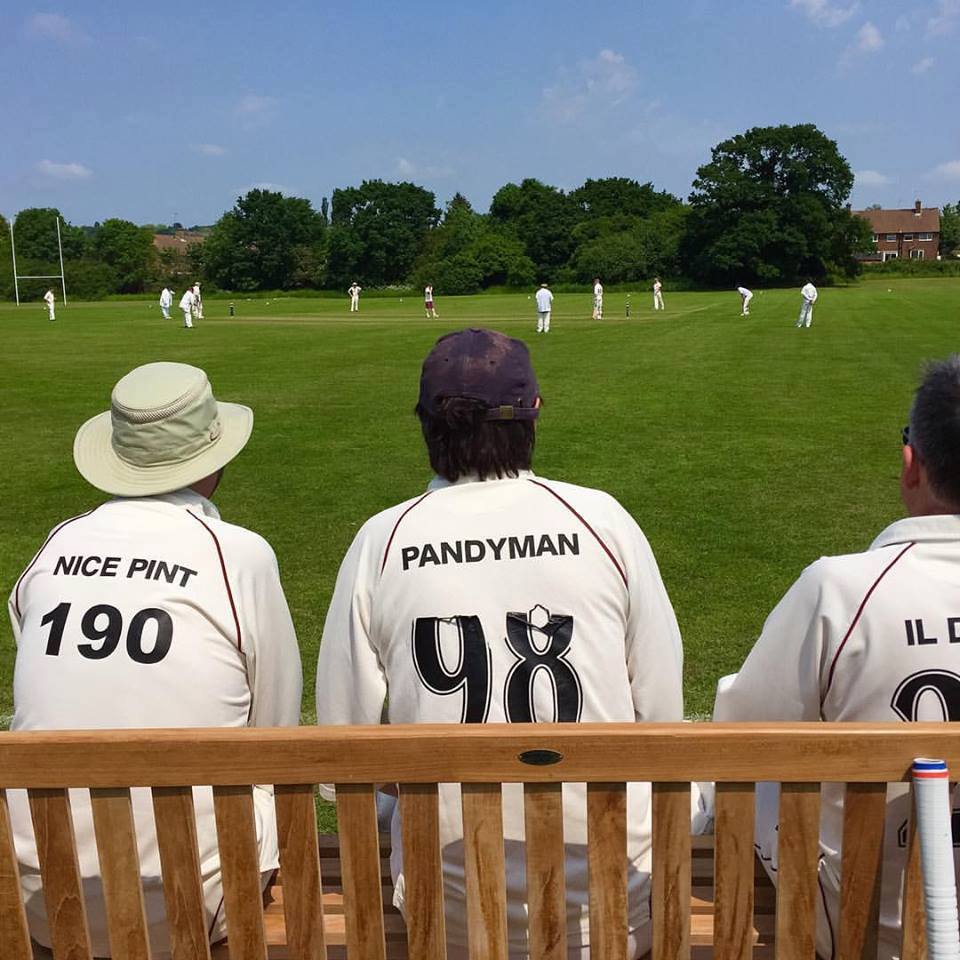 We opened with the family firm of Griffiths and Grimes having to use the previous day's wicket as none other had been prepared for us. After all the recent rain, it was a somewhat sticky and unreliable piece of terrain and for the rusty Saints batsmen timing was hard to find.
No reader will be surprised that after the first over of our season, we had 2 runs on the board and both were to the credit of LSCC multiple Man of the Match winner, Mr. Extras.
Johnny had 2 lives with an early skied catch inexplicably put down by their keeper who seemed to have safely pouched it but then realised Nascott wanted to keep John at the crease as he was obviously in need of a net (having missed all pre-season) and still on nought.
3 boundaries later this seemed less wise until a leading edge did for our opener thus bringing Andy M out to bat with Tony. Unexpectedly our scoring rate started to slip as the 2 dug in facing a range of bowlers whose unpredictability seemed to make it hard for either batsman to get going – Tony the more aggressive however.
With Tony's eventual downfall , Mr. Scones strode to the crease with our score only 59 in the 20th over but just 2 wickets down (the old England ODI approach?) and Steve injected some much needed 'bit of biff' also bringing Andy to life as the pair accelerated the score putting on 46 in just 6 overs – including 2×10 and 15 in there. Scones was unlucky to be bowled however with the ball running on to his stumps after a rare forward defensive shot and we were 105-3 after 26 overs.
John Smith was next in and after my witnessing some of his previous innings, which have been likened to that of parking three buses, he cut a far more attacking figure and swiftly secured a run. The run rate dipped however as new bowler young Ishi despite being their 8th to bowl then served up full and swinging deliveries & was the pick of their attack meaning the feared Saints powerhouse middle order struggled to maintain the Mayhew/Scones acceleration.
There was time for Andy to be run out when backing up (hard to believe I know) and Pearce with 3 balls left in the innings after Barber's demise bagging a second ball duck out to a sharp catch at 1st slip by the replacement Nascott keeper sticking out his left glove and it getting stuck in the webbing. Thomas strode out for the last ball of the innings and secured 4 byes (whilst also claiming he might have hit it) to leave us at tea thinking 132 was a decent enough score for our first outing of the year.
Tea was enjoyed of course – our table devouring its scones in stark contrast to the barely touched plate on the Nascott table. If we'd been batting not fielding next, they would not have escaped!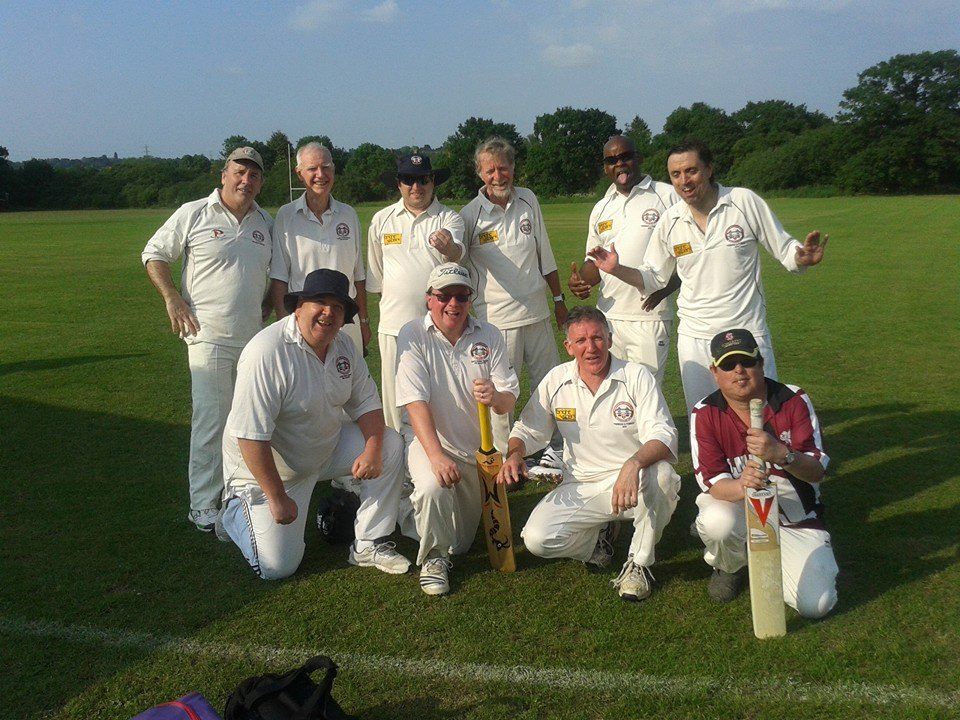 We went out to field in the ever hotter part of the afternoon and immediately started to realise perhaps the score wasn't high enough as with both teams only having 10 men, our usual tactic of hiding some of our less mobile fielders was not going to work as there were 10 of us falling in to that category.
Skipper Nanton opening our attack and clearly realising this weakness let the fielders wander in to any positions that they fancied rather than waste time setting his field. With Mark Barber sharing the not quite new ball, a decent opening spell was highlighted when the Champagne moment saw the first wicket fall early on.
However the next partnership was to win the game for Nascott with runs scored in a rush with a lot of onside fours and heaves doing the damage – the leg-side filth from Pearce particularly feasted upon (also no-balled for overstepping the line – a first in 25 years).
The partnership only ended when one of the batsmen had to retire not out as it was time for him to go to work!
Late wickets for Smith, Nanton and 2 for Thomas including bowling their top-scorer with one that turned a yard (so DT claimed) made the scoreboard more respectable but Nascott raced home frankly.
Nanton brought on our specialist innings-closer Griffiths as defeat loomed but then had to turn to veteran and returning player Watkins to bowl out the last over with the scores tied as even Johnny G could see the cause was lost and so were his figures.
The team consoled itself afterwards that it had been a good 'net' for all of us and surely we'd be less rusty next time out.
Man of the Match
Andy Mayhew undoubtedly had a good game being our top scorer and taking the team's first wicket of the season with a smart run-out but sadly he must be discounted due to his outrageous 'I hit it' claims throughout his innings and of course for the champagne moment faux-pas. The fact he was run-out at the bowlers end whilst backing up immediately after such a leg bye/run furore was seen by many as swift justice.
John Smith therefore is our man of the match with his first ever wicket for the team, combined with his scoring surely a career high of runs and proving at the age of 63, he is one of the most enthusiastic and actually mobile members of the team on the day! Faint praise some might say given the peer group but true nonetheless.
Tony's taking the catch (a viciously spinning dolly he reported) off John meant a combined age of 138 years for the bower and fielder combination which must be a record too? One for DT over Winter 2016?
Champagne Moment
With 3 John's in the team and all of them happening to be placed on the leg-side when we fielded, a certain calamity was awaited for any skied catch during the Nascott innings but sadly no such opportunity was to arrive.
As mentioned above Andy's high profile game peaked when standing back to opener Nanton early in the Nascott innings – given he stands back to everyone including your author, this of course goes without saying – but what was a shock was when he managed to throw down the stumps having teasingly fumbled the ball to tempt the Nascott openers in to a cheeky single.
The cunning plan by our Baldrick worked as the promising opener was just short of the crease and so had to walk off for a low score. Andy at this point however started trying to claim it wasn't a run out but a stumping, the small flaw in his dubious claim was exposed however by Mark Barber in the bar afterwards (as the debate continued) when he noted it was the non-striker who Andy had dismissed so a stumping would seem somewhat challenging!
LSSC – 132-7
 Griffiths          c                                  b Derek           13
Grimes                                                 b Ishi               22
Mayhew                                              run out             36
Scones                                                 b Craig            21
Smith               c                                  b Ryan             4
Barber             c                                  b Ryan             4
Nanton                                               not out             3
Pearce              c keeper (worldy)        b Ishi               0 (silver duck)
Thomas                                                not out             0
Watkins                                               DNB
Total 132, Extras 29 (15w, 2nb, 10b, 2lb)
Derek              5-0-15-1
Ryan                6-1-23-2
Craig               5-1-12-1
Tom                 6-1-32-0
Alan                2-0-5-0
Barney             1-0-2-0
Dave                1-0-4-0
Ishi                  7-0-15-2
Chad               2-0-12-0
Nascott 136-5
 1 Derek           Retired to go to work 25
2 Craig            run out (not stumped) 7
3 Barney          bowled Thomas 56
4 Andy             bowled Thomas 1
5 Shane           c Grimes bowled Smith 1
6 Adam           bowled Nanton 10
7 Ishi               not out 16
8 Ryan             not out 0
Total 136-5, Extras 20
Nanton            4-0-22-1
Barber             3-0-18-0
Pearce              3-0-27-0
Grimes             3-0-20-0
Smith               2-0-11-1
Thomas            3-1-16-2
Griffiths          2-0-7-0
Watkins           0.3-0-4-0
Become a Member
Become a member of London Saints from as little as £5.