Oh When The Sankts – St. Pauli V Eintracht Braunschweig
With hardly any top level games postponed these days and F.A. Cup dates kept free, it's rare to have a midweek league fixture. It always was rare on the continent, including in Germany where such an event is known as ein Englischer Woche – an English week. However, the Bundesligas had a midweek round when Saints played at Bournemouth, and for once we were able to thank the TV schedules for the chance to get to the last of the weeknight matches – a Thursday league 2 game at St. Pauli against Eintracht Braunschweig. Saint who? Well actually Sankt Pauli auf Deutsch, and one of Europe's most charismatic clubs, not for its playing success but its modern fan base, described by Wikipedia as "an alternative fan scene, built around left-leaning politics, social activism and the event and party atmosphere of the club's matches." Whether that appeals is up to you, but it certainly persuaded some of us, including Newsletter John and myself and an assorted bunch in political hues from pink to scarlet hailing from both Southampton and Portsmouth – the St. Pauli spirit in action.
So wet and windy Bournemouth was soon swapped for the cold and damp of Hamburg and a hotel no more than a long throw away from the Millerntor ground just off the Reeperbahn. The area was the setting for a Fan Park in the 2006 World Cup when I looked in on a crumbling stadium; it's very different now, completely rebuilt and regularly selling out its 29,000 capacity.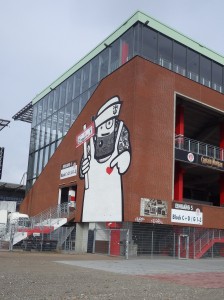 First though, we met up with one of John's leftie mates in The Kitty, a very smoky local bar. Germany's smoking laws are complex but some decidedly unhealthy dives do exist and we were pleased that Dirk was able to direct us to a nearby brew-pub instead – the Altes Mädchen, well worth a detour (and it's hard to find) for it's excellent beers.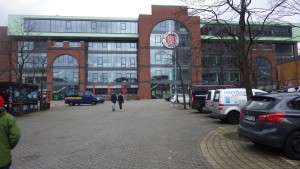 An early trip to the ground to sort out tickets meant a visit to the club shop, and there can't be many of those around selling T-shirts bearing the legend 'Refugees Welcome.' In truth the politics are not terribly in-your-face, but wear the badge with pride nevertheless. We found another smoky bar, complete with plenty of graffiti from followers of British clubs (notably Celtic) before a return to The Kitty, now much more crowded than the night before. Actually the beer there is around the same price as in both the welcoming social club and within the ground itself – Astra pils is not much cop as it happens, but the matchday newspaper gave a guide to the next away game, including the cost of bratwursts and price and brand of in-stadium beer. All that, and terraces too! We had seats, but noted that the 'safe-standing' areas didn't seem to have any special features except for a low packing density.
It would have been be nice to report on a cracking game, but that was not to be. In fact neither side deserved much for their unadventurous play although both needed a win to close the gap on the leading clubs. FCSP eventually got it with a late goal that needed a big assist from the visiting keeper, but I don't think any of us went out there just for the football.
In Hamburg, there's a choice to be made between the senior team HSV, former European Cup winners, thrice Bundesliga champions, alumnus Kevin Keegan – but stuck out miles away on the edge of town. Or the Freibeuter der Liga close by historically one of the naughtiest streets in the world and with their famous fans – but only occasionally flirting with Bundesliga 1 and not unknown to the third tier. No sensible choice really…
By the way, the nickname translates as Buccaneers of the League. Thanks to the on-line encyclopaedia for that, and information about a racier name of 'the brothel of the league.' Anyway it's another ground duly 'hopped' – next trip for John and I is to Stoke-on-Trent which we expect to be very different.
Become a Member
Become a member of London Saints from as little as £5.