LSSC Masters
Like a wake for an old friend a dozen LSSC members (well, 11 and a guest) assembled at Frome Golf Club on Friday, 25th September. And like a wake, the assembly finally and rightfully rose to the occasion with much laughter and pints sunk in memory of the death of a fine golf club.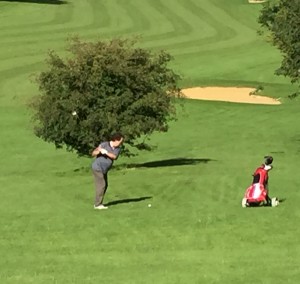 Where once birdies tweeted and, very occasionally when LSSC golfers were in attendance, eagles soared, now only pigs will roam. In respect to this venerable old course the LSSC Masters was moved to Frome. Traditionally the course hosted our cricket team on the Friday before two days of willow on leather in the West Country in late spring. This year we heard the ground was being sold, a victim of the country-wide downturn in golf's popularity. A bright, sunny sky and egg, ham and chips greeted the golfers. The food was so good (or the portions so small) that Reg and Rat decided to up their carb levels by having two plates before the round. The course, despite its death sentence and closing in a couple of days after our tournament, was in fine condition and showed no significant ill effects from the recent heavy rain. Paul Potts paid homage to another almost dead institution when he arrived at the first tee wearing a pair of Leeds United white socks circa 1970 to accompany his dapper shorts. In a keenly fought and most enjoyable round Rat again was beaten in to second place, as he had been at the Open earlier this year, by a Quinn. This time it was John's son Finnigan, who has been a successful left arm 'quick' for the LSSC's cricket team over the years.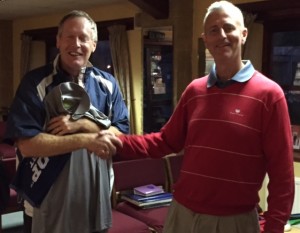 Finn scored 34 points playing off a handicap of 24 strokes, while Rat scored 32 of off his single figure handicap. Proving that Finn either inherited or learnt his golfing skills from his Mum, Sheena Quinn came third with 29 points. Of course Rat couldn't be kept out of the limelight for long and collected the 'Longest Drive' award. After the presentations, gamely made by everybody's favourite cabbie, Trigger, who presented himself with the 'Nearest the Pin' prize, most made their way to the flesh pots of Frome but failed to leave The Corner Hotel when they found out it was run by a former chair of the Cardiff Saints' Supporters Club!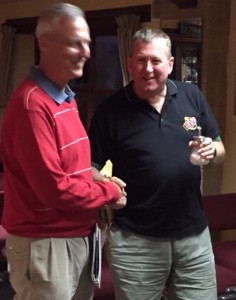 It was the compulsory dodgy curry and then up to Southampton to watch the boys deliver an excellent result against Swansea. Sad that a good golf course closes but the LSSC golfers said goodbye on a fitting way! John Quinn
Watch Reg get his feet wet.  IMG_1330-2
Become a Member
Become a member of London Saints from as little as £5.